Are you tired of dealing with the frustrating effects of hard water on your bathroom faucets? Living in a hard water area requires bathroom fixtures that resist corrosion, stains, and mineral deposits. Now, we understand how tough it is to settle on the best bathroom faucets for hard water, which is why we did the heavy lifting for you.
We reviewed the five best bathroom faucets you can consider. We chose the first option, the BWE Waterfall bathroom faucet, for rave reviews and unique design. Our second option, the Phiestina bathroom faucet, came with thousands of good reviews and shone for lead-free construction. We recommend the SOKA bathroom faucet because it is easy to install even without plumbing experience.
Read on for more about these and more best bathroom faucets. But first, here is why you want to install a new faucet in your bathrooms.
Why You Need the Best Bathroom Faucets for Hard Water
Image Credits: pexels.com
Hard water contains high levels of minerals, such as calcium and magnesium, that can accumulate on the surface of faucets over time, creating limescale deposits.
These deposits can clog the faucet's aerator, reducing water flow and causing the faucet to drip or leak. In addition, hard water can corrode and tarnish the faucet's finish, making it look dull and dirty. To avoid these problems, choose a faucet that can resist hard water effects and provide a smooth and satisfying water experience.
Let's review some of the best bathroom faucets for hard water that you can find on the market. We will also give you tips and advice on choosing a faucet to transform your bathroom today!
| | | | |
| --- | --- | --- | --- |
| | | | |
| | | | |
| | | | |
| | | | |
| | | | |
1. BWE Waterfall Bathroom Faucet
Sale
BWE Waterfall Bathroom Faucet Oil Rubbed Bronze...
!!!No drain assembly included!!! Waterfall faucet Spout: The...
Single Handle Faucet: Single-handle bathroom faucet for easy...
Bronze Bathroom Faucet Size:Spout Reach:3.9 inch,Spout...
Finish: Oiled bronze finish creates a vintage look. From durable...
Easy to Install: With standard 3/8-In compression threads, super...
If you want the best bathroom faucet for hard water to add charm to your bathroom, check out this BWE Waterfall Bathroom Faucet. We used this product before and were impressed by its features and performance.
The waterfall spout was our favorite feature; it created a clear and steady stream of water that looked beautiful and felt gentle on the skin. Then, the oil-rubbed bronze finish gives the faucet a vintage look that matches our farmhouse-style bathroom - not to mention how well it resists corrosion and stains!
Image Credits: bwefaucet.com
The installation process was also very simple and quick. The faucet has standard 3/8-inch compression threads that fit our existing plumbing. We did not need special tools or skills to install it, and we were done in less than an hour. On top of that, we loved the convenient single-handle design, and the WaterSense certification was another plus for us!
However, the faucet came with no drain assembly, and we also reckon the oil-rubbed bronze finish is not ideal for all bathroom styles.
2. Phiestina 2 Handle Centerset Bathroom Faucet
Sale
4 Inch 2 Handle Centerset Matte Black Lead-Free Modern...
💘【LEAD-FREE ROW MATERIALS HAVE CERTIFIED TO CUPC AND NSF 61...
💘【UPGRATE: METAL POP UP DRAIN AND WATER LINES ARE...
💘【24HOURS CUSTOMER SUPPORT】 ——To obtain service or...
💘【MATTE BLACK FINISH BATHROOM SINK FAUCET】 —— 4-inch...
💘【DIMENTIONS】 ——Spout Height is 5.275 Inch(134mm),...
This is our option for a lead-free faucet, but we also loved the matte finish that added an extra layer of sophistication to our bathroom. The finish also guarantees tolerance against hard, salty water. This Phiestina 2-handle bathroom faucet is safe and healthy, thanks to the CUPC and NSF 61 lead-free standard certifications.
The metal pop-up drain and water lines were included in the package, which made the installation process much easier and faster. The drain has an overflow feature and is made of copper for durability and leak-proof performance.
Image Credits: phiestinafaucet.net
Finally, the 2-handle centerset design allowed us to control the water flow and temperature precisely. We have to state how smooth and comfortable the handles were, plus the spout with a rotatable feature that lets us adjust the direction of the water.
Unfortunately, this bathroom sink faucet does not come with a WaterSense certification, and we found the spout length a bit high for some of our sinks.
3. SOKA Centerset Bathroom Sink Faucet
Sale
SOKA Centerset Bathroom Sink Faucet Two Handles High...
Two Handle Design Bathroom Faucet Two Handle Metal Lever Design...
Durable & Superior Materialstainless Steel Construction With...
3 Hole Bathroom Faucettwo Handle 3-Hole Mount With 4-Inch...
360° Rotating Spout The 2-Handle Bathroom Sink Faucet Has A...
If you are looking for bathroom faucets that are easy to install and have a brushed nickel finish, try this SOKA Centerset Bathroom Sink Faucet. We loved the high-quality aerator, made durably to filter hard water elements.
Image Credits: sears.com
We loved its two-handle design, operated with a 90-degree forward rotation, which was convenient for our small space. The 3-hole mount with a 4-inch centerset design was compatible with our existing sink and plumbing, and we found installation a breeze. Finally, we found the 360-degree rotating spout flexible and useful for cleaning different sink areas.
While this brushed nickel faucet looked marvelous in our bathroom, we didn't fancy the plastic base that started showing after a few weeks.
4. Delta Single Hole Bathroom Faucet
Delta Faucet Modern Single Hole Bathroom Faucet, Single...
Installation: Designed to fit single-hole or 3-hole, 4-inch...
Drain assembly included: A coordinating pop-up drain assembly is...
WaterSense labeled: Delta WaterSense labeled bathroom faucets use...
ADA compliant: This bathroom sink Faucet meets standards set by...
LIFETIME LIMITED WARRANTY: You can install with confidence,...
We love Delta bathroom faucets, so we jumped at the opportunity to test this model for hard water tolerance. The first thing we loved is the ADA compliance that makes it accessible and comfortable for people with disabilities or limited mobility. On top of that, the faucet also has a sleek and modern design that matches our bathroom decor.
Image Credits: deltafaucet.com
We found installation a breeze, especially because it fits single-hole or 3-hole, 4-inch configurations. Upon installation, the faucet guaranteed impeccable water efficiency, while the high arc design provided more clearance for washing. The faucet has a clean chrome finish and is backed by a WaterSense certification. It also has a high-quality aerator to filter hard water elements, and the finish performs very well against stains.
However, we also did not like some things about this product. For instance, it was quite noisy even after perfect installation, and the chrome finish did not perform well against fingerprints and water stains.
5. Moen Eva Brushed Nickel Bathroom Faucet
Moen Eva Brushed Nickel Two-Handle 4-Inch Centerset...
WARM AND INVITING: Brushed Nickel finish provides a lightly...
TEMPERATURE CONTROL: Two–handle lever handles make it easy to...
EVERYDAY CONVENIENCE: Aerated flow is ideal for everyday bathroom...
ADA COMPLIANT: Complies with Americans with Disabilities Act...
Moen is one of our favorite faucet brands, so it's no surprise this brushed nickel bathroom faucet makes its way into this list. We loved how the brushed nickel finish complemented our bathroom style with a metallic look. Also, the finish is ideal for hard water tolerance because it prevents corrosion and water stains.
The faucet is ADA-compliant and features two-handle lever handles that are temperature-controlled. These handles made adjusting the water flow and temperature easy, especially the 90-degree forward rotation we found ideal for small bathroom countertops.
Image Credits: moen.com
When dealing with hard water, aerated flow makes a faucet stand out. In our case, it provided a steady and gentle stream of water, not to mention reduced our water bill. We also found the faucet easy to clean, especially once the aerator clogs.
That said, we had a challenging time installing it. It should fit 3-hole, 4-inch configurations but did not include a deck plate or an escutcheon to cover the extra holes. Buying these components separately was expensive, and the instructions also felt vague.
Factors to Consider When Buying the Best Bathroom Faucets for Hard Water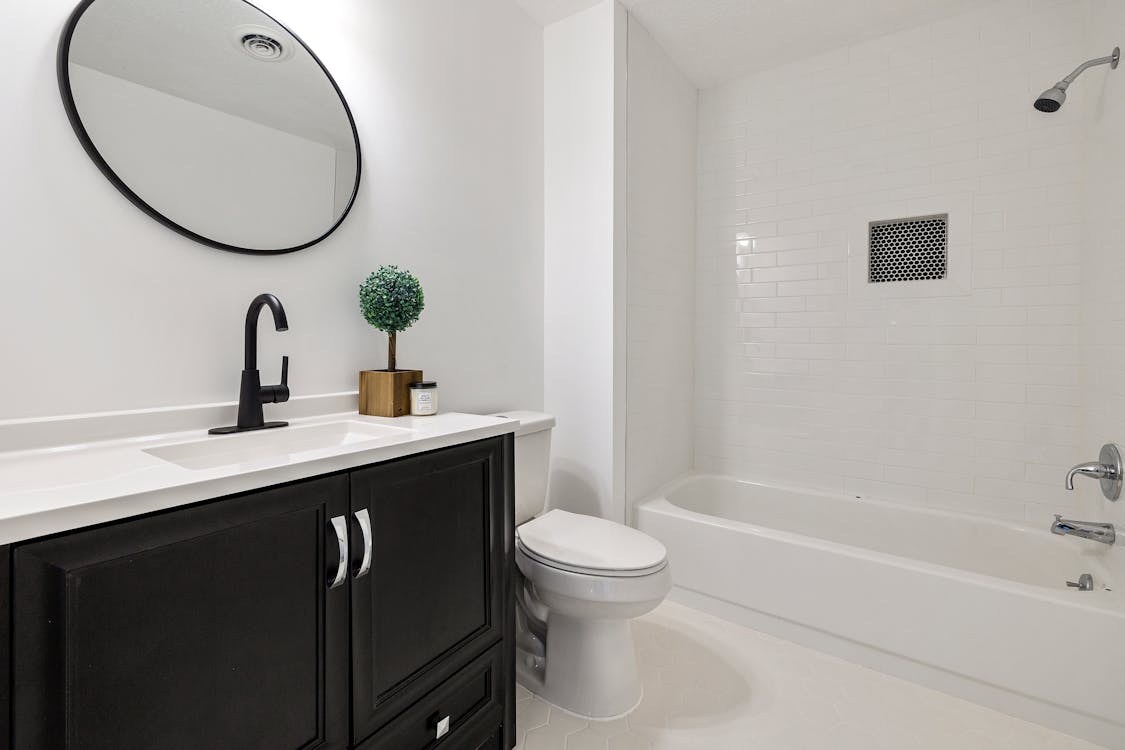 Image Credits: pexels.com
These factors will help you make the right choice when buying the best bathroom faucet for hard water.
I. Durability and Build Quality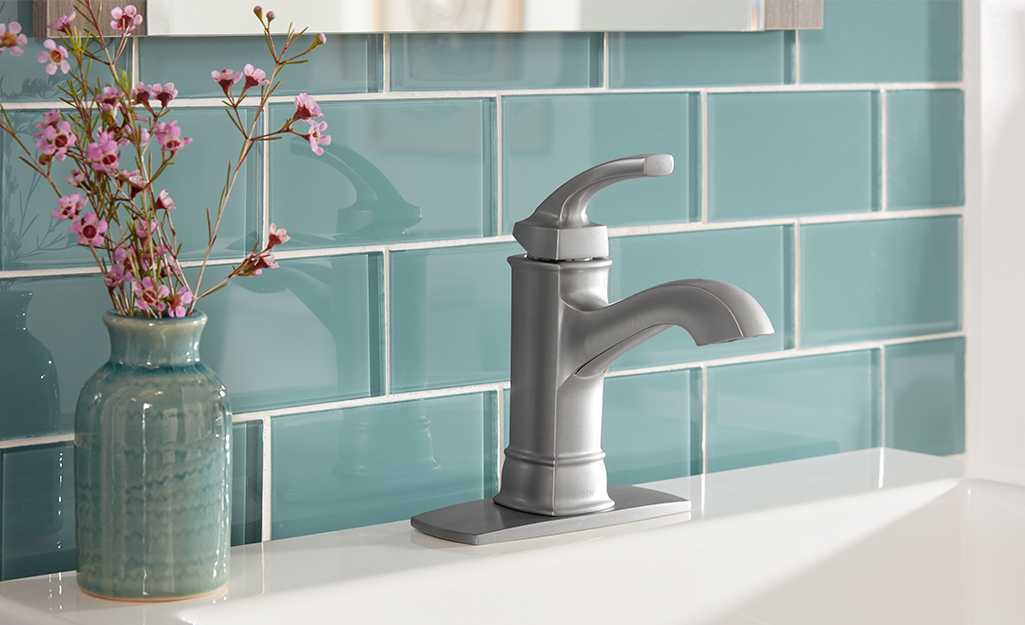 Image Credits: homedepot.com
When looking to combat the effects of hard water, durability, and build quality are of utmost importance. Look for bathroom sink faucets from high-quality materials like solid brass or stainless steel. These materials resist corrosion and can withstand the harsh mineral deposits found in hard water.
Also, check for faucets with a ceramic disc cartridge to guarantee smooth operation. It is also less prone to leaks or wear caused by mineral buildup.
II. Finish and Coating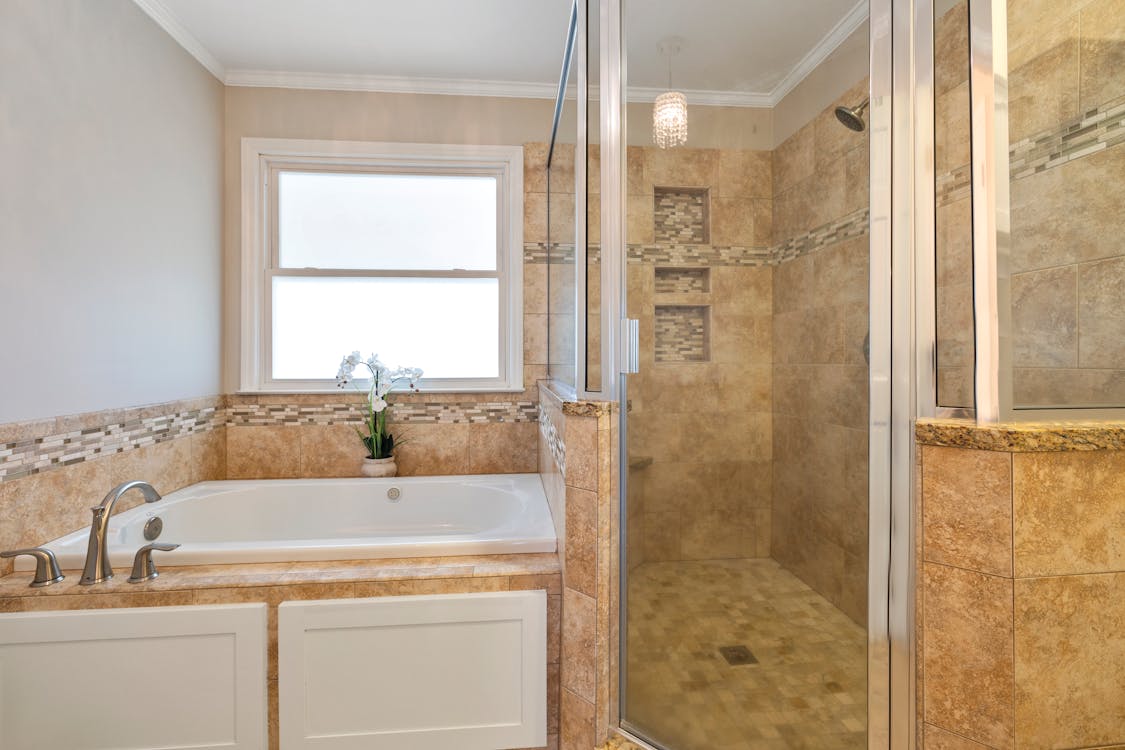 Image Credits: pexels.com
The finish and coating of the faucet play a significant role in protecting it from hard water damage and maintaining its aesthetic appeal.
Opt for faucets with chrome, brushed nickel, or PVD (Physical Vapor Deposition) finishes. These offer excellent resistance to corrosion and tarnishing. The finishes also create a protective barrier, making it easier to clean off mineral deposits and ensuring the faucet's longevity.
III. Anti-Limescale Features
Image Credits: export.roca.com
To combat limescale buildup, look for faucets that incorporate anti-limescale features. Most bathroom faucets have built-in aerators with special designs that reduce mineral buildup, while others may include removable aerators for easy cleaning.
Consider faucets with rubberized nozzles that allow you to wipe away limescale deposits with your finger. These features help maintain optimal water flow and minimize maintenance efforts.
IV. Water Flow Rate and Pressure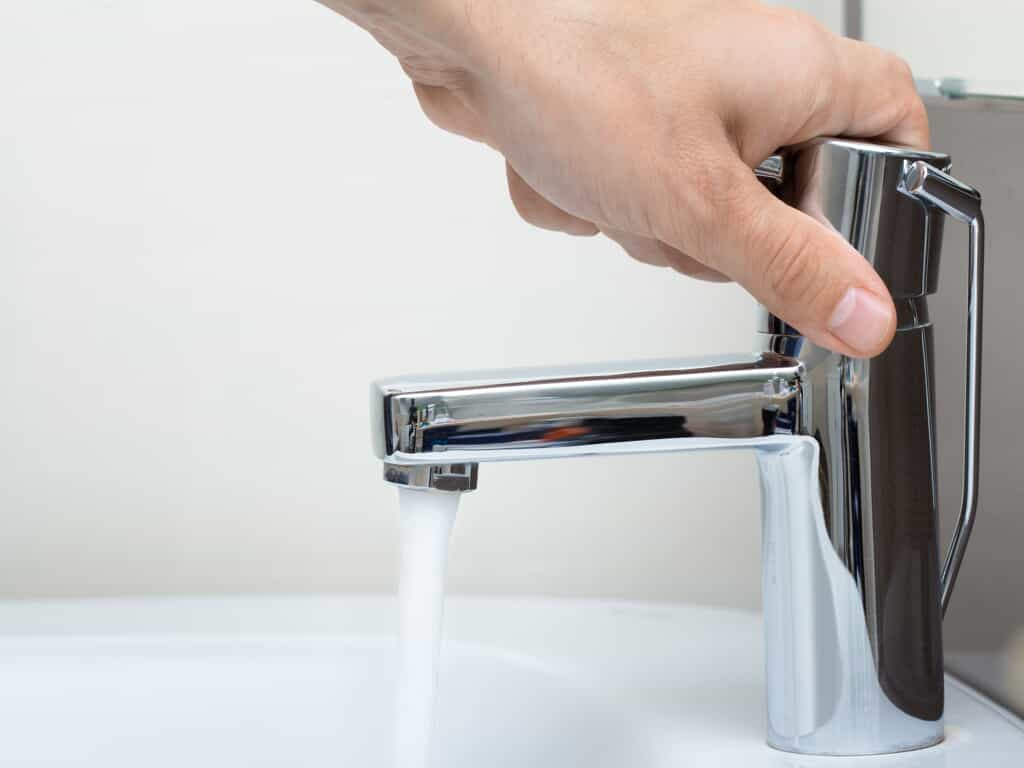 Image Credits: mainlineplumber.com
Hard water can affect water flow and pressure over time, so choosing a faucet that offers efficient performance is essential. Check the faucet's water flow rate and water pressure specifications to ensure they meet your needs. Look for faucets with aerators that provide a balanced mix of air and water, which helps conserve water and maintains a consistent flow even with hard water.
V. Easy Maintenance and Cleaning
Given the challenges of hard water, selecting a faucet that is easy to maintain and clean is crucial. Opt for faucets with smooth surfaces and minimal crevices, as they are less likely to accumulate mineral deposits. Removable aerators and flexible hoses make cleaning and descaling easier. Also, choose faucets with finishes resistant to water spots and fingerprints, requiring less frequent cleaning.
VI. Style and Design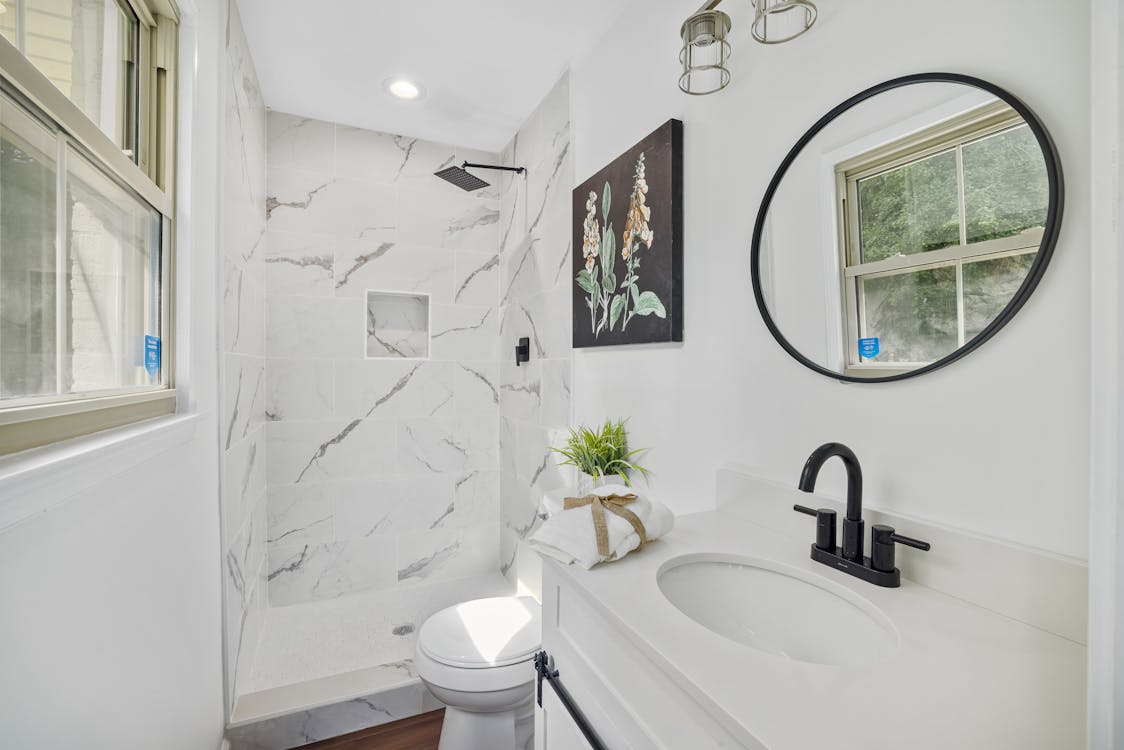 Image Credits: pexels.com
It would be best to choose bathroom faucets that match your sink style and personal preferences. There are different bathroom faucets, such as single-hole, centerset, vessel, wall-mounted, or a widespread bathroom faucet.
Each type has advantages and disadvantages regarding installation, space, and aesthetics. You can also consider faucets with features like waterfall spouts, single or dual handles, or touchless sensors.
VII. Price and Warranty
Finally, compare the prices and warranties of different bathroom faucets. The best bathroom faucets range from around $30 to over $300, depending on the brand, quality, and features. You want faucets that offer good value for money, especially with a lifetime warranty or at least a few years of coverage.
VIII. Ease of Installation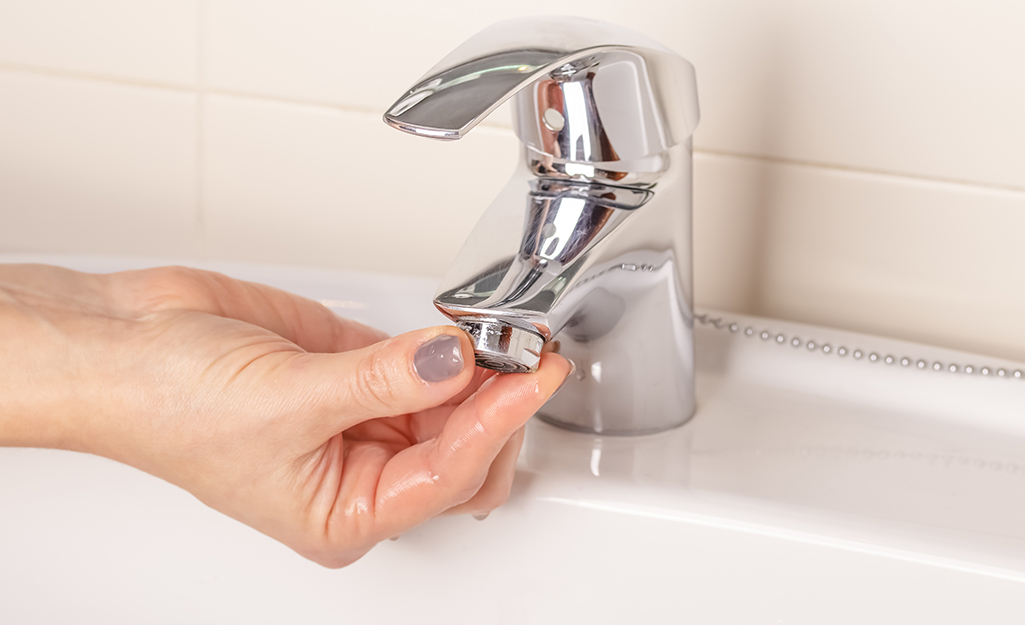 Image Credits: homedepot.com
When purchasing a bathroom faucet for hard water, considering the ease of installation is necessary, especially if you plan on installing it yourself. Here are a few aspects to consider:
Check the mounting type required for the faucet. Common options include center-set, single-hole, and widespread faucets. Choose a mounting type that aligns with your existing sink or countertop configuration to simplify the installation process.
Ensure your faucet is compatible with your existing plumbing system or supply lines. Verify the connection size and type (e.g., compression fittings, threaded connections) to confirm compatibility. Some faucets may require additional adapters or valves, so it's essential to check if any additional components are needed.
Review the manufacturer's installation instructions provided with the faucet. Look for faucets that come with clear and detailed instructions, preferably accompanied by diagrams or videos.
Consider the tools needed for the installation. Basic tools like adjustable wrenches, screwdrivers, and plumber's tape are typically required. Some faucets may have specific requirements or additional tools, so check the instructions or product specifications to ensure you have everything necessary for a successful installation.
Final Words
There you have it: the five best bathroom faucets for hard water for your next bathroom remodel. With any of these faucets, you will prevent the damages hard water has on your bathroom fixtures, ensuring your bathroom looks and feels clean and fresh all the time.
Did you know that replacing old bathroom faucets will also increase the value of your home if you decide to sell? So, as you can see, whether you plan to sell your home or not, investing in a hard, water-resistant bathroom faucet is a worthwhile decision that will benefit you in the long run.