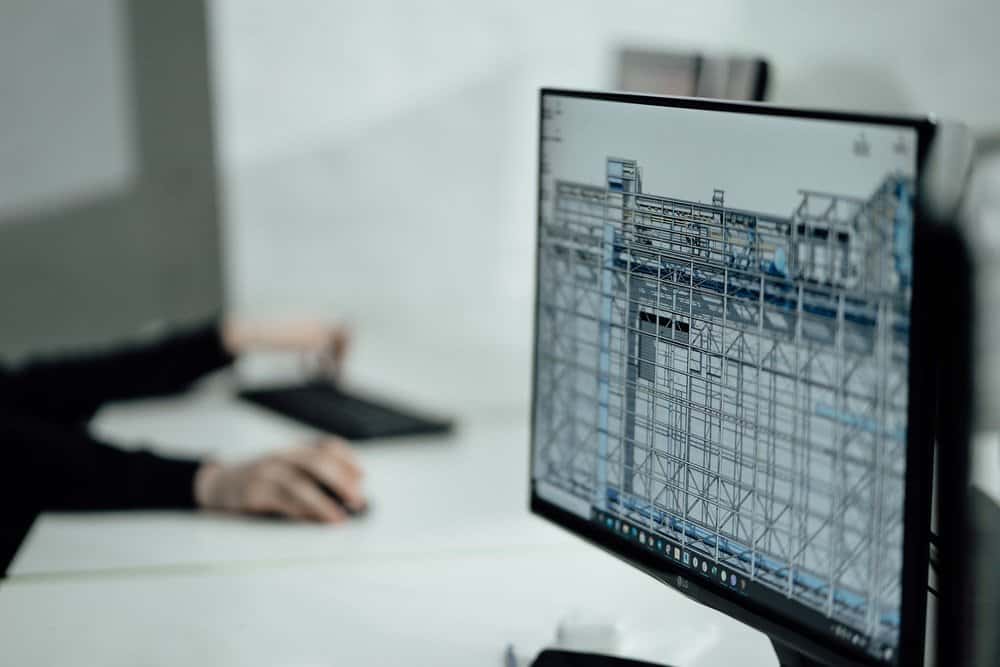 Best Computer for Architecture Rendering and 3D Modeling
Not just any computer can handle 3D processing, especially because 3D modeling and rendering software is undoubtedly quite intensive. These two tasks use computing power quite differently, meaning having the best or latest 3D programs probably won't cut it without the appropriate hardware to run it. To help you narrow down to your best computer for architecture rendering and 3D modeling, let's look break down each of these two tasks.
3D Modeling and Rendering
Modeling is the foundation of 3D design. It's used to draw 3D shapes and adapt them into models to represent a particular object or showcase graphics. Essentially, this could be thought of as a virtual skeleton of objects as they appear in the real world. 3D modeling is heavily used in architecture, real estate, home decor and several other industries to develop prototypes that bring ideas to life.
On the other hand, rendering uses data from 3D modeling and tweaks it further using the relevant software. 3D rendering programs allow the user to add detailed design enhancement and specifications, like camera position and orientation, backgrounds or realistic lighting settings. This creates a smoother presentation since models normally have several color varieties and finishing options. As you would expect, it requires more processing power to render models quickly and effectively.
3D modeling entails a constant interaction between the computer and software. The task is mostly run on one core of the processor, meaning you need a processor with the highest single-core performance. Conversely, rendering uses all the cores to their maximum capacities; thus, the more cores you have, the more efficient your workflow becomes.
CPU vs. GPU Rendering
There are two well-known rendering methods in 3D software:
CPU Rendering: Uses the processor.
Constantly uses all CPU cores, hence able to handle more complex tasks.
Slower than GPU rendering, but performance is more stable.
Has larger memory and is more precise.
Pro Tip: Go for a CPU with the most cores possible. However, this means the PC consumes more power and produces more heat, which might affect the computer's efficiency.
GPU Rendering: Uses the Graphics Card.
Produces more detailed 3D images and better results, better suited to intense graphic rendering.
GPU render engines run much faster than CPU rendering in most cases.
Takes some workload off the CPU, allowing the CPU to run smoothly.
Is evolving much faster.
Now let's walk through our top picks for the best computer for architectural rendering and modeling:
Best PC Computer for Architecture Rendering
1. MacBook Pro - 9th Gen
Over the years, MacBooks have become increasingly favored and preferred by many designers and architects, thanks to their stability and high performance. The MacBook Pro (9th Gen) is yet another solid release from Apple to power your creative workflow. This is a solid machine that handles designing, modeling and rendering as smoothly as you would expect.
It's equipped with either an Intel Core i7 or i9, both remarkably powerful processors. It also features a 1050ti or 1660GTX Graphics Card to help you breeze through your tasks. And to cap it off, it has impressive storage, 512GB SSD PCIe upgradable to 2 TB. It goes without saying this is quite the powerhouse to take your modeling and rendering to the next level.
2. Corsair One Pro i180
CORSAIR ONE PRO i180 High-Performance PC,i9-9920X,RTX...
Intel Core i9-9920X twelve-core processor, NVIDIA GeForce RTX...
Built-in RGB light pipes and powerful CORSAIR iCUE software allow...
Patented assisted convection liquid cooling system for higher...
Connect up to four 4K HDR displays for multi-monitor...
Front I/O panel equipped with two USB ports, a 3.5mm audio jack...
The Corsair One Pro i180 is arguably the sweet spot between size and power. This compact workstation measures only 200 x 172.5 x 380mm, meaning it easily fits on or under the desk. Not only does this computer look quite sleek, but it's also just as reliable and high-performing, guaranteed to redefine your workflow.
It comes with a 12-core Intel Core i9-9920x processor, fully equipped for heavy-duty tasks. It features an Nvidia GeForce RTX 2030 Ti GPU, an exceptional graphics card in its own right. In addition, it has 32GB of Corsair DDR4 memory. On top of it all, it also features a liquid cooling system that keeps the machine running smoothly with minimal noise.
3. HP Z8 G4 Workstation
Widely regarded as the most powerful workstation globally, the HP Z8 G4 Workstation is a monster of a machine. It can run complex processes with vast amounts of data and execute the most complex simulations on the fly. If you're looking for a powerhouse designed to handle the heaviest modeling and rendering workloads, it doesn't get any better.
It features a hexadecane-core processor, certainly throwing the clock speed conversation out of the window. The base model comes with decent storage, 512GB SSD but can be upgraded to 48TB. The Graphics Card is equally remarkable, featuring the 3X Nvidia Quadro P6000 for optimal and smooth performance.
Best Laptop Computer for Architecture Rendering
1. HP Zbook Studio G5
It's no surprise that HP also features first on this sub-category, with the Zbook dominating this area for quite some time. The Zbook Studio is regarded as the most powerful mobile workstation of ts size. And this is indeed a very capable machine, perfectly suited for architects and rendering experts who want sheer power.
It features an Intel Core i9 processor, along with the Nvidia Quadro RTX Graphics card, ensuring that it handles all sorts of modeling and visualization quite comfortably. Moreover, when you consider HP's signature DreamColor Display, it's hard to find a machine that can beat this as the best laptop for architecture rendering.
2. Asus ROG Zephyrus Laptop
2020 Flagship Asus ROG Zephyrus G14 VR Ready Gaming...
【CUSTOMlZED, Professional Upgraded to】: 16GB RAM | 2TB SSD
Equipped With The Most Powerful and Fast AMD 8-Core Ryzen 9...
14" FHD (1920 x 1080) 120Hz Display, Dedicated NVIDIA GeForce RTX...
2 × USB-A 3.2, 1 x USB-C 3.2, 1 x USB-C 3.2 with DisplayPort 1.4...
Microsoft Windows 10 Home (64-bit), Backlit Chicklet Keyboard, Up...
Gaming laptops are almost always an appropriate fit for architects. This is because they are specifically built for power and graphics requirements, for starters, and are usually significantly cheaper. As far as such laptops go, the Asus ROG Zephyrus is certainly one of the most reputable and powerful 14-inch laptops available.
It's equipped with an 8-core AMD Ryzen 9 4900HS processor, plus a GeForce RTX 2060 graphics card to allow high-speed multi-tasking. Add the crisp 14-inch display and this becomes a perfect machine for rendering that exceeds its price point. Plus, it only weighs 3.64lbs, pretty light for a laptop with this much power and capability.
3. Dell Inspiron 13 7000
2021 Dell Inspiron 13 7000 2-in-1 13.3" Full HD 1080p...
10th Gen Intel Core i5-10210U quad-core Processor...
8GB System Memory for Advanced Multitasking Substantial...
13.3" Full HD Touch Screen The 1920 x 1080 resolution boasts...
32GB Intel Optane Memory Intel Optane memory works with the PC to...
RGB backlit keyboard Allows you to enjoy comfortable and accurate...
For architects and designers who prefer to present their work using a digital display, the Dell Inspiron is an excellent choice. It combines great aesthetics with powerful specifications to bring out the best flippable laptop for architecture rendering. If you want a machine that will get your creative juices going, this is certainly a great choice.
It has an Intel Core i5 quad-core processor, with the option of an i7, allowing you to run several programs simultaneously without any problems. The Inspiron 13 also has Intel UHD Graphics On-Processor graphics for the best performance when modeling and rendering, plus 8GB RAM for fluid multitasking. Storage is unlikely to be an issue, with 512GB SSD + 32GB Optane. With a smaller 13.3-inch display, it's also remarkably lightweight and portable.
Factors to Consider in the Best Computer for Architecture Rendering
1. GPU
The Graphics Processing Unit is crucial to the rendering speed. The choice here is quite straightforward; Nvidia is the best option for graphics cards. The company's CUDA graphic rendering offers the best performance for modeling and rendering by quite a margin. Even better, it's available for all their GPUs. AMD graphics cards also have a solid reputation in the game and won't let you down.
We recommend a minimum 2GB RAM GPU, such as from the Nvidia Quadro lineup. These are some of the best Nvidia Graphics Cards you can consider for your computer:
RTX 2080
RTX 2070
RTZ 2060
GTX 1080
GTX 1070
2. CPU
The importance of the CPU has certainly dipped in the last couple of years, but this unit is still vital for 3D rendering. Intel and AMD are the two well-known brands for high-performance CPUs. We recommend getting at least 16GB RAM CPU -and the higher the clock speed, the better: If your central design model file is more than 1GB, you'll definitely need a 32GB RAM CPU.
If you want solid single-threaded performance from your CPU, go with Intel processors. However, if you want multi-threaded operations, you'd be better off with AMD processors. Some of the high-quality CPUs to consider include.
AMD Ryzen 2700X
Intel Core i9 9900K
Intel Core i7 9700K
AMD Ryzen R5 2600
3. RAM
RAM isn't particularly the most critical spec for rendering work, but it still plays a significant role. That being said, 3D rendering software is becoming ever more sophisticated, meaning it requires more RAM. So to ensure that you have smooth operations, we recommend getting at least 16GB of DDR4 RAM and maybe 8GB for students.
The best part is, RAM is easily upgradable. So when you start experiencing laggy performance, you can always slot in more RAM or replace the old units with new, larger ones. After all, RAM is pretty affordable and equally easy to install.
4. Storage
Storage is key since you'll have very large programs and files to store. However, the actual capacity you need varies based on the size of projects and personal work methods. Whatever the case may be, the more storage, the better. You can choose between:
Solid State Drive (SSD) is faster and more reliable than HDD, but it's also more expensive.
Hard Disk Drive (HDD) offers larger storage for a lower price but isn't as reliable as SSD storage.
Hybrid Drive combines the perks of SSD and HDD but is the most expensive option of the three.
5. Operating System
There are arguably two options to consider here: Microsoft Windows and Apple's macOS. Windows is more widely used by architects and architecture students, mostly because it's more user-friendly and available on more computers at a lower cost. This also means it gets more support from IT departments or university compute repair teams.
However, macOS focus on design and usability is just as popular among architects. So as much as it might be more expensive, the system has an oilier reception in the industry, mostly perceived as more professional. But there's also the notable setback that some programs, such as Revit, aren't available on macOS.
6. Desktop or Laptop?
The last question to consider when choosing the best computer for modeling and rendering is whether you prefer a desktop or laptop. A desktop or workstation gives you the advantage of easy customization -you can upgrade your PC as your needs and skill increases. On the other hand, a laptop is obviously more portable if you have to move around.
You'll also need a bigger screen size for modeling and rendering. Some architects even opt for dual screens. So, if you get a laptop, it would be best to consider a base station to connect the machine to a dual-monitor screen. At the same time, you can also explore the idea of using a virtual architecture computer to access your computer remotely and get on with your creative workflow.
One more thing to consider if you opt for a laptop is the battery life. However, most powerhouse laptops are built for high-performance, making them very intense on the battery. Therefore, it would be prudent not to expect prolonged battery life, especially when you're modeling and rendering.