Logan Paul is an American celebrity known for various reasons. He has amassed millions in his twenties and is an icon for many aspiring youngsters all over the world. Thanks to his wealth, he's managed to buy some exciting properties and lives a life of luxury. You are probably wondering, "where does Logan Paul live?
In this post, we'll uncover the location of Logan Paul's home and how much it costs. Don't also forget to check out Jake Paul's real estate portfolio.
Let's begin!
Who is Logan Paul?
Logan Alexander Paul is one of the most famous media personalities in the US. He is popular for a variety of reasons, like being a professional WWE wrestler, actor, and YouTube star. The Internet personality, who is known for his videos about extreme stunts and pranks on Vine, now has a net worth of about 45 million dollars.
Where Did Logan Paul Live Before?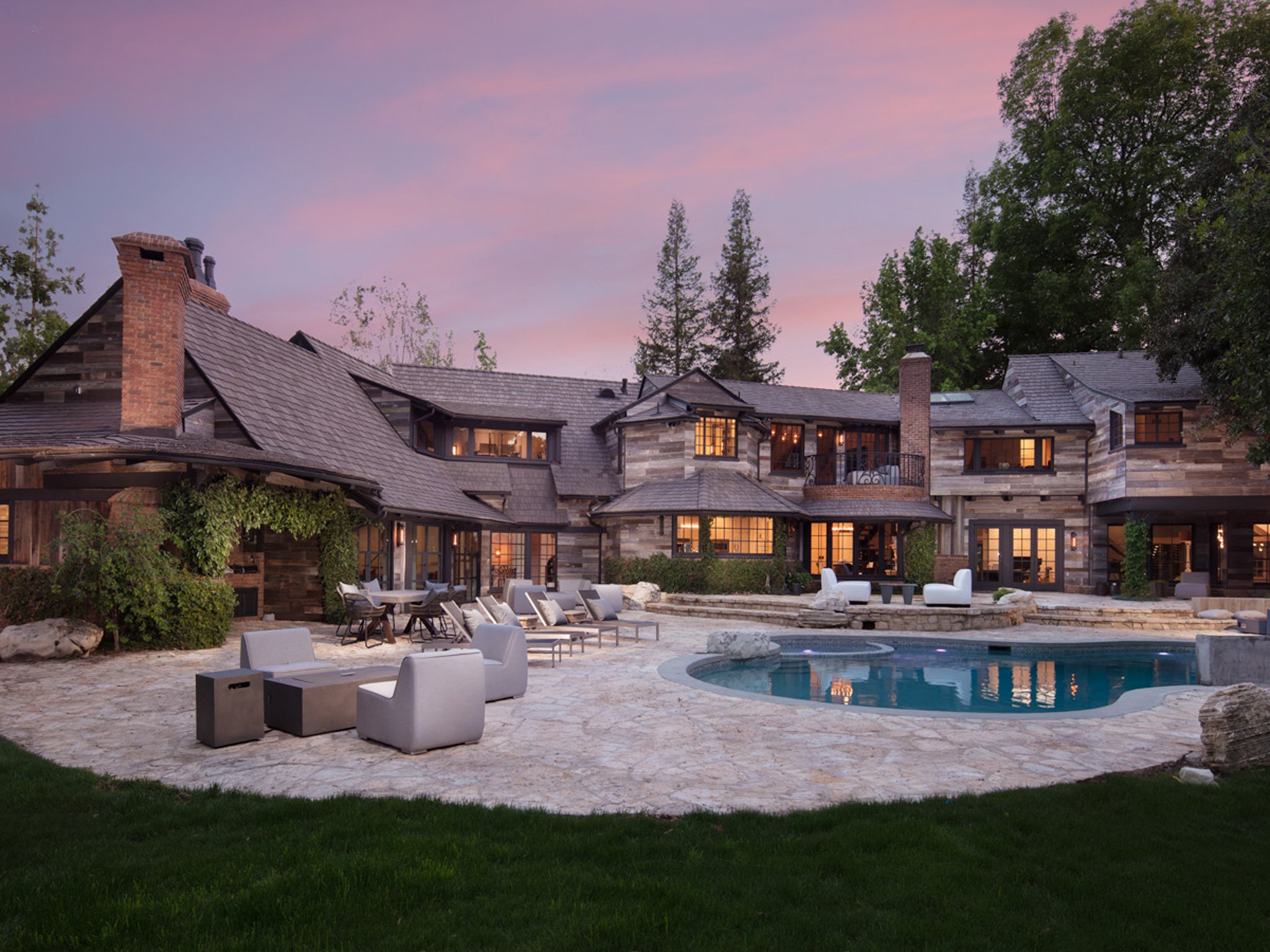 Image Credits: tmz.com
After his rise to fame, Logan Paul bought a 6-million-dollar mansion in Encino, LA. It is a stunning house built in the 70s but still lavish with many appealing features. At first glance, the place looks like a farmhouse, but every detail about it is modern and luxurious.
The home was said to have several wine cellars, five bedrooms and seven bathrooms, a large kitchen with an island, and more.
The estate also hosted an outdoor garden, a free-form pool, and a huge lounge area. It was nicknamed the Maverick House because of Logan Paul's Maverick brand. This home was a huge milestone, being the first home that Logan Paul officially owned.
Logan later sold this property to Machine Gun Kelly, an American actor, rapper, singer, and songwriter. The home sold for 7.5 million dollars, just a bit more than Logan Paul paid.
Image Credits: insider.com
Logan Paul also bought a desert ranch house for a million dollars from Timothy Leary. It's believed that Timothy made LSD on the ranch in the '60s. Logan Paul's love for partying is no secret and is probably one of the reasons he bought the property.
Where Does Logan Paul Live Now?
Image Credits: metro.pr
At the moment, Logan Paul lives in Puerto Rico. In February 2021, he announced that he would move from his California home to Puerto Rico. We don't know what motivated him to move, but he now lives in a 13-million-dollar mansion located in a luxury gated community.
The property sits on half an acre of land and is located on the island's north coast in Dorado. It includes multiple lavish features such as a large pool, stylish rooms, and an indoor-outdoor area.
While most people assume that Logan Paul bought the mansion, he rents it at a stunning rate of about $57,000 per month. Kevin Thobias is the homeowner of the fully-furnished home.
Logan Paul moved from the Maverick house in LA to train for his boxing match against Floyd Mayweather Jr. Fans were later disappointed after no winner was announced for the 8-round match. The entire thing was an exhibition that grossed about a million dollars in sales.
Inside Logan Paul's Puerto Rico House
The mansion features five bedrooms and seven bathrooms, like his previous property in LA, and has more than 5,000 square feet of living space. It's divided into four floors: the ground floor is an open-plan living room, kitchen, and dining area.
1. Entrance
Image Credits: nypost.com
Once you enter the home, you see a spacious grand foyer with white walls and marble flooring. The ceiling in this area is black, creating a stark contrast with the rest of the room.
2. Main Living Space
The foyer leads to the main living space, which is enormous. There's a nice seat set where Logan and Jake can chill with friends.
Image Credits: nypost.com
The living space features a high ceiling design, perfect for a chandelier. Unlike the white walls in the foyer, this room features grey walls matching the color of the seats. There's a stairwell leading to the upper floor and an entrance to the dining area.
3. Dining Area
Image Credits: nypost.com
Moving on, you'll find the formal dining space, which is nothing short of a spectacle. It features a large marble table with ten seats, where an entire family can share a meal. The grey marble is also on one side of the wall, and there are three large art pieces that make the dining room more attractive.
In the center of the ceiling, there's a stylish lion's tail light design, illuminating the dining table. The ceiling is white but isn't the standard style you find in most homes. This dining room gives off a sense of formality and is a great place to share a meal with important guests.
4. Kitchen
The open-floor design leads to a fully-equipped kitchen where Logan's chef prepares mouthwatering delicacies. It's almost as if every room in the mansion has its own personality. The kitchen is white-themed with an island countertop where people can sit and eat.
Image Credits: nypost.com
The state-of-the-art appliances, fridge, and cabinets appear to be built into the mansion and are predominantly grey, preserving the overall theme of the home. There are three dropping lights over the counter and a ventilation hood above the kitchen island.
Logan and his house guests aren't restricted to eating in the dining room because the kitchen is also a great place to sit and enjoy a snack.
Entertainment Room
Image Credits: nypost.com
Another place worth mentioning is the sunroom which also functions as an entertainment space. It features a pool table at the center where Logan Paul and his friends can enjoy the game. The view to the outside isn't restricted because the walls of this space are mostly made of glass.
Bedrooms
Image Credits: nypost.com
The first floor houses the living room, dining room, and kitchen, along with three bedrooms, one on each side of the staircase leading up from here (the middle bedroom being larger than those on either end). There are two additional bedrooms above this floor: one for guests and one for storage purposes (it contains nothing more than some old furniture).
Image Credits: nypost.com
Upstairs are two more bedrooms and an ensuite bathroom with twin sinks. The master bedroom has a master bath and walk-in closet that opens onto the balcony overlooking the pool below.
The closet is enormous and mostly white from top to bottom. The handles on the closets and cabinets look golden, making the space even more luxurious.
Image Credits: nypost.com
Bathrooms
Image Credits: nypost.com
Every bedroom in this mansion features an ensuite bathroom, eliminating the need to rush across the house to access such facilities. The walk-in design features glass enclosures, seats, and different shower heads. The bathroom walls are dark, creating contrast with the ceiling and floors.
Indoor-Outdoor Living Space
Image Credits: nypost.com
Right before you exit the mansion, there's an indoor-outdoor living space that is designed to give you indoor comfort outdoors. It's an excellent place to relax as you enjoy the breeze outside without leaving the property. The space features wooden floors and several grey seats.
There's also a fan above the room to keep the air flowing when there's no wind. It's a wonderful place to get some air and sunlight while staying inside the mansion.
Back Yard
Image Credits: nypost.com
The backyard of Logan Paul's mansion is among the best landscapes you'll see in luxury homes. It's an extensive area that features a pool and well-groomed lawns. There's no surprise that Logan Paul fell in love with this property because it gives off that tropical-island vibe that makes Puerto Rico so famous.
Image Credits: nypost.com
The pool is large and covers a significant area of the yard. It's a great place for Logan Paul to cool off when temperatures are high in Puerto Rico.
Conclusion
With his new mansion in Puerto Rico, YouTube star Logan Paul is officially living the good life. He didn't buy the property but rents it for about fifty-seven thousand dollars each month. Logan sold his previous in Los Angeles for 7.5 million dollars and moved to Puerto Rico.
The five-bedroom, seven-bathroom home was the perfect place for Logan to focus on his training before his boxing match with Floyd Mayweather. It's located in Dorado Beach Community and sits on a half-acre of land.