For numerous reasons, following a gluten-free diet can be tricky. This is why I understand the need for a bread maker with gluten-free functions. But, of course, making gluten-free bread doesn't have to be a tall order whenever you want that homemade spin. After all, why bake from scratch when a machine can do everything?
Having tried multiple healthy cooking appliances (including an air-fryer for healthy fried foods), I wanted to try gluten-free bread machines. Here are the best bread machines in the market, their pros, cons, and features.
The Best Gluten-Free Bread Makers
1) Hamilton Beach Bread Maker Machine
Hamilton Beach Bread Maker Machine, Digital,...
FRESH HOMEMADE BREAD IN 3 EASY STEPS: Just add your ingredients...
YOU CONTROL THE INGREDIENTS & NUTRITIONAL CONTENT: Prepare...
VERSATILE WITH 12 CYCLES: Make dough, bake cake, or make...
GREAT FOR DOUGH PREP: Prepare a variety of yeast doughs in the...
MAKE BREAD THE WAY YOU LIKE IT: Choose to make either 1.5 lb. or...
The Hamilton beach bread machine was created to make homemade gluten-free bread with minimal effort. The 12-cycle settings, including bread baking and dough prep, stood out from the get-go. The dough prep function makes baking a pizza easier, even in a conventional oven.
I enjoyed the 3-crust settings that let you choose the consistency you would like your bread dough to be. You can select between a light, medium, or dark crust. Of course, I always go with the medium crust for any freshly baked loaf. I was worried that the dark crust setting would burn the crust a little. However, the bread turned out fine.
Image Source: walmartcanada.com
Next, I realized how silent this bread maker was. The vibrations are not disruptive, and your bread maker won't fall off the counter. Just ensure that there is nothing under the bread maker, or it will start to move when you turn it on.
Additionally, after baking the best gluten-free bread, removing it from the baking tin was a breeze. Unlike a normal baking tin in a conventional oven, it didn't stick to the baking pan. However, the non-stick is not a big issue since there are multiple non-stick pan options everywhere.
On to the bread tasting, the crust was a beautiful golden color. The inside was moist, and I was impressed when no dough came crumbling out. It was the perfect bread and tasted heavenly. You can also make sandwich bread with this machine. Of course, I will only use this bread maker to bake and prepare dough for the foreseeable future.
I recommend this bread maker for beginners since it's very easy to operate, and if you follow instructions, it will be the best investment. However, the bread maker could use a warranty. So before you get it, ensure you are okay with a machine with none.
2) Zojirushi BB-PDC20BA Home Bakery Virtuoso Plus Bread Maker
Zojirushi BB-PDC20BA Home Bakery Virtuoso Plus...
Various healthy course settings include Multigrain, Whole Wheat,...
Double Kneading Blades thoroughly knead dough for superior...
Rapid courses allow you to bake a loaf of white or whole wheat...
Large, easy-to-read LCD display with convenient key code on lid...
Electrical Rating 120 volts / 700 watts.Cord Length:39 inch
I have found that making gluten-free bread is easier than buying it, and this is the best appliance for the job. The kneading system is the best I have experienced, giving you firm but soft dough that rises well. It doesn't rise too much, which tells me it's a perfect size, and it also browns beautifully on all sides.
I enjoyed making the two-step recipes in the recipe pamphlet since they are easy and convenient if you are always busy. Of course, like with many bread machines, you can easily make sourdough bread, as it shaves off a lot of time you would use to prepare the dough. I liked that sourdough can be kneaded, fermented, and baked in the same place.
Image Source: americastestkitchen.com
Using this bread maker beats the process of mixing my ingredients in my trusty old KitchenAid mixer and then transferring everything to the oven. Of course, with this bread maker, I set the ingredients at night before going to bed, and I had delicious GF bread with a hummus spread in the morning. Furthermore, I can always make bread to gift my loved ones on the holidays.
After using what is considered one of the best bread machines, I did notice how noisy it is compared to other options on the list. However, gluten-free bread is worth the noise. Lastly, the machine stops mid-operation if you open the lid to check on the kneading. It probably needs troubleshooting, but you will still make your bread.
3) West Bend Hi-Rise Bread Maker
Sale
West Bend Hi-Rise Bread Maker Programmable Horizontal...
Dual knead blades provide thorough dough kneading for a lighter...
12 digital settings include Basic, Wheat, French, Sweet, Dough,...
Custom Setting is perfect for the baker who is already familiar...
3 level crust control: Light, Medium, and Dark
Instruction manual includes many delicious recipes, including...
Baking gluten-free bread has never been easier with this compact bread machine. The double-kneading blades make it easier to bake a fresh batch of fresh bread. Additionally, the included recipe book is perfect for first-timers. Of course, this bread maker is also perfect for seasoned bakers, familiar with baking using a bread maker.
The custom setting is perfect if you are familiar with bread maker baking. You can easily prepare pizza dough in this maker. This maker has 12 digital settings and a 3-level crust control for the perfect gluten-free bread.
Image Source: thecoolist.com
Since I leave my freshly baked bread in the maker for an hour after baking, I have found that it's perfect for baking in a light setting. However, if you bake on the medium or high setting, I recommend removing the bread immediately before it burns. Ten minutes is all it takes to go from the perfect homemade bread to a burnt mess.
This bread maker is perfect if you follow all the instructions and start with the dry ingredients, like gluten-free flour first, then wet ingredients next. With this bread maker, you get 2.5 Lbs. of bread. However, I could only make 2 Lbs. since my dough rose too fast, and I wanted to avoid a mishap in the kitchen. I was apprehensive about the dough rising and pushing the dough out.
In general, this is an excellent gluten-free bread maker. However, it could be easier to clean. The dough always sticks to the bottom of the baking tin. Since it's a non-stick baking pan, I expected the dough not to stick. Additionally, placing the pan back in the unit takes a lot of work.
4) Oster Expressbake Bread Maker
Sale
Oster Expressbake Breadmaker, 2-lb. Loaf Capacity, 2...
650 watts oster bread maker with upto a 2.0 pound loaf capacity...
12 bread settings and 3 crust settings for making a variety of...
Expressbake setting bakes bread in under an hour
13 hour programmable baking timer for fresh bread anytime
Large LCD display and intuitive button controls for easy...
With a 13-hour programmable timer, you can have a fresh loaf anytime. Baking gluten-free bread is now simpler, thanks to this timer. All you have to do is mix the ingredients and set the timer. Then, the bread will cook itself. The large LCD and intuitive controls are perfect for easy operation.
Using this bread maker in the first weeks was difficult since I couldn't get the hang of the recipes it comes with. However, different recipes have made baking bread easier in the past months. Within 30 minutes to 1 hour, you can have delicious gluten-free bread. You can also bake sweet bread with the capable kneading paddle.
Image source: poshmark.com
This handy bread maker also has a warm setting where you can keep your bread warm for up to an hour. This setting won't ruin the baking process. Additionally, the bread maker has an automatic signal that prompts you to add mix-ins like raisins and nuts. The kneading paddle mixes them evenly into the dough.
Of course, like most gluten-free bread machines, measurements and proportions are key. The crust will brown nicely when the dough isn't too much. Still, this is a great bread maker to have. I did realize that the machine cuts the kneading time in half. Therefore, I stop it mid-bake (at the 10-minute mark) and start it again. The bread still cooks evenly and tastes delicious.
5) Breville Custom Loaf Bread Maker
Breville Custom Loaf Bread Maker, Brushed Stainless...
Automatic fruit and nut dispenser releases ingredients at the...
Unique collapsible kneading paddle thoroughly mixes ingredients...
Smart lcd screen with progress indicator displaying 13 automatic...
Loaf sizes include 1.0-pound, 1-1/2-pound, 2.0 ln and 2-1/2-pound...
46 step by step recipes (basic, whole wheat, gluten free, crusty...
You will be interested to know that you can bake different loaf sizes with this gluten-free bread machine. Additionally, with the automatic fruit dispenser, you can easily add raisins, and other dried fruits of your choice, for the best gluten-free bread. Furthermore, by the time the machine is done kneading, everything is mixed in properly, and the dough is firm but soft.
When baking homemade bread, I ensure that the gluten-free bread settings are on before mixing any ingredients. This ensures my dough rises well. It is hard for things to go wrong with this bread maker since it does everything for you—no more sore fingers for me.
Image Source: techgearlab.com
There is a light inside the bread maker that I am very grateful for. Unlike most other bread machines, you can't look to see how far along your bread is. But with this, I can take a peek inside to ensure everything is fine. Additionally, the interactive display makes it easier to operate the controls.
I bought this bread machine mainly because you can set it up to make a loaf of bread in the morning and eat delicious and warm bread in the evening. With multiple gluten-free recipes on the internet, you can make anything. However, the brushed steel outer covering was a little thin and flimsy. It might break if it falls. Other than that, this is an excellent machine.
Factors to Consider Before Buying a Bread Maker
a) Added Cooking Features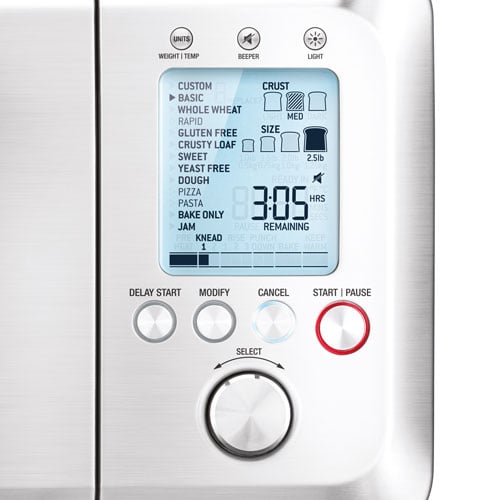 Image Source: williamsonoma.com
A bread machine can offer you more than making gf bread. Some bread machines can prepare:
Pasta dough
Whole wheat bread
Brown rice flour bread
Sweet pastry dough
Breadsticks
Bread machines can also make jam for your toast using the jam setting. So before you buy a bread maker, ensure it has all the additional features for the best bread-making experience.
b) Different Loaf Sizes
Image Source: kitchenencounters.com
Of course, having the loaf size setting ensures you don't waste food. Therefore with this setting, you can bake the precise amount of bread and have it fresh. No one wants to eat stale bread. Additionally, homemade bread doesn't have preservatives, so it gets bad quicker.
c) Additional Features
Image Source: cooksprofessional.com
Features like a fruit or nut dispenser will make a huge difference in your baking. For instance, nut and fruit dispensers add your choice of fruits and nuts at the right time. With added features, you can keep your bread warm the whole night after a baking cycle. Furthermore, features like interactive controls make the process seamless.
A clear viewing window on the top also makes it convenient to check on the dough and how it's doing. Timers, on the other hand, keep your bread fresh and ready for when you want to eat your bread.
d) Crust Settings
Image Source: midea.com
Crust settings are important because you can choose how you want your crust. There are 3 crust settings in most bread makers that alternate between light, medium, and dark. You can have the perfect crust for your bread or pizza in minutes. We all know that the crust defines the pastry.
Frequently Asked Questions About the Best Gluten-free Bread Maker
i) What is the trick to making good gluten-free bread?
There are multiple techniques to use for gluten-free bread. You can ensure to:
Let the dough rest
Use less yeast
Knead thoroughly
Bake at a lower temperature
Bake in a tin with tall sides
ii) How can I make my gluten-free bread fluffy?
On top of using the recommended amount of yeast, you can add a little baking powder to make it fluffy. Again, you can use gluten-free baking powder for this.
iii) Is there such a thing as a gluten-free bread maker?
Yes, there is. Gluten-free bread makers are slightly pricey, but they are worth every cent, especially if you bake regularly.
iv) Is it cheaper to make my gluten-free bread?
Yes, it is. Not only is it cheaper, but it is also healthier to make it at home. Of course, you can bake bread in a normal oven, but it would be better to buy a bread maker.
The Bottom Line
Gluten-free bread makers are worth every cent you spend. Additionally, you will be pleased to know that they last for many years without a problem. The process of making gluten-free bread is not different from making normal bread, although the ingredients differ. Still, having a bread machine makes your work easier.
Featured Image Source: glutenfreesupper.com