Not having a full-sized stove in your kitchen can sometimes seem like an inconvenience, especially if you cook often. However, other cooking tools, like a hot plate, can make your life easier and aid in your cooking journey. Below, we have a list of the best hot plates for small cooking spaces.
The Best Hot Plates
1) Elite Gourmet ESB-301BF Countertop Single Cast Iron Burner
Sale
Elite Gourmet ESB-301BF Countertop Single Cast Iron...
EASY TO CLEAN: 6.4-inch Cast Iron flat cooking plate is nonstick...
ADJUSTABLE TEMPERATURE CONTROL: Quickly reach and sustain the...
BUILT IN SAFETY: Power indicator light on the front of the burner...
COMPACT & PORTABLE: The compact size of our burner makes it an...
EFFICIENT POWER: With a wattage of 1000 Watts, the hot plate and...
With my years of experience cooking, cast iron is one of the best materials to cook on and in. Not only does it conduct heat exceptionally well, but it is also perfect for temperature control. I noticed that you don't have to control the heat distribution because cast iron is naturally heat-receptive. In addition, the plate on this burner is non-stick and won't form any residue on the back bottom of your hard anodized cookware sets.
Image source: ebay.com
It didn't slip past me that this burner is very compact and can fit anywhere from outdoors to indoors in a small little corner on your countertop; it's versatile. Additionally, you can cook with any material on it. Finally, the indicator light is very helpful because even from 2 feet away, it's hard to know whether the burner is hot.
When cooking on this single burner, the bubbling and spills don't go directly on the burner. Instead, the spills go on the countertop surface. This is amazing since no one wants to scrub a hot plate with any abrasive product that could potentially damage it. However, cleanup is easy and is done with a damp cloth once the countertop electric hot burner has cooled down.
2) Cuisinart CB-30P1 Cast-Iron Single Burner
Cast iron burners have been my favorite since college. I didn't have a fully equipped kitchen in my small college dorm room back then. Furthermore, a cast iron burner was my savior more times than I can count, and I still rely on it to date. This Cuisinart single burner with a cast iron plate has a 6-point temperature settings control to provide a versatile cooking surface.
Image source: whizz.com
You can cook anything on this hot plate with how versatile it is to change temperatures. I prefer that there is no coil top like other hot plates, and the surface of the burner is smooth. This ensures there is an even transfer of heat when cooking. The indicator lights let you know when the hot plate is hot enough.
I was always pleased with how low maintenance this unit is. It's heavy enough to stay put in the corner of your countertop, but it's also encased in a stainless steel body that prevents any damage. In addition, the legs are encased in rubber and won't move or slide around when you cook.
I have seen a few customers complaining how it isn't good for cooking every day. However, I should note that it is perfect for cooking certain lightweight foods. It will also keep food warm and is the perfect appliance to cook small meals at intervals. Lastly, it also makes for a good camping stove.
3) Cuisinart Cast-Iron Double Burner
Cuisinart Cast-Iron Double Burner, 11.5"(L) x 19.5"(W)...
2 heavy-duty cast iron plates for durability....
Powerful 1800 watts of power for quick heat-up and heat retention...
Two separate 6-setting adjustable temperature controls
Ready and safety "on" indicator lights. Independent adjustable...
Non-slip feet for total stability while cooking
Double burners are a great addition to your limited space. While they might take twice the space of a single burner, they are very convenient. Of course, I don't particularly appreciate cooking two different dishes and waiting for one to be ready and then getting started on the other. Here is where the best double burner comes in handy.
Image source: ubuy.com
I was worried about how much space the burner would take, but it isn't much. I still have enough counter space. The burners get hot fast, and it's easy to adjust the temperature settings with their six heat settings thermostats. Additionally, the indicator lights are a bonus for when the burners are on.
One burner might be on and the other off, but the indicator lights will let you know which one is on. The hot plates transfer heat quickly, and cooking takes a few minutes, making the unit energy efficient. Additionally, like most conventional stoves, there is a temperature knob on each burner so that I can cook independently on each burner.
One problem with this unit was that it took too long to cool down. Compared to other induction cooktops, or electric hot plates, this took more than enough time just to get to "hot" from "very hot." It takes even longer to become warm enough to touch.
4) Duxtop Portable Induction Countertop Burner
Sale
Duxtop Portable Induction Cooktop, Countertop Burner,...
CONVENIENT & PORTABLE INDUCTION BURNER: Duxtop induction cooktop...
HIGH EFFICIENCY & SAFE: Choose from 15 preset power levels (200W...
SAFETY & EASY TO CLEAN: Safety lock button keeps the cooking and...
INDUCTION READY COOKWARE: As induction stove relies on the...
100% WARRANTY: This induction burner countertop uses 120V 15 amp...
This induction cooktop is an excellent appliance for when you are always on the go. If you prefer induction hot plates, then this is the perfect one. It has 15 preset heat settings with an 83% efficiency rating to ensure quick heating and faster cooking times. I also appreciate that I can cook my mac n' cheese on this cooktop surface in 45 minutes.
Image source: thesecura.com
If you have small children or pets around, this induction hot plate is excellent since there is no naked flame or heating element to scald someone accidentally. In addition, I like how easy it is to clean the hot plate after cooking. There are no nooks and crannies like a normal stovetop, making it easy to go in with a damp cloth and wipe everything down.
Additionally, the safety features like shutting off after 60 seconds and the child safety lock ensure no accidents. I also prefer this portable induction cooktop because my food never burns or gets stuck to the bottom of my pans. It is a good appliance for a quick meal or cooking my usual comfort food. Additionally, I also prefer it most times because my normal propane stovetop is expensive.
Remember that induction hot plates require induction-compatible cookware. Otherwise, the hot plate won't work. I also use cast iron on the hot plate without a problem. There are multiple induction cookware sets for home cooking online. However, I would change the squeaking noise that the internal fan produces. It gets irritating after a while.
5) Cusimax Hot Plate,1500W LED Infrared Electric Portable Stove
Sale
Cusimax Hot Plate,1500W LED Infrared Electric Portable...
[WORKS WITH ALL TYPES OF COOKWARE]: Compatible with pots and pans...
[HEAT-UP IN SECONDS] Compared to a Cast-iron hot plate which...
[KEY FEATURES] Elegant oval ceramic glass surface, LED display...
[SAFE & DURABLE] NO Radiation, our infrared cooktop works by far...
[WARRANTY] 30-Day Money Back Guarantee. 18-Month warranty by...
After ordering this single electric burner portable stove, it wasn't working, and I had to return it. The next one sent over works just fine. Right off the bat, I had to quickly get used to how hot this single burner hot plate could get. Keep in mind that, on a number 2 temperature setting, my food started to burn after a few minutes. Therefore, it's safe to say that hot plates with infrared technology get very hot. However, the adjustable temperature controls work perfectly to control heat.
Image source: ubuy.com
I bought this single burner so that I can cook on camping trips. Additionally, the burner can easily fit among camping gear without a problem. I can adjust the wattage on this single burner from 100W to 1500W. Additionally, I would recommend this single burner for people who prefer to live off-grid.
I found that infrared electric burners are pretty handy in the kitchen, even when you have company over. For example, I can use an extension cord and cook a delicious gravy in my backyard as I grill beef patties and corn.
What to Consider Before Buying a Hot Plate Burner
Hot plates can be a great investment if you know what to select. But, of course, even if you don't know how to select hot plates, this section is for you. Be it for college, a small apartment, outdoor exploration, or just for home use, a hot plate is a great appliance. So here are some things to look for in your next hotplate.
a) Watts of Power
Most hot plates require between 750W-1500W. The wattage also depends on the hot plate size and the heating element they have. The wattage also varies depending on if it's a single or double burner. Note that the higher the watts of power, the faster the hot plates heat up. So higher watts of power are best if your cooking consists mostly of boiling and sauté.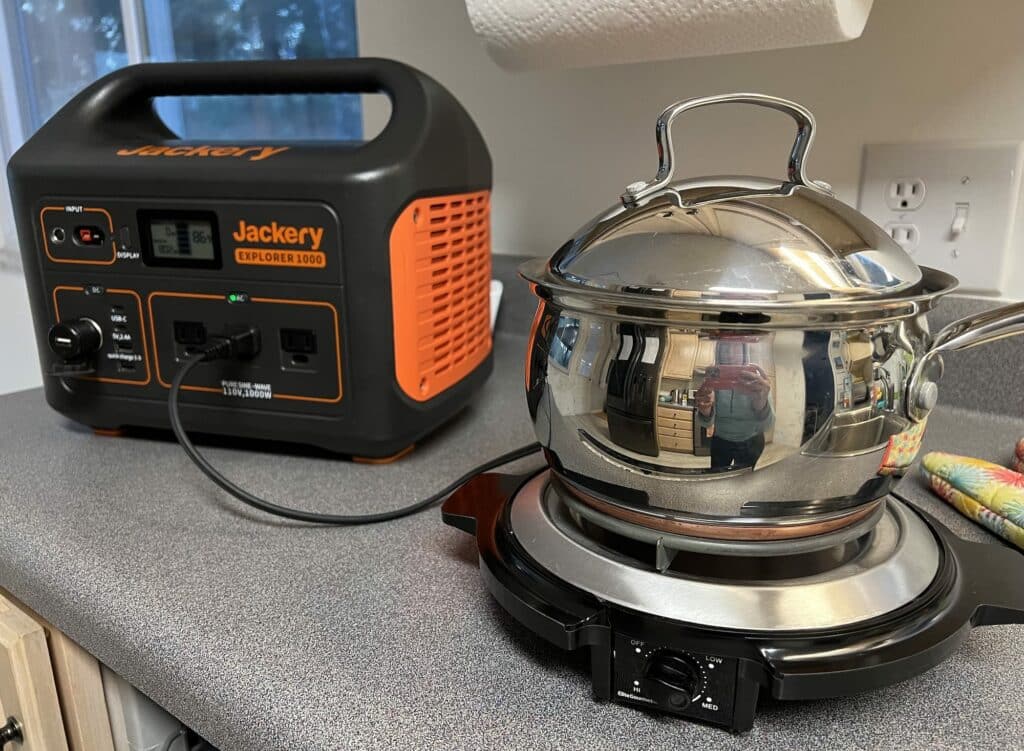 Image source: couchpotatocamping.com
Coil and infrared technology hot plates range between 900W-1500W. 950W is 350 degrees Celsius which is enough to boil water. It is also an adequate cooking temperature for most foods. With a 900W hot plate, you can cook a meal in 14 minutes with precise temperature control. That's impressive for a portable burner.
b) Cooking Surface
The cooking surface on hot plates varies between the type of hot plate you purchase. Coil cooking surfaces are easy to use but hard to clean because food particles lodge between the electric coils.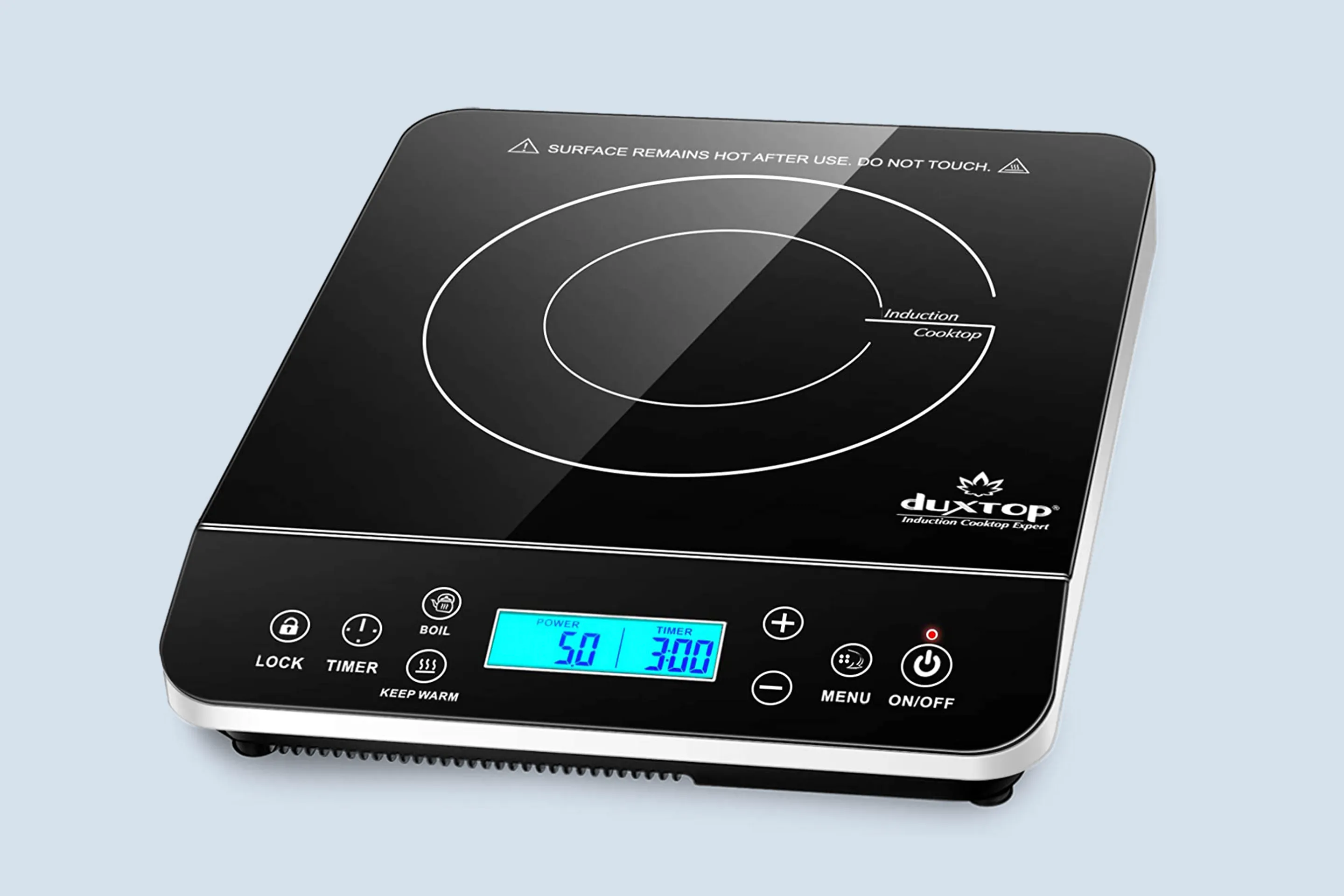 Image source: money.com
Hot plates with scratch-resistant glass surfaces in induction hot plates are more modern. They are also easy to clean. Hot plates with a cast iron surface are also excellent for cooking. For an upgrade, you can always select enameled cast iron burners. Remember that your portable electric stove might not be compatible with all cookware, and you might need special cookware sets.
c) Safety Features
Safety features are very important, especially in a high-traffic household. With kids and pets around, accidents are prone to happen. However, with the safety features available on some hot plates, you can guarantee that your hot plate burner won't be the cause of an accident.
The automatic shutoff feature is a great feature because it detects the absence of a pan's surface within 60 seconds and shuts itself off. The child safety lock feature prevents the knobs from being turned on or fiddled with. If you have toddlers, this is important since they get into everything.
You should also check for nonslip rubber feet with hot plates because if not, a child could easily pull one off the countertop.
d) Weight and Size
Most hot plates are designed to be portable. That being said, others are encased in cast iron or stainless steel. Naturally, this will make them heavier than their other counterparts. However, the heavier the electric hot plate, the more stable it is. This means you will be able to cook on it without it moving too much.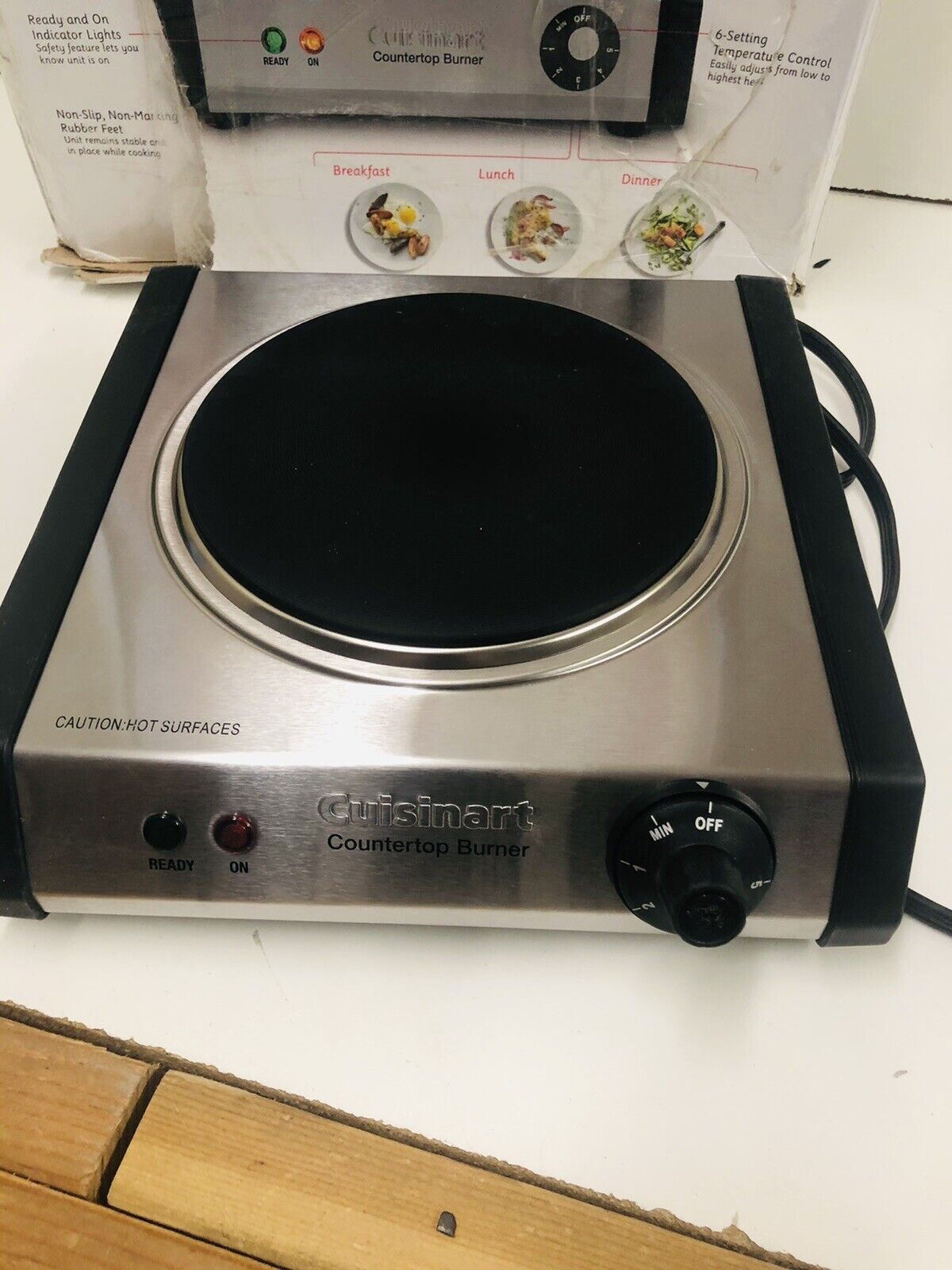 Image source: ebay.com
Hot plates measure 9 by 9 inches and don't take up much space. Of course, that changes if you have two burners, or a dual burner; that's double the size of a single hot plate.
e) Heat Control
Standard electric burners have knobs and dials for temperature settings to give you temperature control. Additionally, temperature control is essential for cooking anything. Burnt food is horrible.
Image source: madeinchina.com
Hot plates measure 9 by 9 inches and don't take up much space. Of course, that changes if you have two burners or a dual burner; that's double the size of a single hot plate.
If temperature control with precision is a big deal for you, then there are other units with digital controls that are better for temperature precision. Apart from temperature control, hot plates also offer protection from overheating, especially when you have to cook for a long time.
FAQ
i) What are the dangers of a hot plate?
Modern hot plates are fairly safe to use. However, they do have the potential to cause burns, fires, and electric shocks. When you get a hot plate, ensure to follow the safety recommendations.
ii) How long can I leave my hot plate on?
You can leave it on for about 8 hours. However, it is not recommended to leave your hot plate on. Some hot plates have a safety feature that turns the hot plate off when it doesn't sense a pan on its cook surface.
iii) Can you boil water on a hot plate?
Yes. You can boil water for coffee, tea, or ramen, as long as you know what you are doing.
The Bottom Line
Portable cooktops have always been popular. Some offer basic warming and cooking small meals. However, with recent advancements, there have also been hot plates that can handle heavy cookware and cook multiple meals. Choosing a good hot plate will be easier as long as you know the functionality you require of your hot plate.