A copper tea pot is a huge upgrade to any kitchen. However, getting the best copper tea kettle is another ball game. In this article, I will not only talk about copper tea kettles, but tell you everything you need to know about finding the best kettle.
First, what is a copper teapot?
What is a Copper Tea Kettle?
Image Source: acacuss.com
Since copper is one of the early discovered metals, it was used in many appliances and ornaments, including the teapot. This makes copper kettle a favorite choice among tea lovers because of its versatility, elegance, and efficiency.
Here are the best options in different categories in today's market.
Best Copper Tea Kettle
| | | | |
| --- | --- | --- | --- |
| | | | |
| | | | |
| | | | |
| | | | |
| | | | |
1) Best handmade copper tea kettle
Copper has been used on ornaments since immemorial and is a good metal for accessories. The engravings on copper are attractive and bring an oriental vibe to a kitchen. In addition, the care put into handmade products make them stand out from the factory-manufactured options that look generic and unattractive.
Here is a kettle that comes to mind first when I think of a handmade copper kettle.
DEMMEX Handmade Tea Pot
DEMMEX Handmade Heavy Gauge 1mm Thick Natural Turkish...
Heavy gauge 1mm thick handmade copper teapot. Made with famous...
LARGE CAPACITY : 3.1 Qt. Diameter:7.7" Height : 6.9". Weight :...
This teapot's body is completely solid copper and nonreactive...
You can be assured this will last for many generations unlike...
GUARANTEED 100% COPPER - AUTHENTICITY TEST : After receiving the...
DEMMEX is a special kind of kettle because of its Turkish engravings that are satisfying to look at. The kettle is made of a heavy gauge metal that is durable and strong. The pot is made of solid copper and is pure and authentic.
Image Source: ubuy.ke
Food safety by DEMMEX comes first, and the copper tea kettle has a tin lining, making it one of the safest options on the market.
DEMMEX is compatible with many stovetops, and the design is that of a universal kettle.
2) Best Electric Copper Tea Kettle
Copper is a good conductor of electricity and makes some of the best electric tea kettles. The electric tea kettle is a good investment since it is faster than a microwave, making it the most convenient option.
Electric copper tea kettles are easy to use, instant, and less tasking compared to other kettles. So if your mornings are busy and rushed, the best copper tea kettles are the electric ones, and the one below is the best option.
BELLA Electric Tea Kettle
Sale
BELLA (14753) 1.7 Liter Electric Tea Kettle Copper...
ELECTRIC KETTLE: Boil water faster than a microwave and safer...
BUILT IN SAFETY: This kettle features automatic shut off & boil...
TIMELESS FAVORITE: From countertop to table to living room this...
KITCHEN ESSENTIALS: BELLA offers a full range of high-quality...
MIX IT UP: The kitchen should be fun. With BELLA It can be. We...
With a fully detachable, 360-degree base, BELLA is automatically the safest option because you can pick it up from any angle. In addition, the detachable base gets rid of the cable which is limiting in most cases, especially when you have to bring the kettle further from the heating source.
Image Source: pinterest.com
BELLA kettle has the best safety features, including an auto-shutoff feature and a boil-dry protection feature. In addition, the heating element is sealed for more protection.
The kettle is long-lasting and has a strong build.
3) Best Gooseneck Spout Copper Tea Kettle
Gooseneck kettles have been around for a long time, and the kettles have the most authentic and accepted designs worldwide. Unfortunately, the kettles are hard to come by, especially those made of copper. Luckily, I bumped into one.
Old Dutch Copper Tea Kettle
Sale
Old Dutch Tea Kettle, 2 Qt, Copper
Generous 2 qt capacity preparing your favorite batch of tea
Solid Copper for efficient heat transfer and faster boiling. The...
Classic look with a beautiful hand-hammered finish and wooden...
Suitable for both gas and electric stoves
Easily cleaned by washing with Warm soapy water and hand Dry...
The Old Dutch international copper tea kettle is a rare hammered copper kettle, and for good reasons. The kettle has a solid copper design and a gleaming finish. In addition, the spout gives the kettle an attractive appearance that enhances the kitchen look.
Image Source: overstoc.com
The kettle is great for gas and electric stoves, adding to its convenience and range of use.
4) Best Whistling Copper Tea Kettle
The whistling tea kettle is a genius design that is a great option for anyone that wants to know when the beverage in the kettle is steaming. The whistling tea kettle is a classic kettle that adds to the thrill of taking tea or coffee in the morning. The whistling kettle below is one you have to check out.
Chantal Copper Classic Teakettle
Chantal Tea Kettle Classic Harmonica Whistling...
DESIGN ICON: This Classic Teakettle rocketed to popularity when...
HARMONICA WHISTLE: The only kettle with an exclusive two-tone...
QUICK BOIL: This kettles flat, wide base enables rapid and even...
STAY COOL HANDLE: Wire loop handle ensures a good grip and, along...
FROM CHANTAL: 50 years ago, Chantal was the first to bring...
Chantal made more than a kettle when they came up with this whistling kettle. The kettle has a two-tone harmonica whistle, giving off good melodic sounds every time water steams in the kettle. What's better, the harmonica reed is supplied by Germany's leading harmonica supplier, Horner, making the pot one of a kind and a must-have.
Image Source: crateandbarrel.com
The kettle boils fast as the handle stays cool, making it a safe option. With a smooth base, the kettle is safe for glass stovetops and compatible with other stovetops.
5) Best Solid Copper Tea Kettle
Getting a solid copper tea kettle is vital for the longevity of the kettle. Solid copper will last longer and maintain its aesthetic look for longer. This is because copper is malleable, and a thin material will not do as well as a thick one.
DEMMEX leads in this category once more.
DEMMEX Solid Copper Kettle
DEMMEX Heavy Gauge 1mm Thick Hammered Solid Copper Tea...
DEMMEX Heavy Gauge Thick Engraved Solid Copper Teapot. Not...
Copper Thickness : **1mm**. Capacity: 1.6 Quarts.
100% Handmade by DEMMEX's copper artisans in Turkey.
Wooden&Brass Handle. Lined with food grade tin for safety & ease...
Suitable for gas/electric stoves. (Not for induction)
With a wooden brass handle and handmade engravings, this kettle is one of a kind in the market. DEMMEX has become a market and barista favorite because of its efficiency and elegance. The kettle is all-rounded and is all you need in your kitchen.
Things to Consider When Buying a Copper Tea Kettle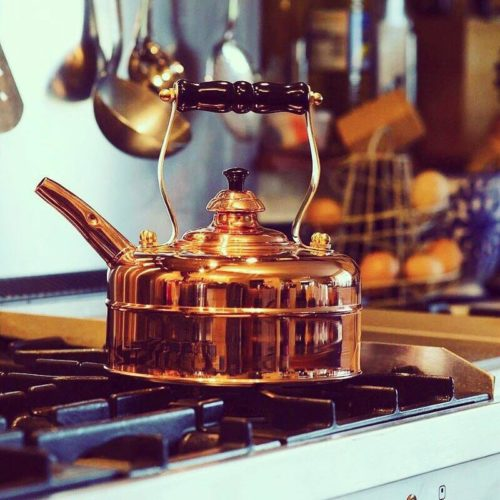 Image Source: richmondkettlecompany.com
a) Price
Since the copper tea kettle is on the higher end regarding price, it is one of the things I consider when buying it. However, I can get good kettles across any price range, and the kettles I have highlighted above are great and affordable.
I love luxurious kitchen utensils and appliances, and the copper tea kettle is one thing I saved for. There is an elegance and style that the kettle adds to my kitchen.
b) Weight
Copper is a lightweight material. However, the metal can have accessories made of other materials that may add to its weight. Generally, weight is not an issue when buying copper tea kettles and is mostly an issue when dealing with other metals like iron.
c) Design and Style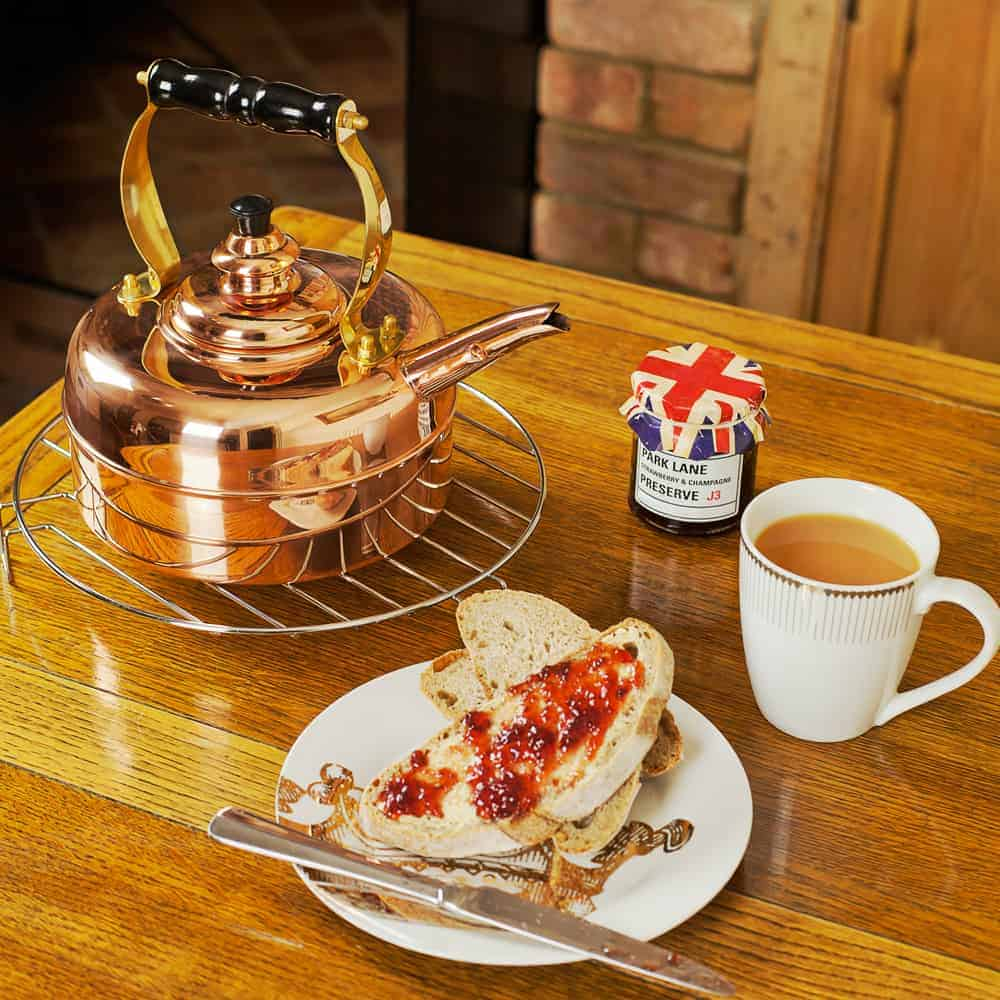 Image Source: sirgordonbennett.com
My kettle is handmade, and has one of the best looks compared to a generic tea kettle I can get off the counter in any store. The etchings on the copper tea pot makes it look so aesthetically pleasing.
The design of the kettle makes it compatible or non-compatible with the stove top. There are different types of stove-tops and you have to buy a kettle that is compatible, or get an extra pot holder for the stove top. When using gas or electric stove, the kettle you get will make it easier or harder to use depending on the style.
d) Lining
Copper tea kettles can be lined with other metals. Some copper tea kettles are have a nickel lining on the inside to make them safer to use and prevent copper poisoning. You can get nickel lining on copper tea kettles too.
Knowing which lining the kettle has is important since some metals will make the kettle incompatible with induction stoves. Gas or electric stovetop options are relatively safer to use with different copper kettles.
e) Capacity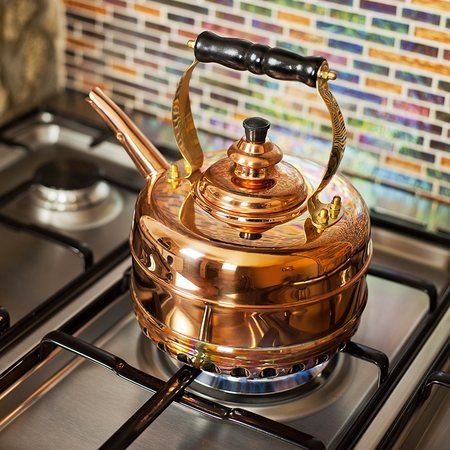 Image Source: academy.evolve-up.com
Since I live alone, I do not have to get a massive kettle. However, I occasionally have guests at my place, and I have to host them. Therefore, my kettle is enough for at least three or four people.
The capacity will alter the price of the kettle too.
f) Built-in Thermometer
If you are a particular person, you will know that the tea types have different recipes that should be followed precisely. Since I enjoy making tea, the thermometer is a huge part of my setup.
g) Thickness
Thicker copper tea kettles are longer lasting compared to their thinner counterparts. In addition, the thicker copper construction is less malleable and will not be disfigured by any slight contact.
h) Handle
Copper heats up fast and can cause burns if not handled carefully. Therefore, the handle is one of the features I looked at when buying my kettle. The handle should be generous. A small handle is more of a hazard compared to an oversized handle. The handle material matters too. The wooden handle remains cool while the kettle is heating up. Wood is the best material for handles.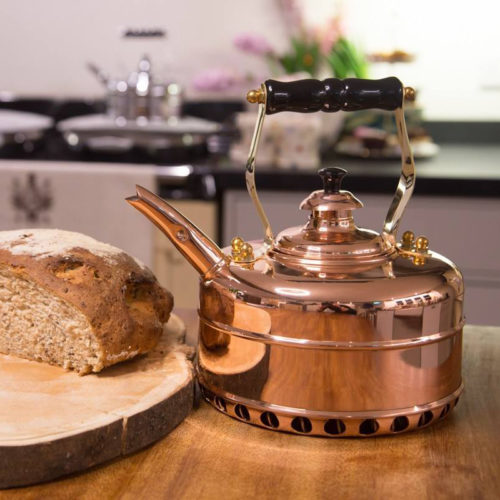 Image Source: reichmondkettlecompany.com
The handle positioning matters too. Some handles go over the top, while others are on the side. I like the handle on the side since it makes pouring hot water easier because the chances of interacting with steam are greatly reduced.
The handle on the side makes it easier for me to access the inside of the kettle during cleaning.
i) Ease of Use
If you are buying an electric copper tea kettle, the controls on the kettle are things you have to look at. For example, how easy is it to control the temperature, and how long does it take to heat up? In addition, there are kettles with an idling feature that keeps the hot water hot for longer.
Electric kettles that have an auto-off function are safer to use. In addition, some kettles have timers that you can use to set when you need some water heated.
Some kettles will have an alarm to notify you that water is boiled. Luckily, I have a whistling tea kettle, and the whistle notifies me whenever the water is boiled.
Pros and Cons of Copper Tea Kettles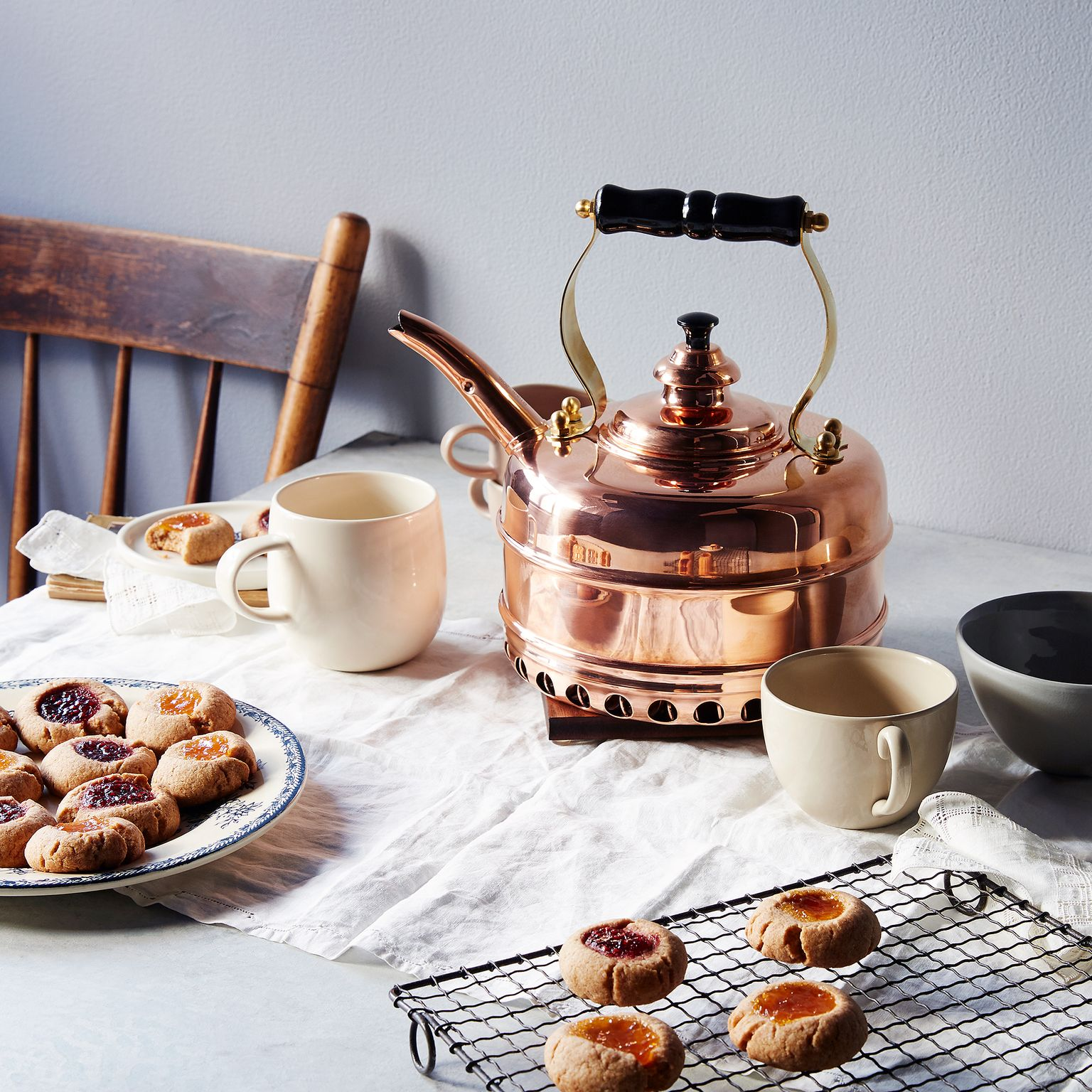 Image Source: food52.com
While buying copper tea kettle, I know there are some things I will like about them and some that I will not. Here are some things I like about the copper tea kettle and some that I do not.
i) Benefits of Copper Tea Kettles
1) Good Heat Conductor
Copper is the best heat conductor compared to most metals. This means copper kettles will likely boil water faster than steel or other metal pots. As a result, I can save on energy since the copper kettle will take little time to transfer the heat to its contents.
Compared to iron or steel kettles, the copper tea kettle heats water at twice the rate of other metals.
2) Time and Energy Saving
In this modern world, the most valuable things are time and energy. Time matters so much that ovens and coffee makers have timers on them to automatically make the beverage in the morning without human interaction.
The copper tea kettle saves time and makes breakfast an easy daily fix.
3) Zero Rust
Copper, as a metal, does not rust. Pure copper, especially, is almost 100% rust-resistant. This makes the copper tea kettle safer for use in low-altitude areas near the ocean than iron or stainless steel.
4) Durable
We have found copper tools and ornaments from hundreds of years ago. This makes copper one of the most durable materials as it will not be affected by the elements such as rust.
5) Lightweight
Compared to iron, the copper tea kettle is lightweight, making it a safer option to use, especially by minors.
6) Aesthetically Pleasing
Copper is a beautiful metal, which is why it is used on most ornaments. The glowing appearance can enhance any look and a touch of gold that matches many other colors. When designing the interior of a kitchen, getting copper utensils will enhance the kitchen's look.
7) Hygienic
Copper, in nature, has anti-microbial properties and can kill many harmful microorganisms such as bacteria, fungi, or viruses.
8) Non-Toxic
Copper does not have toxic elements that can leach into beverages in the kettle. In addition, the metal is easy to process and will not involve the use of a lot of chemicals in the process.
9) Easy to Clean
One thing about kitchen utensils is that they need to be cleaned often. Luckily, copper is one of the easiest materials to clean because it will not rust or hold on to residue. Scrubbing copper is easier than other metals.
10) Health Benefits
Copper is believed to have good health properties, such as combating anemia and arthritis, healing wounds, and regulating thyroid functions. The anti-carcinogenic properties of copper are lauded too. In addition, copper is an anti-oxidant, which makes any beverage made in copper kettles safer. These beliefs are held by many communities around the world and sometimes even just the placebo is all I need to feel better.
ii) Downsides of Copper Kettles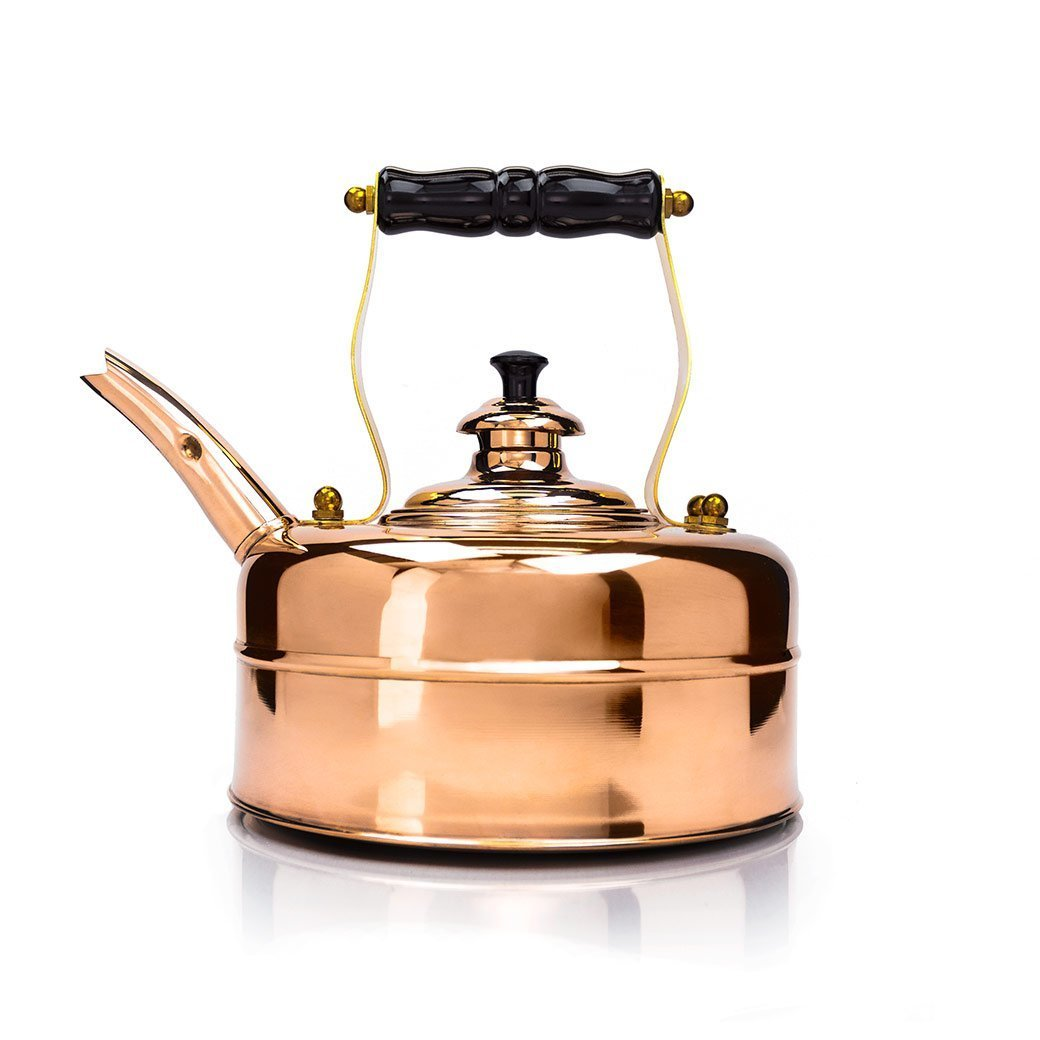 Image Source: reichmondkettlecompany.com
a) Faster Cooling
Copper loses heat just as fast as it gains it. Therefore, if you have some beverage in a copper tea kettle, the best time to take it is as soon as it is ready.
b) Malleable
Just a fall can disfigure the copper tea kettle. The kettle can suffer from scratches too. The copper tea kettle needs much more care than steel or iron.
c) Pricey
Copper tea kettles are more expensive compared to other metals.
d) Tarnish
Copper tea kettles will look tarnished over time, and I must polish them often. Also, once copper starts reacting with oxygen, and it will start having a different tan than a new kettle.
Some people prefer the tarnished look, which is only partially a disadvantage.
e) Induction Stove
The copper teapot can not work on an induction stove as it is not magnetic. Luckily, it is one of the cookware for gas stoves and electric ranges.
Frequently Asked Questions About Copper Tea Kettles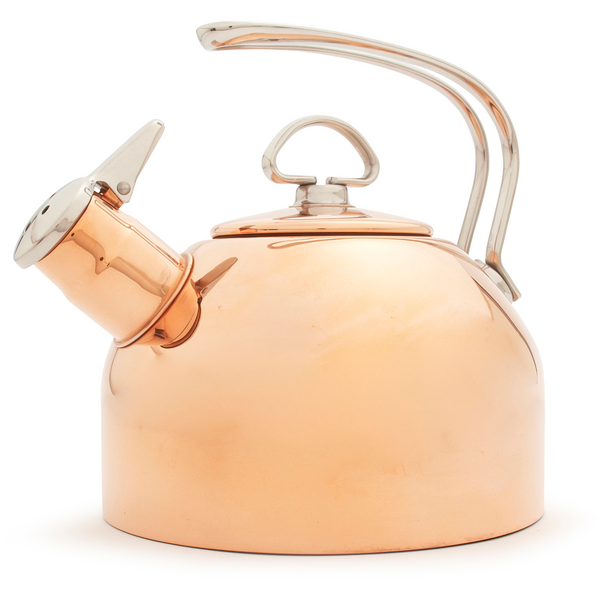 Image Source: surlatable.com
1) Why are some copper tea kettles lined with other metals?
When copper tea kettles are lined by nickel, iron, or tin, it is to avoid copper poisoning. Copper poisoning can lead to many complications, including kidney or liver damage.
2) Why do nickel-lined copper tea kettles not work on induction stoves?
Nickel blocks the magnetic field, which induction cooktops use to propagate heat. Therefore, only magnetic steelware will work properly on an induction cooktop, and copper is non-magnetic.
Final Thoughts
Image Source: baggottantiques.com
A copper kettle is one thing each kitchen should have, whether it is an electric, handmade, whistle, or a gooseneck kettle. While there are some downsides, the copper kettle has more advantages. I recommend one of the options above.
Featured Image Source: aliexpress.com