Are you interested in purchasing the best suction pool cleaner but afraid it might make your wallet a big dent? Luckily, suction pool cleaners are budget-friendly, and most pool owners find them effective. Using the latent energy from your already-installed pump and filtration system, these clever bottom cleaners suckers the gross out of your pool which leaves your pool clean.
However, suction pool cleaners differ from one model to another, and there are also different types of swimming pools. We have reviewed the popular models on the crowded market, and these reviews will help you make the right decision for your home.
What is a Suction Pool Cleaner?
Suction pool cleaners are vacuums that use pressure from your pool's intake to pull in water as it moves around the pool to remove hair, bugs, leaves, and other debris. They attach to the suction side of a water pump or pool skimmer to create a powerful pull that can remove debris inside a pool.
Image Credit: seekforbest.com
The dirt gets sucked into your swimming pool's filtration system, where you can remove the filter basket to clean it. The automatic pool cleaners have a self-propelled cleaning head that attaches to a long hose. Suction pool cleaners won't make a lot of noise, but they can't all be categorized as silent pool accessories.
1. Zodiac MX6 Automatic Suction-Side Pool Cleaner
Sale
Zodiac MX6 Automatic Suction-Side Pool Cleaner Vacuum...
Innovative low-flow design makes it ideal for pools with 2-speed...
Cyclonic suction for powerful vacuuming and articulating turbine...
Swiveling hoses are quick-connect style for easy assembly
Includes automatic Weir Valve, 90° Twist Lock Elbow, 7 x 1.2m...
Our favorite had to be this Zodiac MX6, for a good reason. To begin with, we were impressed with its cyclonic suction, which allows cleaning from the rigid walls to the vinyl lining and the ones with steep or smooth slopes. Not only that, but also, since it's hydraulic, it can be connected fully to the pool's filtration network.
Another top feature is that the suction side cleaner can clean the bottom, walls, and water lines of rigid pools up to 12 x 8 meters in length thanks to a motorized system of "caterpillar-type" wheels. Also, you can clean up the pool's waterline with a 3/4 hp because of the rubber propeller-shaped turbine, which removes the entire pool floor and send dirt to the pool filter bag.
Lastly, we must mention its lightweight and low-flow design, which doesn't consume much energy, making it suitable for swimming pools with variable-speed pumps. The suction cleaners also come with a 12-meter rubber to accommodate the villa pool.
2. Hayward W3925ADC Navigator Pro Suction Pool Cleaner
Hayward W3925ADC Navigator Pro Suction Pool Cleaner for...
SUPERIOR DEBRIS PICKUP: Designed for gunite surfaces, the unique...
PROGRAMMED CLEANING: Exclusive SmartDrive preprogrammed steering...
SILENT OPERATION: Its advanced suction design cleans efficiently...
EASY MAINTENANCE: No more messy debris bags to empty, Navigator...
EASY INSTALLATION: Connects in less than 10 minutes to the...
If you are looking for a smart automatic pool cleaner designed for in-ground pools of up to 20 ft x 40 ft, then we recommend this. Hayward Navigator Pro is one of the smartest products and uses a patented SmartDrive navigation technology.
Image Credit: amazon.com
This was also a top contender because the cleaner started a moving algorithm with a set of programmed turns that helped systematically process the pool walls, floor, and coves. Also, its unique vacuum wings and skirts are worth mentioning since they give a better debris collection than others in this list.
However, one of the major drawbacks is that the suction cleaner sometimes gets stuck, which can be a headache for many pool owners. Also, you might not like the body material quality at a price.
3. Pentair 360042 Kreepy Krauly Suction-Side Inground Universal Pool Cleaner
Sale
Pentair 360042 Kreepy Krauly® Suction-Side Inground...
Dive float directional system helps guide cleaner throughout...
Automatic valve automatically regulates water flow to set the...
Roller strap maneuvers cleaner around steps and ladders for...
Cleaner wings help channel leaves, dirt and debris directly into...
Original "one moving part" design for years of dependable service...
If you need an easier way to ensure your pool maintenance, we found this Kreepy Krauly wall-climbing suction pool cleaner to be one of the best in the market. The Pentair 360042 suction side pool cleaner offers bottom pool cleaning, the steps, and the waterline thanks to the dive float directional guidance system, which covers all the pool parts.
Image Credit: badenpools.com.au
Another noteworthy feature we realized is its roller strap bumper which prevents the cleaner from getting stuck, unlike other suction-side pool cleaners. You will also love its cleaning process, where the skirt allows the cleaner to maintain adequate suction power to clean your walls.
However, we didn't like KreepyKrauly depends on the vacuum cleaner to pick up debris where the pleated seal sucks up water and debris and directs it to the pool filter system. This means you will have to empty your pool filter often to minimize clogging, which can reduce the suction power which reaches your cleaner.
4. AIPER Cordless Automatic Pool Cleaner
RENEWED AIPER Cordless Automatic Pool Cleaner, Strong...
Refurished: This pre-owned product has been professionally...
Surface: Product works and looks like very good. There will be no...
Accessory: Accessories are original, compatible and fully...
Guarantee:This product is eligible for a replacement or refund...
What You Get: Aiper Robotic Pool Cleaner, 220V Power Adapter,...
Another impressive suction pool cleaner that made it to our top choices is the AIPER which is durable and affordable. We loved that it was a cordless choice, eliminating the need for a hose or a power cord, and it was also compact and portable.
We found AIPER cordless automatic pool cleaner one of the best choices if you are looking for the best suction pool cleaner for an above-ground pool varying up to 538 sq. ft. in area. Another impressive feature we noted is how fast it cleaned above-ground pools in about 50 minutes to an hour.
Image Credit: householdme.com
In addition, if you are looking for a model that will offer you strong suction power, we noticed this model has powerful dual motors, which create the strong suction necessary to clean the pool's inside. Another bonus is the dual brush on its bottom, which cleans all types of debris, such as dirt, leaves, and buds.
Lastly, since it's an automatic cleaner, you don't have to bother as it can lock itself near a pool's wall when it runs low on battery power. This will allow you to remove the cleaner from the pool water to charge it.
5. Zodiac Baracuda G3 W03000
Zodiac G3 Automatic Suction-Side Pool Cleaner Vacuum...
Quiet, powerful suction cleaner; works with low-speed pumps for...
Devours small and medium-sized debris and cleans floor, walls and...
FlowKeeper Valve automatically regulates water flow to maintain...
Wheel Deflector for movement around tight corners.
Scuff-resistant Long-Life Hoses eliminate scuffs on all pool...
We couldn't finish this list without mentioning the meticulous Zodiac Baracuda pool cleaner. Although we didn't purchase this model, we were thoroughly impressed, especially with the powerful cleaning head giving a super strong suction with no audible effects.
Unlike other suction-side pool cleaners, this one featured a 36-fin deflector disc which helps lift debris even in hard-to-reach places. Also, since it has no wheels or gears, it smoothly moves at the bottom of the pool.
Image Credit: amazon.com
Another notable feature of these suction-side cleaners is their internal mechanism which is easy to diagnose issues with the device. The Zodiac silently removes dead leaves and insects from every nook and cranny of a pool with even suction and a long-reaching hose connection.
From our research, we realized that although the Zodiac's flexible plastic tube has strong suction, it is also highly prone to jamming. So you might want to stay away from the Zodiac and other items with similar designs if you don't want to spend time pulling tough objects out of your cleaning wand's soft diaphragm.
How Does a Suction Pool Cleaner Work?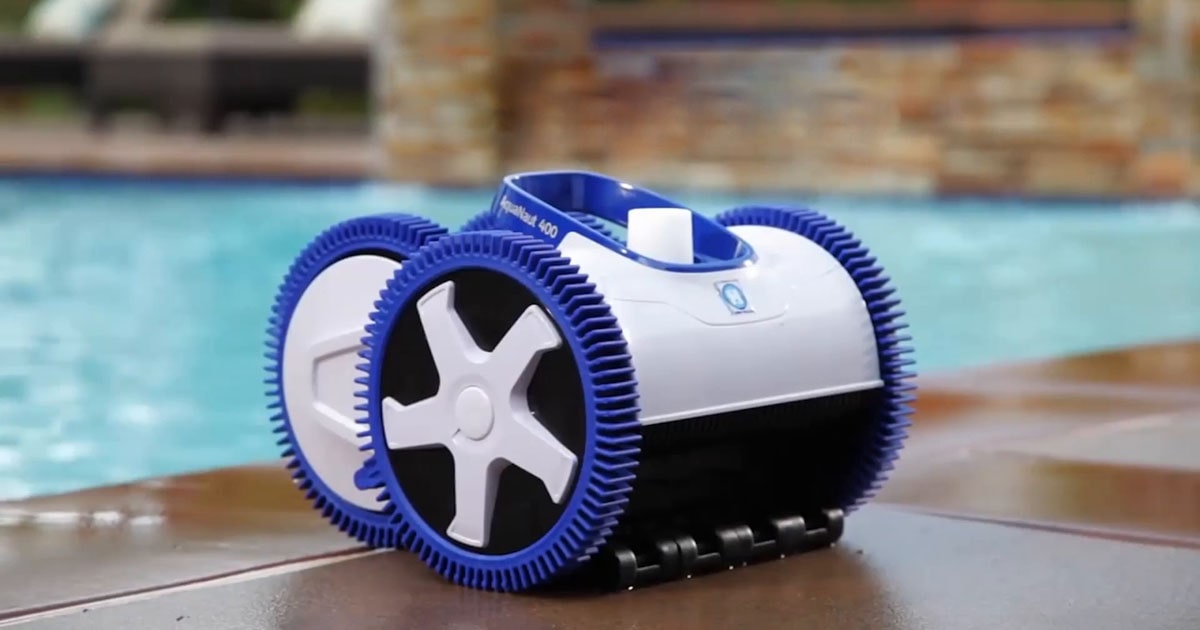 Image Credit: cleanup.expert
An automatic suction pool cleaner works like a manual vacuum, connecting to your skimmer and creating a siphon that will suck up dirt or large debris from your swimming pool's bottom. Since it's an automatic pool cleaner, it randomly moves around the swimming pool because it comes with a device with a start-and-stop pulsing effect that helps the cleaner move.
Most suction pool cleaners come with a lengthy hose system that twists to a suction side of a filter that is then attached to a small cleaning head. The cleaning head includes a smart navigation system and a rotating gear or internal valve that picks up debris to send into the pool's built-in filtration system.
Suction pool cleaners can be placed and then left to work their magic for a long period because the energy of a pool pump powers them. The powerful cleaning devices operate like an unmanned underwater vacuum.
Factors to Consider Before Purchasing the Best Suction Pool Cleaner
Image Credit: pinterest.com
Before you make your purchase, there are some factors you should consider to ensure you get the best suction pool cleaners. They include:
1. The Needed Flow Rate
The suction capacity is one of the main factors that can affect the compatibility and performance of a suction pool cleaner. Since it uses the pool pump to clean the pool, the suction from the pool pump can suck all the debris and transfer it to the bottom of your pool or near the pool walls.
For the cleaning process to be effective, the cleaner should have the necessary flow rate. For example, a standard suction pool cleaner typically requires a flow rate of 1600 to 2200 GPH or gallons per hour. However, you should still look at the rating offered by the manufacturer because that will give you a precise idea of how well the unit works with your pool.
Image Credit: thewoodenpoolstore.co.uk
2. Pool Surface Types
You will also need to find a pool cleaner compatible with the construction materials used for your swimming pool. Although some pool cleaners work well with materials like tile and concrete pool surfaces, others don't work the best with vinyl pools or fiberglass.
You should also remember that some pool cleaners don't work well in curved or pools with large radius turns. This is because it can struggle for a pool cleaner to reach the corners with the brushes, so you will need to be keen on the dimensions and design.
3. Hose Dimensions
The cleaner's ability to maneuver and operate the range will depend on the length of the hose. As a result, the hoses need to be at least 18 meters long. Another deciding factor is how many hoses are included in the kit. The range for the best suction cleaner for pool cleaning is 7 to 10. but it will all depend on the usage and requirements.
4. Type and Intensity of Debris
When shopping for the best suction pool cleaners, you will need to know about the types of debris that accumulate on your pool floor. This is important because most budget-rate suction pool cleaners don't work well with large debris such as rocks and leaves.
You should also consider the size of your moving parts inside the pool filter and check if they can handle the type of debris that accumulates in your swimming pool. If not, you can choose to upgrade to a powerful model which will have a wide hose.
Image Credit: jfspoolmaintenance.com
5. Pool Size
The perfect type of suction pool cleaner will depend on the overall size of your pool. The best suction pool cleaners for small inground pools are the small ones that you can freely move across the corners and surface area. However, for a large pool, you must choose a big suction pool cleaner to ensure you finish your job quickly.
6. Compatibility
You will need to choose a suction pool cleaner compatible with your swimming pool, which can be done in different ways.
a). Hose Length
Additionally, you should ensure that the model you purchase has enough hose to cover your entire pool. You could also purchase an additional hose, but doing so not only increases costs but also lessens the vacuuming power of your pool cleaner. Therefore, you should ensure that the pool cleaner you choose still has the juice to remove dirt and small leaves when it reaches the far corners of your pool.
b). Power
Ensure the cleaner you purchase is capable of performing the job's basic operational requirements. For your pool cleaner to serve its intended purpose, your pool's filter must be powerful enough. It is necessary to purchase a booster pump to cushion it, but doing so will significantly increase the cost of what should otherwise be a very affordable investment.
Conclusion on the Best Suction Pool Cleaner
Image Credit: dicksmith.com.au
We hope that you found some value in our reviews and you could pick something in our buyer's guide. Finally, we wish you great luck in your search for a suction pool cleaner and that you enjoy the hours of free time you'll have to spend swimming rather than cleaning it.
We have included a variety of inexpensive suction pool cleaners and high-end versions for those wanting to spend more for improved performance because we recognize that money is always an issue. Finally, our list includes both above-ground and in-ground pool cleaners.
Featured Image Credit: thepooladvisors.com