Few things rival the comfort of a recliner with an ottoman when it comes to relaxation and unwinding after a long day. These stylish and versatile pieces of furniture provide exceptional support and the perfect spot to kick back, read a book, watch a movie, or nap. With many options available on the market, finding the best recliner with an ottoman can be daunting.
Our article explores the key features to consider, delves into the benefits of owning a recliner with an ottoman, and presents some top recommendations to help you make an informed decision.
We chose the Flash Furniture Allie Recliner Chair with Ottoman for our first product. It has a sturdy frame and high-density foam padding, offering durability and long-lasting support. Our second selection is the Faux Leather Electric Massage Recliner Chair because it has an electric massage function. For our third selection, we chose the MCombo Recliner Chair with Ottoman because it has a swivel mechanism, allowing you to easily turn and change your viewing angle.
Let's get started!
What Is a Recliner With Ottoman?
Image credit: calyoufurniture.com
A recliner with an ottoman is a type of seating furniture that combines a reclining chair with a separate ottoman. The recliner typically features a backrest that can be adjusted to various angles, allowing the user to recline and find a comfortable position. Some recliners also have a built-in footrest that extends when the chair is reclined, providing support for the legs and feet.
The ottoman is a separate piece of furniture used to rest the feet and legs. It usually matches the design and upholstery of the recliner and is placed in front of it. Recliners with ottomans are often preferred by people who want more flexibility regarding seating positions and support for their legs. The separate ottoman allows users to adjust the status of their feet independently from the recliner itself, providing more versatility and personalized comfort.
1. Flash Furniture Allie Recliner Chair with Ottoman
Flash Furniture Allie Recliner Chair with Ottoman |...
Indulge yourself in the opulence that abounds in this...
LUXURIANT: Plush arms, 3 inch thick seat padded with CAL 117 fire...
ACCOMMODATING: Infinite Adjustments from upright to fully...
CONVENIENT: floor protector glides allow easy movement for...
PRODUCT MEASUREMENTS: Overall Size: 33"W x 34-44.5"D x 41.25"H;...
The Flash Furniture Allie Recliner Chair with Ottoman is a stylish, comfortable seating option that combines functionality and elegance. This leather recliner and ottoman set is upholstered in a soft beige, adding a luxurious and sophisticated look to living rooms.
One of the standout features of this chair is its swivel mechanism, which allows me to easily rotate the chair 360 degrees, providing me with the flexibility to face any direction I desire.
The accompanying ottoman is a footrest, allowing you to elevate your feet and enjoy complete relaxation. This recliner for back pain treatment perfectly complements the chair's style and provides additional comfort for extended sitting or reclining sessions. The ottoman can also be used as a standalone seat, allowing you to use it separately or with the chair.
Image credit: amazon.com
In terms of construction, the Flash Furniture Allie Recliner Chair with Ottoman is built with a sturdy frame and high-density foam padding for durability and long-lasting support. The soft leather upholstery with clean lines is visually appealing and easy to clean and maintain, making it a practical choice for everyday use.
2. Faux Leather Electric Massage Recliner Chair
Sale
Best Choice Products Faux Leather Electric Massage...
MASSAGE + HEAT: Loosen up from top to bottom with heat in the...
CHARMING FURNITURE: This comfy addition to your living space also...
COMFORTABLE RECLINE: A double-padded backrest reclines for...
CONTROL OPTIONS: Wireless controller lets you conveniently switch...
EASY ASSEMBLY: Set this chair up in 3 easy steps; simply attach...
This Leather Recliner Chair is a versatile and comfortable piece of furniture designed for use in various settings, such as the living room, bedroom, or office. This chair offers a combination of relaxation, style, and functionality, making it a popular choice among individuals seeking comfort and convenience.
Image credit: amazon.com
One of the standout features of this recliner chair is its electric massage functionality. With five heat and massage modes, I enjoyed a customized massage experience tailored to my preferences. The heat adds a soothing element, helping to relax tense muscles and promote well-being.
The chair has a convenient remote control that allows you to manually adjust the massage settings without reaching for the chair's control panel. In terms of comfort, this recliner chair offered me plush padding and faux leather upholstery that felt soft and added an elegant touch to my room decor.
The generously cushioned backrest, seat, and armrests provide excellent support and comfort, making them suitable for extended sitting or lounging sessions. To enhance relaxation, the chair also comes with a matching footrest ottoman. You can put your feet up, kick back, and enjoy a fully reclined position, taking full advantage of the chair's ergonomic design.
3. MCombo Recliner Chair with Ottoman
MCombo Recliner Chair with Ottoman, Swivel Living Room...
【Comfortable Streamlined Design】 The outcome is this...
【Swiveling Recliner and Matching Ottoman】 Uniquely designed...
【Remote Control Adjusting】 4 programs for massaging of back,...
【Load Bearing And Easy Clean】 High-density Steel and sturdy...
【Buyer Reading】 1. For extending service life, the massage...
This chair combines the features of a recliner, a swivel chair, and a massage chair, making it a versatile addition to any living room or entertainment space. One of the standout features of this recliner chair is its faux leather upholstery, which gives it a luxurious and elegant look. The light brown color added warmth and sophistication to my room decor. The swivel recliner had an ottoman that offered me additional leg comfort and support.
Image credit: amazon.com
The MCombo Recliner Chair has a swivel mechanism, allowing you to turn and change your viewing angle easily angle. One of the standout features of this recliner chair is its built-in massage function. The sleeper recliner offers multiple massage modes and intensity levels, allowing you to customize your massage experience according to your preferences.
The swivel recliner also featured a remote control that allowed me to operate the reclining and massage functions effortlessly. The remote control has a user-friendly interface, making adjusting the settings and switching between different modes easy.
In terms of construction and durability, the MCombo Recliner Chair with Ottoman is designed with a sturdy metal frame and high-density foam padding. This ensures stability, longevity, and comfort, making it suitable for regular and prolonged use.
4. BenchMaster Faux Leather Recliner Chair with Ottoman Footrest
BenchMaster Newport Taupe Swivel Faux Leather Recliner...
Chair is 40" high x 30" wide. Adjust from 28 1/2" deep to maximum...
Seating area is 19 1/2" wide x 19 1/2" deep x 18 1/2" high....
Chair swivels a full 360 degrees and reclines 45 degrees. Taupe...
Steel springs for comfort. CA fire retardant 1.8 density foam...
To clean, wipe with soft cloth. Do not use solvents or...
This chair's neutral tone makes it versatile and suitable for various interior decor styles. One of the standout features of this chair is its swivel function, allowing you to effortlessly rotate the chair in any direction, providing convenience and flexibility in positioning in smaller spaces.
Image credit: amazon.com
This feature made engaging in conversations and switching focus toward different room areas easier without moving the entire chair. The manual reclining mechanism enables you to adjust the chair's backrest to multiple positions, finding the most comfortable angle for sitting, lounging, or even taking a quick nap.
The footrest ottoman is included and can be extended to support and elevate your legs, promoting better blood circulation and reducing stress on your lower body. With its ergonomic design, this glider recliner aims to provide optimal support for your body.
This traditional silhouette featured padded armrests, a plush cushioned seat, and a highly adjustable backrest, all contributing to my enhanced comfort and relaxation. The chair's sturdy construction ensures stability and durability, making it a long-lasting investment.
5. Giantex Recliner Chair w/Ottoman
Sale
Giantex Recliner Chair w/Ottoman, 360 Degree Swivel PU...
☕ Extra Footrest Part: One extra footrest part included, it...
☕ Adjustable Backrest Position: Adjustable backrest can be...
☕ 360 Degree Swivel Seat: The seat can rotate 360 degrees,...
☕ Superior Material & Durable Structure: High quality iron...
☕ Thick Padded: High quality thick sponge padded in neck, loin...
The Giantex Recliner Chair with Ottoman is a stylish and comfortable seating option to enhance your home living room experience. With its 360-degree swivel feature and PU leather upholstery, this recliner chair offers functionality and aesthetics.
Image credit: amazon.com
One of the key features of the Giantex Recliner Chair is its ergonomic design. The swivel recliner had a comfy backrest and a padded seat that supported my body when it reclined, allowing me to sleep and unwind after a long day. The included ottoman also features a padded footrest, providing optimal comfort for your legs and feet.
One notable feature of the Giantex Recliner Chair is its leather-wrapped base. This detail adds a touch of refinement to the overall design, making the chairs stand out as a centerpiece in your living room.
Factors to Consider When Buying the Best Recliner With Ottoman
Image credit: qualitywoods.com
When buying the best recliner with an ottoman, several factors must be considered to ensure that you find the right one for your needs and preferences. Here are some important factors to keep in mind:
1. Comfort
Comfort should be your top priority when selecting a recliner with an ottoman. Look for chairs that provide adequate cushioning and support for your body. Consider the padding, seat depth, backrest height, and armrest design to ensure maximum comfort.
2. Size and Space
Consider the recliner's and ottoman's dimensions to ensure they fit well in your living space. Measure the area where you plan to place the recliner to ensure enough room to recline and still have full space for movement around it.
3. Reclining Mechanism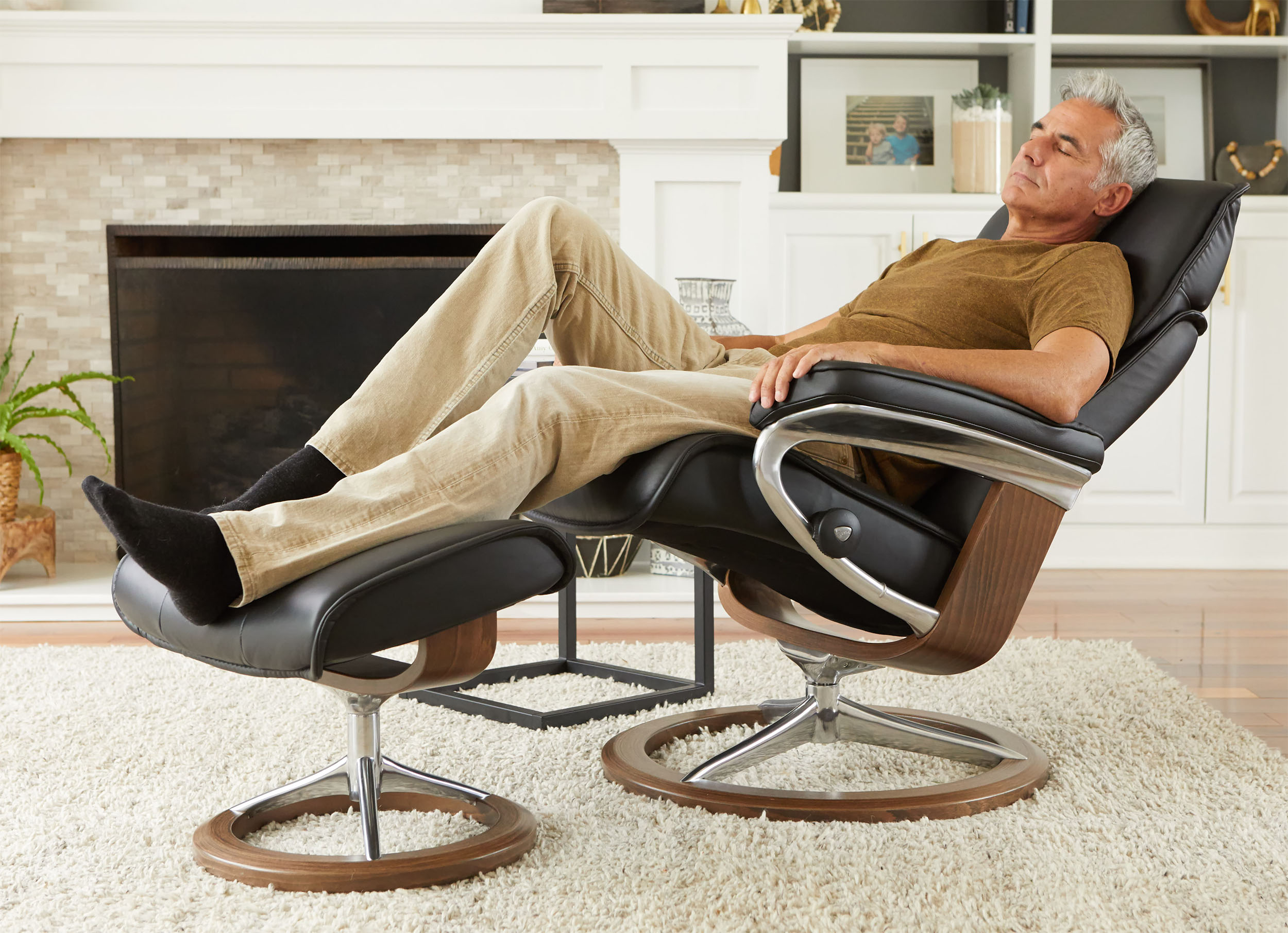 Image credit: vitalityweb.com
Different reclining mechanisms exist, such as manual, power, or push-back. Each has its advantages and disadvantages. Manual recliners require physical effort, while power recliners offer more convenience with motorized controls. Choose the mechanism that suits your preference and ease of use.
4. Upholstery Material
The upholstery material affects both the comfort and durability of the recliner. Common options include leather, fabric, or microfiber. Leather is generally durable and easy to clean but can be more expensive. Fabric is available in various colors and textures, while microfiber offers a soft and stain-resistant option. Choose a material that fits your lifestyle and aesthetic preferences.
5. Support and Ergonomics
Image credit: copenhagen-imports.com
Look for a recliner that provides proper lumbar support and promotes good posture. The chairs should have a sturdy frame and a comfortable seating position. Adjustable features like headrests and footrests can also enhance the overall ergonomic experience.
6. Quality and Durability
Consider the build quality and durability of the recliner and ottoman. Check the construction materials, frame, and stitching to ensure they are well-made and sturdy. Read customer reviews and look for reputable brands known for producing high-quality furniture.
7. Style and Design
Recliners come in various styles, ranging from traditional to contemporary. Consider the overall design of the chair and ottoman and how well they blend with your existing decor. Choose a style that suits your taste and complements your interior design.
8. Price
Set a budget for your recliner purchase and look for options within your price range. Remember that while higher-priced recliners may offer better quality and additional features, there are also affordable options that can provide comfort and durability.
9. Warranty and Customer Service
Image credit: hughesauctions.com
Check the manufacturer's warranty to protect you against any defects or issues. Additionally, consider the reputation of the company and its customer service. Good customer service can make a difference if you encounter problems or have questions about your recliner.
Frequently Asked Questions (FAQS) For Recliners With Ottoman
a) How do I clean and maintain a recliner with an ottoman?
Firstly, vacuum the surfaces to remove dust and debris. Next, gently use a mild detergent with water to spot-clean any stains. Avoid harsh chemicals that might damage the upholstery.
Use a leather-specific cleaner and conditioner to preserve the quality of leather recliners. Regularly fluff and rotate the cushions to prevent uneven wear. Keep the recliner away from direct sunlight and heat sources to prevent fading and drying. Lastly, follow the manufacturer's guidelines for any specific care instructions to ensure the longevity of your recliner and ottoman.
b) Can I use a recliner with an ottoman for sleeping?
Yes, you can use a recliner with an ottoman for sleeping, but it may not be ideal for long-term or regular use. Recliners offer a comfortable semi-horizontal position, and the ottoman can support your legs, promoting relaxation and temporary rest. However, recliners are not designed for prolonged sleep as they lack full body support, potentially leading to discomfort and strain.
Image credit: bedroomsandmore.com
c) Are recliners with ottomans suitable for people with back pain?
Recliners with ottomans can be beneficial for individuals suffering from back pain. These ergonomically designed furniture pieces provide customizable support, allowing users to recline to their desired angle, easing pressure on the lower back and promoting proper spine alignment. The ottoman elevates the legs, reducing strain on the lumbar region and improving circulation.