Scented candles are perfect for giving your home a specific feel, whether a seasonal feel or a festive feel. The best ones transform a space by introducing a calming or feel good smell and also can soothe your nerves. They are also a matter of opinion just like perfumes because they come in different scents either musky, crispy, fruity, subtle, and also some a combination of different fragrances. Depending on what properties you are looking for, there are different scented candles for every budget.
Below is a list of some of the best-scented candles you should try with their links and you can purchase them online some from sites like Amazon com, Etsy com, and Nordstrom com.
Our List of Top Scented Candles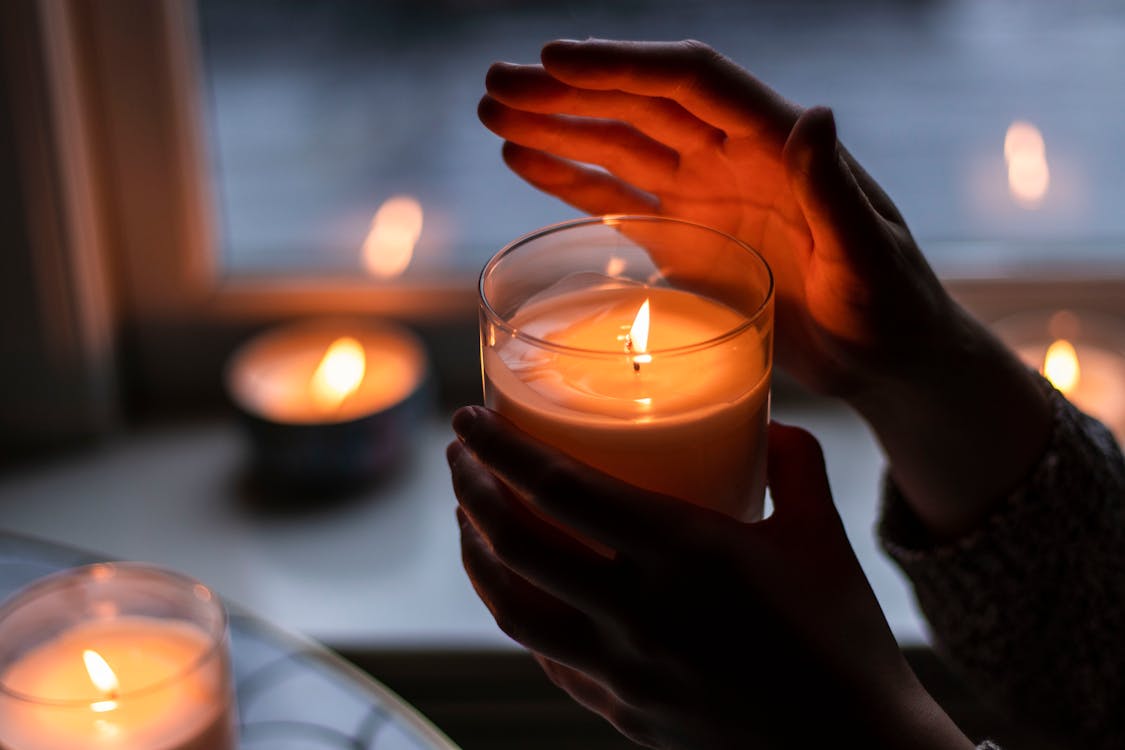 Home + Decor Premium Soy Scented Candles - Organic...
PREMIUM SOY SCENTED CANDLE: With a delicate toasted vanilla...
HIGH QUALITY SOY WAX: Hand-poured candles made with the most...
OUR VALUES: At Home + Decor, we believe that high quality home...
THE GIFT OF GIVING: With the holidays around the corner, our...
This is an elegant yet simple scented soy candle that burns great and smells like a warm embrace of toasted vanilla. The smell is not overpowering. This hand poured candle comes in a nice package of soft frosted glass which adds a soothing look to your space and also, has a nice pre-cut wick that is of good length. Always remember to trim the wick as it burns.
Capri Blue Mercury Found Scented Candle with Glass...
Scented Candle: Chic glass candle with a lid that burns up to 40...
Capri Blue Aloha Orchid: Lift your spirits with notes of jasmine,...
Mercury Glass: Glass, gold and simple shapes add a timeless,...
Capri Blue Candles: Our candles are fan-favorites with a...
Inspired by contemporary fashion trends, Capri Blue creates...
Capri Blue is one of the best long-lasting scented candles on the market today. This nice smelling candle has notes of gardenia, jasmine, and orchids. The scented glass candle comes in large and small sizes for you to be able to sample first because fully making n investment. Capri Blue is made of high-quality wax that burns for long and when you light this scented candle, its scent fills a come and lasts all day. It burns for 40 hours with you enjoying the signature scent of a Volcano fragrance. Because of its glass mercury jar, it can be a very presentable gift to a loved one. It is a best seller on amazon com.
Harlem Candle Company Speakeasy Luxury Candle, 12 oz...
Our newest frangrance in the Harlem Candle collection evokes the...
Speakeasy features the scent of Palo Santo - a mystical tree...
The candle jar is 4 x 5 with 12 oz of hand-poured aromatic soy...
Additional scent notes of Speakeasy include cardamom, smoked...
Create your own Speakeasy at home with the sensual aromatics of...
Harlem Candle Co is an essence of bourbon and Palo Santo that is best for luxurious and setting sensual night mode for your home. It features also notes of cardamon and smoked incense. With a burn of up to 80 hours, this scented jar candle will last you for a long time. Harlem Candle Co scent is divine, not overwhelming, and it will fill your home within 10 minutes of burning and lingers in the air for some time after you blow it off. Additionally, the packaging is very attractive and makes it among the top best scented candles on this list.
Sale
Yankee Candle Large Jar Candle Pink Sands
This beautiful mix of bright citrus, sweet florals, and spicy...
Long-lasting 110 to 150 hour burn time
Quality paraffin grade candle wax delivers a clear, consistent...
22 ounce scented candle measures 6.6 inches H x 4 inches D
Natural fiber candle wick delivers the best burn for each...
This Yankee candle is a blend of several home fragrances that creates a warm and inviting atmosphere. These not too strong fragrances can be very calming and nice for your space. They are very long-lasting and the scent lingers for long even after the candle is blown out. Yankee candle comes in different sizes and you pick according to your budget and preference. Furthermore, Pink Sands has a sample size jar candle that you can test before you make the full investment. The Yankee candle may last for a long time.
P.F. Candle Co. Teakwood & Tobacco Classic Standard...
The one that started it all. Some call it the boyfriend scent, we...
Woody, leather, smoke, citrus, and musk.
Our 7.2 oz Standard Candles are hand-poured into apothecary...
Burns for 40-50 hours
Made with 100% domestically-grown soy wax, fine fragrance oils,...
P F Candle Co scented candle is of teakwood and tobacco scent and the material it is made of is soy candle. Its scent notes are orange, leather, and teak. They are hand poured into the jars and covered with a brass lid. The fragrances used on this soy wax scented candle are phthalate-free and paraben-free. Additionally, they are made with soy wax, cotton core wicks, and fine fragrance oils. P F Candle Co is made in different sizes the mini which burns for 20-25 hours, the standard size that burns for 40-50 hours, and the large soy wax candle that burns for 60-70 hours. It is highly recommended for any customer who is looking for fragrances that are not floral and some customers call it the boyfriend scent. Remember to always trim your wick to a quarter inch before you light the scented candle each time as a safety precaution.
Jo Malone Pomegranate Noir Scented Candle 200g (2.5...
Enliven the atmosphere with a warm and sensual glow.
Juicy pomegranate and smoky Guaiac wood carried on the warm...
Crafted in the English countryside in a signature glass design.
Burn time approx. 45 hours. Lid included.
This Jo Malone London scented candle brand is one of the best designer scented candles in the market. It guarantees that the scent permeates any room and creates a beautiful ambiance. Being expensive and a luxurious designer brand, candle Jo Malone makes an impressive gift and the bow is a bonus. Pomegranate Noir scent comprises of pomegranate, frankincense, raspberry, and patchouli which gives a very rich lasting scent.
Other Jo Malone London famous scents include the Wood Sage & Sea Salt Candle,(a dash of earthiness and green) and the Lime Basil & Mandarin Candle (a lime and zesty mandarin scent with a perfect twist of basil and thyme.) All these Jo Malone scented candles can be found on amazon com.
This is a luxurious candle jar with a floral scent that brightens up the dullest of days. It has the scent of a fresh bouquet of freesias, with a hint of pepper to add complexity. It is made up of ingredients such as jasmine, rosewood, bergamot, and pepper. The scented candle burns evenly and ensures that there is no soot or black markings.
Diptyque luxury fragrance house has also collaborated with the French artist Jean Michel Othoniel to create a home fragrance candle called the Othoniel Rosa Candle. It is a combination of ambrette seeds, akigalawood which is a pure form of patchouli, and pink peppercorn. For the cold weather, this candle is not a regular fragrance but it switches up to create a floral yet woody space.
This is the best high end scented candle in the market. Le Labo notes are more woody than floral. It does not have to be burnt for it to make your home smell great. Being a high brand, Le Labo is very costly but is a perfect gift. They are packaged in chic glass cups and make attractive vases when they burn out.
Nothing dictates luxury like Cire Trudon candles. In this scent of Cire Trudon Madurai, there are benzoin resin and ylang-ylang notes with a heart of smabac jasmine. It burns for a decent amount of time.
10. Malin Goetz Leather Candle
Malin Goetz candle that is made of leather gives vibes of richness and woody and the smell is calming, clean, and organic. It permeates everywhere and gives warm and intimate scents that are as a result of amber and sensual sandalwood rose soy candle. The wax is of high quality and burns well and slowly.
Bath & Body Works, White Barn 3-Wick Candle, Mahogany...
White Barn Candle Company as sold through Bath & Body Works.
Full size 14.5 ounce candle in glass jar with metal lid.
3-Wick candle burns approximately 30 to 45 hours. 4" wide x 3...
No longer Sold in Stores
"Revel in the cozy fine woods fragrances of mahogany, cedarwood...
Bath body works scents are known because of how much they permeate a room and also burn up to 45 hours and this is no exception. This 3 wick candle of mahogany teakwood is a combination of geranium, woodsy scents, and a hint of the lavender candle. Bath body works are calming with notes of cedarwood, eucalyptus, balsam, and fir. This candle has a burn time of 30-45 hours.
Sale
NEST Fragrances Classic Candle- Orange Blossom, 8.1 oz
Classic Candle 230 g / 8.1 Oz.
NEST Fragrances Orange Blossom Classic Candle is a blend of...
The glass vessel is designed to compliment the beauty of its...
Approximate Burn Time: 50-60 hours.
NEST Fragrances candles are made with a premium, soft, highly...
This candle by Nest Fragrances is a perfect blend of orchids, freesia, and orange blossom. Also has lemon, tangerines, and musk. This candle is made with soft premium high-grade wax and has a burn time of 50-60 hours. The way it is packaged with a classic shape makes it a perfect piece of decor. Nest Fragrances are known for their signature aesthetic with each of their products.
Another mention-worthy candle brand on Etsy com, Nordstrom com, and amazon com are the Sea Salt& Orchid Soy of Rockaway Candle Co.
FAQS
1. What is the best brand of scented candles?
The top brand according to our list is the Home + Decor Premium Soy Scented Candles. Diptyque candles are also really good quality.
2. What are the best most fragrant candles?
The best is Home Decor Premium Soy, candle Le Labo as a high-end one, and candle Diptyque from our review above.
3. What are the longest lasting scented candles?
Diptyque candle and Capri Blue Mercury Glass last the large size, last the longest.
4. What are the best candles to buy?
The best candles to buy apart from the scented ones are those that last long giving you a consistent burn and have natural ingredients. Attractive packaging is a bonus.
If you find this article helpful don't forget to also check out the best reed diffusers for a cozy home.