We buy more devices each year to improve our home's security, and video doorbells are one of them. However, it's becoming increasingly difficult as the number of subscriptions increases with every new device. Luckily, there are doorbell cameras without subscriptions. Check out the best video doorbell without a subscription.
What is a Video Doorbell?
A video doorbell is a security system with a camera and audio, allowing homeowners to see and communicate with anyone at their front door remotely. These devices are commonly connected to a smartphone app or an indoor display unit, acting like a self-monitored security system by sending alerts when someone is at the door.
Moreover, they are usually hardwired to the existing doorbell or operate wirelessly with rechargeable batteries. They are growing in popularity as an inexpensive and easy security solution for homes and apartments.
Now that we know what a video doorbell is, let's check out the best models to enhance your home security.
1. XTU WiFi Video Doorbell Camera, 1080p HD
Sale
XTU WiFi Video Doorbell Camera, Wireless Doorbell...
100% Wireless & Rechargeable Battery : The installation and...
Easy Installation & IP65 Waterproof : Following the user guide,...
Motion Detection & 2-Way Audio : Wireless video doorbell camera...
1080P Full HD & Night Vision : 2021 Upgraded home security...
No Monthly Fee & Warm Support : WiFi smart video doorbell with...
The XTU Video Doorbell Camera is a wireless device that allows you to monitor your house door. It features an FHD 1080p camera and an external speaker that allows two-way communication. Besides, you can easily connect the doorbell camera to your 2.4 GHz wireless network, and its real-time update feature sends alerts to your smartphone.
This wireless video doorbell camera is popular with most homeowners and has a lifetime warranty guarantee to ensure its reliability. On the other hand, the device can withstand harsh weather conditions, so you won't have to worry about it getting damaged.
Image Source: garethmyles.com
One of the things that I adore about this device is that it has a PIR sensor and a motion detection feature. It usually senses when someone is at my doorstep. Plus, its 188-degree field of view eliminates blind spots in front of the door. Even with these features, this unit is battery efficient.
2. Eufy Security 2K Video Doorbell with Built-in Storage
Sale
eufy security, Video Doorbell (Battery-Powered) Kit, 2K...
Crystal-Clear Clarity: The built-in 2K sensor and...
No Monthly Fee: Designed to protect your home as well as your...
Dual Power Options: Half a year of coverage from one charge or...
Expanded Field of View: The increased 4:3 Aspect Ratio ensures...
Next-Level Detection: Have total control over what is detected...
The Eufy 2K Video Doorbell Camera offers high-definition video quality, making it one of the best video doorbells without a subscription. It is usually powered by either a rechargeable battery, which lasts up to 6 months, or by connecting it directly to your old doorbell system.
Image Source: cnet.com
The device comes with Smart Human Detection and Activity Zones features, which sense when someone is at my doorstep. Besides, the audio on the unit is great, as the communication between it and the app is crystal clear.
Furthermore, the Eufy Doorbell Camera has 16 GB of local data storage, which is enough for most users. Another benefit of buying this unit is its responsive customer service. The only issue I had with this great video doorbell is that it only supports 2.4 GHz WiFi networks and not 5 GHz networks, so I had to upgrade.
3. Wyze Video Doorbell with Night Vision
WYZE Video Doorbell with Chime (Horizontal Wedge...
Instant Notifications: Never miss another visitor. Unless you...
3:4 Aspect Ratio: 3:4 head-to-toe view & 1080p Full HD Video:...
Motion Detection, Smart Alerts & Video Recording: Wyze Video...
Built to endure the elements: IP65 weather-resistant. Install...
Chime Included: Hear your doorbell ring, chirp, or bark from any...
If you are looking for the best video doorbell without a subscription that is reliable even at night, count on the Wyze Video Doorbell Model. The device has a compact design yet is equipped with many advanced features. Besides, the video doorbell is designed to offer direct smartphone access to video, making installation easier.
Image Source: wyze.com
Since it is a wired video doorbell, it requires a standard 24V AC cord connection and does not have a battery-powered option. On the bright side, the device comes with Alexa voice control and smart home integration. It also has a motion detection feature and a smart alert system, ensuring I only receive alerts when necessary.
Moreover, the Wyze Video Doorbell has an IP65 weather resistance rating, offering reliable protection against environmental elements. It's also worth mentioning that I didn't have to drain my bank account, as this video doorbell is quite affordable.
4. Arlo Essential AVD2001B Video Doorbell
Sale
Arlo Essential Video Doorbell Wire-Free - HD Video,...
Simple to set up. Easy to recharge - Charge your wireless video...
Coverage for every corner - Fast, wire-free setup (no wiring...
See more at your front door - See a person from head to toe or a...
Get a clearer picture - Detailed video in HD with HDR from the...
Never miss a moment - See what triggered a motion before anyone...
Another unit on this list of the best video doorbell cameras without subscriptions is the Arlo Essential, AVD2001B. Despite its compact design, this doorbell usually provides a 180-degree preview feature that eliminates any potential blind spots at my doorway. Because it is a wireless video doorbell, I can easily connect it to my WiFi network without using a separate hub.
Image Source: trustedreviews.com
Furthermore, Arlo Essential Video Doorbell is designed to work seamlessly with different smart home ecosystems like Google Home, Alexa, Samsung SmartThings, and others. With its FHD 1080p recording camera and HDR feature, you can get a vivid view of your porch or doorway directly on your smartphone.
Another advantage of this unit is that you can easily turn on the siren feature on your phone if you receive a suspicious alert from the doorbell. Besides, with its built-in rechargeable battery, you don't have to worry about replacing batteries occasionally. However, it is worth noting that the one-year warranty for this video doorbell isn't enough considering its price tag.
5. RemoBell S WiFi Video Doorbell Camera from Remo+
Remo+ RemoBell S WiFi Video Doorbell Camera with HD...
Powered by existing doorbell wiring (16 –24 VAC) and provides...
No monthly subscription fees; records and stores all motion...
Streams all your live videos in high quality HD with 180º wide...
Allows you to select areas of interest and sends instant alerts...
Lets you see, hear, and talk with visitors from your smartphone...
The RemoBell S uses an advanced audio system that allows you to have a real-time conversation with visitors at your doorstep while also seeing and hearing them. Besides, the video doorbell has a wide-angle lens with a 180-degree viewing capacity and an infrared night vision feature, so there is no need to install additional lighting outside your door.
Image Source: the-ambient.com
Additionally, its infrared night vision feature provides a clear feed even in low-light conditions, making it an ideal security device for nighttime use. The doorbell camera has motion sensors, which I adjust per my needs, as well as the ability to take a peek out of my door without getting out of bed.
I share the smart doorbell with my family; you can share it with up to 5 people. Besides, the unit can withstand temperatures as high as 122 degrees Fahrenheit and as low as 4 degrees Fahrenheit. I conveniently connect this video doorbell to Amazon Alexa, Google Assistant, and IFTTT.
Factors to Consider Before Buying the Best Video Doorbell Without Subscription
1. Wired Vs. Wireless
For wireless video doorbells, batteries are crucial. The batteries should last a month or more, as long as the weather isn't too cold. However, lithium-ion batteries are vulnerable to cold temperatures.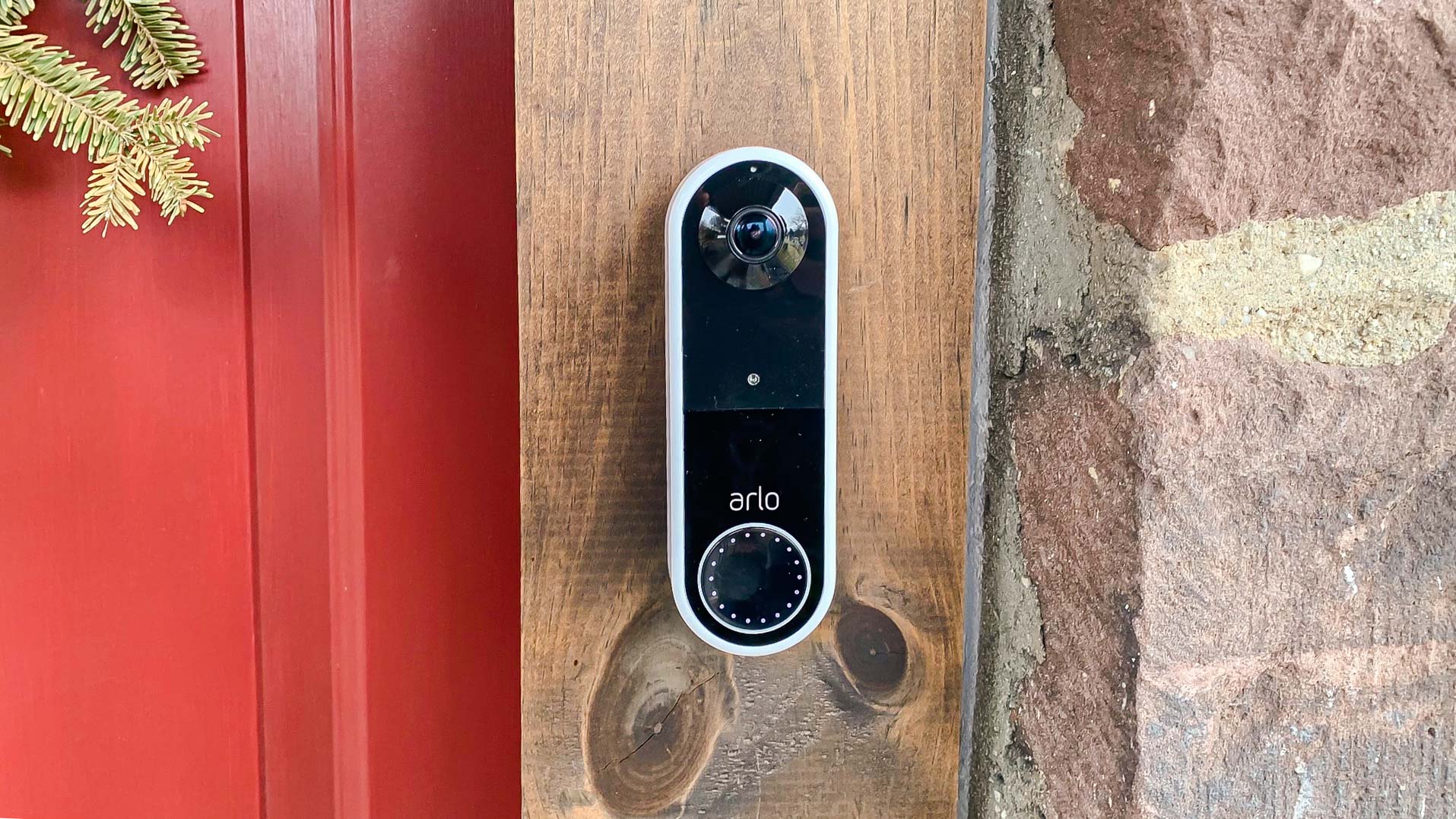 Image Source: tomsguide.com
Swapping out the battery with rechargeable batteries for the wireless models may be possible. But, in most cases, the battery is usually built into the device and is not easy to swap out.
Conversely, ensure that wired doorbell cameras can handle the voltage from your home's doorbell wiring. Besides, wired doorbells need less maintenance since you won't have to worry about battery life.
2. Camera and Display Quality
The camera and digital display are the core components of a video doorbell system. This system usually lets you view visitors in real-time, identifying them and gauging their intentions before opening the door.
However, to achieve this level of security, having a high-quality camera and digital display on the video doorbell is important. Both components must be of high quality to ensure a secure video transmission. Therefore, when choosing a ring video doorbell, consider the camera's coverage angle and resolution and the internal display unit's size, quality, and onboard accessibility options.
3. Ease of use
When it comes to a doorbell camera, it should be easy to use and connect to doorbell apps that allow you to view and configure the doorbell footage. Besides, when shopping for the best video doorbell cameras, we recommend user-friendly, app-enabled video doorbell models since they allow you to view the doorbell camera and personalize the settings.
4. Night Vision Feature
Consider the night vision feature when shopping for the best video doorbell without a subscription. Although most doorbell camera systems usually operate similarly during the daytime, they don't all offer the same level of security at night.
Image Source: techlargest.com
Since most homeowners invest in ring doorbells to enhance their nighttime security, a video doorbell camera should have a dedicated night vision mode. Optional security features, such as motion detection, can also help enhance night vision capabilities and preserve battery life by turning off the camera when it's not in use.
5. Durability
It's important to consider the extreme temperatures at which the ring doorbell will operate. Most high-quality cameras can function within a temperature range of -22 F to 140 F (-20 C). However, note that this is just a "rating" range, and if the temperature goes beyond these extremes, the camera may not function properly. This is a crucial consideration, especially for those living in regions with harsh weather conditions.
6. Local Storage
Some doorbell cameras without subscriptions usually have free cloud storage for several days. Instead of storing data in the cloud, they often have a micro SD card. So, rather than depending on free online storage, most of these doorbells have a micro SD card.
7. Connectivity
Before buying the best video doorbell, pay attention to connectivity. Despite the dual-band capability, most doorbell cameras can only connect to 2.4GHz WiFi networks. If you have any smart home gadgets, such as Amazon Alexa, Google Assistant, or Home Assistant, choose a doorbell that can conveniently integrate with your preferred service.
8. Warranty
Consider the reliability of a video doorbell system before installing it in your keyless door lock or any other lock system. Because unlike most of your home's electronic devices, a video doorbell is usually installed outside and exposed to environmental factors such as sunlight, dust, rain, and other conditions, which may cause it to fail within a few years of installation.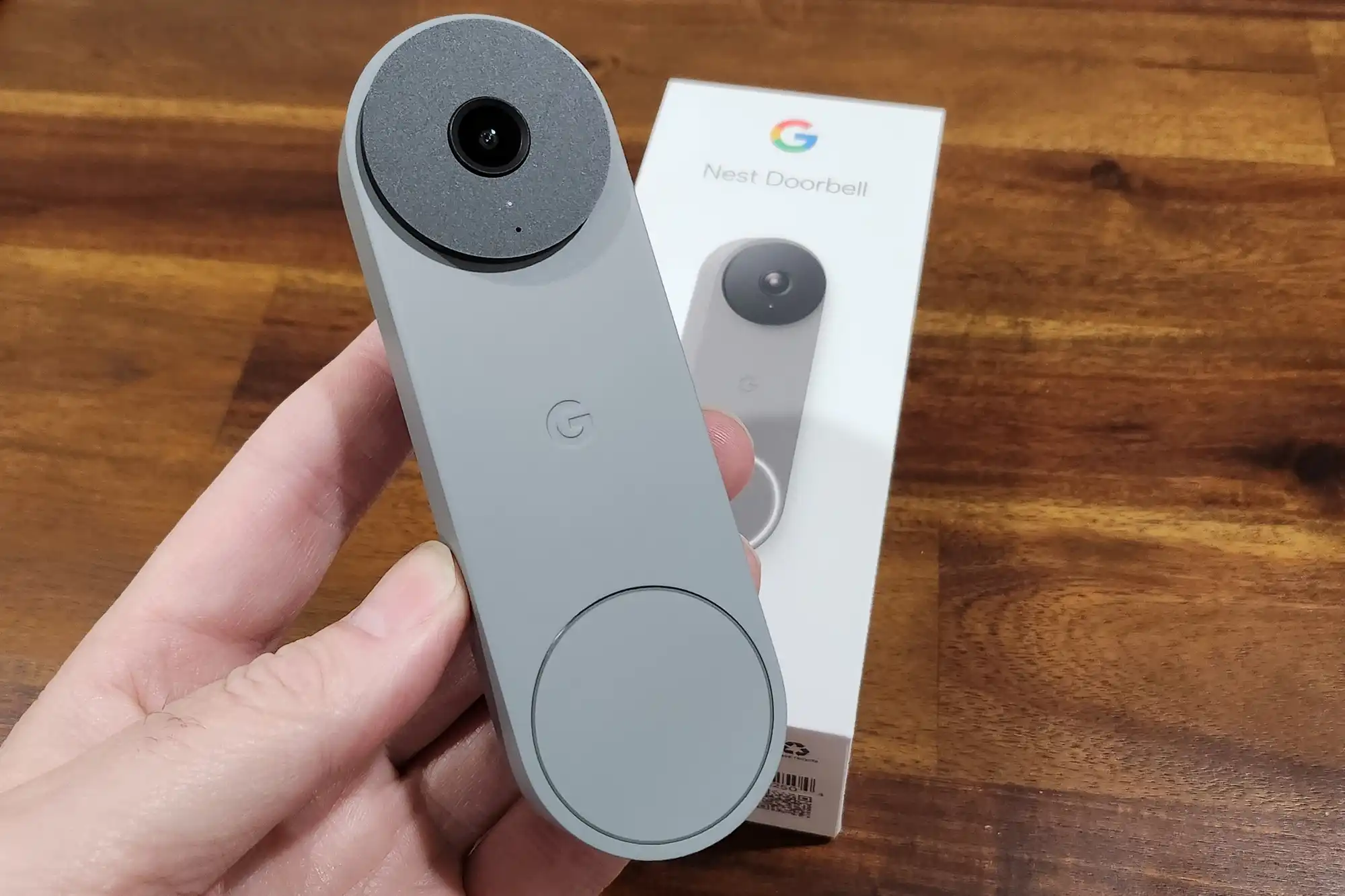 Image Source: techhive.com
It is important to consider the warranty period of the video doorbell to avoid an unreliable option. A long warranty period ensures you can rely on the doorbell cameras for reliable service.
Frequently Asked Questions on the Best Video Doorbell Without Subscription
1. Is a Doorbell Camera Without a Subscription Worth it?
Whether or not the video doorbell is worthwhile without a subscription depends on your priorities. Though some video doorbells work just fine without a subscription, premium features like taking screenshots every 30 seconds, sharing videos, and keeping recorded footage may not be available.
2. How Far Can a Video Doorbell See?
Unlike monitor sense lights, the doorbell motion sensors can detect motion up to 155 degrees in a horizontal direction and within a distance of 5–25 feet from the device. It is worth noting that they are more responsive to horizontal motion within the detection area than vertical motion.
3. What Happens When I Don't Subscribe to a Video Doorbell?
If you decide not to subscribe to a video doorbell with a subscription, you won't have access to any recordings, including those triggered by someone ringing the doorbell. You'll only be able to watch the live stream, with new events overwriting old ones and all recorded footage being deleted. However, you'll still get ring and motion notifications on your smartphone.
4. Can Someone Steal an Outdoor Doorbell Camera?
Though some video doorbells on the market don't have secure housing, which could make them easily stolen, there is not enough evidence to suggest that theft of doorbells is common. However, research has shown that installing a video doorbell can help prevent theft of packages left on your doorstep, for example. Besides, if the video doorbell is stolen, the camera will record footage of the thief before getting disconnected from the system and sending you a notification.