Dark green is a great color that represents a balanced atmosphere. You might have wondered how pairing dark green would work in your space. Not to worry as pairing colors is what we do best. Below are some colors that go with dark green. Be it walls, furniture, or window treatments. We have got you covered.
Tips to Start With
Many people are always looking for ways to elevate their spaces. Choosing dark green is an excellent choice. However, to understand what colors go best with dark green, it is crucial to know a few things about dark green before considering it for your space.
Dark green is a very dominant shade. 
It's a softer and more natural alternative to black. 
Dark green is associated with growth, refreshment, a new beginning, and peace. 
Dark green can be made to work for traditional or contemporary styles. 
What Colors Go With Dark Green?
Here are some colors that go with dark green:
1) Dark Green + Dark Brown
Dark brown is the most natural color to go with dark green walls and furniture. Natural wood tones are excellent because they complement different shades of green without looking tacky. These two make an excellent color-balancing act. Of course, you don't have to worry about both of these colors being accent shades.
Image source: architectureandinteriordesign.com
As long as green is the main shade, and brown is used as an accent, or vice versa, the combination works well. The shades don't create a contrast, but they bring out texture and depth which can be very calming for a space. Before you pick this color combination, ensure that it is set in a well-lit room, like a study or living room.
2) Dark Green + Mustard Yellow
For a well-collected look, a dark green color will instantly pop with mustard yellow as an accent shade. Dark green is a rich shade, and mustard yellow is a warm and welcoming shade. It is also bright, which makes it perfect for a well-lit room. Of course, you might be thinking that any shade of yellow can be intimidating.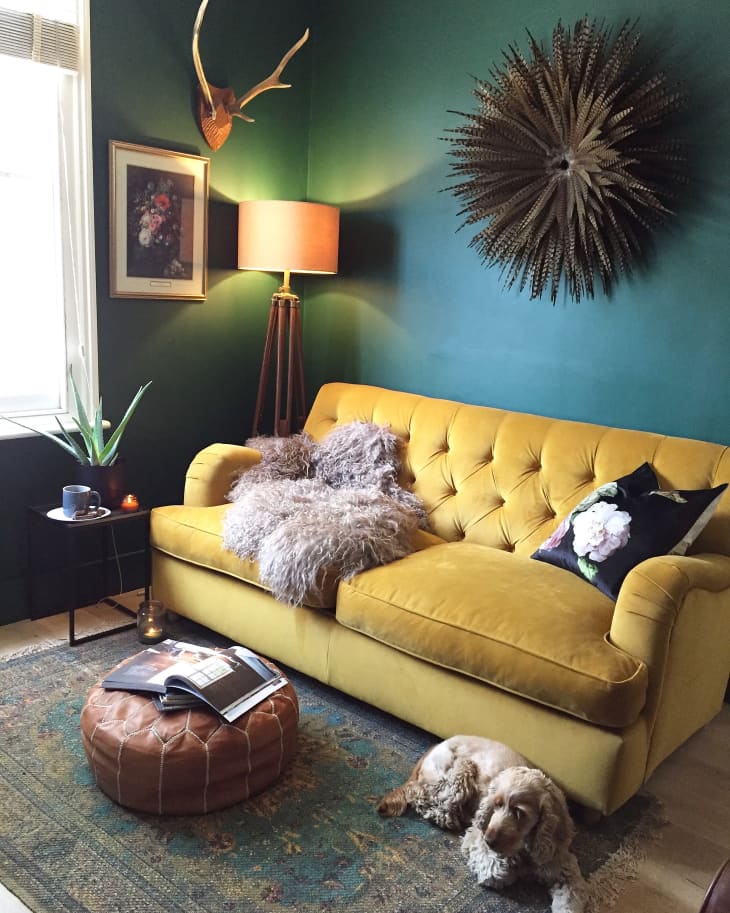 Image source: apartmenttherapy.com
However, with dark green, the yellow is neutralized and draws the eye in. If you need more convincing, yellow and green sit next to each other on the color wheel. This makes them a natural and excellent fit for multiple artistic designs. As illustrated above, the boldness of dark green and the demure touches of mustard yellow tie the space together.
3) Dark Green + Gold + White
Subtle hints of gold and white pair up very well with dark green. Gold is a very versatile color, especially when used in little areas like doorknobs. As you can see below, little hints of gold not as a main color but as an accent bring out the dark green and white backgrounds. The mismatched gold tint chairs also tie the room in a baroque interior design look.
Image source: interiordesignideas.com
Instead of opting for an all-dark green room, the white wall enhances the light coming into the room and gives it the illusion of being bigger. Of course, no dark shade should be overdone. This room signifies the perfect balance between 3 colors that bring a room together. The room feels refined but welcoming.
4) Dark Green + Light Blue + Grey
Any darker green shade will pair up well with a light blue. Of course, it will give you a beautiful and neutral living room or space such that not everything stands out at once. Light blue is one of those vibrant shades that tie in the overall tonal scheme without looking out of place.
Image source: amcdesign.com
Lighter shades are an excellent choice that goes with dark green. Therefore a pastel palette would create a classic combo for your interior design. The walls with deep shades of forest greens create a beautiful blank canvas and the light blue furniture creates a focal point. The striking contrast of grey and gold artwork brings everything together without the room looking color-clashed.
5) Dark Green + Burgundy
Burgundy brings a very sophisticated look to the table. It's one of the rich shades that's the perfect go-to. It is also one of the best colors that makes a statement with just a hint. Any varying shades of burgundy look good with green when paired well. Keep in mind, that burgundy also pairs well with dark green in more formal settings.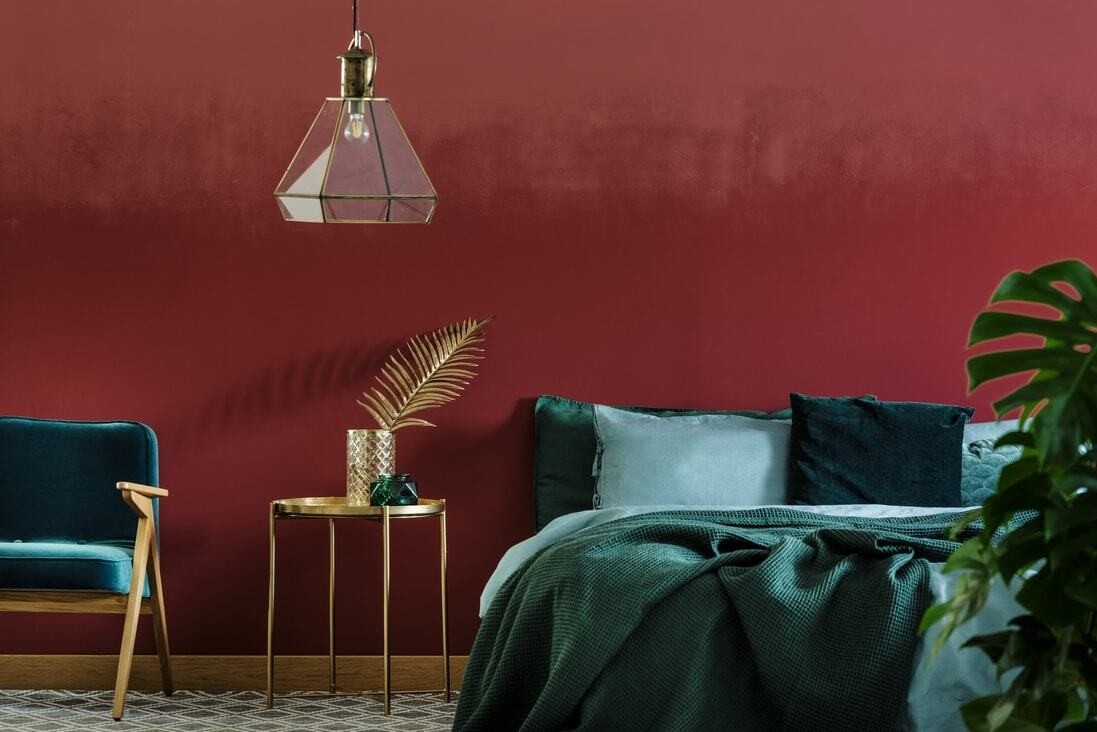 Image source: stilolinea.com
This color combination can also be fun and youthful. If you have an emerald green, forest green, or olive green, then you can never go wrong with burgundy. Burgundy is also a safe choice since it automatically pairs with green well. A few green plants to offset any harsh tones, and this combination will serve you well.
6) Dark Green + Mint Green
Shades of green also go together to create visual interest within the same color. Since dark green is a nature-inspired color, it also goes with other greens like lime green, and mint or sage green interiors. Keep in mind that a mint green shade is a cool color. Therefore to balance it out, ensure there are other muted tones and various shades of dark brown or wood floors around.
Image source: evolveindia.com
At this point, if you decide to go with these shades, light colors everywhere else will help to open up the space and not tone it down. When in doubt, go with green. Even a muted green couch like the one shown above complements the dark green accent wall. It is a great way to pair green.
7) Dark Green + Blush Pink
In the right setting, pink can be a beautiful complementary color. You might be horrified at the thought of any pink added to your décor. However, when paired as seen below, it looks very elegant. Not to mention pink and green sit next to each other on the color wheel. A dark green hue might give your room depth, but a pink couch ties everything together.
Image source: colormeanings.com
Adding pink tones down any harsh contrast, say between a bright shade of red and green in the dining room. Adding green pillows, and shams makes a striking green room pop. Pink is one of the best soft shades that automatically lift anyone's mood up. It's not too striking, and neither does it offer a very sharp contrast.
8) Dark Green + Burnt Orange
If this is your first time experimenting with dark green, then an earthy color like burnt orange should be in your top 5 combos. Orange isn't so bright that it takes away from your dark green walls, it's just right. It gives a muted orange vibe, that complements green. The two colors blend together seamlessly.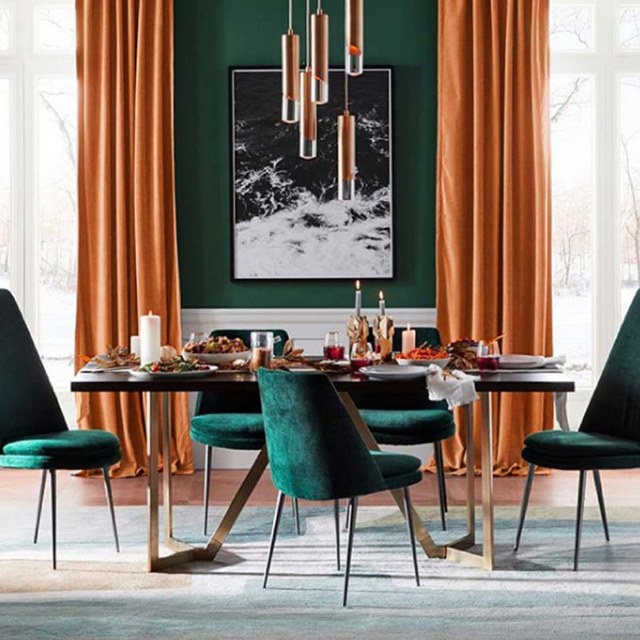 Image source: voilavoile.com
In the right light, this combo is neutral enough to add more and brighter color schemes to enhance the look. You can always go in with beautiful shades of yellow-green, or blue-green. Navy blue and pale lavender could also add to this palette.
Why Should You Choose Dark Green for Your Next Paint Job?
Of course, you have already seen how well dark green pairs with the right colors. Here are some reasons why you should select dark green for your next project.
a) Close Connection to Nature and Freshness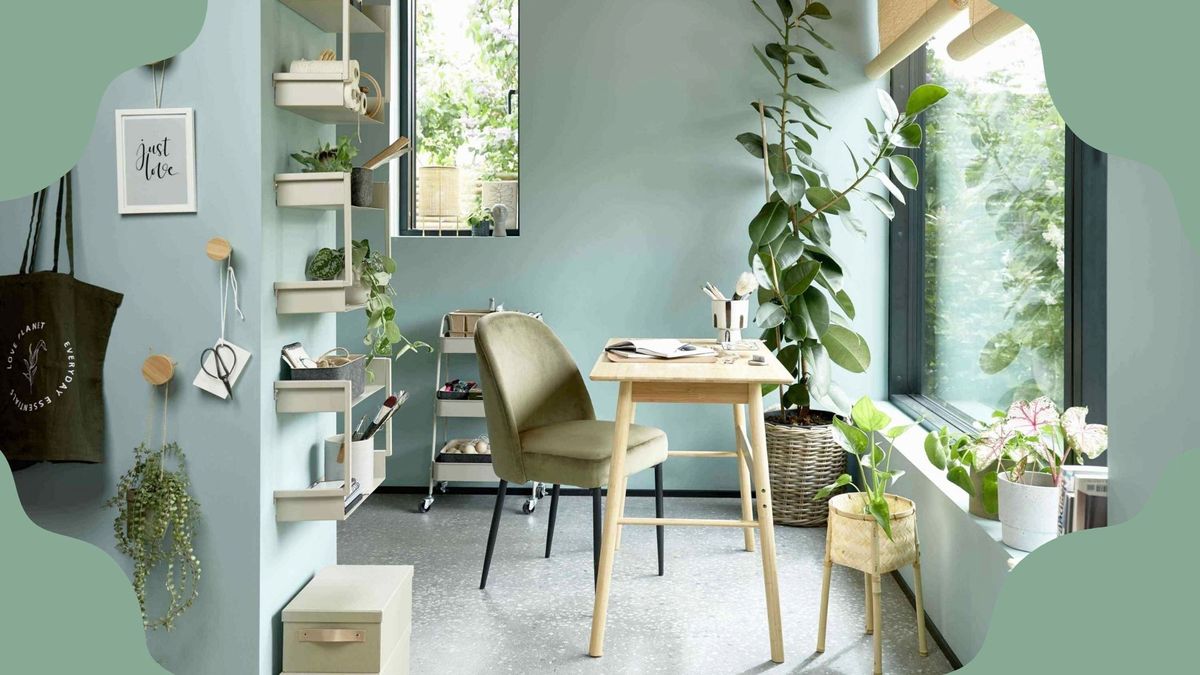 Image source: womanandhome.com
Have you ever been on a walk near pine trees? The smell and fresh feeling are what dark green will bring to your space. Even in the form of an accent color, dark green will make you feel closer to nature. If you want tranquility in your space, then this is the color for you. It looks great in any room you choose.
b) Easy to Switch up Color palettes
Image source: schemecolor.com
Dark green is a solid color. It can be overpowering on its own. Depending on how you look at it, it has the potential to accommodate other shades. You can pair green with basically any color if you do it in small doses. This makes it very easy to switch up your palette every now and then but keep the green.
c) Looks Sophisticated as an Accent or Main
Image source: roomdsign.com
While we do not recommend dark green for small spaces, it would still look beautiful as an accent. Of course paired with a bright white, or off-white it would look phenomenal. Keep in mind that interior design is all about playing around with your colors and getting what works. As a main color, dark green can easily command space and make it look elegant.
d) Easy to Match with Upholstery, Fabrics, and Patterns
Image source: pinterest.com
Since dark green pairs with tons of other colors, it is very easy to match. For example, dark green furniture would go with light shades of green, pale green walls, white, yellow, fuchsia, magenta, and even plum. Let's not forget that all tan and warm undertones make dark green look stunning.
The Bottom Line
If you are having trouble with pairing dark green, remember there is a tone and shade of every color that can be paired with it. You can also create varying tones of the same shades of green, and still end up with the best combination. We hope our suggestions help you out.
Featured Image Source: rethority.com