Father Christmas is a key symbol of the festive season for many children. Every Christmas Eve, Santa Claus takes to his sleigh and heads to different locations to deliver presents to children. But Mr. Claus must live somewhere with his wife, elves, and faithful reindeer for the remaining 364 days of the year, right? So, where does Santa live?
Who is Santa Claus?
Santa Claus, also commonly known as Father Christmas, Saint Nick, Kris Kringle, or Saint Nicholas. He is a figure from Western Christian culture who is said to bring children gifts on Christmas Eve. He is said to give kids different toys depending on whether they are naughty or nice.
Santa's image is based on traditions associated with Saint Nicholas, a 4th-century saint. Father Christmas fills the character in many European countries. The modern character of Santa is also based on images drawn by cartoonist Thomas Nast in 1863.
Today's most common depiction of Santa is of a portly white-bearded man dressed in a red suit with a white fur collar and a black belt. He has white fur trim, black boots, a soft red cap with white fur trim, and often spectacles.
Haddon Sundblum developed this modern character of Santa Claus for the Coca-cola Company advertisement in 1931. Claus is commonly described as a character who laughs in a way that sounds like ho ho ho.
Where does Santa Claus live?
image credit: everymum.ie
Different countries have different beliefs about Santa's home, and with little proof available, it is hard to say where he really lives. No one can be sure of his permanent address, with some stating that he lives in Lapland and others in the North Pole.
The popular belief is that Santa lives at the North Pole with his wife. Here, he spends the year preparing toys for the festive season. However, many children have traveled to Korvatunturi in Lapland to meet Father Christmas.
Let's get started and look at the different places Santa Claus lives.
1. North Pole
In North America, it is presumed that Santa lives at the North Pole. The North Pole is the northmost point of the earth and does not really belong to any nation. This helps greatly in the secrecy behind Santa Claus and his workshop. The north pole is in the Arctic, near Greenland and Nunavut.
image credit: lapassionvoutee.com
North pole was first associated with Santa Claus when the Cartoonist Thomas Nast drew an image of Santa for Harper's Weekly. Next, the image of Santa claimed that Santa's home was near the North pole, in the snow.
The Thomas Nast theory is the most common. However, there are other theories about why Santa Claus lives in the north. Again George P Webster wrote a poem to Santa back in 1869, and in the poem, he stated that Santa's home is near the North pole.
image credit: washingtonpost.com
Technically, the North Pole is not even really a piece of land, but there is a city named the North Pole, which is in Alsaka, USA. The largest attraction is Santa Claus House, a large gift shop with all things related to Christmas.
It is necessary to note that in recent years, many attractions and activities have come up due to what is believed to be Santa Claus's home.
2. Lapland
Lapland is believed to be where Santa Claus lives in some countries like the UK. Actually, Lapland is part of Finland Rovaniemi, and it is not even near the North Pole.
The Finnish people are certainly not ready to accept that Santa Claus lives elsewhere. As a matter of fact, it isn't easy even to think that Lapland is a real place. Instead, most people think it is a magical place where Santa, his wife, and elves spend their time preparing to drop down the chimney in December.
image credit: santaclausvillage.info
Since Lapland is close to Arctic Circle and the temperature drop below 30 degrees Celsius in the winter, it is the perfect home for Santa Claus. Children are welcome to visit Santa Claus village in Lapland 365 days a year.
Again since the North pole is not accessible, Santa sets up an official village in Rovaniemi, Lapland, called "Santa's official North Pole residence." This makes Rovaniemi the only Official Hometown of Santa Claus. Here, you can drop by Santa's office and take a picture with the man himself.
3. Drøbak
In Norway, Sant is believed to be from Drøbak. The Norwegians claimed that Santa's home is in Drøbak, a town in Norway. Actually, on the town's official site, Santa Claus was born here and has never moved to any other place in the world.
image credit: visitdrobak.no
The two main attraction in Drøbak that attract many tourists during the festive season is the Christmas House and Santa's Post Office. The good thing is that during the Christmas season, the man, Santa Claus, can be found at the tourist office, where the walls are full of letters and cards from children requesting gifts.
4. Greenland
The Danish people not only believe that Santa Claus village is on the North pole but also claim that his home is in Greenland. The Greenlandic children write letters every year to send to his private address.
Image credit: polarjournal.ch
For a long time, Denmark and Greenland have had a close relationship regarding the festive season. The Danish believe that Greenland is where Santa spends his time during summer, and Greenland imports Christmas trees from Denmark.
What's Father Christmas' address?
image credit: metro.co.uk
If you are planning to write to Santa Clause but have no idea where to start, don't worry. Letters addressed to Kris Kringle or any other aliases will always get to the right person, thanks to the United States Postal Service.
Despite the Christmas magic that ensures that Santa Claus receives his mails, there is a USPS Operation Santa that ensures that your letter is delivered. Basically, the operation is committed to protecting your privacy. So before letters written to Santa are posted online for adopters, any personal info and identity details are removed to maintain the writer's anonymity.
According to the Post Office, Letters with the address 123 Elf Road North Pole, 88888 will definitely get the big red guy. Typically, this address will be easy to sort, and they will get to Santa more quickly.
How To Write a Letter To Santa Claus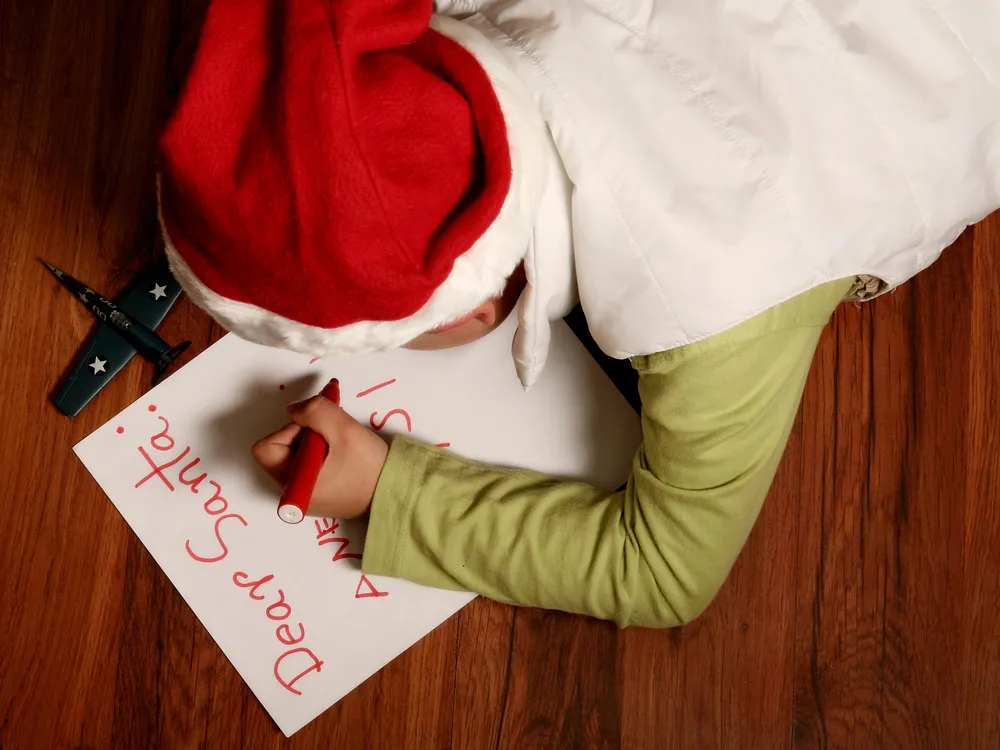 Image credit: smithsonianmag.com
Aside from surprising families during the festive season or Christmas eve, Operation Santa is a program that aims to teach kids how the postal system works and ultimately make them better letter writers.
Writing a letter to Santa shows Santa Claus you are polite, making it easier for him to get you the presents you want. Basically, you should write clearly and neatly on the envelope and adhere to a stamp.
While writing the present you want, it is necessary to be specific and include the size, color, and toy brand you want. Remember, Santa has many letters from children worldwide, so in most cases, it is impossible to get every kid everything on the list. Therefore it is important to include your top wanted items in the list.
All letters should be posted in advance; according to the Postal Service, letters for the operation Santa should be posted by 15th December. However, the soon you post the letter, the better.
The most interesting bit is that the Postal Service offers downloadable letter writing kits with templates to help the kids and make writing Santa a letter easier. The kits provided include tips, frequently asked questions about writing to Santa, and three different letter templates children choose from.
Image credit: smithsonianmag.com