We all want our lawns to look neat, with well-cut and healthy grass. I know you want a neat yard; that's why you're here, right? So, in this article, we will discuss some of the best lawn dethatchers, their features, the pros and cons, and all things to consider when you want to buy the best lawn dethatcher.
The best lawn dethatcher we reviewed is the Greenworks 10 Amp 14-Inch corded electric dethatcher. It has an impressive three-position depth adjustment design for in-depth dethatching. Our runner-up is the Sun Joe AJ801E electric lawn dethatcher. It is an ideal lawn dethatcher that is best suited for medium-sized lawn grass. And our third choice is the Rock&Rocker 16-inch electric push dethatcher; it works as a dethatcher and a scarifier.
If your lawn is not looking healthy even if you are taking care of it, then probably it's suffocated. Thick thatch and compacted soil can suffocate and starve your grass. But how is this happening? If the thatch is too thick and the soil is dense, there is no freedom of movement of air, water, and nutrients. You will need to dethatch your lawn with the best lawn dethatcher for the best results, and your yard will be healthy and even more beautiful. Let's see the best lawn dethatchers to get that healthy-looking yard well and fast.
Best Lawn Dethatchers
Here are our best lawn dethatchers, selected and reviewed so that all you have to do is choose.
1. Best Lawn Dethatcher with Steel Tines: Greenworks 10 Amp 14-Inch Corded Dethatcher, 27022
Greenworks 10 Amp 14" Corded Electric Dethatcher...
KEEP YOUR YARD HEALTHY : dethatch in early spring or early fall...
POWERFUL MOTOR : 10A motor provides the power you need to tackle...
14" DETHATCHING PATH : allows you to complete jobs faster and...
3-POSITION HEIGHT ADJUST : provides greater control by removing...
STAINLESS STEEL TINES : stays sharp longer for reliable...
This 14" machine from Greenworks is a corded electric dethatcher with a 10 Amp motor. It is one of the best dethatchers in the market and is made of stainless steel tines with three-position depth adjustment. The depth adjustment provided us with more control while rooting out the thatch, bringing it to the surface where we could easily remove it. Greenworks is a reliable brand that offers a four-year warranty to their dethatchers which is quite reassuring. This 14" corded Greenworks dethatcher is cheaper than most brands and performs efficiently to ensure you work effectively.
It has the best-designed wheels for an electric dethatcher, which makes it very easy to maneuver as I dethatched my lawn. It is also easy to use and lightweight. These features made the dethatching process go impressively smooth.
Image Credits: sohars.com
Its 14-inch dethatching path makes your work done even faster. With this dethatcher, you will not only be keeping your lawn healthy and beautiful, but the environment will also benefit as this dethatcher is safe to use and does not release carbon emissions to the environment.
You also need not worry about storage space as this dethatcher has foldable handles for easy and compact storage. It also operates smoothly and with less noise.
2. Best Electric Dethatcher: Sun Joe AJ801E 13-Inch 12-Amp Electric Scarifier + Lawn Dethatcher
Sale
Sun Joe AJ801E 12-Amp 13-Inch Electric Dethatcher and...
[POWERFUL]: 12-amp motor rakes a 13" wide path to get your job...
[ADJUSTABLE DECK]: Tailor raking depth with 5-position depth...
[SCARIFIED]: Use the Scarified function to cut grass roots for...
[AIR BOOST TECHNOLOGY]: Spring steel tines for maximum thatch...
[INCLUDED]: Detachable thatch collection bag for easy disposal
Sun Joe AJ801E electric dethatcher and scarifier are ideal for revitalizing small to mid-sized lawns, as the collection bag fills quickly and will need emptying frequently. What we loved the most about this dethatcher was the adjustable depth function that allowed us to remove thatch with different depths. The adjustable depths made it more efficient as we could go as deep as 0.4 inches into the soil and as high as 0.4 inches above the soil level. Furthermore, you can adjust the tines up to five levels.
Its 12 amp motor is powerful therefore does not need to be shut down periodically to prevent overheating. It's also equipped with air boost technology which maximizes thatch pickup with spring steel tines that remain sharp for a longer time to perform even better.
Image Credits: youtube.com
If you scarifier your lawn at regular intervals, the grassroots will be shorter, and this will encourage the growth of thicker and healthier tuff. Isn't that what everybody wants for their lawn? Additionally, I can't miss mentioning that this dethatcher has a safety switch to prevent accidental starting, and you can instantly start it at the press of a button.
The Sun Joe dethatcher comes with a two-year warranty and is environmentally friendly as it does not release carbon into the atmosphere. This can be your new friend for a green and healthy lawn.
3. Best Electric Dethatcher and Scarifier: Rock&Rocker 16-Inch
Sale
Rock&Rocker 16-Inch 15 Amp Electric Dethatcher...
Rock&Rocker Electric Dethatcher Scarifier is in full stock and...
[16IN LARGE WORKING WIDTH] Rock&Rocker electric dethatcher...
[2 IN 1 FUNCTION] Dethatcher removes the thick layer of dead...
[15AMP POWERFUL MOTOR] Dethatcher scarifier with 15amp superpower...
[5 WORKING DEPTH ADJUSTMENTS] Use the depth control lever to...
The Rock&Rocker 16-inch electric push dethatcher is a great option when you don't have a riding lawn mower or a lawn tractor. It works as a dethatcher and scarifier because it comes packed with two different dethatching and scarifying attachments.
We completed work in half the time expected thanks to the 15 am motor producing up to 3600 RPM speed and the 16-inch wring width. And depending on the condition of the lawn, this dethatcher boasts five different depth adjustments for effective dethatching.
Image Credits: amazon.com
One of the best features of the 16-inch Rock&Rocker dethatcher and scarifier is that you can adjust the handle height to your comfort. So whether tall or short, this dethatcher will be a favorite for preventing thatch accumulation on small and medium-sized yards.
4. Best Dethatching Rake: Wolf-Garten Interlocken 12″ Dethatching Rake Head
Small lawn owners will love the Wolf-Garten Interlocken 12″ Dethatching Rake head. It has ten hooked blades to ensure effective lawn care. It is worth noting that this tool only has the rake head, meaning you have to buy the handle separately. The missing handle was a downer, but once the handle is in place, the Wolf-Garten Interlocken works perfectly!
With every pass you make, this tool clears out thatch with its 12 inches-wide head. I was also impressed with the flexible spring steel tines that are very durable. Plus, the spring steel tines are curved to enable them to dig into the soil for a clean job. You can also take time to look through different dethatching rakes to ensure you find one that meets your
Image Credits: cityirrigation.co.uk
Finally, we can't miss mentioning the warranty. When a manufacturer has confidence in what they offer, the warranty will be a clear indication. Wolf-Garten Interlocken dethatcher comes with a steady 10-year guarantee!
5. Best Tow-Behind Dethatcher: Agri-Fab 40-Inch Tine Tow-Behind Dethatcher 45-0294
Sale
Agri-Fab 40-Inch Tine Tow Dethatcher 45-0294,Black
Tine de-thatcher uproots dead, matted grass and dislodges...
Twenty Durable spring tines for easy thatch removal; Penetrates...
Rust-proof and replaceable spring-loaded tines are heat-treated...
Transport handle for easy raising and lowering of the tines
Made in USA
This Agri-Fab Tine Tow Dethatcher is made in the USA. We were impressed by the fact that this dethatcher can uproot dead matted grass, dislodge hard-packed dirt, and carry up to 70 lbs.
It has twenty rust-proof and heat-treated spring tines that effectively remove thatch without damaging the lawn. It also comes with a three-year consumer warranty. Agri-Fab dethatcher penetrates and turns grass, soil, and weeds with 40-inch wide swathes.
Image Credits: lowes.com
The width ensures that we dethatch a large area faster, which saves us time and energy. The dethatcher has a simple-to-use cantilever transport handle that makes raising and lowering the tines easier.
It is easy to move around due to the two seven-inch wheels, and the hitch is universal and can easily and quickly attach to any tractor. Assembling the parts is a walk in the park, very easy, and the product is very sturdy. This dethatcher, however, has short hitch pins that make it a little hard to connect it to your tractor.
6. Best Lawn Dethatcher for Dead Grass: VonHaus 2 in 1 Electric Lawn Dethatcher Scarifier & Aerator 12.5 Amp Corded Motor
VonHaus 2 in 1 Electric Lawn Dethatcher Scarifier &...
2 IN 1 – With separate dethatcher and aerator drums included,...
15" WORKING WIDTH – Well-suited to small and mid-sized lawns,...
ADJUSTABLE HEIGHT DEPTHS – Use the manual lever to select...
47QT CAPACITY COLLECTION BOX – No need for manual raking,...
COMPACT FOR STORAGE – Folding soft-grip handle and removable...
If you need to maintain a vibrant and healthy lawn, this electric lawn dethatcher is the tool you need. It features a 12.5 Amp motor that comfortably handles the stiffest jobs. We used it to remove thatch and moss because it works as a dethatcher and scarifier.
The dethatching roller has 29 steel blades that lance the soil and removes thatch and debris, while the scarifying roller has 44 steel spikes that create small holes to allow air and water to reach the roots. We also loved that the machine's working depths could be adjusted to five different working levels, depending on the condition of the lawns we tried it on.
Image Credits: offerup.com
7. Best Large Lawn Dethatcher: Earthwise DT71613 13-Amp 16-Inch Corded Electric Dethatcher
Earthwise DT71613 13-Amp 16-Inch Corded Electric...
Earthwise Power Tools by ALM power dethatcher with a 13-Amp motor...
Lawn cultivator with a 16" working width for quick and easy...
Grass aerator machine with -0.4" to 0.4" working depth for...
Electric dethatcher aerator with 45 spring pins for loosening up...
Low maintenance yard dethatcher that only needs electricity to...
A good Dethatcher removes the top layer of roots, moss, dead grass, or bulbs that form over a long period when a lawn is mowed. The Earthwise DT71613 13-Amp 16-Inch Corded Electric Dethatcher is your solid choice if you need a dethatcher that is pocket-friendly and effective. It's energized with a 13 Amp motor that impressed us with enough power to penetrate deep into the turf and remove stubborn thatch.
It also characterizes 24 spring tines that are designed to be gentle on your lawn. The extra 16-inch working width made our dethatching work much easier than expected.
Image Credits: thespruce.com
8. Best Combo Attachment: Mantis 7321 Aerator/Dethatcher Combo Attachment Tillers
Sale
Mantis 7321 Aerator/Dethatcher Combo Attachment, Red
Aerator and Dethatched Attachment Combo Pack for the Mantis 7000...
Aerator perfect for use in compact, clay soil
Lawn care attachments are not recommended for surface-rooted...
Aerator cuts into soil under the lawn; dethatched quickly removes...
60 spring-steel picks dethatch a 15-inch swath with a single pass
Your lawn needs specific services to be beautiful and healthy. Such services include aerating and dethatching. With this combo attachment, you will not only achieve that but also save time and money. Using this dethatcher was a breeze as we didn't have to look for a separate aerator.
The Mantis dethatcher attachment quickly removes weeds and the tan-looking thatch that makes your lawn unhealthy. It was easy for me to move it around the lawn without hindrance because of the spring steel tines. With the aerator, on the other hand, and the 60 spring steel picks, you can efficiently dethatch a 15-inch swath with one pass.
Image Credits: mantis.com
However, this aerator dethatcher combo is only compatible with the Mantis 7000 series tiller/cultivators. This lawn dethatcher/aerator combo is easy to use, and replacing the spring steel picks is easy.
9. Best Value Dethatcher: Agri-Fab 45-0295 48-Inch Tine Tow Dethatcher
Agri-Fab 45-0295 48-Inch Lawn Dethatcher, Medium, Black
Tine de-thatcher uproots dead, matted grass and dislodges...
Twenty-Four Durable spring tines for easy thatch removal;...
Rust-proof and replaceable spring-loaded tines are heat-treated...
Transport handle for easy raising and lowering of the tines
(2) 7-inch diameter semi-pneumatic wheels with a width of 1-1/2...
If you love tow-behind dethatchers, then I would recommend you to go for the Agri-Fab 45-0295 48-Inch Tine Tow Dethatcher. Behind the dethatcher, it has a tow that can be easily attached to a lawn tractor. It topped my list of dethatchers that can be easily used on large lawns. The 7-inch wide wheels made moving it around the lawn a breeze; there was no resistance at all.
It has 24 heated treated spring steel tines that are designed to tenderly but effectively remove thatch from the surface of the lawn. The machine is designed for lawn care and maintenance.
Types of Dethatchers
It is critical to be informed of the different types of dethatchers available in the market. A little research will go a long way in informing your decision when buying the best dethatcher. Each has its characteristics; therefore, knowing how they work will help you decide which is more suitable for your needs.
1. Motorized Dethatchers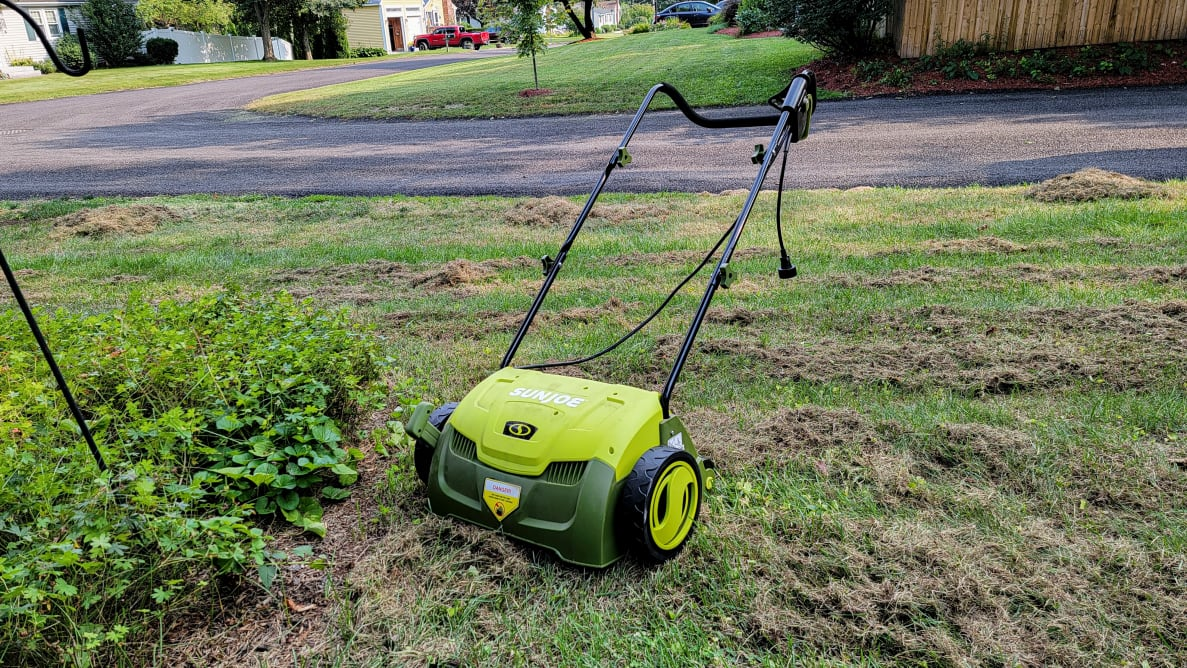 Image Credits: psasb.go.ke
Motorized dethatchers look like small lawnmowers and are great for small yards. These dethatchers have motors that spin smaller dethatching tines, digging and loosening the thatch.
Most motorized dethatchers require an outdoor power supply because of their corded electric feature. One major advantage that this electric dethatcher has is that they are relatively easy to maintain.
2. Tow-Behind Lawn Dethatchers
If, on the other hand, you have a large yard, a tow-behind dethatcher would work great for you. These types of dethatchers are attached to the hitch on the back of a lawn mower, a four-wheeler, or a tractor. As the dethatcher is pulled across the lawn, it loosens the thatch faster.
Image Credits:brinly.com
Tow-behind dethatchers are very convenient to use, needing minimum effort to use when properly attached. And for added advantage, you can attach a tow-behind to a riding lawn mower and complete two jobs effortlessly. The only downside to this type of dethatcher is the size, with models being as large as 4 feet wide.
3. Attachments Dethatchers
Attachments are great because you can use them together with your riding lawn mower. All you have to do is replace the mower blades with dethatching blades. The advantage attachments have over other dethatchers is that they save space. Most attachments for lawnmowers can easily fit 20-inch decks. For the best lawn dethatcher, ensure you go through the instructions from the manufacturer.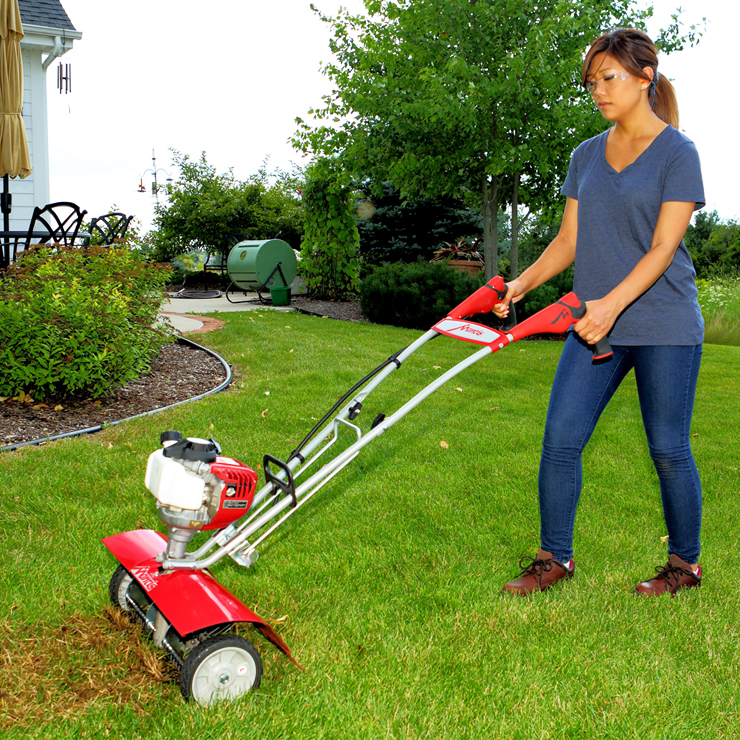 Image Credits: hammondhardware.com
After using the riding mower to dethatch the lawn, remove the dethatching blades and replace them with the original mower blades. The next step is to continue with your normal lawn maintenance until another time when you need to dethatch again. Attachments are great because not only do they save on storage space, but they are also cheaper than buying a thatching machine.
4. Manual Lawn Dethatchers
A manual lawn dethatcher is an excellent choice for those who want to save some money. Hard work is what you get with this lawn dethatcher which looks more like a yard rake. The upside to this dethatcher is that you get to focus on small areas.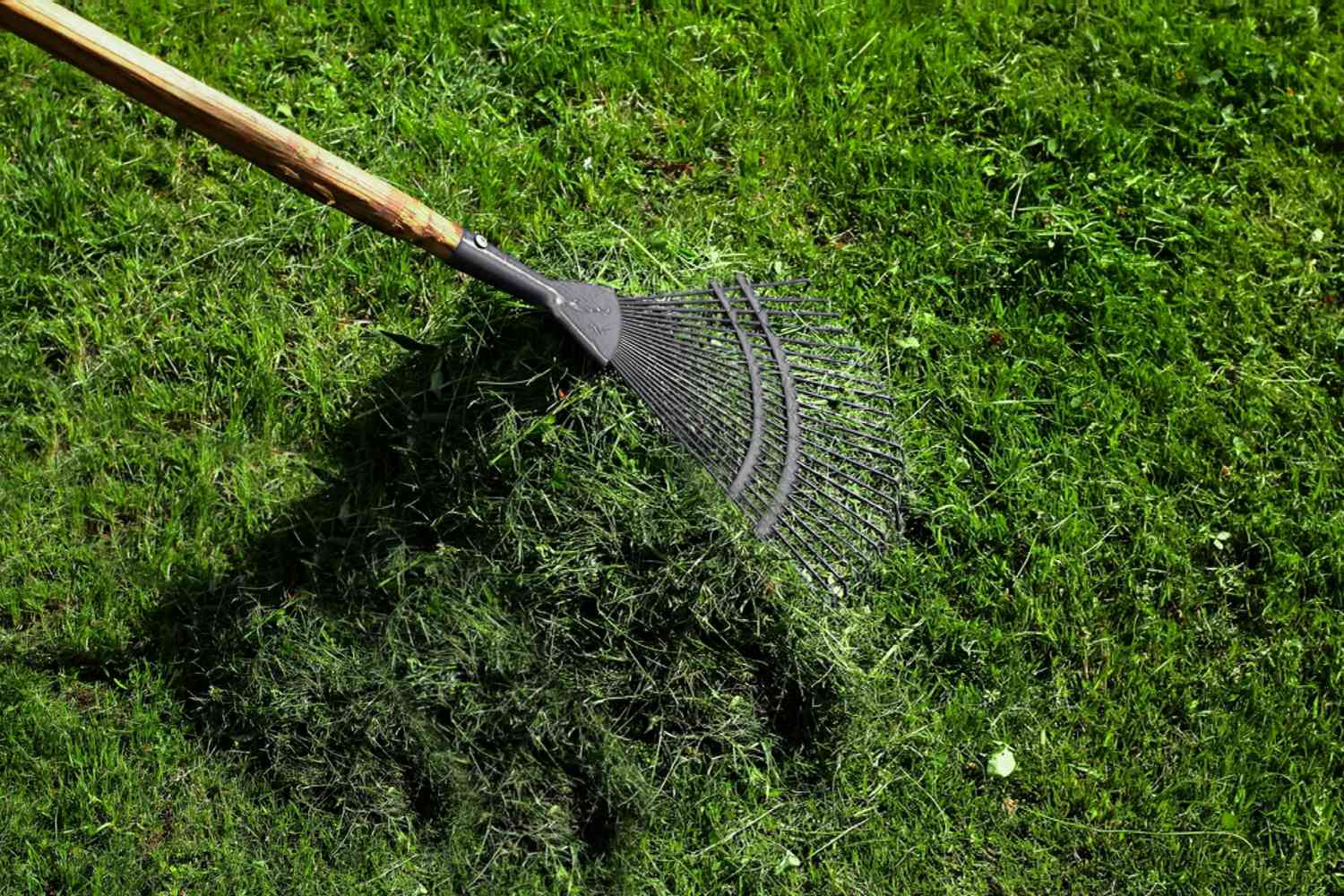 Image Credits: the spruce.com
If you are short on storage space, manual lawn dethatchers are ideal for small spaces. And while they need you to put in more effort than other dethatchers, they are the best lawn dethatchers for compact and small properties.
Things To Consider When Buying the Best Lawn Dethatcher
So you may be wondering what type of lawn dethatcher to buy to eliminate the stubborn thatch in your lawn. After going through some of the best models, I understand if choosing is a little hard.
That's why I am here to guide you. When you want a good lawn dethatcher, you will not just go online, order, or pick a specific model. You will first need to know how that product works and if it suits the work you want to be done. Therefore, if you plan to buy a lawn dethatcher and somewhat feel confused about the model to buy, here are key features to look for in good lawn dethatchers.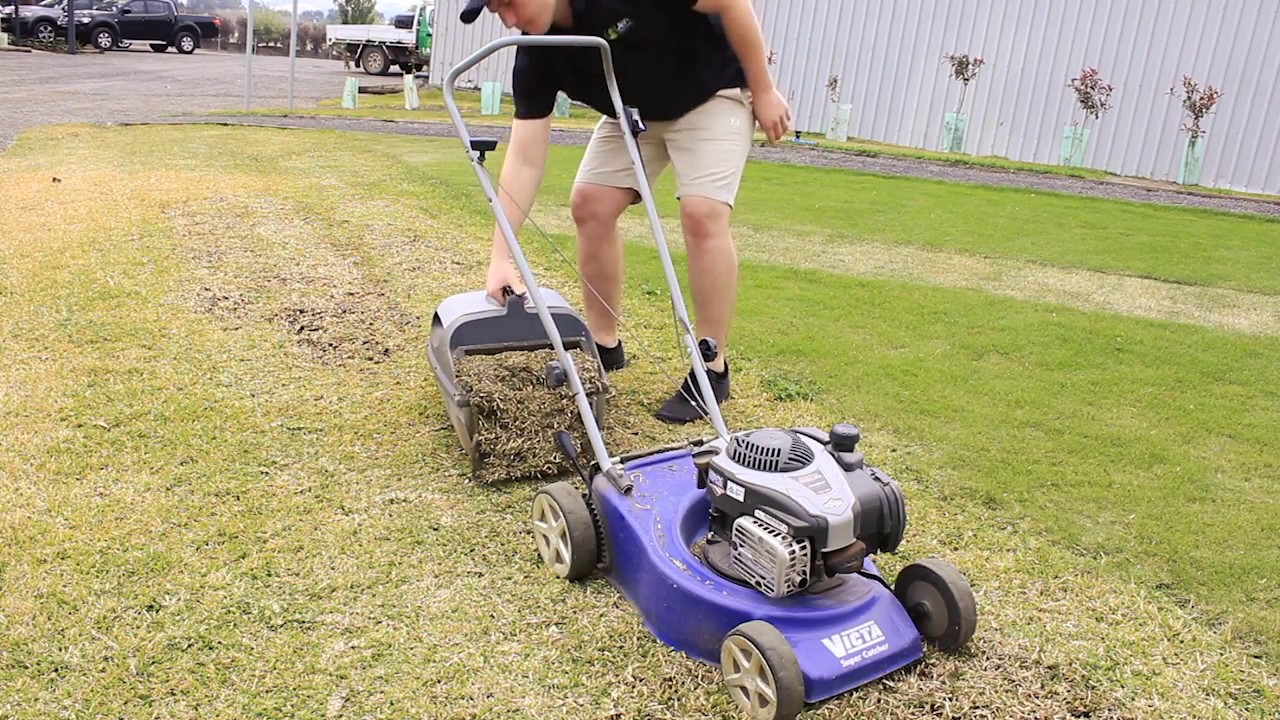 Image Credits: gardeningvibe.com
A). Lawn Size
Your lawn size is one of the major things you should keep in mind when buying a lawn dethatcher. Some dethatcher models work greatly when the yard is small, but they may be wanting when subjected to a lot of work.
Therefore, keep in mind this important factor before you order that dethatcher. Ensure that you get the right model for your yard size.
For small lawns, a manual dethatcher can work perfectly. On the other hand, a larger yard will need a motorized dethatcher or a tow-behind dethatcher that attaches to a tractor.
B). Motor Power
Lawn dethatcher motors range from 10-15 amps, with 15 being the most powerful. Dethatching a large lawn will require a dethatcher with a more powerful motor; this is just to ensure that you don't take breaks to give the engine time to cool.
A larger motor will cool the engine as it works. However, a smaller yard will need a dethatcher with a small motor as the dethatcher's engine cannot overheat from little work.
C). Tines
When it comes to dethatching, it is the tines that do all the work. They reach into the lawn and remove all the thatch that is hidden beneath the grass. Without good times, it is not possible to remove thatch.
Therefore, you need to ensure that you buy a lawn dethatcher with very powerful and durable tines. Stainless steel tines and spring tines are the best as they do not rust (this means they will last longer) and are also strong, meaning they will handle the resistance from the thatch during dethatching.
D). Dethatcher Width
Dethatchers come in different sizes, with widths ranging between 12 to 48 inches or more. This makes it easier to get smaller products for smaller yards and vice versa.
If your dethatcher is big, you will only make a few passes before you finish removing thatch. However, if you use a dethatcher with a small width to work on a large yard, you may spend more time than you want.
However, it can be very difficult to maneuver a wide dethatcher in a narrow dethatching path. Keep this into consideration before you make that purchase.
E). Collection Bag
If your lawn dethatcher does not have a grass box, you are likely to spend the better part of your day raking and removing the thatch from your lawn after dethatching. Therefore, before you decide to buy a bagless dethatcher, you need to know the available options.
However, even if you buy a bagless dethatcher with a mower with a bag, you can still get your work done faster because the mower will provide the service needed. Most dethatchers, however, come with collection bags.
How to Prevent Thatch from Building Up Too Fast?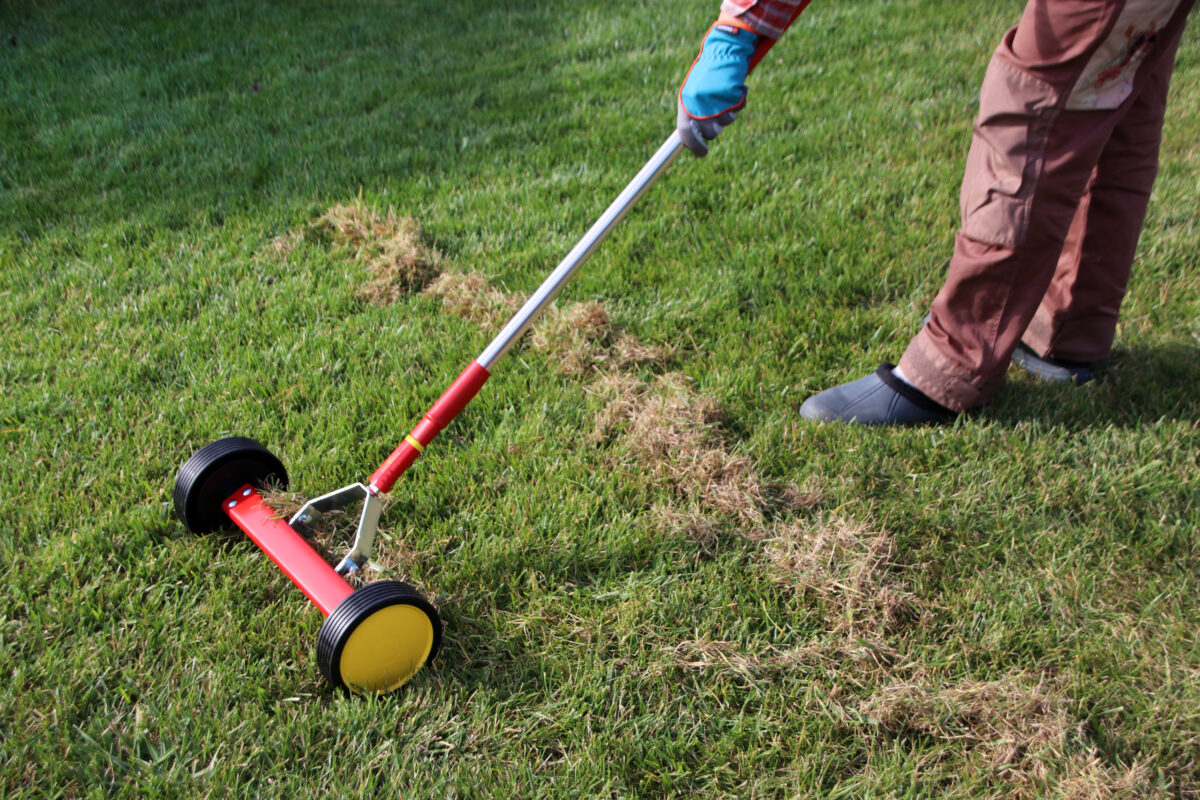 Image Credits:yardlab.co
Thatch can easily accumulate if the lawn is not properly taken care of. After mowing, you can use a lawn sweeper to blow off the grass clippings and make gathering them a simpler task. Nonetheless, even after disposing of grass clipping, the excess clippings, if left unattended to, can accumulate and form fast thatch buildup.
However, regardless of how attentive you are about lawn care, thatch is bound to build up as the years pass by. With thatch being inevitable, you can opt to hire someone to remove it or buy a lawn dethatcher and do the job yourself. Having a dethatcher is a sure way of preventing unwanted thatch from suppressing grass growth.
FAQs About Best Lawn Dethatcher
1. Is it good to dethatch your lawn?
For your lawn to flourish and look healthy, dethatching is essential. Therefore it is important to know when to dethatch to avoid thatch accumulation. Dethatching helps your grass look healthy and beautiful.
2. What is the difference between a scarifier and a dethatcher?
The difference between a dethatcher and a scarifier tool is not very big. Nonetheless, a scarifier will dig deeper into the soil to remove moss, thatch, and other things. On the other hand, a dethatcher loosens and removes grass clippings and leaves from the lawn.
3. Are electric Dethatchers any good?
Electric dethatchers are easier to use. Their performance is better and more effective as compared to manual dethatchers. And while you may be concerned about the cable, these dethatchers are low maintenance.
4. How do you get rid of thatch naturally?
Keep the soil underneath the thatch layer moist

Collect your clippings until you have dealt with the thatch problem

Test the soil pH and add lime as required

Increase thatch degrading bioactivity

Improve soil aeration
5. How often do I need to dethatch my lawn? 
Dethatching should be done twice a year: once in Spring after the snow has covered the thatch and once in fall when you are preparing for the cool season grass.
6. Should I fertilize my lawn after dethatching? 
Fertilizing your lawn after dethatching can be very beneficial to the grass, especially considering how rough dethatching can be.
7. Is a lawn dethatcher worth it?
A lawn dethatcher is essential in the care of your grass. Dethatching helps you to grow a healthier lawn with lush grass.
8. What is the best month to dethatch your lawn?
The best month to dethatch your lawn will depend on the grass you are handling at the time. Late Spring is the best time to dethatch warm-season grass. And cool season grass is best dethatched in the early Spring or early Fall.
9. Is it better to use a power rake or dethatcher for your lawn?
Both tools are used to remove thatch from our lawns. However, some notable differences are worth considering:
Power Rake: A power rake is a machine with blades very similar to a roto-tiller and designed to dig deep and pull up thatch from the soil. It is a more aggressive way of removing thatch and debris from our lawns, digging up to 2 ½ – 4 times deeper into the soil than dethatching.
Dethatching: A dethatcher is a mechanical equipment used to remove thatch, except it is gentler. With a dethatcher, your lawn will recover faster, allowing your grass to flourish. Using a dethatcher is preferred by many because you can use it twice a year to maintain a healthy lawn.
10. Is it better to dethatch before or after mowing?
It is recommended to mow your lawn before dethatching. And when you plan to dethatch, ensure that you cut your grass shorter than you normally would. By cutting the grass first, dethatching will be more effective and beneficial o your lawn.
11. How do I know if my lawn needs dethatching?
The first step to knowing when it's the right time to dethatch is to check the layer. If you measure and the thatch is 1- 2 inches or more, your lawn needs dethatching without delay. By this time, the grass will have already started to change color and look weak.