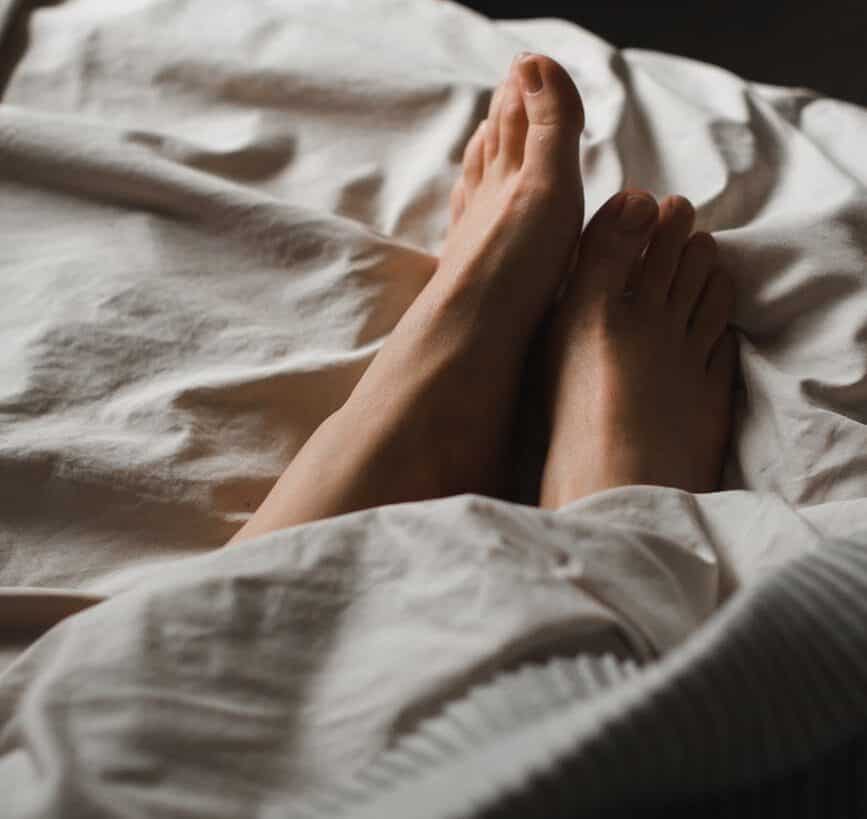 Best Weighted Blanket for Hot Sleepers to Avoid Night Sweats
A night of restful sleep can make a huge difference in your everyday life by helping to reduce stress, improve your memory, lower your blood pressure, improve your mood, keep your heart healthy and others. However, a hot sleeper with autism, anxiety or ADHD has a restlessness that makes it challenging for them to enjoy a good night's sleep. Buying the best-weighted blanket for hot sleepers may serve to lul them throughout the night.
The original weighted blanket has been a staple for behavioral therapists who assist those with anxiety disorders that lead to insomnia. Night sweats further compound the situation and causes an uncomfortable night, especially because heavier duvet covers make it difficult to dissipate your body heat when you sleep.
Before you buy the best-weighted blanket for hot sleepers, you need to check out the primary considerations you should make. Also, peruse our list of 5 excellent options to get you started.
1. YnM Bamboo Weighted Blanket
YnM Bamboo Weighted Blanket — 100% Cooling Bamboo...
The original YnM weighted blanket offers a natural way to help...
YnM owns a unique 7-layer weighted blanket. Our 7-layer system is...
HIGHEST INDUSTRY STANDARD: 4.7"x4.7" smaller compartments for...
To choose a size for 1 adult, take 10% of your body weight, then...
COOLING & SILKY-SOFT BAMBOO FABRIC; not like the other cheap...
The YnM Bamboo Cooling Weighted Blanket utilizes pure natural bamboo fabric to simulate the sensation of a hug for a calming feeling when falling asleep. The material is super soft and cool to the touch for a more premium feel. Also, the comfort-weighted blanket has a 7-layer system that is uniquely designed to contour with the body.
This cool-weighted blanket uses less fiberfill and more evenly distributed glass beads to help in regulating your body temperature. The lock bead sewing method ensures beads do not leak. Also, the fine stitching ensures the weight does not shift while you sleep.
As one of the best cooling weighted blankets, the product offers an impressive balance between quality and price. Also, buyers have numerous options when it comes to selecting the color, pattern and weight options.
2. Degrees of Comfort Cooling Weighted Blanket
Sale
Degrees Of Comfort Cooling Weighted Blanket with...
2 DUVET COVERS INCLUDED - Pre-assembled minky plush COZYHEAT...
EVEN WEIGHT DISTRIBUTION - Using smaller pockets filled with...
HOW TO CHOOSE THE BEST SIZE FOR YOU - Pick the blanket weight...
RELAX AND ENJOY - Ready to use right out of the box with or...
A FULL NIGHTS REST - Our durable 7-layer weighted blanket is...
The Degrees of Comfort Cooling Weighted Blanket stands out from the rest due to its innovative nano-ceramic bead technology. The unique filler lasts longer than poor-quality plastic pellets. Plus, they offer more comfort than glass beads since they provide uniformity in weight distribution.
Another advantage of the patented nano-ceramic technology in these weighted cooling blankets is that they allow for a low-profile product. The fillers are finer and denser. Thus, you will not need as many to get to the desired weight for the blanket.
The Degrees of Comfort Cooling Weighted Blanket uses a 10-Point Locking System to ensure more even weight distribution. Consequently, you will not have the trouble of most of the weight bunching up on one side if you toss and turn at night.
3. Gravity Cooling Blanket
Gravity Cooling Blanket: The Weighted Blanket for Sleep...
A luxurious, science-backed weighted blanket, engineered to be...
This design features a revolutionary cooling fabric, optimized to...
Precise gridded stitching ensures the glass beads remain...
The breathable duvet cover is machine washable (wash in cold...
The latest generation of Gravity's Cooling Blanket features...
The Gravity Cooling Weighted Blanket brings a touch of technology-based luxury to your bedroom with the selection of modern neutrals for colors; grey, white or navy. Plus, it looks amazing on the couch as it fits any interior decor style.
The weighted blanket comes with a premium duvet cover made of breathable fabric. This feature makes it cool to the touch and helps it to regulate body temperature if you sleep hot.
The aesthetic look of the precise gridded stitching also keeps the micro glass beads in place for even weight distribution. Additionally, it is best not to worry about the Gravity Blanket getting off after you fall asleep. The removable cover has a zipper system for keeping the heavy inner blanket in place all night long.
4. ZonLi Cooling Weighted Blanket
ZonLi Cooling Weighted Blanket 7 lbs(41''x60'' Khaki),...
【COOLING COOLING COOLING FABRIC】The weighted blanket is made...
【4 REASONS WHY ZonLi WEIGHTED BLANKET IS WORTH THE PRICE】Each...
【MULTI-ROLE】You can lay the cooling weighted blanket across...
【3 REASONS WHY WE RECOMMEND A DUVET COVER FOR YOUR BLANKET】...
【UNIQUE SEWING TECHNIQUE】The tight quilting thread can evenly...
ZonLi offers one of the best cooling weighted blankets on the market, thanks to the expert craftsmanship that goes into each product. For starters, each one comes with 6-8 strongly buckled loops for keeping the removable covers in place when falling asleep. The breathable fabric covering the top and bottom of the blanket is made from 100% cooling bamboo viscose for optimum temperature control.
If you are worried about comfort, the ZonLi Cooling Weighted Blanket has a layer of non-glue padding that surrounds the beads so that you do not feel them. Also, the beads are hypoallergenic, odorless and non-toxic while distributed evenly in a 4-5 square-inch quilted density design. Finally, the glass beads are contained in an extra layer of microfiber to prevent them from moving or leaking.
Make your weighted blanket last longer by getting a removable cover for it. This option eases the process of keeping it clean while allowing you to find one that suits your interior decor.
5. Luna Adult Weighted Blanket
Sale
Luna Adult Weighted Blanket - Individual Use - 20 Lbs -...
Meet Luna - Luna's innovative, smart design combines 7 layers...
Super Soft - Covered in an ultra soft cotton material and filled...
Easy Care - The best way to care for your weighted blanket is to...
Made for Everyone - Only the king size is made for 2 people....
Sleep Well - Hypoallergenic, Oeko-Tex & Glass Beads so you can...
The Luna Adult Cooling Weighted Blanket is made from 100% organic cotton in a unique 7-layer design with evenly distributed glass beads. The result is a product that is streamlined with a super soft cover and cloud-like cooling fabric on the inside. The medical-grade glass beads reduce any shifting as they distribute the weight for deep pressure stimulation.
Since there are several layers in the weighted blanket, the resultant air channels ensure proper circulation while you fall asleep. Thus, you can expect the Luna Cooling Weighted Blanket to ensure breathability and adequate temperature control.
It is easy to take care of this weighted blanket as it is machine washable. You can decide to hand wash or use a machine at a gentle setting with cold water. Plus, you can hang dry it or use low heat for tumble dry.
Factors to Consider When Buying the Best Weighted Blanket for Hot Sleepers
a) Ideal Heaviness of the Weighted Blanket
So, how heavy should your weighted blanket be? Typically, the adult weighted blankets available on the market have weights ranging from 5 to 25 pounds, with a difference of 5 pounds from one option to the next.
Nevertheless, it is advisable to get a weighted blanket of about 10 percent of your body weight. There are cases where your body weight lies between two weight options, for example, 125 pounds. In this scenario, getting a heavier one may be necessary to experience that soothing sensation weighted blankets provide.
Although the 10 percent of your body weight estimate is a good rule of thumb, you also need to figure out how a heavy blanket can affect the user. For instance, if someone has mobility issues, most weighted blankets may prove challenging to remove in the middle of the night. Similarly, these products are not ideal for children younger than 3 or weighing less than 50 pounds due to suffocation risks.
b) Weighted Beads Construction
Weighted blankets can either be filled with glass beads or poly plastic beads. Admittedly, the jury is still out on which material is better to get with your product. However, the differences between the two can sway your decision.
For starters, glass beads are usually as tiny as grains of sand or even smaller in some cases. On the other hand, plastic pellets are much bigger, making the entire blanket bulkier. The compact size of glass beads allows manufacturers to come up with much thinner ones.
Additionally, other weighted blankets have polyester fiberfill. This material traps heat for more warmth all night long. If you are a hot sleeper, a cozy blanket may lower your sleep quality since you cannot regulate your body temperature.
Weighted blankets with glass beads inside can offer a more restful sleep. Their thin profile, in some cases coupled with cooling fabrics, ensures adequate temperature control throughout the night. These types are known as weighted cooling blankets.
Plastic beads are a much cheaper option when compared to glass construction. Thus, a hot sleeper may need to reach deeper into their pockets to get the best cooling weighted blankets.
c) Size of Weighted Blanket
Ideally, it would be best if you strived to get a weighted cooling blanket that can cover your neck down to your feet. Still, it should not hang over the sides of the bed since its weight may cause it to slide off at night.
It may be unnerving to have a weighted blanket and a different duvet cover in one bed if you have a partner. However, this is often the case as these products are not wide.
The cooling weighted blanket size you choose should match your bed. Also, child-sized weight options are available for kids as an alternative to sleep medication.
d) Breathable Fabrics
Since a weighted blanket is heavy, it can absorb heat and trap it while you fall asleep, leading to an uncomfortable night. Organic cotton, bamboo and microfibers are some of the best cooling fabrics used in creating breathable duvet covers.
The best cooling weighted blankets should allow cool air to circulate all night long for regulating body temperature. This feature allows you to experience a soothing feeling and more restful sleep free of night sweats.
Frequently Asked Questions (FAQs) on the Best Weighted Blanket for Hot Sleepers
1. What is the best weighted blanket for hot sleepers?
The YnM Bamboo Cooling Weighted Blanket is the best product in this category. It uses glass beads to have a slim profile, while the bamboo fabric wicks moisture to offer a restful sleep.
Additionally, the 7-layer design and fine stitching make this weighted blanket comfortable. It contours with your body while the weight does not shift as you toss and turn.
2. Are weighted blankets good for hot sleepers?
A hot sleeper requires cooling fabrics to ensure it wicks moisture and allows for adequate temperature regulation throughout the night. Some weighted blankets are made with material specifically designed to keep you cool while you sleep. Thus, you can experience the hug-like feeling of a weighted blanket with the cooling effect of specialized fabrics.
3. Do weighted blankets make you hotter?
Some weighted blankets are made with multiple layers of different fabrics. The fillings will obviously make you warmer than using a typical duvet. However, getting a weighted blanket with cooling features can ensure you sleep soundly without bothersome night sweats.
4. Who should not use weighted blankets?
Typically, experts do not advise giving children under 10 years weighted blankets. Plus, people with mobility issues should avoid these products as they may suffocate them. It is vital to check with a healthcare professional before you buy a weighted blanket.