These days, you do not have to be of royal blood to stay in a castle. The UK, in particular, is packed with castles, often in stunning locations, brimming with character and full of heritage and history to explore. But, unlike in the old days, most castle stays in the UK offer the rare chance to live inside your fairytale dreams and escape everyday life stresses.
Most castle stays have now been revamped into luxurious hotels, spa spots, and boutique retreats. They will often offer bed and breakfast to full hotel services, and you will also find some that even provide self-catering accommodation, giving you a chance to be your lord or lady. These castle hotels are spread across the UK, from Cotswolds, Devon, and Cornwall in the south to Northumberland, Durham, and Yorkshire.
Why Were Castles Built?
In the early days, the primary purpose of a castle was to protect the royal people living inside from an invasion brought on by enemy attacks. So, they were mainly designed and built with defense in mind.
Typically they featured tall outer walls, watch towers, buildings, and fortifications inside the walls. These structures were made of wood and earth but later out of stone and brick.
The other main reason castles were built was to claim ownership over large pieces of land. A castle would typically signify the power the lord or royalty that lived in the castle wields.
How Are Castles Used Today?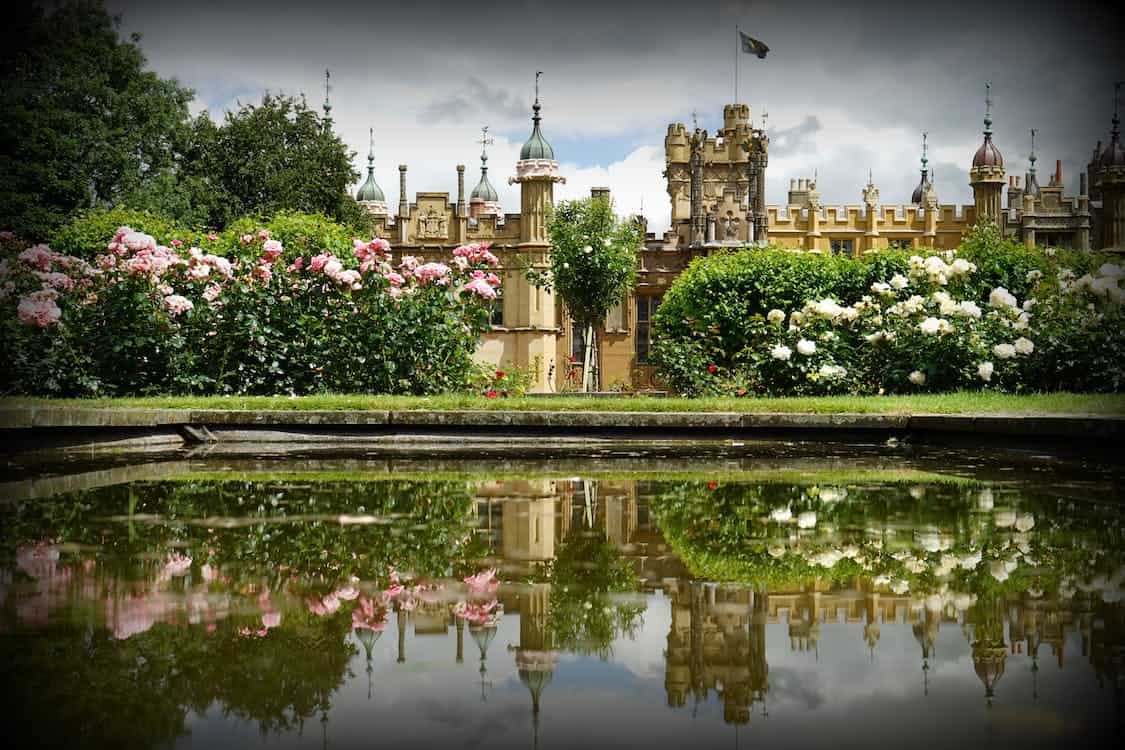 Not all castles have survived war, attacks, and years of bad weather. Most have been rebuilt but still portray their original designs and historic touches.
Nowadays, some castles function as tourist attractions and museums, while others have become homes to royal families. However, most castles have become hotels where people can relax or even host concerts and special events.
Therefore, you can book a night or two in some of the best castle hotels today. However, there are so many incredible options, and you might have difficulty choosing the perfect one. Here are some of the best castle hotels in the UK to make it easier for you.
1. Kinross House
One of Scotland's most illustrious castles, Kinross House's history stretches as far back as 1257. Sir William Bruce contracted the magnificent residence in 1685 as his own home. Through the centuries, the castle was added to and owned by various prestigious families, including King Robert II, until 2011, when it was transformed into a luxurious hotel.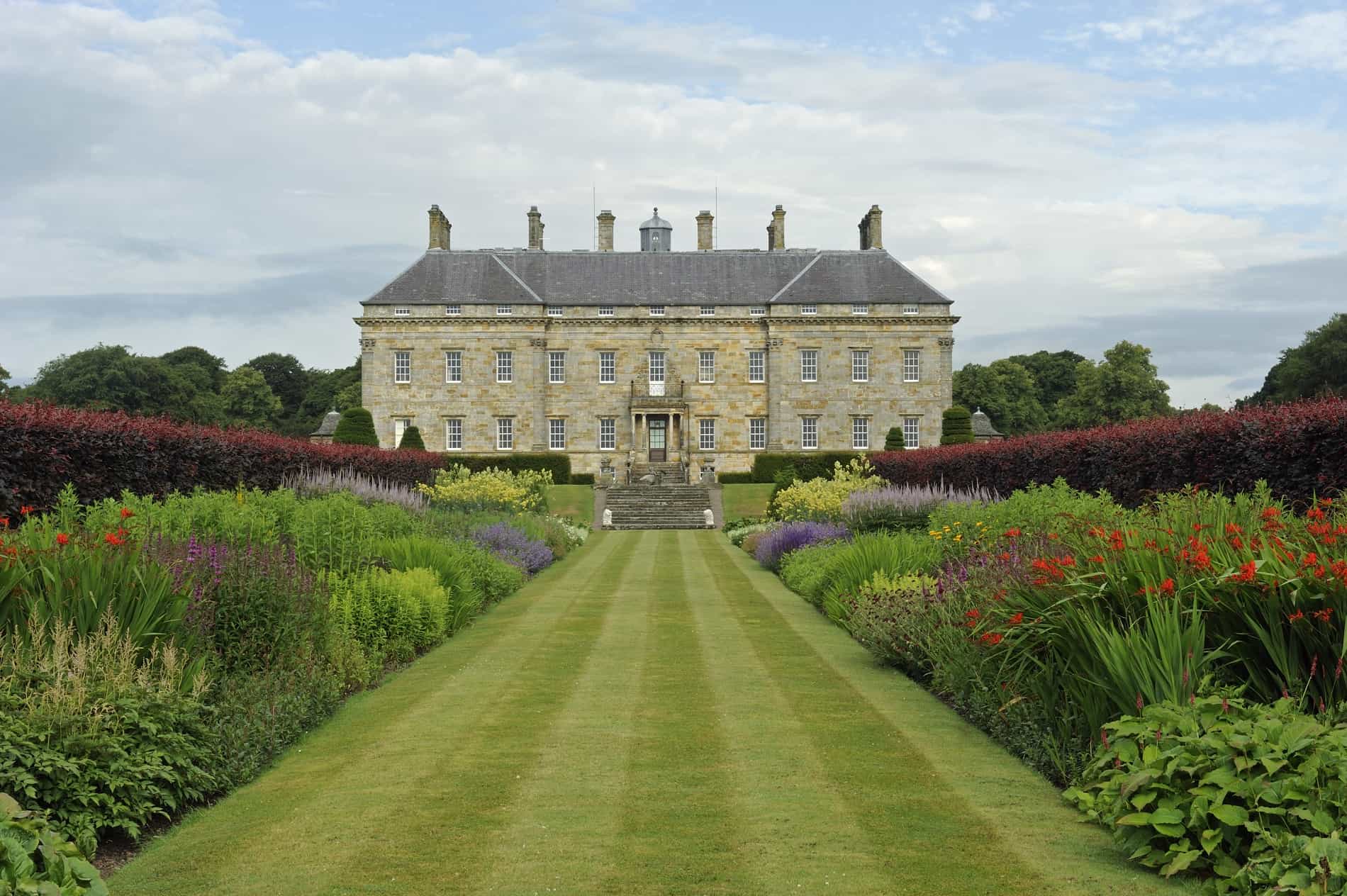 Image credit: historichouses.org
Since then, Kinross House has welcomed visitors to stay or hire the estate. You can hire the place for family gatherings, private parties, and the ultimate luxury experience.
The castle hotel has a beautiful mansion that can accommodate up to 48 guests simultaneously, with 14 guests getting excellent ensuite rooms.
The amazing bit is that every single room here is named after an aspect of the estate's history, character, or location. Again all the rooms are luxuriously comfortable, featuring different furniture with modernized touches and uniquely designed bathrooms.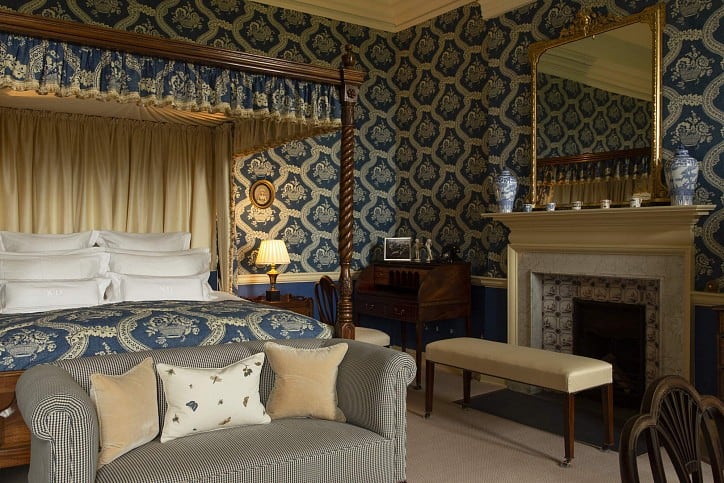 Image credit: kinrosshouse.com
In addition to the amazing rooms, the castle provides its guests with a first-class dining experience and an extensive Whisky Library. The Library allows guests to experience an array of sensational whiskies and discover the flavors of Scotland's most famous drinks.
2. Hever Castle
Hever Castle is another amazing hotel in England that will allow you to spend your night in the same bedrooms as some of the most famous English royalties. The castle was first built in the early 13th century.
In the regnant of King Henry VIII, it became the family home to Anne Boleyn, the king's short-lived second wife. Shortly after the death of Anne Boleyn, Anne Of Cleves, one of King Henry VIII's wives, took over the castle.
Spend the day exploring Hever Castle in the 125 acres of formal gardens. This double-moated castle offers luxurious yet modern bedrooms with free Wi-Fi.
There are 28 boutique rooms that are beautifully styled with some rich fabrics and antique furnishing spread across the Anne Boleyn and Astor Wings. Some rooms have oaken four-poster beds, while others are furnished with antique writing tables and log fireplaces.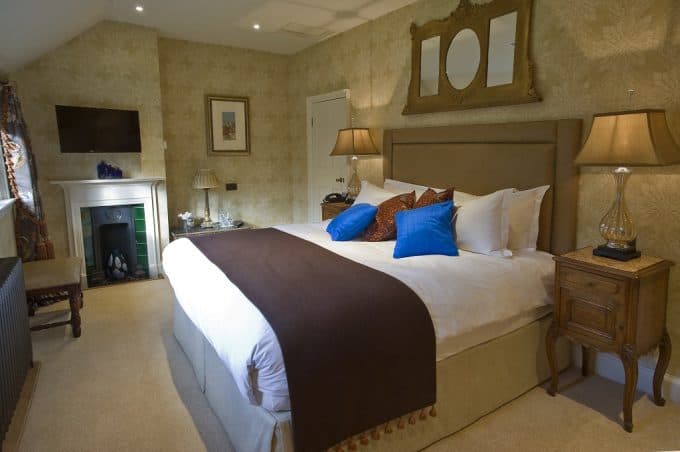 Image credit: hevercastle.co.uk
Amazingly, the Moat Restaurant serves lunch whenever the castle is open to the public, and there is a pub within walking distance for evening meals. Breakfast is served to all the guests in the Astor Wing or the Anne Boleyn Wing.
The good bit is that you can easily access the castle hotel through the private gated entrance. The amazing bit is that guests have free parking in a private car park.
3. Langley Castle
Langley Castle is another one of the best castle hotels in England for a weekend getaway. This award-winning Castle Hotel is a beautiful 14th-century medieval castle in a woodland estate in Northumberland. It was destroyed by Henry IV and lay derelict until it was restored in the 19th century.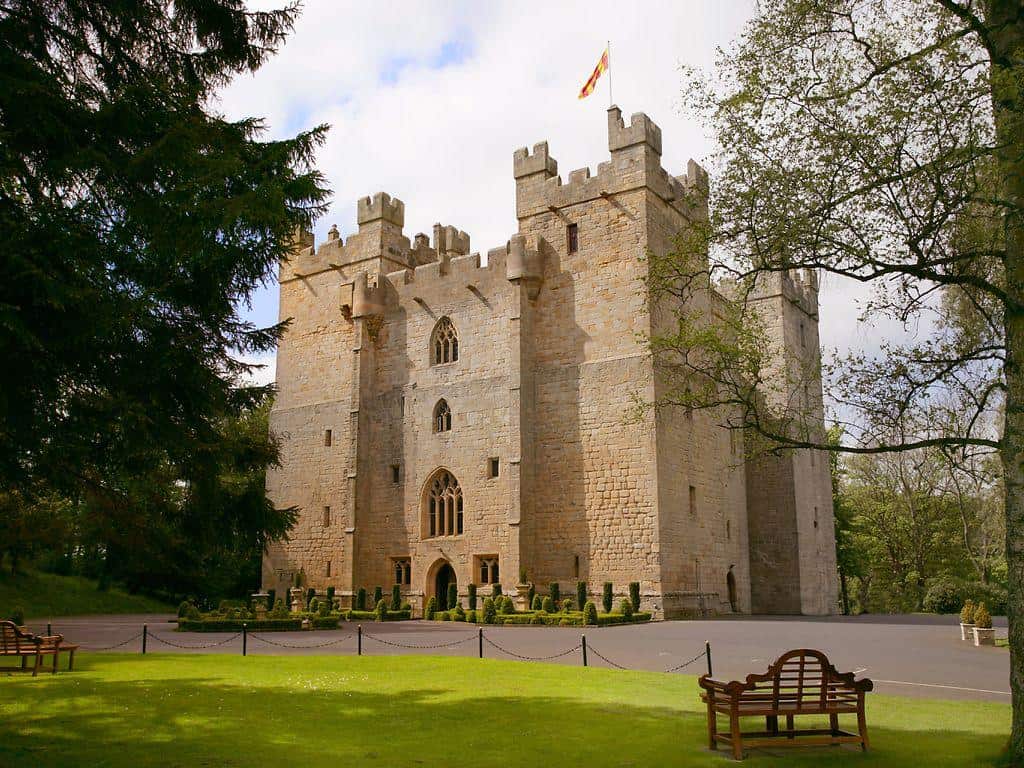 Image credit: offpeakluxury.com
Set in a 12-acre woodland estate, Langley Castle has modern facilities that will interest you. Used as a barracks during WWII and later as a school, the castle has certainly taken the chance to escape to the past.
It has nine grandest rooms, each with luxurious features such as four-poster beds, antique wooden wardrobes, tables, and chairs. Some rooms even have saunas and spa tubs.
It also has 18 other luxury rooms that offer excellent views of the castle. The amazing bit is that all the guests in the castle can enjoy all the landscaped grounds and modern amenities, which include a restaurant, bar, and an attractive drawing room.
4. Amberley Castle
Amberley Castle in West Sussex was built as a mansion in the 12th century before being fortified in 1377. Over the centuries, the property has been upgraded into a luxury retreat, with luxurious bedrooms that have four-poster beds, Tudor-style windows, and working fireplaces.
The good bit is that the walls, gates, and towers still give you the historic touch definitive of castles.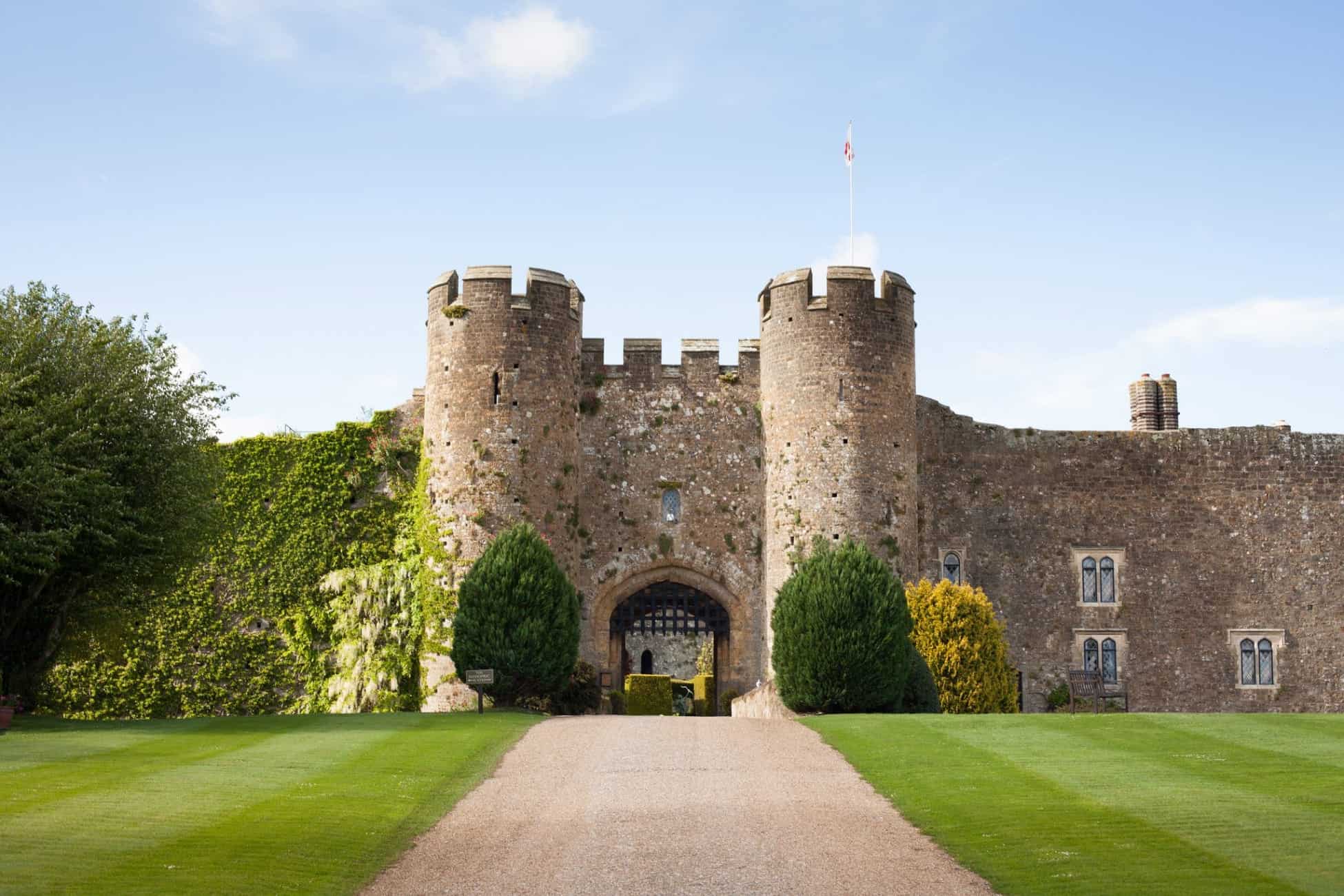 Image credit: ar.trivago.com
Within the castle walls are 19 guest rooms designed to offer comfort and style but still reflect the structure's history. The rooms are completely furnished with antiques and delicate fabrics alongside modern features. You will also enjoy the castle room's magnificent Queen's Room restaurant, which offers fine dining for all the guests.
5. Lumley Castle
Lumley Castle is another one of the best castle hotels in County Durham you can stay. The castle has accommodated many guests since it was converted from a mansion to a castle in 1389. The castle hotel features 73 uniquely designed rooms that provide the luxury and comfort you seek.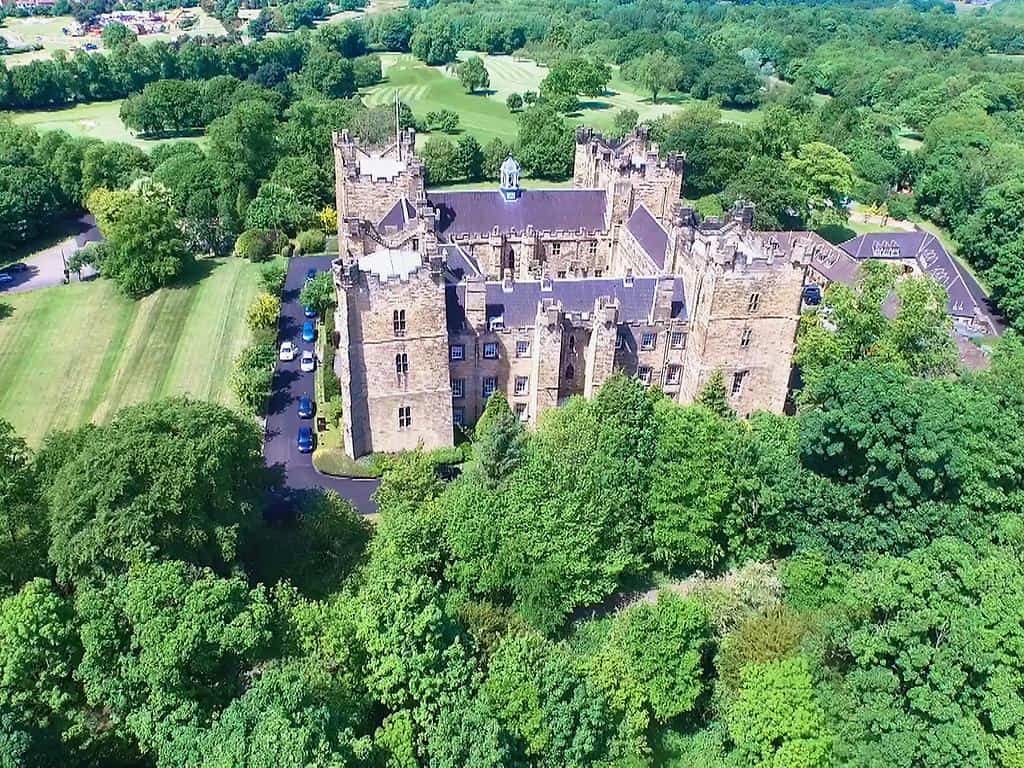 Image credit: countryhotelbreaks.com
Each room has four-poster beds, lavish carpets, feature baths, and window seats in thick stone walls. Amazingly the rooms also have stunning views and free Wi-Fi. At the castle, you will dine in the splendor of the refurbished Knights Restaurant, which offers seasonal Al a Carte Menus.
The amazing bit is that you will also be able to have an extensive selection of fine wines to complement your meal. Again, you can choose a bed and breakfast stay, take exclusive use, and indulge in unique accommodation.
6. Thornbury Castle Hotel
Want a romantic fairytale getaway? The Thornbury Castle Hotel on the edge of the Cotswolds is the place to be. It's not only a luxurious place, but Henry VIII and Anne Boleyn once owned it. This Tudor castle palace provides its guest with helpful workshops in archery and the basics of falconry.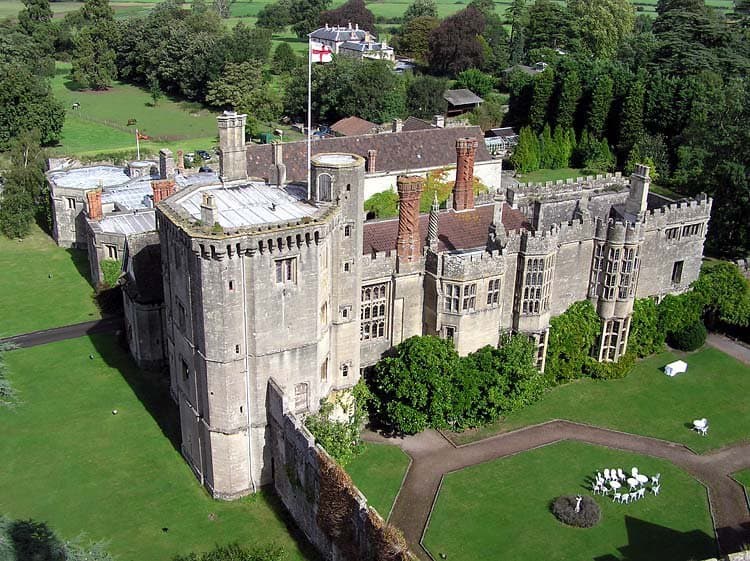 Image credit: smithsonianmag.com
This unique luxury hotel features an elegant stone archway, a rounded tower house, and authentic Tudor architecture. It has a beautiful inside view, romantic spiral staircases, gorgeous Victorian windows, and medieval-style open hearths. The rooms in the castle have rooms with arrow-slit windows, and every suit evokes the history and heritage of the castle.
You will also enjoy the dining experience offered at the Thornbury Castle hotel. Other on-site facilities include croquet, archery, clay-pigeon shooting, and falconry, which can be arranged with prior notice. However, you should note that these facilities will be charged extra.
7. Otterburn Castle
If you are looking for beautiful castle hotels in the UK that you can stay in, then you should consider Otterburn Castle. This historic castle dates back to the time of William the Conqueror when it used to function as a medieval tower for watching over the Scottish borders.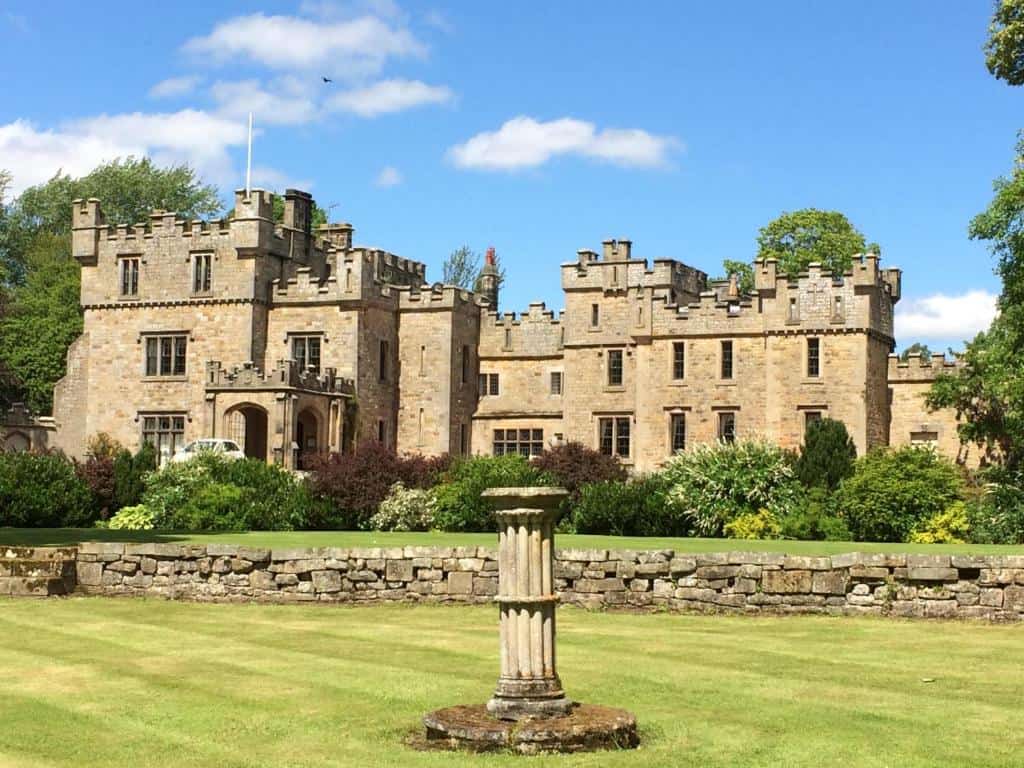 Image credit: planetofhotels.com
The place was upgraded from its original structure of a medieval tower to a picturesque country castle in the Victorian era. Over time Otterburn Castle was redesigned into the luxury hotel, restaurant, and bar it is today. It has 17 unique and exclusive rooms individually designed and furnished.
Every room is exceptionably well-appointed, with most of them having stunning views of the castle grounds. Again all rooms have LCD TVs, Tea/Coffee making facilities, and direct access to daily housekeeping services.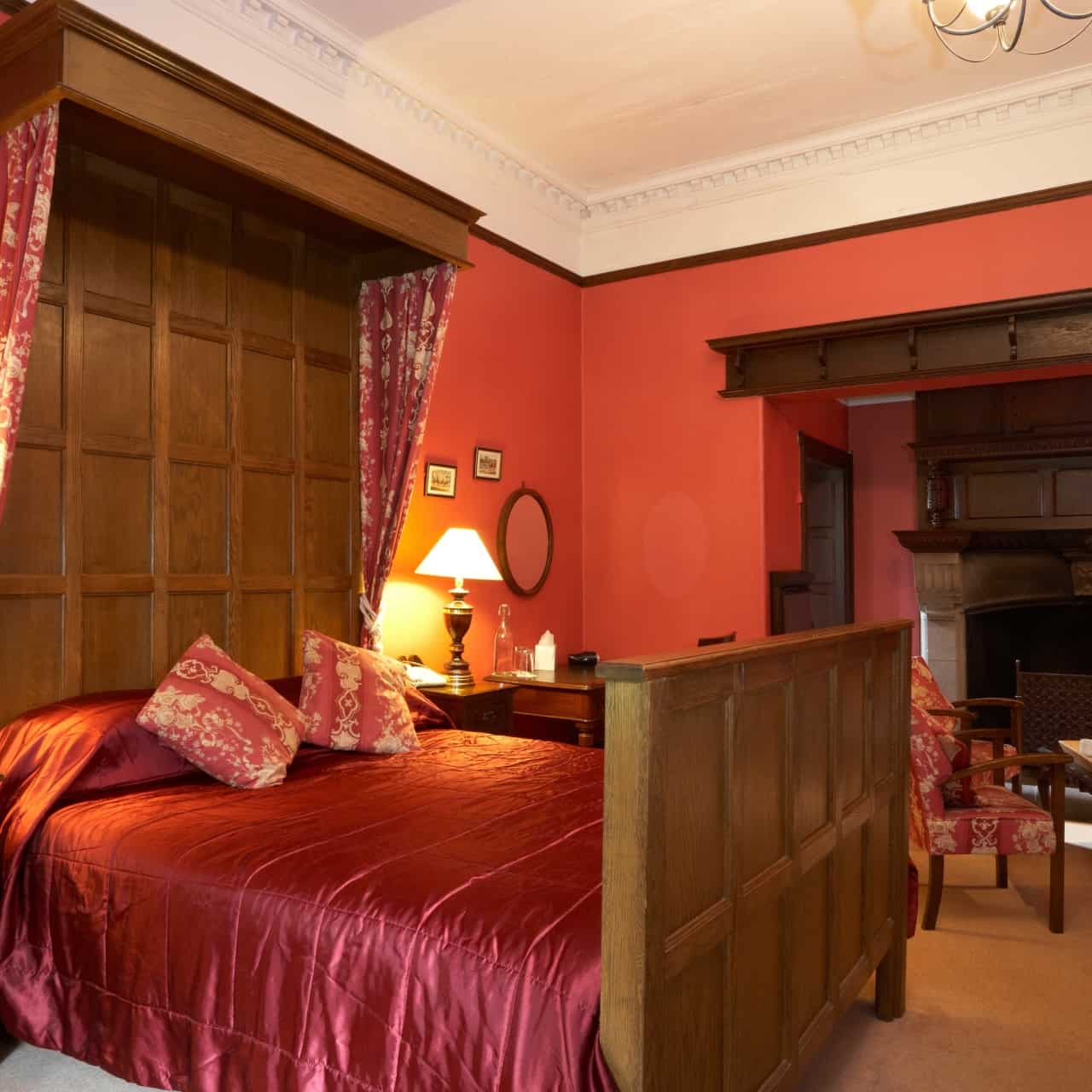 Image credit: hrs.com
This vast country estate restaurant welcomes residents and non-residents to dine. The restaurant offers a warm and conducive environment for everyone. You will genuinely enjoy dining with a well-thought-out extensive wine list to accompany the menu.
8. Augill Castle
Augill Castle is another amazing choice that will allow you to enjoy the splendid beauty of the Yorkshire Dales and the North Pennines Area. Having been built in the early 1840s by a wealthy man in the neo-gothic style, it has all the castle essentials: turrets, towers, and ornate windows. Before the place got a makeover into a luxury hotel, it was used as a weekend retreat site.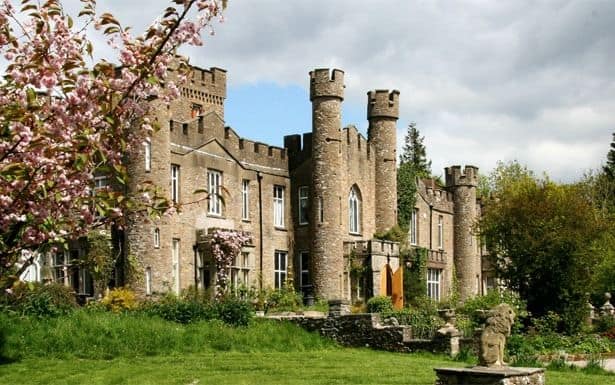 Image credit: pinterest.com
Augill Castle has 13 rooms, suites, and estate houses designed with a romantic, decadent, and contemporary design. Some rooms suit couples, while others are suited for families. Amazingly, the rooms have a traditional feel, but the garden suites and estate houses are designed to give a modern vibe.
The family-friendly castle features an ESPA spa, a championship golf course, a swimming pool, archery, and a rifle range, for all the guests.
9. Bovey Castle
Bovey Castle Hotel is picturesque, set within 275 acres in the heart of England's Dartmoor National Park, and is a fantastic place to stay whenever to need to relax. First opened as a hotel and golf resort in 1930, Bovey Castle Hotel and Spa accommodated many prestigious guests.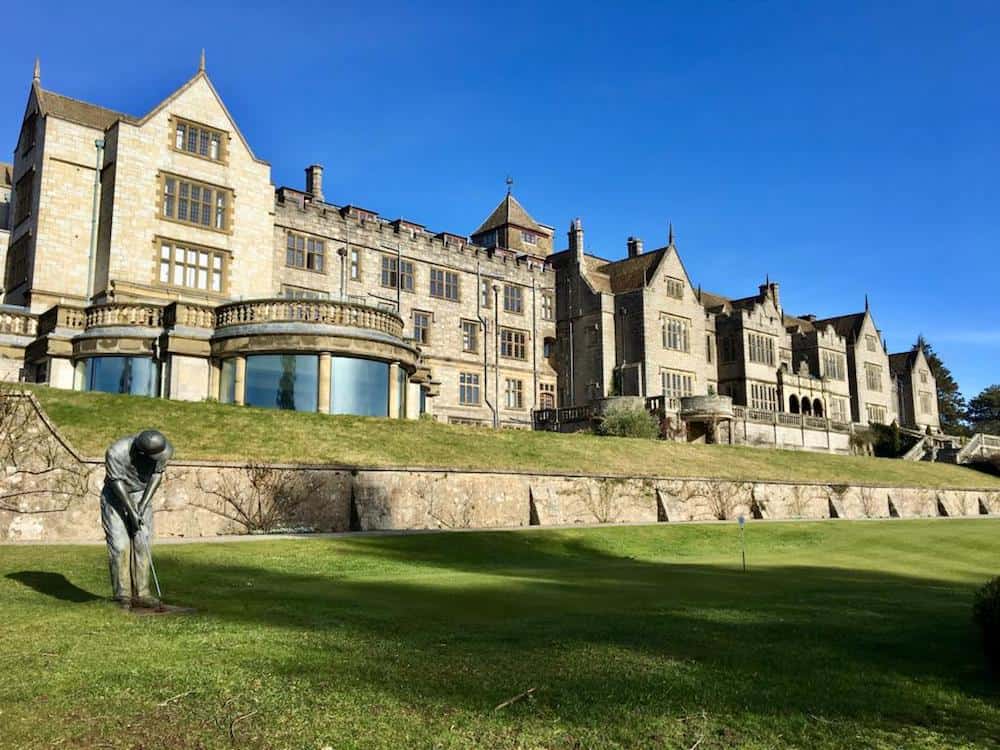 Image credit: devon.muddystilettos.co.uk
The castle hotel has 60 fully serviced rooms and 22 self-catering country lodges. Each room is designed and built with comfort and luxury in mind. The rooms are individually decorated, with the finishing, furniture, and fabrics used to compliment the warmth and elegance of the place.
In addition, the castle offers one of the best and most stunning wedding venues in Devon. With its rich history, charm, and elegance, you can enjoy a castle wedding with loved ones. Again you can go for a walk on their historic 18-hole golf course.
10. Crossbasket Castle
Crossbasket Castle is a beautiful 17th-century residence meticulously transformed into a luxury hotel. It is on 14 acres of well-manicured gardens with access to a riverside walk leading to a small waterfall.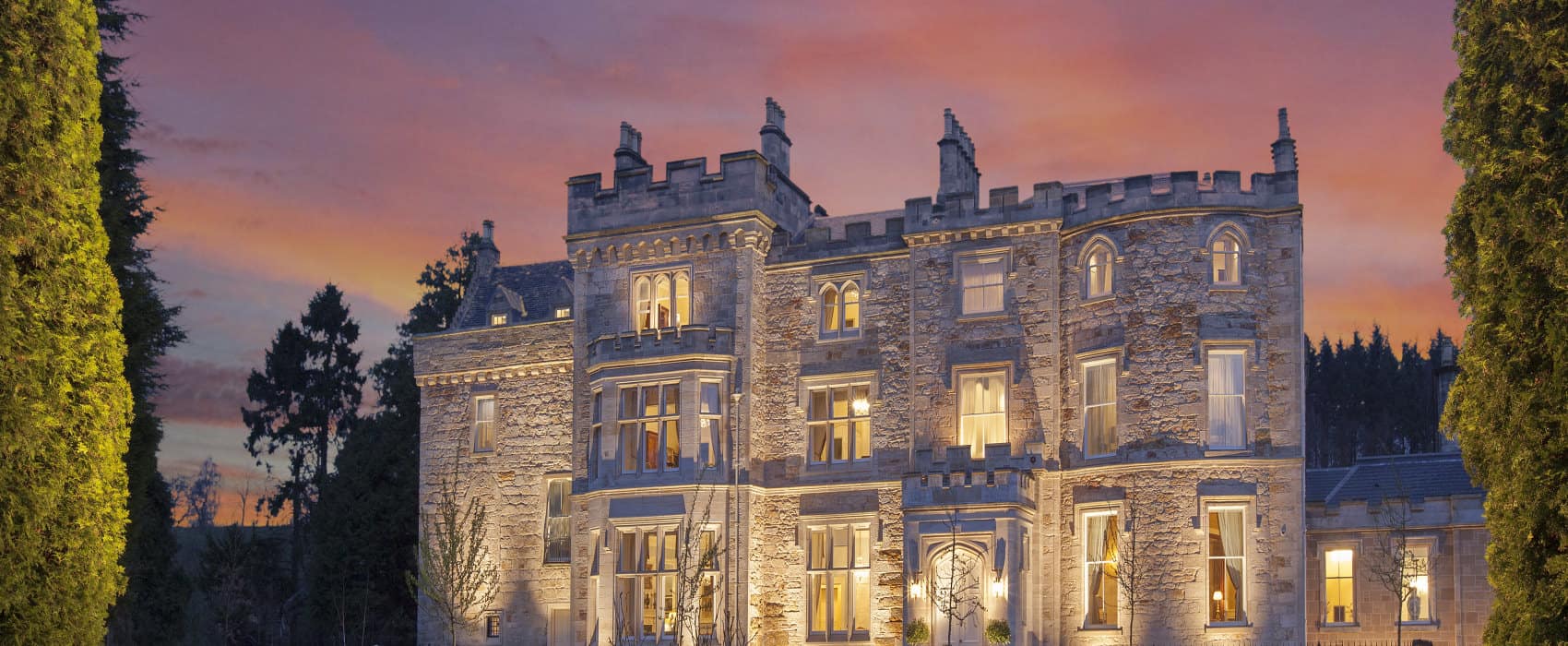 Image credit: crossbasketcastle.com
The castle hotel has spacious rooms offering traditional and opulent tastes, intricate gold leaf cornicing, chandeliers, ceiling roses, drapes, wood paneling, and antique furniture. All the bathrooms feature traditional Lefroy Brooks fittings, Quercus toiletries, marble floor tiles, and rainfall showers.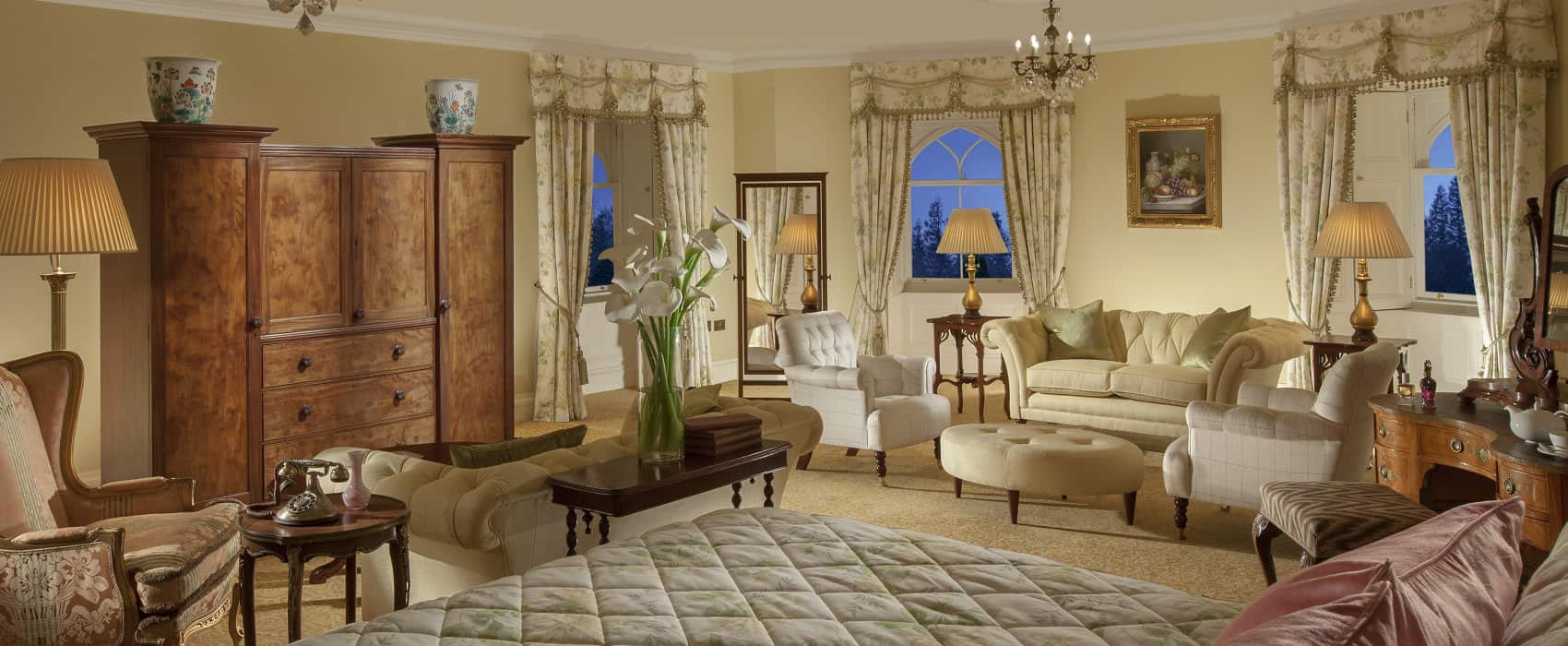 Image credit: crossbasketcastle.com
This historic hotel has a Castle View Restaurant, which overlooks the castle as you dine. The Albert and Michel Roux Jr Restaurant serves up tasting, dinner, lunch, lounge, and afternoon tea menus, accompanied by an extensive wine list.
Why Do Castle Stays make for a Luxurious Getaway?
Castle stays offer a unique and unforgettable vacation experience. Here are some of the reasons why:
1. Unique Experiences and Amenities
Castle stays offer an array of experiences and amenities that you won't find anywhere else. Many castles offer outdoor activities such as archery, falconry, and horseback riding. You can also enjoy spa treatments, fine dining, and exceptional service. Whether you're looking for a relaxing or adventure-filled vacation, castle stays offer something for everyone.
2. Luxurious Accommodations
Regarding accommodations, castle stays offer luxurious and elegant rooms in grandiose settings. You can expect high-end furnishings, modern amenities, and breathtaking views. The rooms are often decorated with four-poster beds, ornate tapestries, and antique furniture. Suites may also feature private balconies, fireplaces, and jacuzzi tubs.
3. Immersive Cultural Experiences
Staying in a castle offers a unique opportunity to immerse yourself in the history and culture of the region. Many castles have museums, art galleries, and exhibitions that showcase the history of the castle and the surrounding area. You can also participate in cultural activities such as traditional dance performances, cooking classes, or wine tastings.
4. Privacy and Exclusivity
Staying in a castle offers privacy and exclusivity you won't find at a hotel or resort. Many castles are not open to the public, so you'll have exclusive access to the castle grounds. This allows you to enjoy the peace and tranquility of the castle without the crowds.
How to Plan a Castle Stay
Planning a castle stay requires careful consideration and research to ensure a memorable and enjoyable experience. Here are the steps to take when planning a castle stay:
1. Research and Booking Accommodations
The first step in planning a castle stay is researching and booking accommodations. Various resources are available for booking castle stays, including the castle's official website, online travel agencies, and specialty booking websites focusing solely on castle stay.
When choosing a castle, consider location, amenities, activities offered, and price.
2. Accesibility and Transportation
When planning a castle stay, transportation is an important consideration. Many castles are located in rural areas and may not be easily accessible by public transportation. Researching transportation options, including renting a car, taking a taxi or private transfer, or using public transportation, is essential. Some castles may offer shuttle services, so inquire about this when booking your stay.
If you're planning a stay in a castle, it's essential to consider how you'll get there and whether you'll need to rent a car or arrange transportation. Additionally, it's essential to consider the accessibility of the castle itself, as some castles may have limited accessibility or may not be suitable for those with mobility issues.
3. Activities and Tours
Castles often offer a variety of activities and tours, so it's essential to plan and book in advance to avoid disappointment. Depending on the castle, activities may include outdoor activities such as hiking, archery, or falconry or cultural activities such as wine tasting or cooking classes.
Tours may include guided tours of the castle, historic sites, or museums. When booking your stay, inquire about available activities and tours and book beforehand to ensure availability.
4. Cost
One of the most significant practical considerations regarding castle stays is the cost. Staying in a castle can be expensive, especially if you want a luxury experience. The cost of a castle stay can vary depending on the location, amenities, and history of the castle. Researching the costs and planning accordingly before booking a stay is essential. Some castles may offer package deals or seasonal discounts, so it's worth looking into these options to save money.
5. Weather Considerations
When planning a castle stay, it's also essential to consider the weather. Many castles are located in regions with unpredictable or extreme weather, such as Scotland or Ireland, where rain, wind, and cold temperatures can be common. It's essential to research the area's climate and plan accordingly, bringing appropriate clothing and gear for the weather. Additionally, it's worth considering the time of year when planning a castle stay, as some castles may be closed or have limited availability during certain seasons.
6. Dining and Meal Planning
When planning a castle stay, it's essential to consider dining options and meal planning. Many castles offer fine dining experiences, often with a dress code, so pack appropriate attire.
Some castles may also offer room service or breakfast in bed. If you have specific dietary requirements, communicate this when booking your stay to accommodate your needs.
7. Packing
When packing for a castle stay, consider the dress code and climate of the location. Many castles have dress codes for the dining room and other formal occasions, so pack appropriate attire. The climate may also vary depending on the location, so be prepared with appropriate clothing.
8. Check-In and Check-Out
When planning a castle stay, check the check-in and check-out times. Many castles have specific check-in and check-out times, so planning is essential. If you plan to arrive early or depart late, inquire about luggage storage options.
Conclusion on Castle Stays
Castle stays offer a unique and luxurious travel experience that will leave a lasting impression. From the grand architecture to the rich history, there is something truly special about spending the night in a castle room. Whether you're looking for a romantic retreat, a family vacation, or a unique venue for a special occasion, a castle stay is a one-of-a-kind way to immerse yourself in history and luxury.
A luxurious retreat in an iconic castle is a must for that special UK getaway. You will have a lifetime opportunity to sleep in a four-poster bed and wake up in a room suited for a King or Queen. So relax and enjoy the beautiful British countryside. After all, you won't regret choosing one of these castles for a perfect getaway.
Frequently Asked Questions on Castle Stays
1. Can you Spend a Night in a Castle?
Yes, it is possible to spend a night in a castle. Many castles worldwide have been converted into hotels, offering guests the opportunity to stay in a unique and luxurious setting. From medieval fortresses to grand estates, castle hotels offer a range of accommodations, from cozy rooms to lavish suites.
Some castles also offer amenities like fine dining, spa services, and outdoor activities. Spending a night in a castle can be an unforgettable experience, allowing guests to immerse themselves in history and culture while enjoying modern comforts and amenities.
2. What is the Safest Room in a Castle?
In the past, castles were built with defensive features to protect against attacks, such as high walls, moats, and drawbridges. One of the most secure rooms in a castle is often the keep or the tower, which was typically the last line of defense in case of an attack. These rooms were usually located at the castle's highest point and were accessible only by a narrow staircase or ladder, making them difficult for intruders.
The keep or tower room was often equipped with arrow slits, allowing defenders to shoot arrows at attackers while remaining protected. However, it's worth noting that many castles have been renovated and converted into hotels or museums, and the security features may no longer be in place. In modern castle hotels, safety features such as fire alarms, smoke detectors, and emergency exits are a top priority to ensure the safety of guests.
3. Where Do Servants Sleep in a Castle?
In castles, servants have their quarters on the lower levels or a separate wing. Servants' quarters were often located away from the main living areas to avoid disturbing the lord and his family. In more giant castles, the servants' quarters could be extensive, with separate sleeping areas for male and female servants and rooms for other staff such as cooks and stablehands.
Servants' quarters were often basic and functional, with simple furnishings and minimal decoration. The living conditions of servants varied widely depending on the era and location of the castle. Still, they were generally expected to work long hours and live in modest conditions.
4. Why are Castles Expensive?
Castles are often expensive to build, maintain, and operate, as reflected in the cost of staying in a castle or visiting one as a tourist. Here are some reasons why castles are expensive:
Historical significance: Many castles are centuries-old and considered important historical and cultural landmarks. As such, they require extensive preservation and restoration work to maintain their integrity and ensure they continue to be enjoyed by future generations.
Maintenance costs: Castles are large structures that require a lot of upkeep, from cleaning and maintenance to ongoing repairs and renovations. The costs associated with maintaining a castle can be significant.
Location: Castles are often in scenic locations, such as hilltops or by the sea, which can drive up the cost of property and construction.
Amenities: Many castle hotels offer a range of amenities and services, such as fine dining, spa services, and outdoor activities. These additional amenities add to the cost of staying in a castle.
Limited supply: There are a limited number of castles worldwide, which means that demand for castle stays or tours can be high, driving up prices.
5. Who Can Live in a Castle?
Castles have a long and rich history, and in the past, they were primarily occupied by royalty, nobility, and wealthy landowners. However, today, many castles have been converted into hotels or private residences, meaning anyone can technically live in a castle, provided they can purchase or rent one.
While owning a castle may be out of reach for most people, there are opportunities to stay in a castle or even rent one for a special occasion, such as a wedding or family reunion. Many castle hotels offer luxurious accommodations, fine dining, and a range of activities, making them a popular choice for those seeking a unique and memorable travel experience.
It's worth noting that while castles can be beautiful and impressive, they may not always be practical for modern living. Many castles lack modern amenities, such as central heating, plumbing, and electricity, making them challenging to live in year-round. Additionally, the cost of maintaining a castle can be substantial, making it difficult to justify as a primary residence for most people.
In summary, while anyone can technically live in a castle, it may not be a practical or affordable option for most people. However, castle stays and tours offer a unique and unforgettable experience that anyone interested in history, culture, and luxury accommodations can enjoy.
6. What is the Difference between Castle and Palace?
Castles and palaces are grand and impressive structures with critical differences in history, architecture, and purpose.
A castle is typically a fortified structure initially designed for defensive purposes, such as protecting the lord and his family from enemy attacks. Castles often have high walls, turrets, and other defensive features typically built during the medieval period. Castles were also often used as administrative centers and were typically the residences of lords, knights, and other members of the nobility.
On the other hand, a palace is a grand, luxurious residence typically built for monarchs or other ruling elite members. Palaces were often used for entertaining guests, holding court, and conducting official business. Palaces are typically associated with more recent historical periods and are often associated with the Baroque or Renaissance architectural styles.
In terms of architecture, castles are often characterized by their imposing defensive features, such as walls, towers, and moats. Conversely, palaces are often characterized by grand, opulent interiors and elaborate decoration.
The main differences between castles and palaces are their historical origins, purpose, and architectural features. Castles were initially designed for defense, while palaces were designed for luxury and entertainment. Castles are typically associated with the medieval period and have more defensive architecture. In contrast, palaces are typically associated with more recent historical periods and have more opulent and decorative architecture.