Every white color (any other color) looks different in different lighting situations, rooms, and homes. If you are looking for a clean, bright white paint color for your space, we recommend Chantilly Lace paint. The color is the ideal complement to spaces with slightly cooler colors or blue hues. Let's check out the elegant colors that go with Chantilly Lace.
What is Benjamin Moore Chantilly Lace Color?
Chantilly Lace is a very clean white paint hue by Benjamin Moore. It has a bright, sharp, and pure appearance as a color. On a scale of 0-100, it has a light reflectance value (LRV) of 92 making it one of Benjamin Moore's highest LRVs. This means it will reflect a lot of light into the room. Besides, Chantilly Lace has one of Benjamin Moore's highest LRVs.
Chantilly Lace is a popular paint color for trim, walls, cabinets, and exteriors. It has both OC-65 and 2121-70. This is because Benjamin Moore has Chantilly Lace in their Off-White and Color Preview Collection.
6 Colors that Go with Chantilly Lace
1. Pair Chantilly Lace with Benjamin Moore Hale Navy
BM Hale Navy paint color (HC-154) is a true navy that complements any color scheme or design style. As a result, this color paint will always be in style, whatever the current trends. Moreover, it's ideal for every design style, from farmhouse to classic, modern to nautical, and anything in between.
Image Source: scoutandnimble.com
BM Hale Navy has deep gray undertones that give it a refined, velvety appearance. And the gray keeps it from being too bright. The kitchen has Simply White walls and Hale Navy for the trim. It's a south-west oriented room that receives a lot of sunlight, but it never appears washed out.
2. Pair Chantilly Lace with Sherwin Williams Evergreen Fog
Sherwin Williams Evergreen Fog is a deep, dark, and eye-catching color. However, this does not imply that it would transform your room into a gloomy cave. On the contrary, the color has greige and yellow undertones, which warms up a space and makes it feel cozier than standard "cool" grays and blues.
Image Source: southernliving.com
This is a stunning, calm hue with a lot of depth and intrigue, as seen in the image. You'll love the color whether you use it on your walls or furniture. Although you can use it anywhere, you should use it in moderation to keep the space from getting too dark.
3. Pair Chantilly Lace with White Dove
Most people fear "boring" bright white walls because they do not want their houses to feel cold or unwelcoming. Fortunately, Benjamin Moore White Dove color doesn't convey such feelings. Besides, the color paint works well on walls, trim, and even Chantilly Lace cabinets.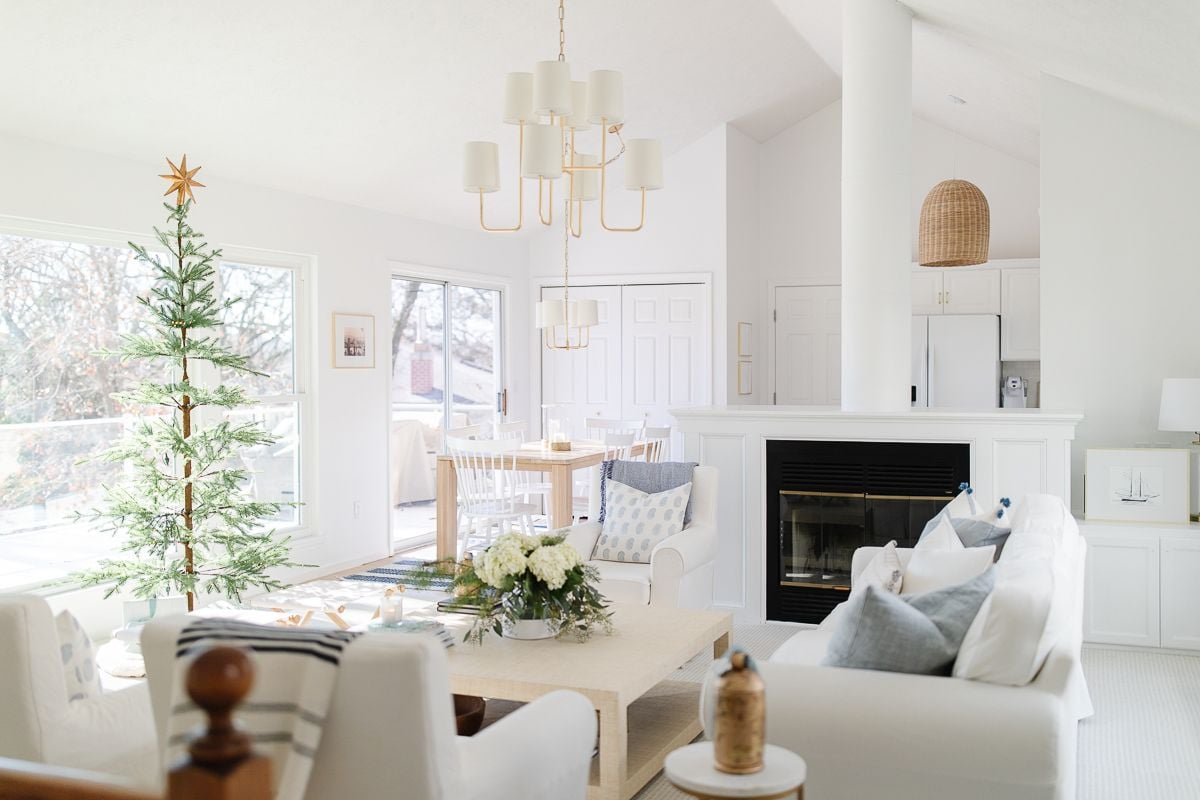 Image Source: julieblanner.com
BM White Dove is a flexible white color with hints of a greige undertone, unlike the yellow undertone in most creamy whites, and it transitions well under a range of lighting conditions.
For instance, we use White Dove as the semi-gloss trim and Super White as the wall color. It worked well, and I think this is an excellent example of pairing this hue with other soft whites.
4. Pair Chantilly Lace with BM Slate Blue
BM Slate Blue is a lovely gentle blue with gray and green overtones that will remind you of clear blue skies and coastal waters. The color will bring life to any space in your home. You can use it on a piece of furniture, as a front door color, or even on your walls. However, use it in moderation in rooms with little natural light, as it has the potential to darken the room.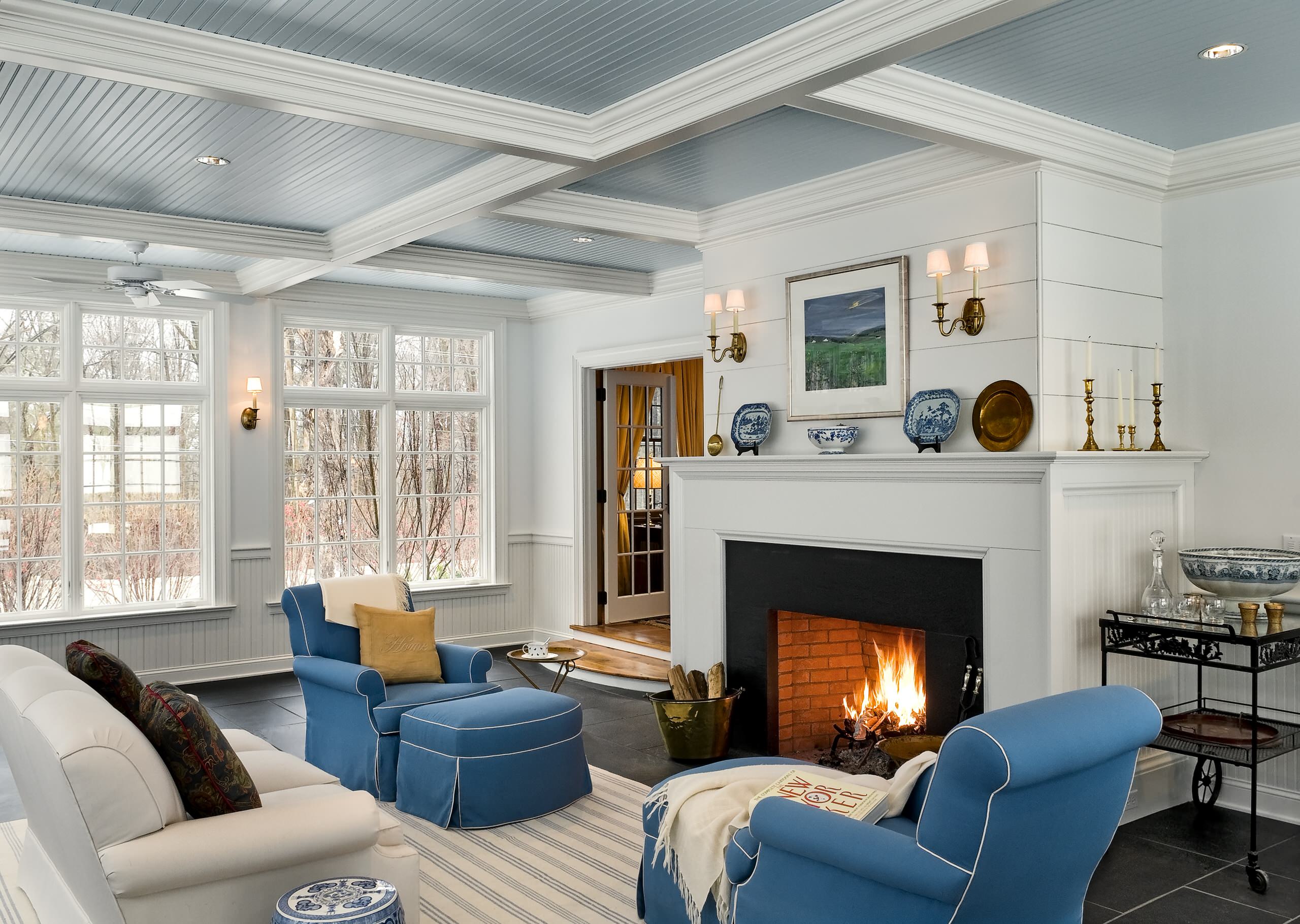 Image Source: houzz.com
Slate Blue has strong undertones that vary greatly depending on lighting and surrounding hues. As a result, it usually reads more gray or green at different times of the day. Conversely, in the image above, the Blue Slate is used as an accent color while Benjamin Moore Chantilly Lace is used as the wall color.
5. Pair Chantilly Lace with Benjamin Moore Pale Oak
BM Pale Oak is a soft neutral greige paint that works well in many spaces and lighting conditions. Besides, it's a warm, well-balanced color that looks like an off-white in certain spaces and natural lighting and a true greige in others. Therefore, no matter where you want to use this color, it will add warmth and charm to any room of your house.
Image Source: havenly.com
In spaces with limited natural light, Pale Oak usually reads as a soft greige tone. And to maximize the impact of color and trim, use semi-gloss for the trim and BM Pale Oak as the primary color, as illustrated in the image above.
6. Pair Chantilly Lace with Benjamin Moore Silver Gray
BM Silver Gray is a soft, pastel blue with gray undertones ideal for any space in your house. It adds fresh and modern charm to any space. Conversely, the color will change during the day depending on the lighting; at different times of the day, it will appear grayer, bluer, or even greener.
Image Source: raumroom.tumblr.com
Furthermore, the color is full of charm with the right amount of gray in the backdrop. It's also a striking yet muted hue that strikes the right balance. The bedroom has Benjamin Moore Chantilly Lace as the main color, while the BM Silver Gray acts as an accent color giving it the modern charm.
What Are the Undertones of Benjamin Moore's Chantilly Lace?
Though all white paint colors have undertones, Chantilly Lace paint has few. If you want to know the undertones in white paint color, compare it to other white shades. Some argue that a plain white piece of computer paper makes an excellent comparison backdrop.
When you compare Chantilly Lace to other popular whites, you will notice that it does not look gray, yellow, or beige. Instead, Benjamin Moore Chantilly Lace has a creaminess that keeps it from looking too harsh. However, Chantilly Lace isn't a creamy white. Conversely, when you look at it, you will see that it does not have any chill making it more of a soft white.
Benjamin Moore's Chantilly Lace Color Comparisons
If you consider painting Chantilly Lace in your house, you will have to decide between it and other similar whites. Here are Chantilly Lace color comparisons to help you choose the white color that best matches.
1. Chantilly lace vs. Simply White
Simply White (OC-117) features yellow undertones that place it in the warm color family. It doesn't normally look yellow on your trim or walls, although it might read slightly warmer in a room with southern exposure. Besides, it has enough yellow to give it a warm texture without looking too creamy.
Image Source: kaitlinmadden.com
Conversely, Chantilly Lace has a hint of blue. Chantilly Lace and Simply White are similar in that they are both in the lighter range of white paint colors and have a sharp, clean appearance. The main difference between the two colors is because of the yellow undertones in Simply White, making it a warmer color.
Furthermore, you can use Simply White in the same places as Chantilly Lace, although they are not interchangeable. I find Simply White more versatile than Chantilly Lace as it works better on walls.
2. Chantilly Lace vs. Super White
Super White (OC-152 or PM-1) is another fantastic white paint color to consider. As the name suggests, it's a very light white paint color. The color has gray undertones that make it slightly cooler than Chantilly Lace. Generally, it's quite popular and versatile since it has less potentially aggressive undertones.
Image Source: kowalske.com
For instance, in the image, it's almost impossible to tell the difference between the two whites since they are extremely similar. Therefore, you would expect that Super White will be the brightest White of the two, yet Chantilly Lace is significantly brighter, whereas Super White is a little softer.
You can use Super White in the same places as Chantilly Lace. So, if you prefer a cool-toned white, choose Super White. On the other hand, if you want something warm, go for Chantilly Lace.
3. Chantilly Lace vs. Decorator's White
Decorator's White (OC-149) is ideal for cabinets, walls, and trim. Besides, when Chantilly Lace and Decorator's White are side by side, you can tell that Decorator's White has a somewhat gray appearance.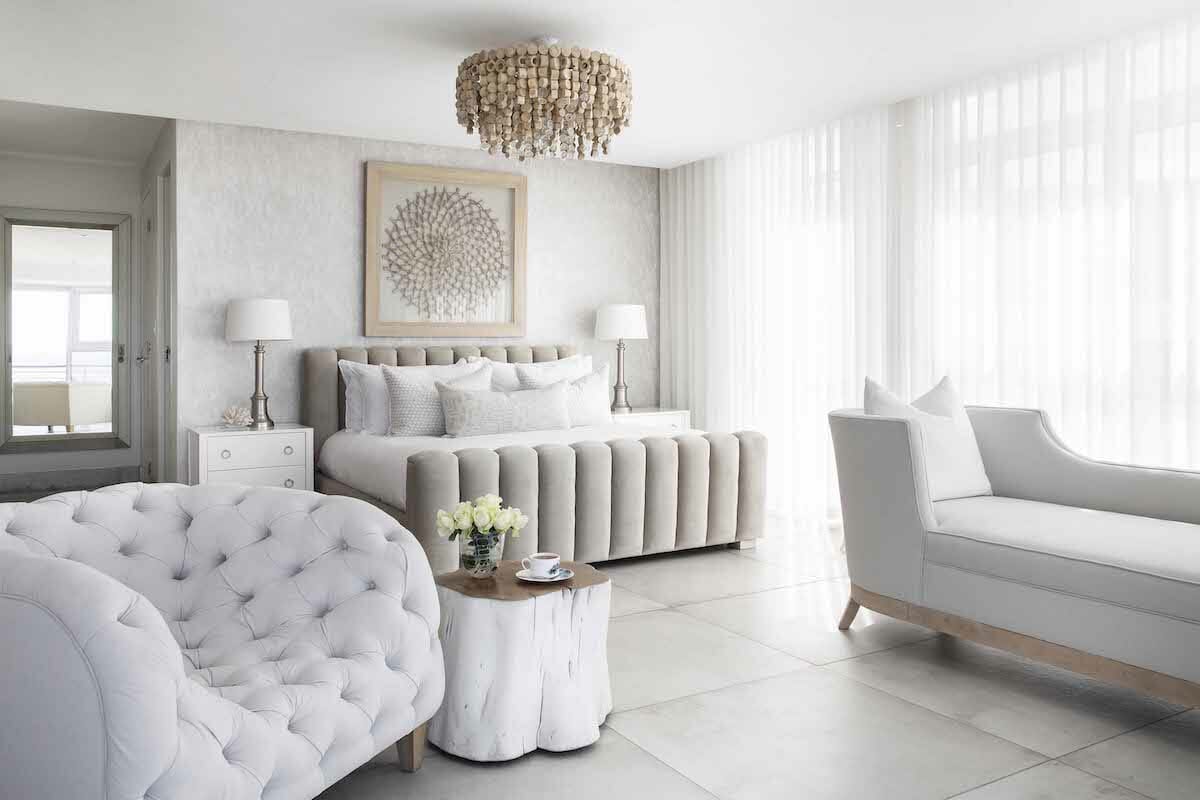 Image Source: decorilla.com
Decorator's White is significantly cooler and bluer than Chantilly Lace. Also, Decorator's White has solid blue undertones than the clean White of Benjamin Moore Chantilly Lace. Conversely, if your space is extremely bright, you can pair Decorator's White as a trim and ceiling color with Chantilly Lace walls. However, ensure you use the Decorator's White paint with caution.
4. Chantilly Lace vs. Pure White
There are two Pure Whites, Sherwin William's Pure White and Benjamin Moore's Pure White. However, Sherwin William's Pure White is more popular than Benjamin Moore's and a better color comparison for Chantilly Lace. The color is sharp, clean, bright, and warm. It has hints of greige undertones, making it work perfectly with other warm shades.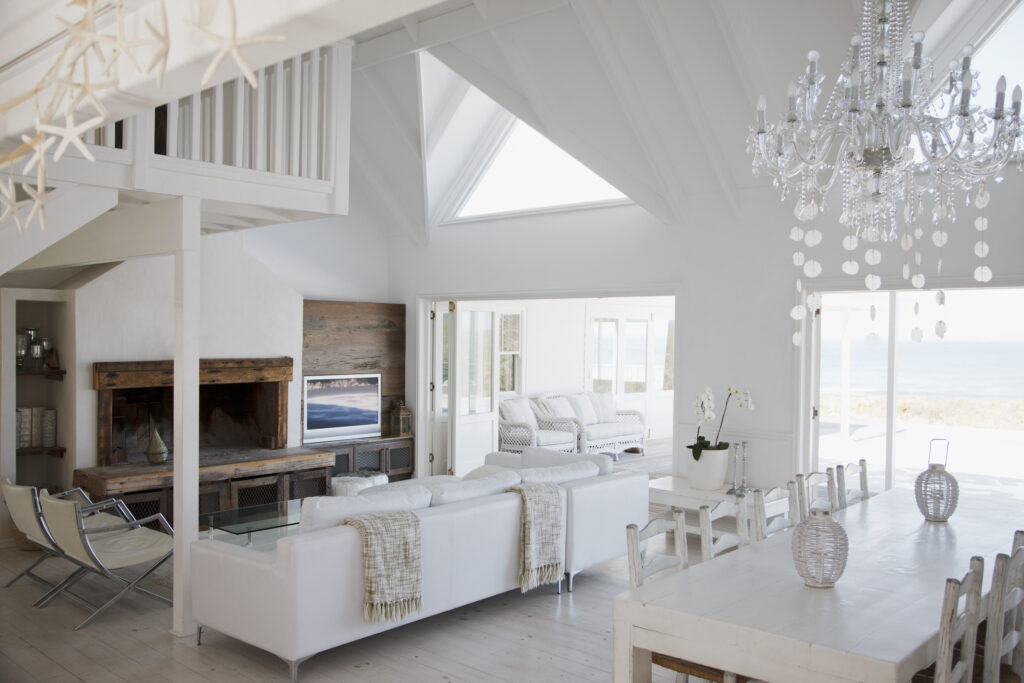 Image Source: mymove.com
Moreover, the Pure White works perfectly on cabinets, exteriors, trim, and walls when looking for a stark white look that does not lean blue at all. Though Pure White is light white, it usually looks like a much darker white color than Chantilly Lace does.
Frequently Asked Questions on the Colors that Go with Chantilly Lace
1. Is Chantilly Lace cool or warm?
Since the undertones of Chantilly Lace are so subtle, it isn't easy to know whether it's cool or warm. However, it's not a cool white because it has no green or blue undertones.
Conversely, when we compare it to other white paint colors, we see that it has a warm undertone though no orange, pink, or yellow undertones. So we'll refer to Chantilly Lace as a neutral white, although it has a slight warmth.
2. Why is Benjamin Moore's Chantilly Lace so popular?
Chantilly Lace is popular because of its versatility, designers like the clean, easy color, designed to evoke "images of soft linen, pure silk, and simpler times.
3. What Sherwin Williams color is comparable to Chantilly Lace?
Extra White by Sherwin Williams is comparable to Chantilly Lace. However, it's a bit darker, a little gray, and a little warmer.
Featured Image Source: decorilla.com