Navy blue is a fun color to work with to create elegant interiors because it is grounded and sets the stage for other colors to pop. Many colors go with navy, and it can be a bit hard to settle with one. Not to worry, because I have categorized the colors to make it easier for you to pick which vibe to go for.
There are many more ways to combine colors, but these five will be a great place to start in your home remodel.
Navy Blue and Neutral Colors
The best thing about pairing navy blue and any other color is that navy stands its ground and lets the other colors play around it, regardless of the tone. If you want to go with a vivid contrast, navy works, and if you want to go with a soft transition, navy blue works as well. For softer transitions, I match navy blue with the neutral palette.
Here are a few neutral colors to match with navy blue.
1) Navy Blue and Grey
There is a lot of character in combining navy blue and grey. Whether you are working with navy blue walls and grey couches or vice versa, you can never go wrong.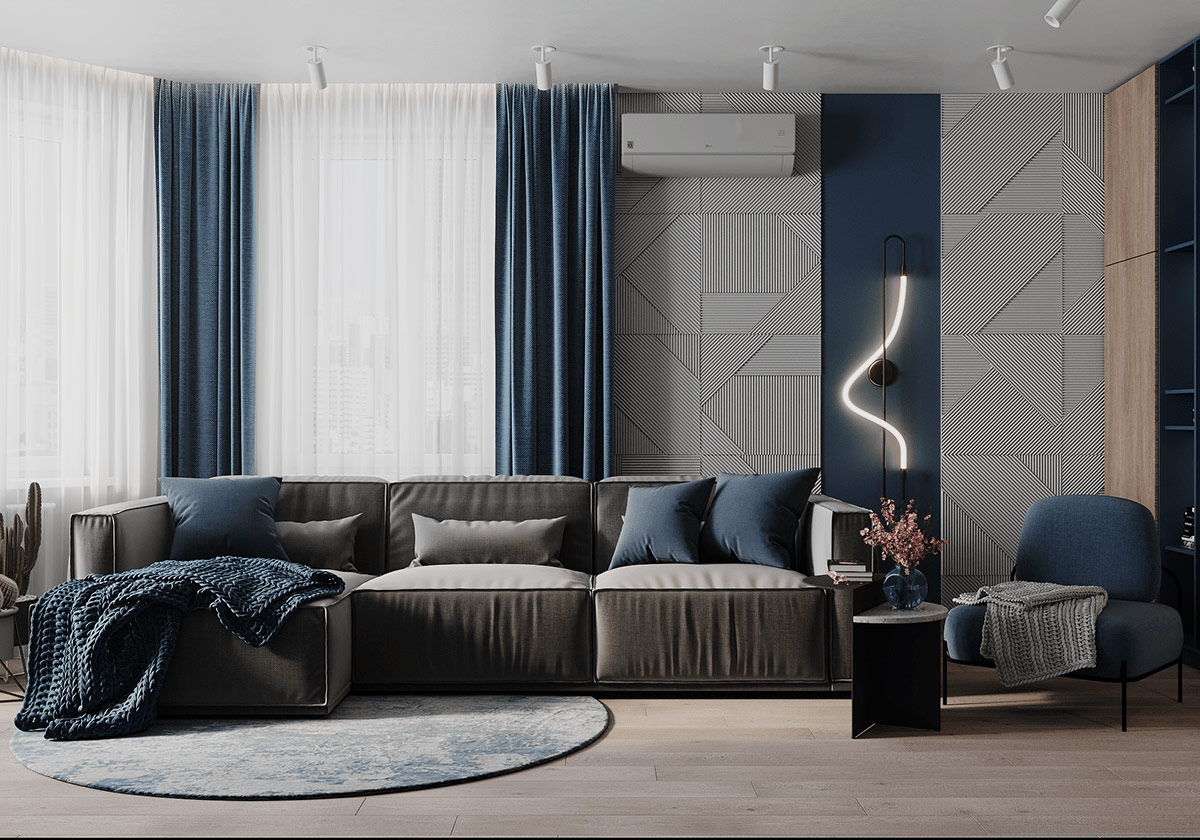 Image Source: home-designing.com
Navy blue works with grey well because the two colors are not trying to fight for attention but rather bring attention to each other. The two colors are not overwhelming to look at, and grey looks almost like a shade of blue when exposed to a blue background.
Whether you are working with soft gray walls, curtains, carpet, or furniture, navy blue is one of the best matches to throw into the mix.
The best thing about working with navy blue and grey is that it is easy to introduce another color that matches blue to break the palette. Take yellow, for instance; having one yellow seat or centerpiece would bring character to a navy blue and grey interior.
2) Navy Blue and Beige
Beige gives me the vibe that blush pink gives off, but in a more relaxed way. Beige feels so relaxing and is one of the colors I would prefer on a leather couch against a navy blue color scheme.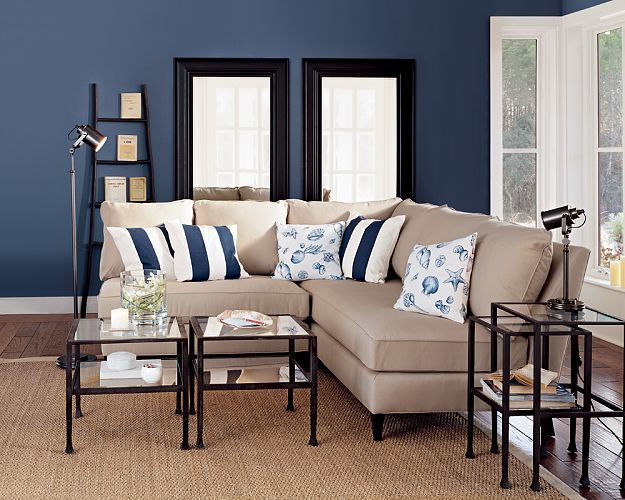 Image Source: pinterest.com
Beige does not only go with navy blue, but it makes navy look classy. This color combination works for a minimalistic design, and that is why it is often used on business cards.
I prefer a navy blue room and a beige couch to the opposite because beige, to me, serves the purpose of being the subject in a room setup.
A beige carpet against a navy blue wall would work just as nicely as the couch would.
3) Navy Blue and Brown
Navy blue and brown are colors I would hope to have in my home office design because of how strong the two colors are. The colors have to work together to achieve the best results, and most of the time, it is easy to get the two combinations wrong.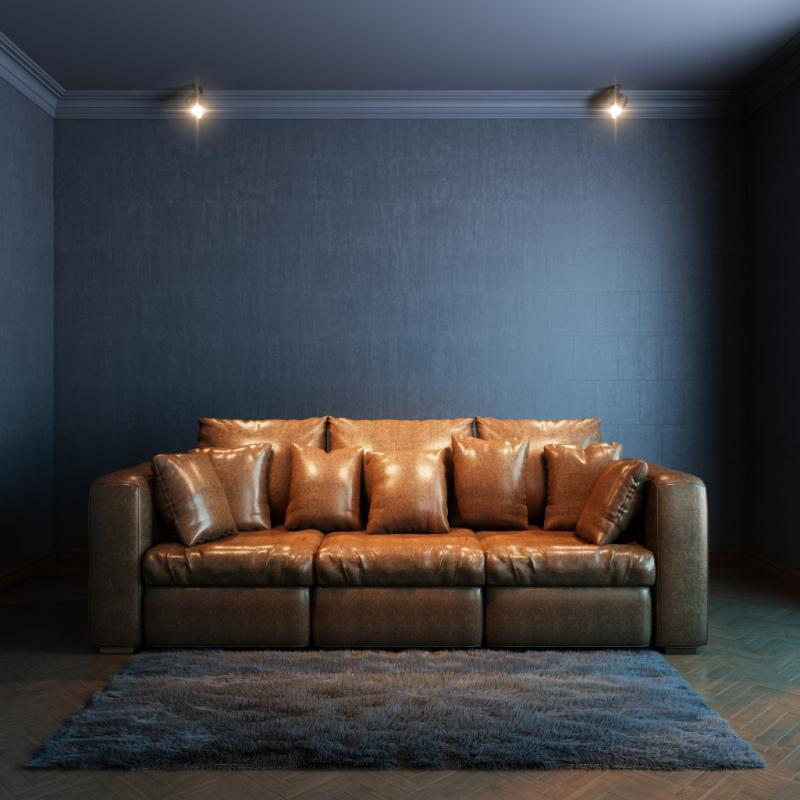 Image Source: homeguides.sfgates.com
For this reason, I limit my use of navy and brown to a brown leather couch and a navy blue wall. I would not have a brown wall and therefore would not need navy blue furniture.
4) Navy Blue and White
Navy blue and white are perhaps the most common combination when working with navy blue. There is a lot of simplicity to this combination, and simplicity is the goal when working with colors.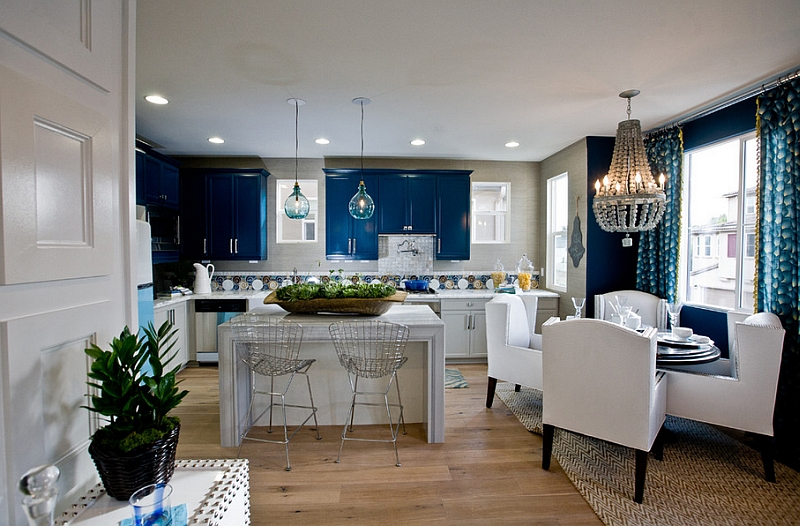 Image Source: decoist.com
Whether navy or white is the wall color, the two colors will work nicely together. I am often conflicted when choosing between a white and a navy wall because both work well.
A white wall can be accented with navy blue cabinets and doors. I would not use white cabinets on navy walls. I would instead use white furniture, carpets, or curtains.
5) Navy Blue and Black
Nothing looks classier than having a navy blue and white, with black details. I tend to use a combination of the three colors because navy blue creates an interesting break between black and white. I would never use navy and black on their own without introducing a new color to the mix.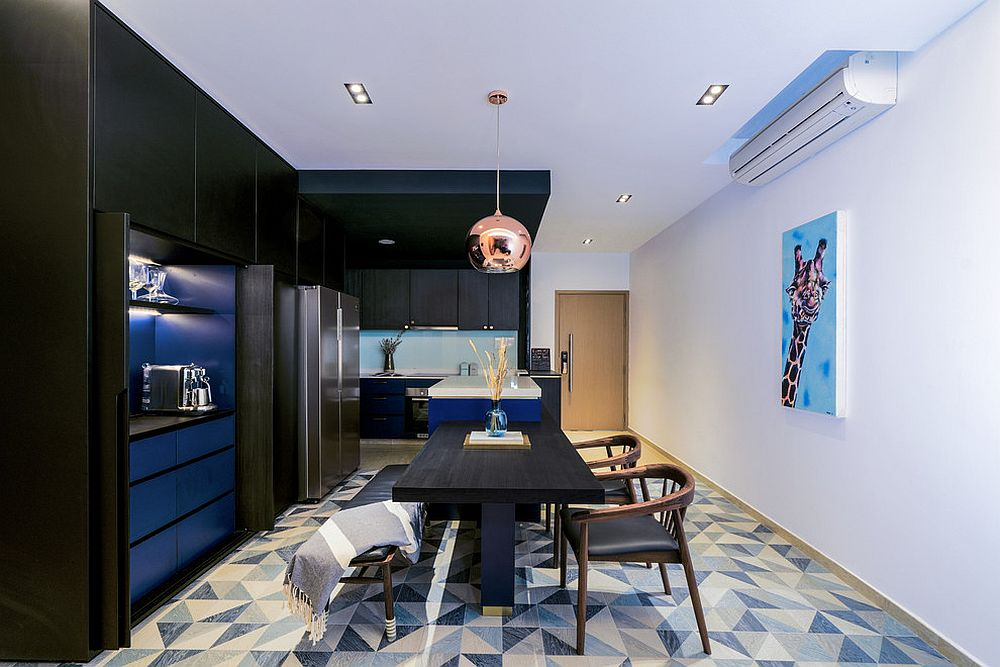 Image Source: decoist.com
Charcoal grey can also work nicely to break navy and black.
Navy Blue and Its Analogous Colors
Analogous colors are fun to use because they are already compatible with the main color in use. While analogous colors are defined as the three colors that border each other on the color wheel, I would argue that the color wheel does not have clear-cut boundaries and is rather a continuous spectrum with every shade in between.
Therefore, I have taken this theory and applied it to come up with the following combinations.
a) Navy Blue and Lilac
Lilac on its own is such a beautiful color, and navy blue gives it the ground to stand on without taking the attention away from it.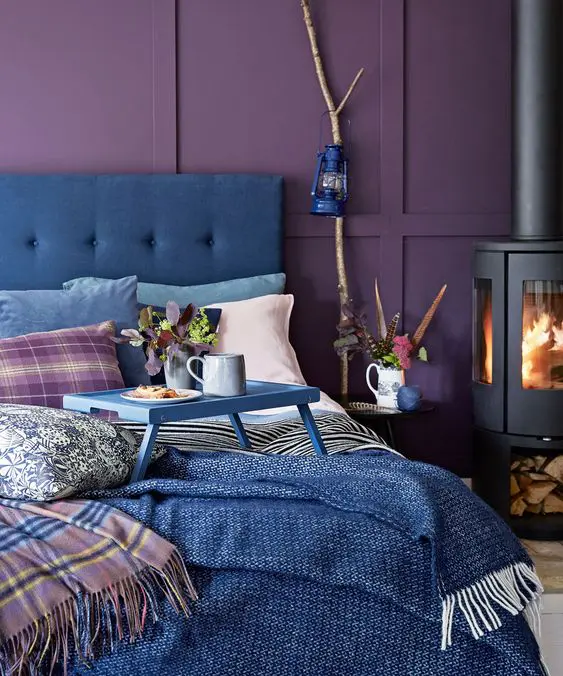 Image Source: digsdigs.com
When you pair navy blue and lilac, the navy will look like a darker shade, making the two colors easily compatible and bringing a 3-D effect to the room.
b) Navy Blue and Sky Blue
There are a lot of navy accents to choose from, but sky blue is an easier choice to make because of its visibility. I would use sky blue very sparingly as it is already very visible.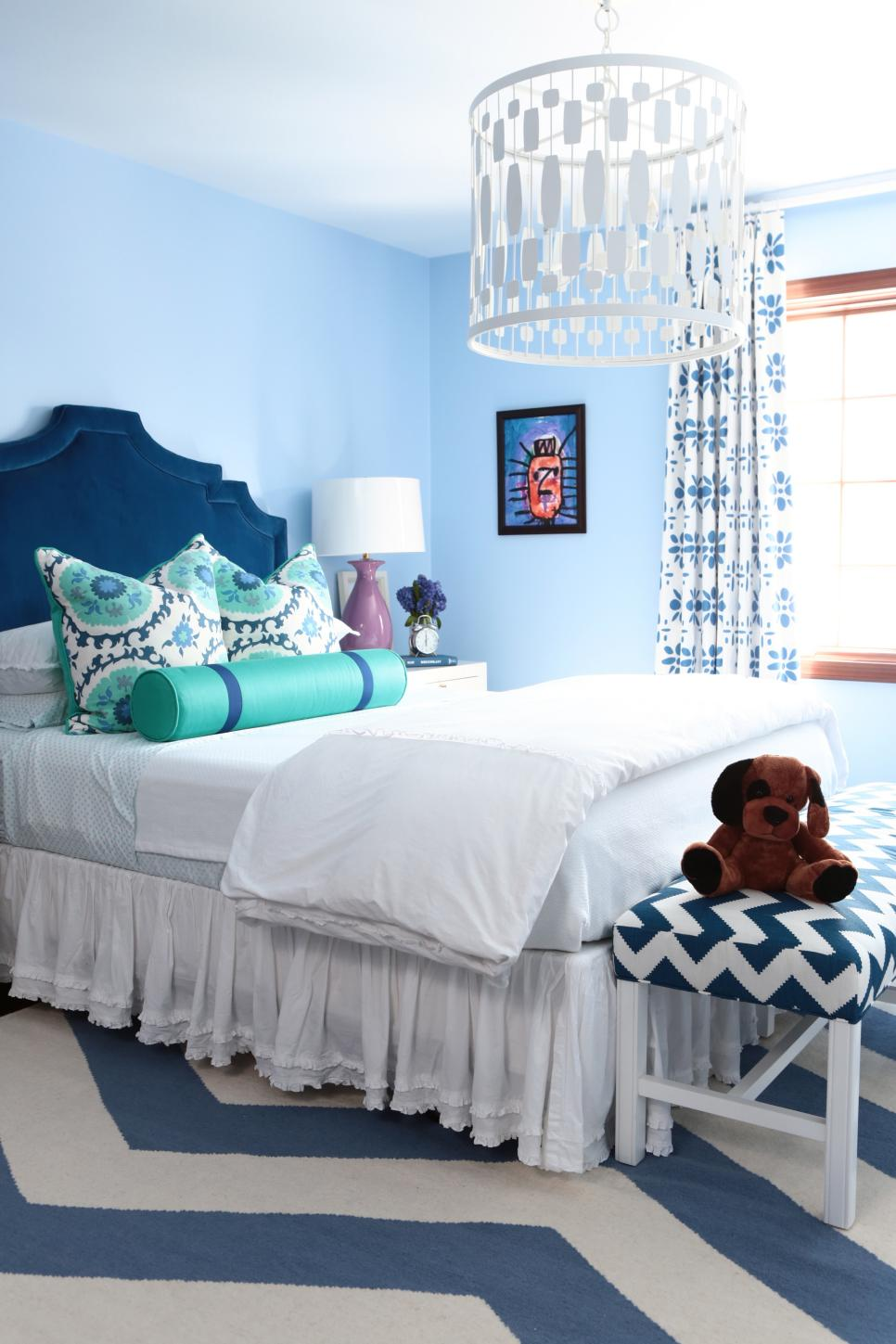 Image Source: decoist.com
I would not use sky blue on the wall as it is very bright. I can use sky blue on throw pillows, centerpieces, vases, and more places that do not cover very large surface areas. Sky blue is one of the lighter shades of blue that requires controlled use.
c) Navy Blue and Light Blue
Light blue is a very general term, but these are blue shades that are not as bright as sky blue and not any darker than charcoal grey. One of my favorite shades of blue is pastel blue. Pastel colors are relaxing and feel welcoming upon first sight.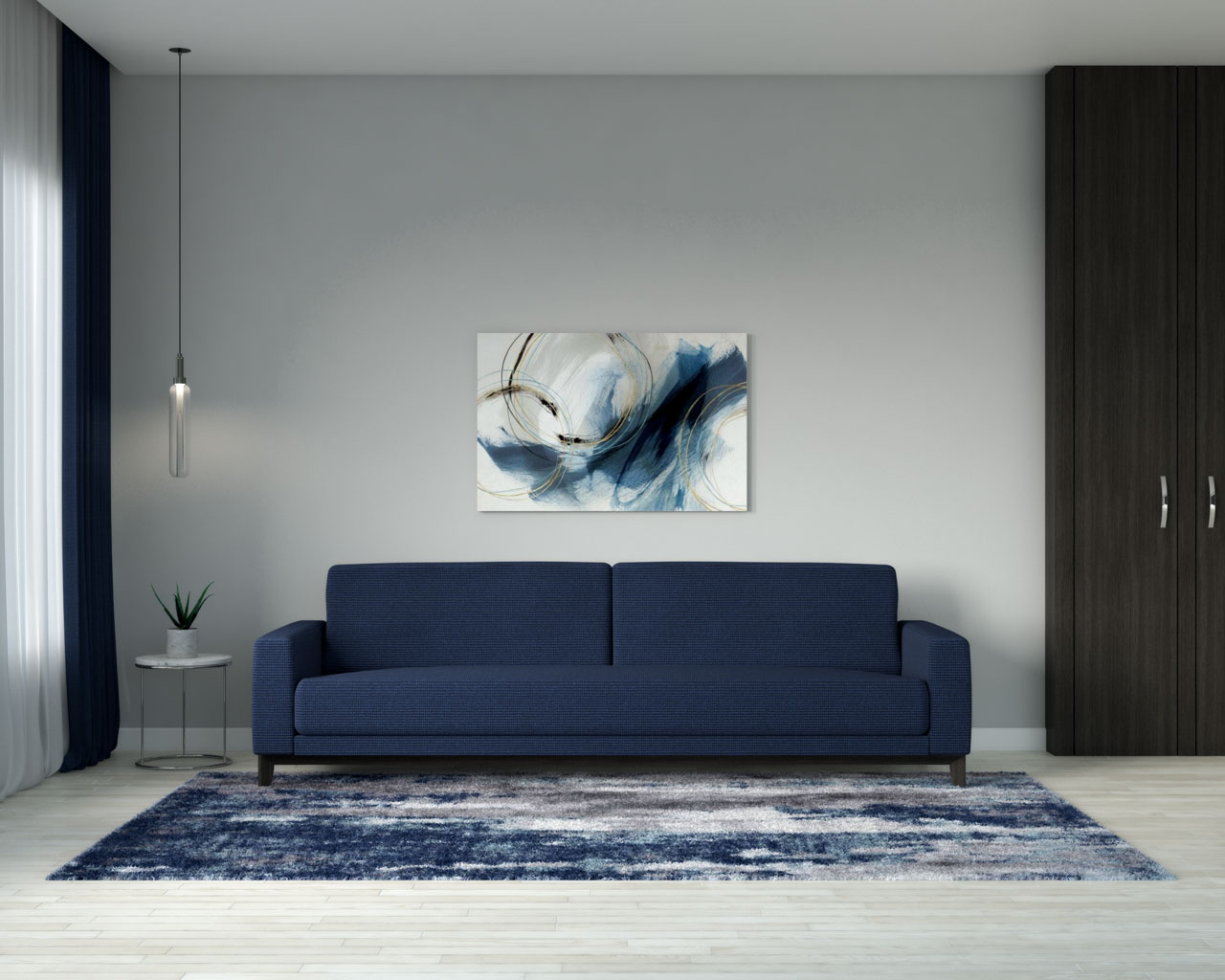 Image Source: roomdsign.com
I use pastel colors in common rooms more than I do in personal rooms like a bedroom or an office. Imagine using a pastel color in an office. No one would take you seriously unless you have a tech office that needs a creative environment.
Navy Blue and Cool Tones
Blue is a cool tone, and you can combine navy blue with deep blues, light blues, and others that I have mentioned above.
Other cool tones match nicely with navy blue. Here are some that you will enjoy combining.
i) Navy Blue and Green
There are many shades of green, and navy blue works perfectly with any one of them. My favorite go-to is the jungle green. This is because this combination already exists in nature. As the jungle recedes, it creates a navy blue appearance. This makes jungle green and navy blue a perfect match.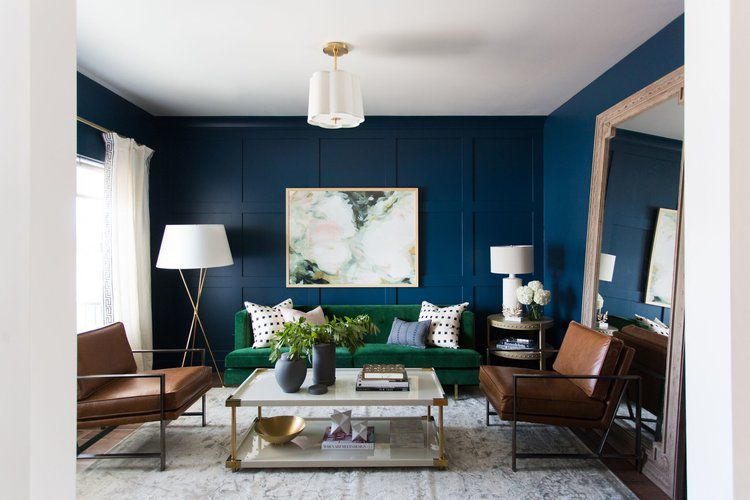 Image Source: obererhomes.com
I can use jungle green on the couch, which is a bold move, but one that works. There is a strong correlation between green and blue.
The other shade that works for me is fresh green. I can make a combination between navy blue and fresh green by having plants against a blue wall. I can use curtains or vases to match will blue.
Navy Blue and Warm Tones
Navy blue works nicely with warm tones because they are on the opposite side of the color wheel as navy blue. Here are some of my favorite warm tones to combine with navy blue.
1) Navy Blue and Blush Pink
Pink and navy blue work perfectly with each other. Blush pink is a very soft color that does not compete with navy blue. I like going for this combination, especially when working with matte navy walls, as blush pink itself looks matte.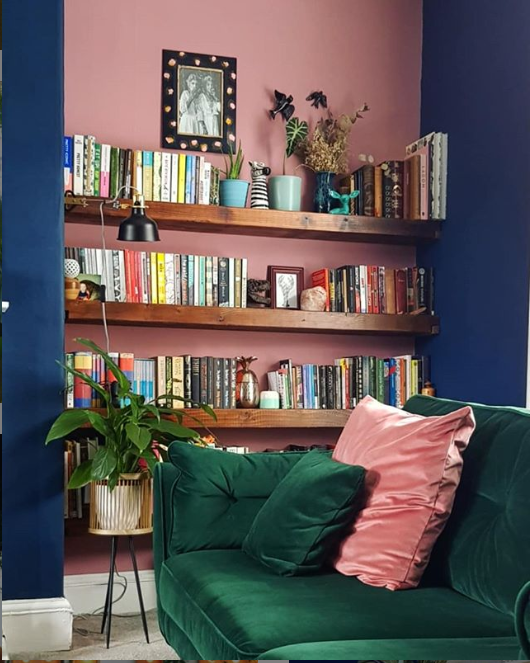 Image Source: alltheseinteriors.com
Other blue shades can work with blush pink, but navy blue gives it character and brings the best out of the color.
The best thing about using navy blue and pink is that any of the two colors can go on the wall, and the other can work for detailing the main color. This makes it easier to have navy and pink on different walls.
While varying shades of pink will always go with blue, I try my best to always match blush pink and navy blue.
2) Navy Blue and Lemon Yellow
If you want to create green, you mix blue shades with yellow. This means that blue can work with yellow, either mixed or as standalone color. Lemon yellow looks like something off a magazine or colors you'd see on an air hostess' uniform. The colors work together to make nice combinations.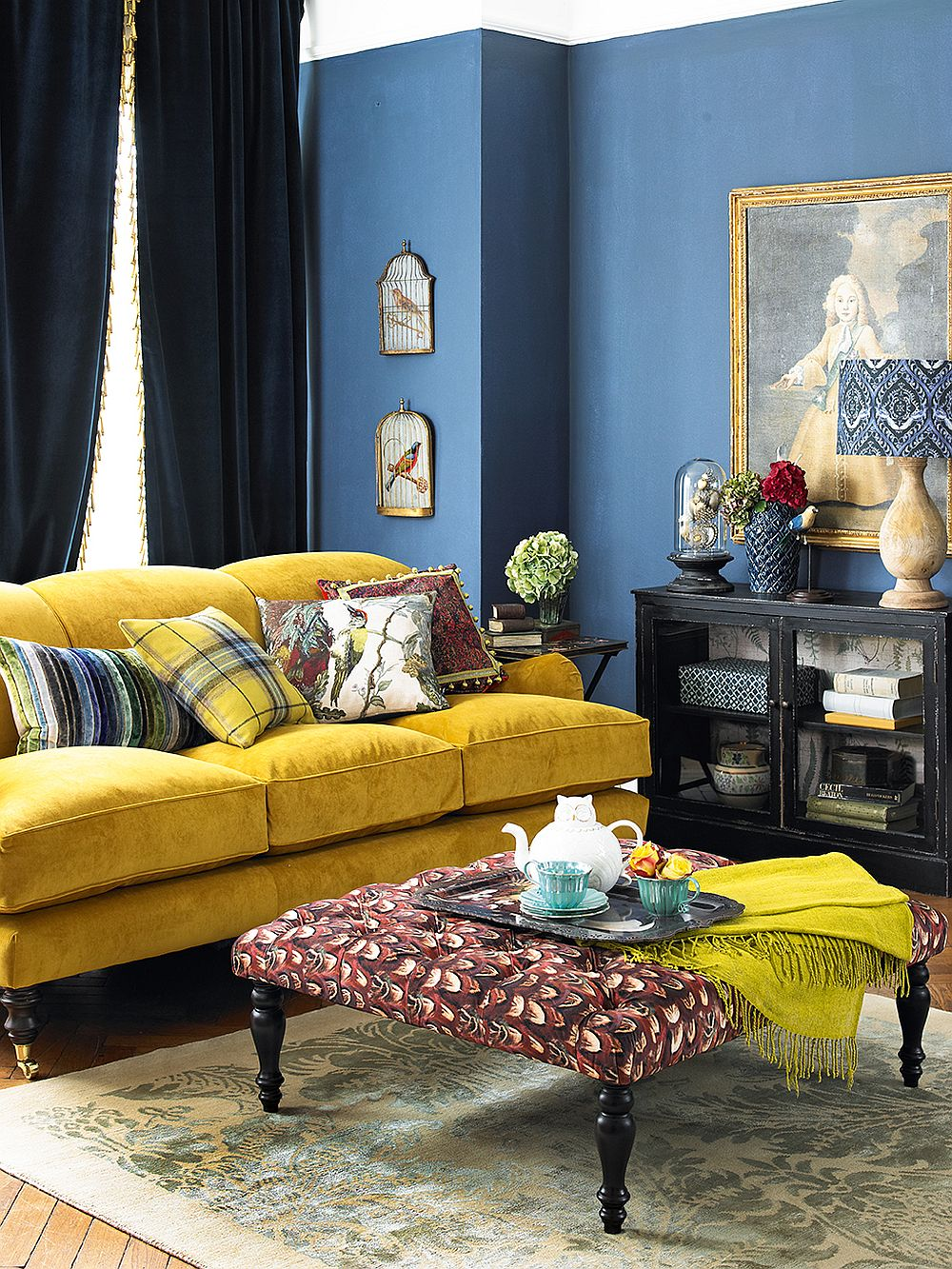 Image Source: decoist.com
I would personally not have a yellow wall, and that means I can have yellow on the couch when matching the two colors. I would have a grey couch and yellow throws on it. A yellow lampshade never goes wrong too.
Navy blue and lemon yellow match regardless of the combination you use when matching the two colors.
Mustard and pastel yellow do as good a job as lemon yellow. A navy blue wall with a long mustard-yellow curtain is a marvel to look at. I use long curtains to make statements as they do not disappoint.
3) Navy Blue and Burnt Orange
Burnt orange and navy blue contrast each other strongly, bringing a dramatic effect to a room. Burnt orange is not going on my wall, but a burnt orange couch brings magic into any room of its high contrast.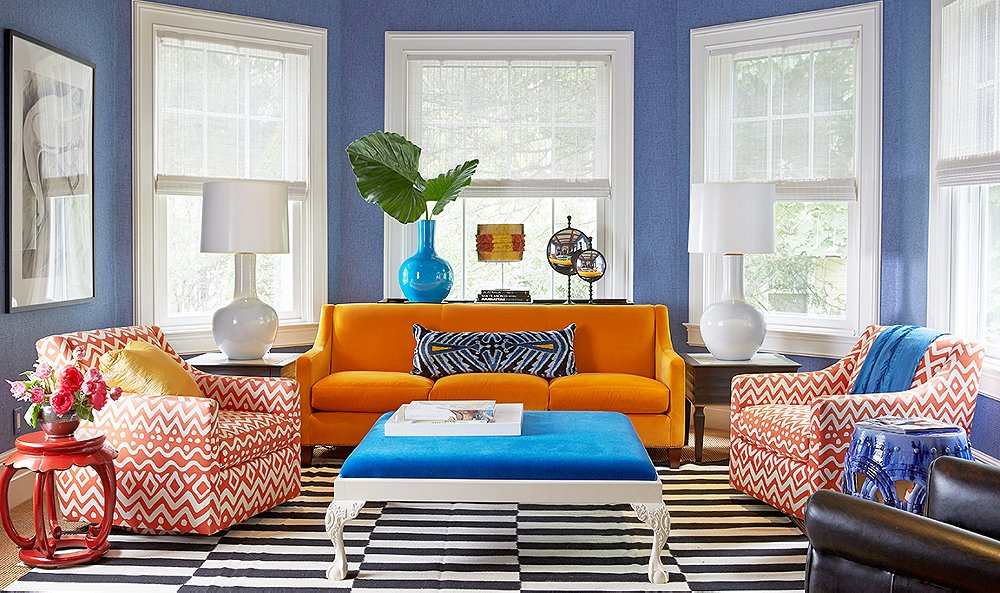 Image Source: blog.onekingslane.com
Of all the colors that go with navy blue, I would pick burnt orange for a living room to create an energetic mood for anyone in the room.
4) Navy Blue and Terra Cotta
Terra cotta is a beautiful color to have on the wall or the carpet. It is amazing how terra cotta reverses the role that blue plays for other colors, which is to create a background on which color can play.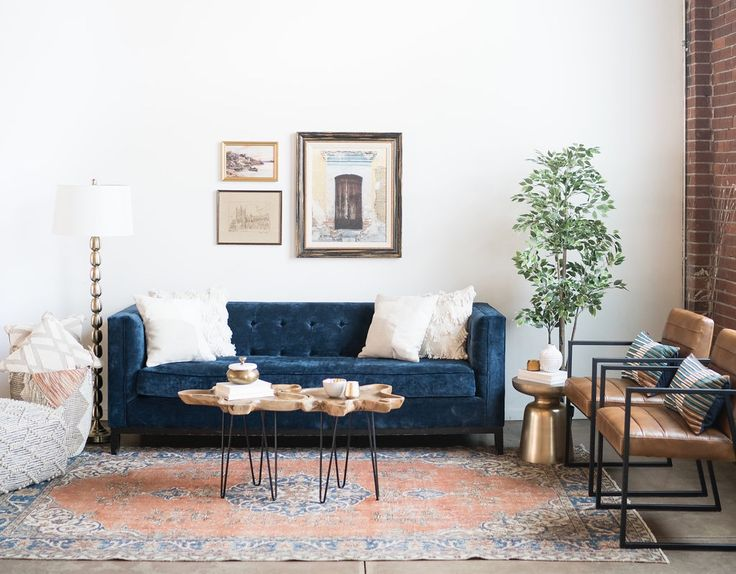 Image Source: pinterest.com
Terra cotta walls and a navy blue couch is satisfying to look at. Terra cotta makes some of the best carpets that can get other colors, such as red, for an accent color.
The other way to use navy blue and terra cotta is to have large artwork of either color to create a dramatic effect.
Terra cotta acts as a neutral color would, but it has a warmer vibe.
Navy Blue and Jewel Tones
Navy blue is one of the colors that has royalty written all over it. Luckily, it is one of the jewel tones. The thing with jewel tones is that regardless of how strong they all are, they can match. Here are some jewel tones to combine with navy blue.
a) Ruby and Navy Blue
Navy blue and ruby are a perfect match. There are elegant carpets that have ruby all over them, and they go perfectly with navy blue walls and furniture. While it sounds bold, having ruby on the walls is a good choice. A navy blue couch would match nicely with such a wall.
Image Source: bhg.com
I would not have navy blue on the carpet but rather on the couch.
b) Navy Blue and Emerald Green
The combination of navy blue and emerald green is very rare. I wish more people would use this blend, as it is one of the richest mixtures to have. You can switch the colors and apply them using any formula, and you will not go wrong as the two colors are not interchangeable.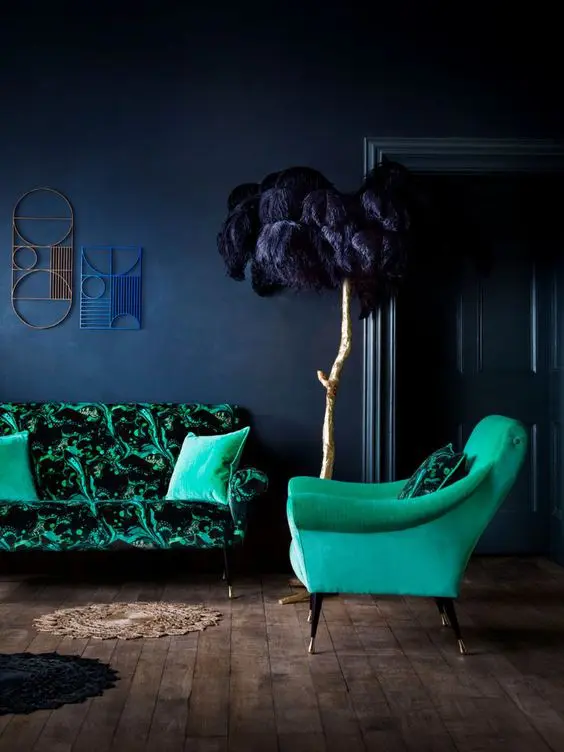 Image Source: digsdigs.com
You do not have to get emerald green furniture as most plants have an emerald green vibe. I go for plants with large leaves to make the green as visible as possible.
c) Navy Blue and Citrine Yellow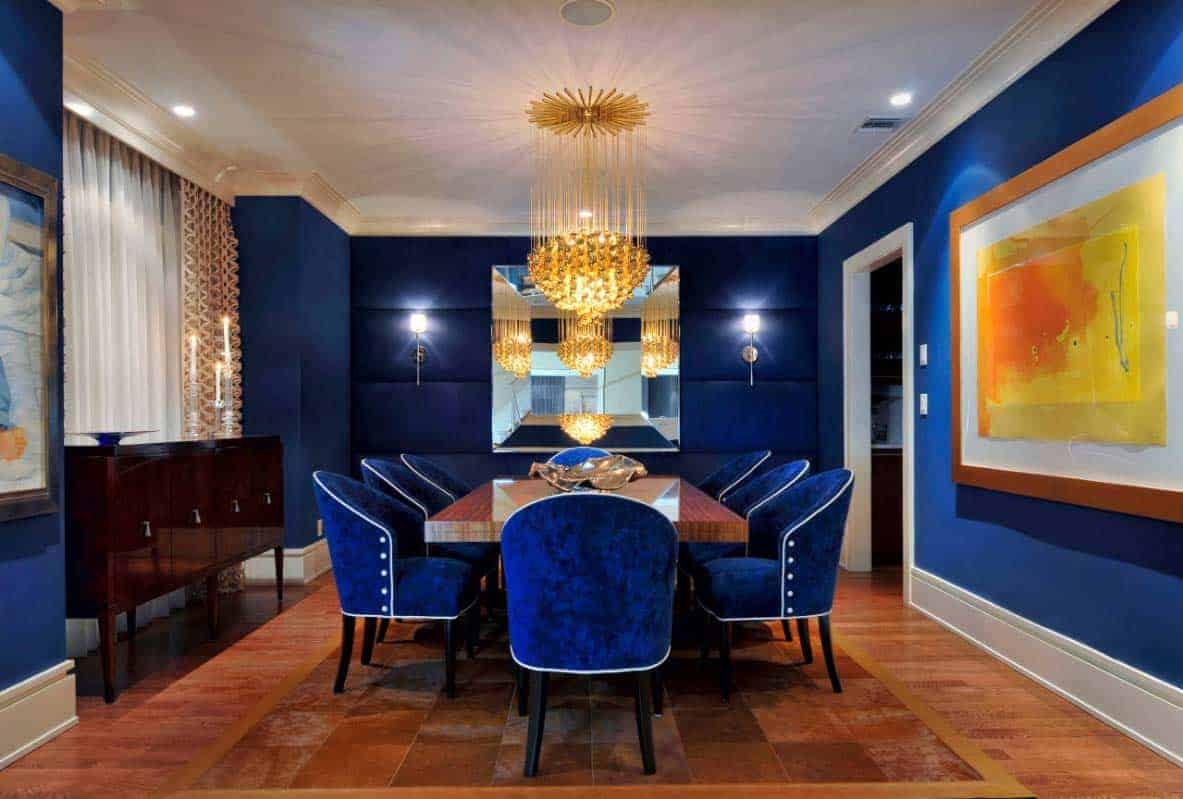 Image Source: homestratosphere.com
Citrine yellow has a similar vibe as lemon and mustard yellow. I have discussed how to use yellow and navy blue under warm tones.
d) Navy Blue and Amethyst Purple
Amethyst is a beautiful color to behold, and it works well with navy blue because it is almost a shade of blue. We can use amethyst as we would an analogous color to match with navy blue.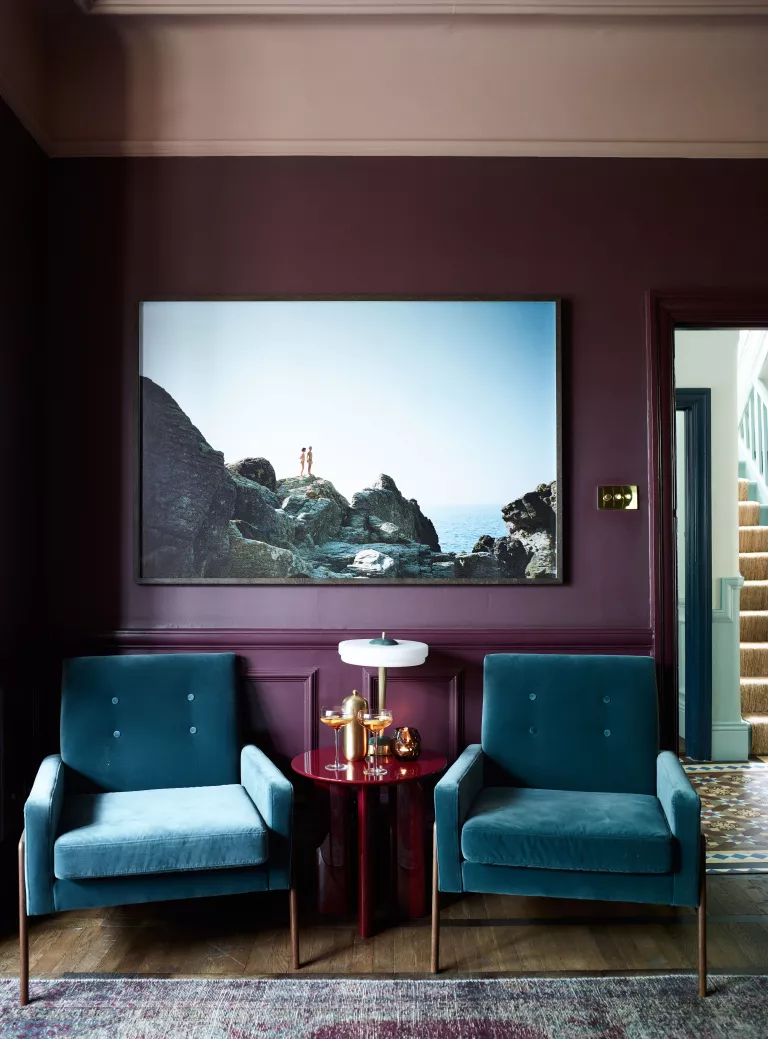 Image Source: livingetc.com
Amethyst is a strong color on its right, but not too strong to compete with navy blue. The two colors have similar energy and would match easily.
Final Take
Navy blue is a great choice for a base color or a subject color. You can never go wrong when you follow the ideas above and any other when using navy blue in your house remodel project.