Building a fire pit is a great way to add flair to your backyard. Not only will it provide a place for you to enjoy the outdoors, but it will also help you make some great memories with family and friends. It is also a stylish focal point for your landscaping.
Of course, building a fire pit is easy and can be accomplished in just a few steps. In this guide we will look at the simple steps to follow if you want to know how to build a fire pit from scratch. Keep reading!
How To Build A DIY Fire Pit
Image Source: wikihow.com
1. Think Of The Design
Before you start building, you must have a clear vision of what you want your backyard fire pit to look like. Reading magazines or blogs is a great way to get inspiration for your backyard oasis.
Image Source: squarespace.com
You can choose from the many fire pit ideas available or come up with one of your own. Once you have a fire pit idea of the design, sketch it out or use graph paper to map things. This will help you visualize the final product and determine your needed materials. Stone and brick are classic choices, but you can also get creative with metal or concrete.
2. Choose The Right Location
When selecting a location for your DIY fire pit, consider the size and shape of your backyard or patio. It should be the right size to accommodate your guests and not so large that it dominates your yard.
You will also need to take the wind direction into account. You don't want the smoke from your fire pit blowing into your house or neighbor's yard. You'll also want to find a spot at least ten feet away from any buildings or trees to reduce the risk of spreading fire.
3. Decide and Gather the Materials and tools you will need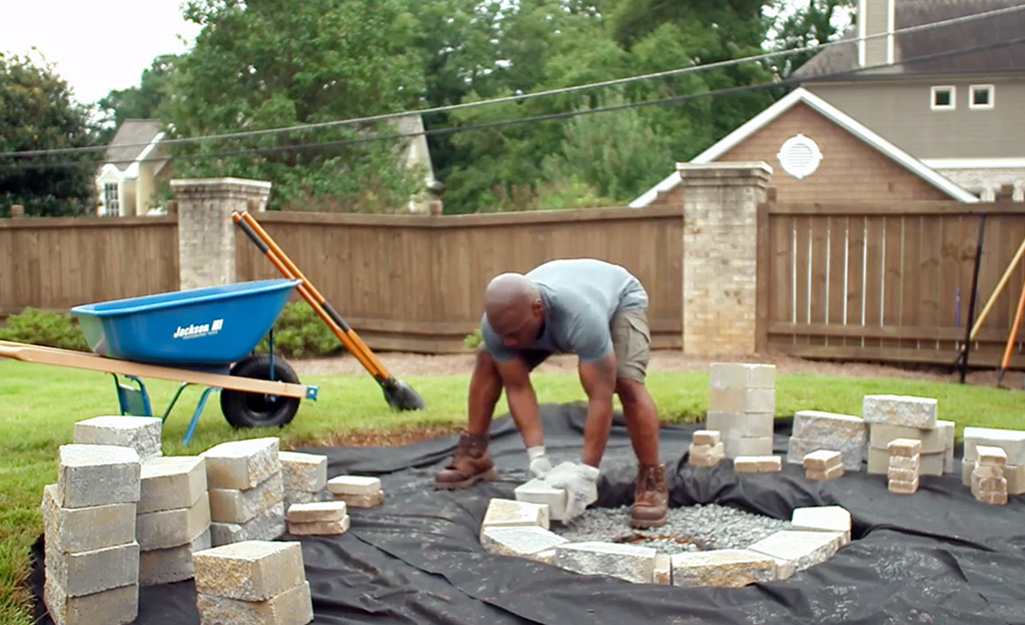 Image Source: contentgrid.homedepot-static.com
Materials
Fire Bricks
Lava Rocks
Landscaping stones
Masonry adhesive
Tools
Shovel
Tape Measure
Wheelbarrow
Circular Saw With Concrete Blade
Hand Tamper
Clamps
A fire pit must be constructed from heat-resistant materials. The internal wall should be made of fire brick and a fire-resistant mortar or grout because it will be in direct contact with high heat. The remaining pit can be built with stone blocks, poured concrete, stone, brick, or even pavers.
To decide on the materials to use to build your own fire pit, you'll need to know:
Which stones should I use to build my DIY stone fire pit?
Will you use a fire pit ring?
Will you use Caps?
What filler material you will use?
Which stones should I use to build my DIY stone fire pit?
a) Retaining Wall Blocks
Retaining wall blocks have a back lip that allows them to interlock easily and without mortar, resulting in a secure wall with a uniform and polished appearance. You can find straight-sided bricks for a rectangular pit or angled-sided blocks for a round pit.
b) Pavers or Natural Stone
Natural stone is an extremely versatile design element for outdoor fireplaces. For a rugged, natural look, go with a rough, rubble, or fieldstone look, or go with stone quarried into more regularly-sized and shaped pieces for a more traditional look. Natural stone can even be found in thin, saw-cut pieces for a modern, contemporary look.
c) Firebricks
Firebricks, also known as refractory bricks, are ceramic blocks that can withstand high temperatures. You can find curved firebricks that are ideal for a round fire pit, as well as rectangular bricks that are ideal for a square or rectangular pit.
d) Tumbled Wall Block 
Tumbled blocks have the appearance of natural stone. The wedge shape of the blocks aids in the construction of a secure and stable wall. Available in a variety of colors to create a one-of-a-kind landscape project.
Will you use a fire pit ring?
Fire pit rings are made of solid steel and are intended to keep your fire contained. They also shield the fire pit stones from the heat of the fire, allowing them to last longer. A fire pit ring can also help to stabilize a stone fire pit.
Using the fire pit ring is not comparable but it is highly recommended. If you've decided to use a fire pit ring, make sure it will fit inside the circle of fire pit stones. Choose a stainless steel gas ring because it will outlast other metals. Gas rings are available in a variety of sizes and shapes, including circular, square, and rectangular rings. Install a large number of gas rings to achieve the desired effect.
If you do not want to use a fire pit ring, you can construct your fire pit with any size fire pit stone. You're not trying to fit a fire pit ring inside, so you're fine. Just make sure the fire pit is deep enough. In general, the fire pit walls should be 8 to 12 inches high, measured from the fire pit's base.
Will you use Caps?
The rim of most built-in fire pits is flat and finished. A fire pit cap provides a functional place to sit or set drinks. Precast concrete, flagstone, and brick are common materials used to cap a fire pit.
What filler material you will use?
If you choose a gas-powered fire pit, you will require a fill material to cover the fire ring or rings. Fire pit fillers are primarily decorative, but they also absorb heat, allowing the warmth to spread more evenly. Lava rock, river rock, and recycled glass are all popular fill materials. Recycled glass, which is available in a variety of colors such as black, clear, red, and blue, can be used to create one-of-a-kind effects.
4. Make a rough sketch of the shape and size of your DIY fire pit.
Once you decide on the design, gather the needed material and select the fire pit area, it's now time to stake out the shape and size of your fire pit. Here you will decide the width of your fire pit (the recommended diameter for a round fire pit is between 36 and 44 inches) and outline the footprint with marking paint.
Image Source: familyhandyman.com
To accomplish this, use your shovel, and remove any sod or vegetation in the area. You'll want to dig out a circular area about two to three feet deep and six to eight feet wide. Once you've excavated the area, use a tamper to compact the soil. This will help prevent your fire pit from sinking over time.
If you want to add a concrete base to your fire pit, mix the cement according to the instructions on the package. Then, pour it into the excavated area and use a trowel to spread it evenly. You'll want the concrete to be about four inches thick. Let it dry for 24 hours before continuing to the next step. You could also fill the bottom of the fire pit with about two inches of gravel.
5. Build The Fire Pit Walls
Start by placing your first row of bricks or stones around the hole's perimeter. If you use bricks, you may need to cut some to fit. Use a hammer and saw for this. Make sure that each brick is level with the others before moving on to the next one.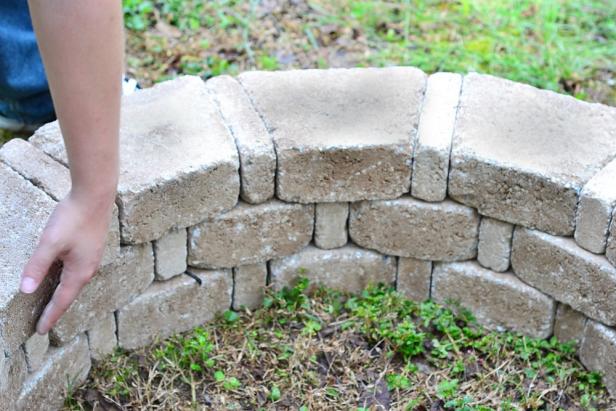 Image Source: hgtvhome.sndimg.com
For added security, use a fire-safe construction adhesive to join the blocks or stone. This will ensure a sturdy structure that can withstand foot-propping, but it will also make dismantling the fire pit more difficult. Remember, if you're using irregularly shaped stones, pack them together as tightly as possible. You may need to test several rocks against each other to find the perfect fit.
As you work your way up, use a level to ensure that the stones or bricks align. You can also add mortar between the joints to help hold everything in place. Once you've reached the desired height, use a trowel to smooth out the top of the wall.
Also, remember to leave small, intermittent gaps between the blocks or rocks to promote air circulation around the fire.
5. Install A Metal Ring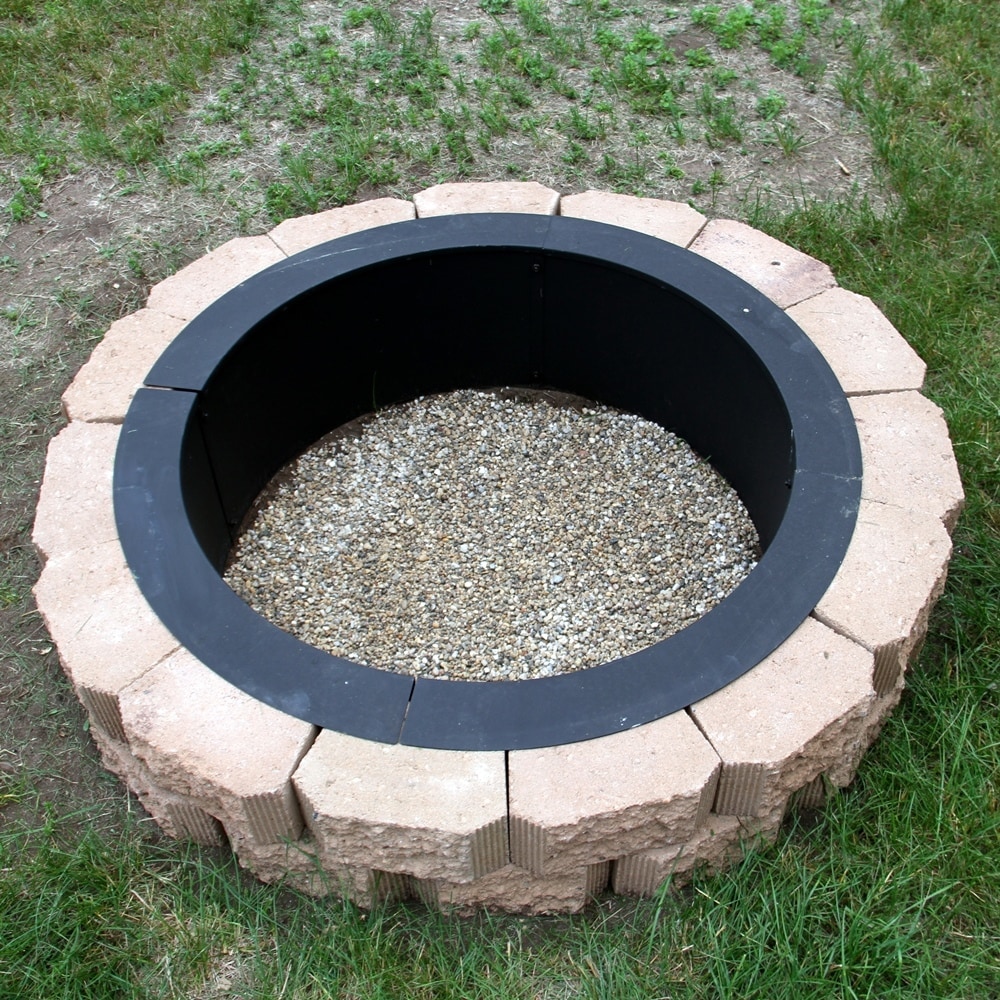 Image Source: mobileimages.lowes.com
If you want to add a touch of elegance to your fire pit, consider installing a metal ring around the edge to hold the stones in place. This will also help contain the fire and prevent it from spreading. Install the rin, set it in place, and use bricks or stones to secure it.
If you want to get more creative, you can use several other materials to add character to your fire pit. These include glass beads or chips, decorative rocks, a fire pit cover, and a metal grate.
6. Add Wood
Start by placing larger logs of wood in the center of the pit, then build up with smaller logs and kindling. Make sure that the wood is dry to prevent excessive smoke and sparks. If you're using charcoal, use a starter fluid to help get the fire going. Avoid using treated lumber, as the chemicals can be released into the air when burned.
7. Start A Fire
Image Source: cfrouting.zoeysite.com
There are several ways to start a fire in your new fire pit. You can use a long match, a lighter, and some newspaper, or opt for a more natural method, like a bow drill. Once the flames have caught, add some more wood to keep the fire going. Sit back, relax, and enjoy your new fire pit.
When ready to put out the fire, douse it with water and stir it until all the embers are extinguished.
Extra Tips for DIYers
Image Source: earthturfwood.com
While building a fire pit can be a fun weekend project, it is also a serious undertaking with high stakes for your friends and family's safety. It is critical that safety is prioritized throughout the process to ensure a final product that provides not only fun and beauty but also a safe environment for all involved.
Here are some tips to ensure you build a safe fire pit:
Do not construct a fire pit without first obtaining permission from the appropriate authorities.
Don't put fire pits in high-risk areas with strong winds.
Use no flammable or nonporous, water-retaining building materials.
Don't build your fire pit near any potential fire hazards.
Never leave a fire unattended 
Never use fire accelerants such as lighter fluid or gasoline. They emit toxic fumes and have the potential to cause explosions. Use wood shavings, kindling, or commercial fire starters or sticks if possible.
Keep an eye on your children and pets. They can move at an alarmingly fast pace, and if you're distracted by a conversation about the latest episode of your favorite show, you could be in for a surprise.
Do not put paper or garbage in the fire. Burning fragments can easily flutter away and cause remote fire hazards.
Final Thoughts
Building a fire pit is a great way to enjoy the outdoors with family and friends. With some planning and elbow grease, you can easily build your fire pit in just a few hours. Just be sure never to leave the fire unattended and keep a bucket of water or sand nearby in case of an emergency.
Frequently Asked Questions on How to Build Fire Pits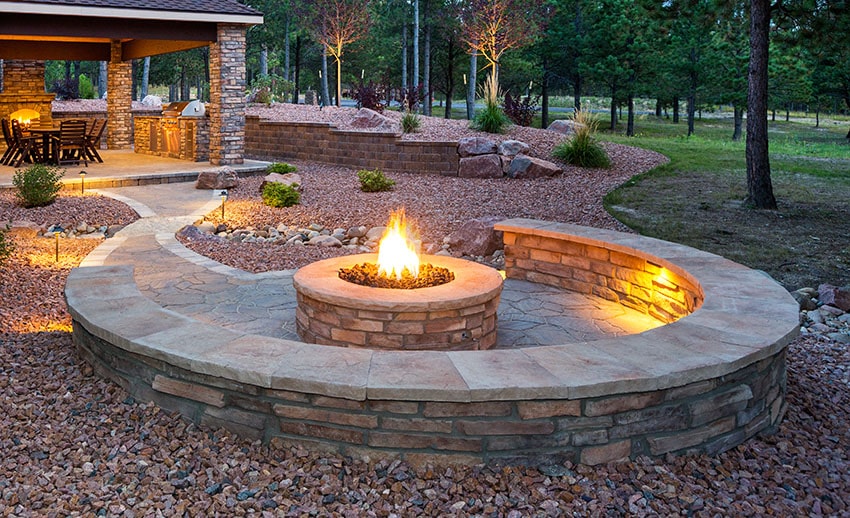 Image Source: designingidea.com
1. Should I buy or build a fire pit?
A built-in fire pit is an investment in terms of money, time, and upkeep. However, it is more long-lasting. If you like to change up the look of your space every 3-5 years, a movable or the bought fire pit is a better option.
2. What do I need to build a fire pit?
To build a safe, sturdy foundation for a fire pit, you need a couple of materials. The most important things you need are; fire bricks, lava rocks, landscaping stones, and masonry adhesive. Sand, lava stones, dirt, fire glass, and concrete slabs are some other common materials used for the bottom of a fire pit.
3. What should I put at the bottom of a fire pit?
Begin with a layer of sand at the pit's bottom, followed by gravel, lava rocks, fire pit glass, paving stones, or even bricks for your fire pit. You could also use dirt instead.
4. How deep should my homemade fire pit be?
The hole's diameter and depth should be 12 and 18 inches, respectively. This hole should be filled with large gravel. If the soil does not drain well or there is a lot of rain, dig a trench from the center out. If you're installing a drainpipe, dig about 10 feet away from the fire pit.