Projectors have become increasingly popular in home entertainment, such as movie nights or hang-outs with family and friends. At work, they are invaluable, as they offer us a chance to make presentations in a more engaging and visually appealing way.
However, finding the perfect projector, that is, a high-quality yet affordable projector is a daunting task. Projectors may be a bit costly but worry not. We've scoured the market to find you the best projectors under $300 that won't bite a chunk out of your pocket.
We chose AuKing 2023 Upgraded Mini Projector for its clear and high-quality images. Our second best choice is the YABER Y31 9500L Native 1080P Projector because of its 4D keystone correction. Our third-best projector under $300 is the ViewSonic M1 LED Portable Projector because it holds true to its reputation. It has amazing sound quality and does not require the use of external speakers.
So, what can you expect from these projectors?
What Can You Expect From A Projector Under $300?
It is only reasonable that budget projectors won't have the same premium features as seen on the best high-end projectors. They may not offer all the features and functionalities that are provided by premium projectors. The differences usually come in terms of image quality, contrast ratio, brightness, long battery life, and keystone correction.
That being said, current projectors under $300 equally pack quite a punch, capable of delivering a true big-screen viewing experience without costing you too much. So, what can you expect from these budget projectors?
Image Credits: youtube.com
Projectors under $300 usually have a shorter throw distance, meaning they have to be closer to the screen for high-quality resolution and color. This usually rounds off between 7 and 20 feet.
They are, therefore, the ideal fit for home theatres, classrooms, regular and medium-sized homes, and offices. Or if you want to use it with your mobile device to watch a movie on your bedroom wall, these projectors are for you.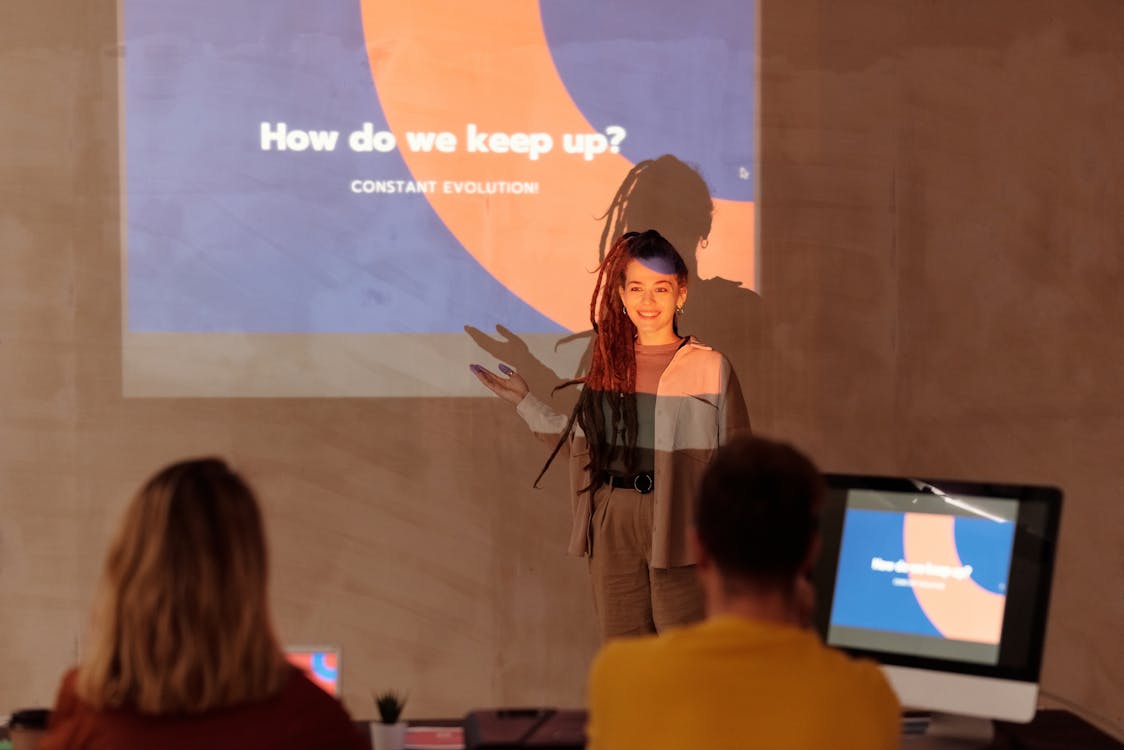 Image Credits: pexels.com
Where you intend to use the projector should determine the kind of specs you require and the ones you can trade off and accept a compromise. For instance, an office projector requires high brightness as it will more likely be used in brighter spaces. On the other hand, a home theater projector might not need to be as bright since you have more control over the lighting in your living room.
On that note, the following projectors under $300 will provide you with excellent quality and value for money.
Our Top Picks
Some of these projectors are mini projectors, also called pico or pocket projectors. These compact and portable projectors are designed to be easily transportable. They are typically small enough to carry in your pocket.
Image Credits: pexels.com
With this in mind, our top picks are:
| | | | |
| --- | --- | --- | --- |
| | | | |
| | | | |
| | | | |
| | | | |
| | | | |
1. AuKing 2023 Upgraded Mini Projector
Sale
AuKing Mini Projector 2022 Upgraded Portable...
★【Superior Home Theater Projector 】2022 Upgraded mini...
★【Big Screen & Built-in Speakers】The mini projector has a...
★【Low Noise & Long Lamp Life】The projector is lower in...
★【Multiple Devices Connection & Portable】This portable...
★【2 Year Satisfied Warranty】Our team offers every customer...
The AuKing projector is the ideal projector for gaming purposes. It is portable, has dual speakers, an HDMI connection, 1080p support, a huge screen, and low noise. Its native resolution is 1920 x 1080. The projector features 3.15 x 6.69 x 7.68 inches in dimension.
It uses the latest color reproduction technology to provide you with crisp and clear images. This projector has a 2000:1 dynamic contrast ratio. If the throw distance is 2 meters, the screen size will be 70 inches. That's pretty impressive.
Further, it has noise reduction technology that helps reduce the fan's noise by up to 80%. If you want higher sound, you can connect external speakers.
The lamp life is up to 55,000 hours, making it more durable than AuKing's previous models. Typically, AuKing recommends this projector for home use rather than for office presentations.
While this may be considered fickle, it is a testimony of social proof from customers on Amazon. AuKing's projector had over 24,000 ratings, which endeared us to it. And we were not disappointed. We used it for gaming, and it was completely immersive. Our game nights shall never be the same again.
2. YABER Y31 9500L Native 1080P Projector
YABER Y31 9500L Native 1920x1080P Projector, 2022...
🌻 [Innovative One-Click to Brighten & 4D Keystone Correction...
💜 [1080P Native Resolution (1920*1080), Support Play 4k Video]...
💙 [HIFI Stereo Sound & Latest Advanced Cooling System] The LED...
💚 [300" Giant Screen & Wide Compatibility ] The video...
💞 [Three-year & Lifetime Professional Support] This 1080P...
Yaber is well known for some of the most compact projectors on the market that are easy to lug around and work great for small spaces. Similarly, the Y31 9500L comes in a compact design that makes it an excellent choice for home theaters, gaming rooms, and other smaller spaces.
What we loved about Yaber's projector is the solid picture quality with minimal tech experience required.
This projector comes with features that are typical of premium projectors we have previously reviewed, making it a true bargain. It has an outstanding brightness of up to 9500 lumens that can project images up to 120 inches. It also features a 1920x1080p and full HD native resolution for crisp images that look amazing on a big screen without any compression or loss in quality.
Image Source: yaber.com
The Y31 is the first mini projector to offer 4D keystone correction. This allows it to make up for up to 50% of horizontal and vertical keystones at the click of a button. Its SmartEco technology and advanced cooling system are just as important in ensuring this projector delivers the best viewing experience for a long time.
This high-quality portable projector also features 4K UHD support for those who want to take picture quality a notch higher. It's also compatible with other devices via HDMI output, so you can connect it to a TV box, PC, gaming console, or smartphone.
3. ViewSonic M1 LED Portable Projector
ViewSonic M1 Portable LED Projector with Auto Keystone,...
PORTABLE PROJECTOR: Ultra-portable WVGA (854x480p) LED projector...
BIG SCREEN PROJECTION: Shorter throw lens project up to...
PREMIUM AUDIO: Built-in dual Harman Kardon speakers deliver...
STREAMING SIMPLIFIED: Livestream sporting events straight into...
EASY SETUP: Simple setup and control, just plug & play your...
The ViewSonic M1 is the ultimate budget portable projector. It weighs less than 7 pounds, and it can easily fit in a backpack. We used this on a camping trip, and it ticked all the boxes for us.
It can also adjust to almost any angle, making it an ideal projector for home entertainment use. Furthermore, it has a fairly short throw ratio, allowing you to see content up to 100 inches even when it sits about 2-3 feet away from the screen.
Image Source: etsy.com
The projector offers multiple connectivity options, including HDMI, USB-C, RCA, and VGA inputs. That means you can plug in your laptop or smartphone and watch content on the go. Plus, its auto-keystone feature automatically adjusts image quality for maximum viewing performance.
It also comes with a 3000 ANSI lumen rating and supports Full HD as well as 4K video. The projector also features two Harman Kardon built-in speakers that are loud enough to fill a room. However, you might need to use an external speaker or good headphones for the best sound.
Still, its sound quality is the winner for us. It has really great sound.
Image Credits: etsy.com
The M1 offers up to three hours of projection time. It comes with a power brick and a USB-C cable for recharging. It also includes a 12V car adapter in case you need to charge it on the road.
4. FATORK Mini Projector
Sale
FATORK Mini Projector, 5G WiFi DLP Smart Portable Movie...
🌞【CLARITY & SHORT FOCAL DISTANCE】:DLP projectors provide...
👜【PORTABLE & AUTOMATIC KEYSTONE CORRECTION】:With a...
🤖【WIRELESS 5G WIFI CONNECTION】:The WiFi projector...
🎮【LENS DUSTPROOF & COMPATIBILITY】:The DLP projector lens...
📞【CUSTOMER SERVICE SUPPORT】: FATORK has always been...
When we bought this projector and used it for watching movies, we did not expect the clear picture quality produced by this small, hand-held device. FATORK's mini projector uses advanced DLP technology, that enables you to experience a clear and crisp image on your smartphone screen, as compared to an LCD beamer.
Image Source: etsy.com
Weighing only 0.86 lbs, this advanced projector is meant to be ultra-compact yet ultra-powerful. It is portable and can be carried from one place to another to offer convenient viewing experiences at different locations. To reiterate how portable and compact this projector is, take a look at this image:
Image Credits: etsy.com
It uses an LED light source and has a lamp life of 30,000 hours. Its Max Support Resolution is 1920 x 1080P and an automatic keystone correction of up to ± 40 °. You can adjust it to 45 ° to achieve the best view.
It features an upgraded noise reduction technology, of up to 32 dB, allowing you to sleep peacefully (if you're like me who sometimes uses movies as lullabies). Moreover, it does not heat up too much.
Picture this: You're in the kitchen cooking up a storm. You'll need to look up recipe videos, yet you don't have a TV in your kitchen. Your phone's screen size is too small. Besides, it's too cumbersome to operate it while cooking. In comes the FATORK mini projector, which allows you to enjoy a larger viewing experience on a white screen or on your kitchen wall. Fascinating, right?
Image Credits: etsy.com
Further, the projector set comes with one video projector, remote control, DC adapter, tripod, HDMI cable, user manual, and quick start guide.
5. Goiaey Native 1080P Portable Outdoor Projector
Sale
Auto Focus - Projector 5G WiFi Bluetooth with 100''...
◎【AUTO FOCUS & ELECTRIC SLIDE LENS CAP】 High-definition...
♥【FAST SPEED & VIVID VIDEOS】This video projector supports...
▆【AUTO 6D KEYSTONE & 4P CORRECTION, 100%-50% ZOOM】 Built-in...
▲【STUNNING 16:9 & 4:3 PROJECTION with SCREEN INCLUDED】 GO1...
♫【5.1 BIDIRECTIONAL BLUETOOTH&HIFI SPEAKER&3-YEAR WARRANTY】...
Having 18,000 lumens, a display resolution of 1920 x 1080, and auto 6D keystone correction, this Goiaey projector is truly a hidden gem. It's a pleasant surprise to find an 18,000-lumen projector that goes for less than $300.
Image Credits: projectorforyou.com
One thing we loved about this portable projector (weighing 2.31 pounds) was that it was literally noiseless. Further, the remote control was intuitive and very easy to understand even for a beginner. Navigating the menus to adjust the picture settings was a breeze, really.
Furthermore, it works on WiFi, ethernet, USB, and HDMI connectivity.
Image Credits: newegg.com
They recommend that the air filter should be cleaned out every 1-3 months for better maintenance. The box comes with a projector lens cover to improve maintenance.
Pros and Cons of Projectors Under $300
If you are on a budget, projectors under $300 will be a suitable solution for you. We genuinely and objectively tested out these five projectors, and our reactions ranged from surprise to impressed. We discovered that other mini projectors were better than others, depending on the sound, picture quality, and other features.
Image Credits: benq.eu
Here are some pros and cons to consider when purchasing such projectors:
Factors To Consider In The Best Projector Under $300
1. Display Technology
Currently, there are five different display technologies for projectors: LCOS, DLP, D-ILA, SXRD, and LCD technology. DLP and LCD are the most common types. Previously, DLP displays were more popular, but most of the recent projectors come with LCD displays.
LCD displays involve using a light source that passes through three LCD chips assigned the primary colors (red, blue, and green) to create and project images. The latest technology involves a combination of LED lights and LCD displays as it offers a brighter and most resolute picture.
2. Brightness
The brightness of a projector revolves around its lumens. Ideally, you want enough lumens to produce a bright and crisp image in a dark room and maintain most of the quality in a brighter setup. So how do you determine the right brightness for your projector?
You need to check the projector's ANSI lumen rating. This shows how much lighter the projector can put out. 1000 ANSI lumens are sufficient for typical home use. However, a 3000+ lumens rating is a more practical option as it's enough brightness to suit most use cases.
3. Contrast Ratio
Contrast ratio has to do with brightness, representing the ratio between black and white portions of the image. A high contrast ratio produces more blacks and whites. Therefore, a projector with a low contrast ratio produced poor picture quality.
A good quality projector under $300 should have a contrast ratio of somewhere between 1500:1 to 2000:1. This is considered great picture quality for the price.
4. Throw Distance
This is the distance between a projector and a screen. A mini projector works best within a short throw distance, between 3 and 30 feet. The ideal throw distance depends on how you intend to use the projector.
Generally, you want a short throw projector for a home theater and a longer one for an office, classroom, or outdoor purposes. You can also consider ultra-short-throw projectors if you're keen on using up less space for installation while still having the ultimate big-screen experience.
4. Resolution
The resolution relies on the projector's brightness, contrast ratio, and throw distance. The most common resolutions for projectors under $300 are 1280x800p (HD resolution) and 1920x1080p (Full HD resolution). Essentially, the size of the projection determines the quality of the picture produced. The higher the resolution, the better the picture quality.
It's worth mentioning that the distance between the projector and the screen significantly influences picture quality. Therefore, ensure that you have factored in the expected throw distance when trying to determine what resolution works best for you.
5. Keystone
Keystone correction involves correcting an image projected on an angled screen or surface. There are two main ways for keystone correction, namely manual and digital. Manual keystone correction involves adjusting the lens physically, while digital keystone correction has to do with preset scaling algorithms.
Image Credits: benq.com
Manual correction works well in certain situations but is not the best for horizontal angles. Furthermore, it only offers the desired results when the projector is far from the screen. On the other hand, digital correction is more flexible as it adjusts the image before it reaches the lens, making it suitable for various environments.
7. Screen Size
Screen size has a significant influence on the quality of the picture. Every projector comes with manual screen adjustments to allow the projector to project images to both large and small screens. Clear image quality depends on the projector's throw distance and resolution. As such, it would be best to have the exact measurements between where you want to mount the projector and the screen.
8. Lamp Life & Warranty
Ideally, you want your projector's lamp to last as long as possible for maximum value. A budget projector under $300 should offer at least 30,000 hours of lamp life. However, it's worth considering that a projector's brightness and color accuracy diminishes with time. Ensure that your preferred unit comes with a long lamp life backed by a decent warranty of 2-3 years.
9. Additional Features To Consider
A) Connectivity
A good video projector must have multiple compatibility and connectivity options. That includes both wired and wireless connections. These allow you to connect your projector to a laptop, smartphone, media player, or gaming console. More so, Wi-Fi connectivity allows you to control your projector remotely.
B) Mounting Capability
Mounting capability is also an essential feature to consider. You'll want to keep in mind where you intend to mount your projector. If you want to install it in one place, ensure that it comes with pre-drilled mounting holes that also allow for easy keystone correction.
C) Portability
Portability is just an equally important factor, especially if you plan to travel with your device or want an outdoor projector. Fortunately, most projectors under $300 are usually smaller in size, meaning they are very easy to lug around. Furthermore, some units come with their own carry bags so that you can move them around safely.
D) Cooling
Projectors tend to heat up and run their fans louder when you use them for a movie night or play games at high resolutions. That's because the fans have to run faster to cool down the lamp and other components in the projector. Therefore, ensure that your preferred mini projector features advanced cooling and noise-suppressing technologies.
Frequently Asked Questions On Best Projectors Under $300
1. What Projectors Offer A Good Dynamic Range?
The general rule of thumb is that the higher the contrast ratio, the better the dynamic range. However, it's important to keep in mind that static images never change while dynamic ones change depending on different parameters. Therefore, it's essential to consider how you intend to use your projector to determine what dynamic range works best for you.
2. What Projectors Can Work With PS4 And Xbox One?
Any video projector that features HDMI connections can work with new-gen gaming consoles.
3. What Is Most Important In A Projector Under $300 In 2022?
A good projector under $300 in 2022 should offer FHD to 4K resolution, wireless connectivity, at least a 50-degree keystone correction system, and comes with an excellent built-in speaker system. Ultimately, the essential features narrow down to your needs and preferences.
4. Which Is the Best Projector Under $300?
The best projector under $300 is the AuKing Projector. It is the most reviewed mini projector on our list and comes with outstanding features for its price. It powers up pretty fast, within ten seconds, and uses long-life LED bulbs.
Our other best picks are the projectors from YABER, FATORK, ViewSonic, and Goiaey. We've done a comprehensive guide on them in this article.
5. How Many Lumens Should a Projector Have?
For dark rooms or home theaters, the number of lumens should be between 1,500 to 2,000. On the other hand, for brighter rooms or office presentations, the number goes higher to between 3,000 and 4,000.
6. What Is the Recommended Budget for Purchasing a Projector?
A basic home projector can be bought for between $500 to $1000. That's if you don't search the market for cheaper options. High-end models can cost $5,000 and upward; these may have more exceptional features. Finding a budget-friendly projector can be difficult, but there are high-quality projectors that go below $300.
7. Will a Projector Under $300 Work Outdoors?
Yes, it will, depending on its specifications. While most under $300 projectors may not work outdoors as effectively as expensive models, you can get the right projector with enough lumens to overcome ambient light.
For instance, the YABER Y31 9500L Native 1080P Projector has 9,500 lumens, enough to produce high image quality regardless of the available brightness.
Final Considerations
Getting a quality, affordable, and versatile projector is like winning the jackpot, entertainment-wise, that is. With one, you are able to enjoy movie nights, presentations, and general video output at the cheapest prices without compromising on the mandatory requirements for all other projectors.