Are you looking for a fashionable and practical window treatment that will add to the beauty and functionality of your home? Plantation shutters are the way to go! These timeless window treatments have been around for generations and are well-known for their elegant and classy appearance.
Besides, plantation shutters are an excellent investment that offers increased home value, interior design, curb appeal, energy efficiency, and functional light control. Considering that multiple shutter styles and options are on the market, you should be careful with your selection to ensure you get the most out of your investment.
What Are Plantation Shutters?
The term "plantation shutters" originatesfrom the large farms or estates in the southern United States that usually grew coffee, tobacco, or cotton, more commonly known as "plantations." The plantations had shutters mostly to control light and ventilation during the hot, humid summer months.
Image Source: doorsplus.com.au
Plantation shutters are window treatments made by installing adjustable louvers or slats on a strong frame. You can control the amount of light and privacy in a room by tilting the louvers. Besides, plantation shutters are usually made of wood. However, they can also be made of other materials like vinyl or composite.
What Are the Main Types of Plantation Shutters?
Plantation shutters are available in various materials, finishes, and styles. That said, we will discuss the different types of plantation shutters based on the materials used to craft them.
Image Source: luxaflex.com.au
1. Wood plantation shutters
Wood plantation shutters are the most common type of plantation shutters available. They are crafted from engineered or solid wood and provide natural warmth and texture to any space. Besides, these wood shutters are available in different finishes, including stain and paint, to complement any interior design.
The wooden shutters can be customized to fit any size or shape of the window, making them versatile. They usually offer great insulation and can help lower energy bills by keeping the room cooler during the summer and warmer during the winter. However, they are not the best options for high-humidity areas.
2. Vinyl Plantation Shutters
These types of plantation shutters are crafted from PVC (polyvinyl chloride) material, which makes them resistant to moisture, warping, and fading. They are usually great for high-humidity areas like kitchens, bathrooms, and laundry rooms.
Besides, they come in various colors and finishes, including wood-like finishes, to complement any home decor. Also, they are easy to clean and maintain, making them an ideal option for those who want a low-maintenance option.
3. Composite Plantation Shutters
Composite plantation shutters are crafted from natural wood with synthetic elements like PVC or medium-density fiberboard (MDF). They combine vinyl's durability and moisture resistance with the authenticity and feel of real wood. Other advantages include the following:
Customization to fit any window size and shape.
Great insulation properties for energy efficiency.
However, these plantation shutters might not have the same natural warmth and texture as real wood shutters. They might not be as durable as solid ones.
4. Aluminum Plantation Shutters
Aluminum plantation shutters are stylish options that work perfectly in homes with a modern or industrial design. They are durable, lightweight, and resistant to corrosion and rust, making them perfect for high-moisture areas. Aluminum plantation shutters come in various colors and finishes and can be customized to fit any window shape or size. However, they might not have the same warmth and natural appeal as wooden shutters.
What You Need to Know When Buying Plantation Shutters
Image Source: stevesblindsandwallpaper.com
1. Shutter Production Quality Differs Greatly
Plantation shutters can be produced anywhere, so knowing what goes into making quality shutters and how they're made helps you make an informed choice. When buying your shutters, find out the type of joinery used to make the shutter doors. Ask your vendor how they cure their wood because many wood treatment and curing alternatives can significantly impact your shutters' lifespan or make them warp prematurely.
Choose finish and paint options to keep your plantation shutters looking great for years. You can consult experienced and reliable shutter vendors for good-quality, custom-made shutter plantations.
2. Tilt Rod Control
While functionality is vital, it blends with the shutter's overall look. Tilt control choices range from invisible to visible. The invisible tilt control is a popular shutter upgrade that gives you a more modern, contemporary look. The hidden tilt rod keeps your view clear and accessible and reduces the number of lines for a sleek, clean look. There's also a split tilt that allows tilt independence in multiple zones of the panel. They are ideal for dining and bathroom rooms.
Don't forget motorization since it's excellent for hard-to-reach windows. You can program plantation shutters to wake you in the morning and close during the day's heat to safeguard your home from heat transfer and harmful UV rays.
3. Louver Size
Louvers are slats found in horizontal shutters that let light in and out. They vary in width, with each creating a different look and functionality. Finding the right louver size depends on how much light you want to let in, your desired maintenance level, and your preferred style.
Small windows pair well with smaller louver sizes because they complement the proportional opening. Nevertheless, they are difficult to clean. Wide louver shutters provide a grander feel and make big windows seem even bigger.
4. Plantation Shutter Materials
Plantation shutters are made effortlessly from different materials that match your style and preferences. The materials may include PVC, finger-jointed wood, medium-density fiber, alder, laminated wood, faux wood, composite wood, basswood, laminated shutters, cedarwood, vinyl, and synthetic materials.
Image Source: bestbuywindowtreatment.com
When choosing a shutter material, consider your home's needs and style. When buying shutters for your kitchen and bathroom, consider vinyl or composite, as they can withstand moisture. When picking living room plantation shutters, choose hardwood because it adds warmth and the natural beauty of wood to your décor.
5. Installation Is Key
When installing shutters, ensure they're installed per the manufacturer's requirements and by qualified, professional personnel to avoid voiding your warranty. Plantation shutters take in all the UV rays that come through the window. So, if the frame isn't installed at the perfect level, the shutter might eventually bend, causing warpage, damage, and cracks. Consider using factory-certified installers for proper installation, protecting your warranty.
6. Cost
Plantation shutters, such as blinds and shades, are often more expensive than interior shutters. Nonetheless, due to their durability and appealing style, they are a good long-term investment for your home. Keep in mind that the cost of plantation shutters can vary greatly depending on aspects such as material, size, and style.
How to Install Plantation Shutters
Here are the basic steps to follow when installing plantation shutters:
Image Source: newportshutters.com.au
1. Measure the Windows
Get the dimensions of the windows you want to cover. Ensure the shutters fit the windows properly by measuring their width, height, and depth. It is crucial to measure every window individually, as even windows in the same room might have different sizes.
2. Order your Shutters
After measuring the windows, you can order your indoor plantation shutters. Ensure you choose the right material, design, and color to suit your home decor and meet your needs.
3. Gather your Tools.
To install your custom plantation shutters, you will need a measuring tape, a drill, screws, anchors, and a level. Before you start the installation process, ensure you have all the essential tools.
4. Install the Frame
There must be four parts to each shutter frame. Use the plastic connectors in the package to assemble the frames, and smoothly tap the connectors into the coinciding slit in the existing window frame using a rubber mallet. Ensure your frame is even by joining the right and left sides to the top and bottom. The good thing is that most pieces are labeled, making this easy. Tap the ends of the connectors into their pieces until they are flush.
5. Attach the Hinges
Get the frame and put it in the window. If it fits well, attach the frame to the window by drilling two screw holes at the top. But if your frame has predrilled holes, you can insert the screws into those, ensuring you only attach the top ones. The bottom of the frame needs to be able to move freely.
We recommend a second person holding the frame against the window while inserting the screws. If your frame is not correctly fitted, either your initial measurements are inaccurate, or the frame was not put together correctly. Ensure the frame pieces are well connected and even. If you are unsure whether or not you have sent the exact measurements, call the shutter company for assistance.
6. Hang the Shutters
Lift the panel onto its frame and use the hinge pins included in the package to attach the panel to the frame. Then put a pin into every hinge to connect them, and adjust the panels and frame until they are well aligned.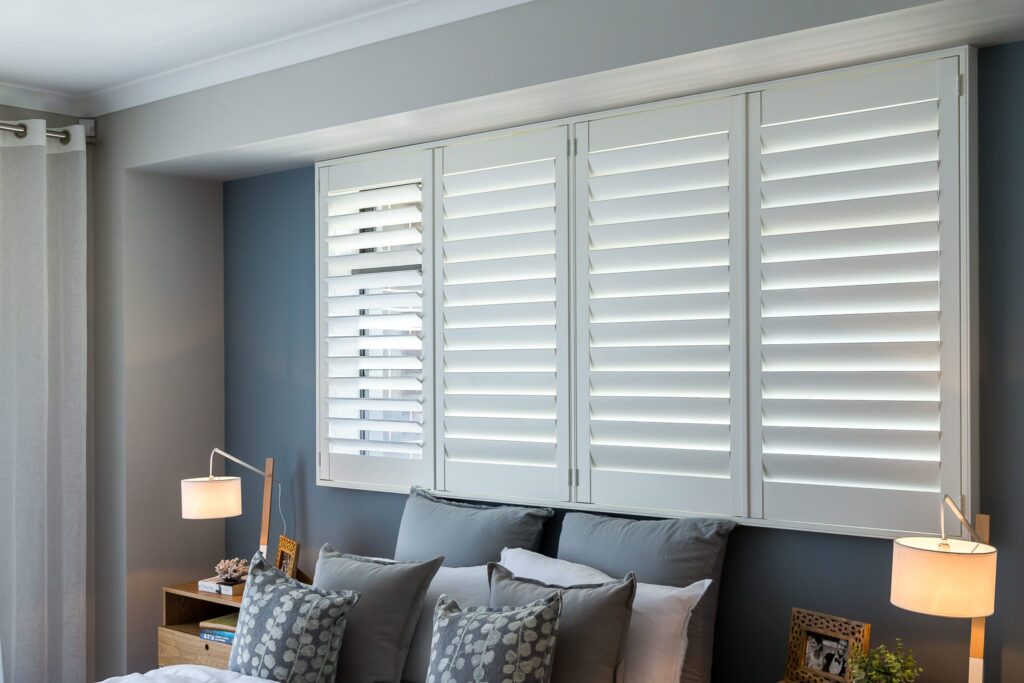 Image Source: mydirectblinds.com.au
Ensure the panel door fits well into the frame by opening and closing it. The frame's bottom should remain flexible, so you can move it from side to side until it lines up with the panel. There should be no large spaces or uneven edges. To confirm that everything is straight, use the level.
Once your panel aligns with the frame, use the bottom screws and any other screws you have to connect the frame firmly. Carefully insert the screws, ensuring the panel and frame are still aligned.
7. Install the Locking Mechanism.
Use a slightly smaller drill bit than the screws, which come with the locking mechanism, to predrill the holes where the screws will be installed. Insert the locking mechanism into the holes, then use the screws provided to fasten it. Depending on the type of shutters you have, the locking mechanism can be a catch, latch, or magnet. We recommend following the manufacturer's instructions to ensure the locking mechanism is installed securely.
8. Test the Shutters
Lastly, check the plantation shutters to ensure they operate properly after installation. Ensure they work smoothly and are securely attached by opening and closing them multiple times. Also, clean the workspace after installing your shutters and discard the leftover materials.
What Are the Benefits of Plantation Shutters?
Plantation shutters offer homeowners various benefits, as briefly mentioned earlier, which include:
Image Source: diyplantationshutters.com.au
1. Light Control
Interior plantation shutters offer great light control, making it easy to change how much light gets into a room. This makes them perfect for bedrooms and media rooms where you want to block out light partially or completely.
2. Privacy
Plantation shutters usually offer great privacy control. You can adjust the louvers or slats to allow light while keeping your privacy or close the window shutters completely for total privacy. This makes them among the best window coverings for rooms facing a busy street or neighboring homes.
3. Energy Efficiency
Plantation shutters are an energy-efficient window treatment option you can count on. When shut, they offer an extra layer of insulation between the outside and the inside, keeping your home cooler during the summer and warmer during the winter. This can make your house more comfortable all year and help you save money on energy bills.
4. Durability
Plantation shutters are more long-lasting than interior window shutters because they are designed from high-quality materials like wood, vinyl, or composites. They can sustain regular usage without warping or fading and look good for a long time. That's why they are a wise purchase for your home in the long run.
5. Easy Maintenance
Plantation shutters are easy to keep clean and maintain. They are easy to clean with a damp cloth and don't require regular replacement or washing as often as window blinds or curtains. This makes them a great option for those who want to spend less time cleaning their window treatments.
6. Aesthetic Appeal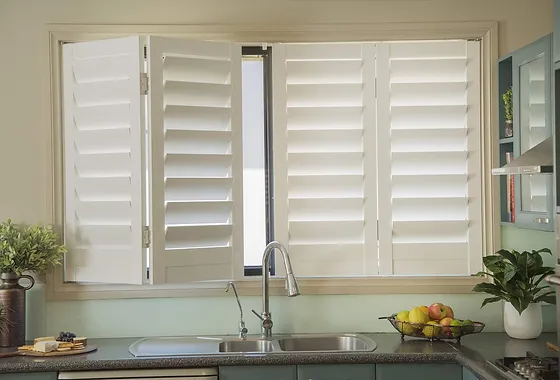 Image Source: oasisblinds.co.uk
Plantation shutters have a classic, timeless style that improves the visual appeal of your home. They have a clean, sleek appearance, making your windows look larger and more inviting. Besides, their adjustable louvers can help create a sense of depth and dimension in a space, making it look more spacious and airy.
7. Customizable
Plantation shutters can be customized to fit any window size or shape, even those with unusual shapes like arches or triangles, making them a versatile window treatment option. This allows you to customize them to fit your needs and design preferences.
Endnote
Plantation shutters are a significant investment you wouldn't want to compromise on. Discussed above are the things you should know when buying them.
Frequently Asked Questions on the Plantation Shutters
1. What are the disadvantages of plantation shutters?
Though plantation shutters have many benefits, there are also several disadvantages:
Although plantation shutters can be mounted as a DIY project, getting them well-fitted and aligned to the window frame can be tricky.
Plantation shutters are usually more costly than other window treatment options like curtains or window blinds.
Though plantation shutters come in various styles and designs, they might not be as versatile as other window treatment options regarding color options or patterns.
While plantation shutters provide great light control options, some homeowners might find they don't offer as much flexibility as other window treatment options.
Though plantation shutters are easy to clean and maintain, they usually require extra attention to ensure they are always in good condition.
2. What are plantation shutters used for?
Plantation shutters are commonly used for various purposes, including providing great light control options by allowing you to adjust the amount of natural light getting into a room. They can also provide great privacy by blocking the view from outside while still allowing light to enter the room. Besides, plantation shutters can help enhance your home's energy efficiency by blocking out heat during summer and retaining heat during winter. Additionally, they can add eye-catching, stylish elements to any space with their sleek, clean-lined design.
3. Why are plantation shutters so expensive?
Plantation shutters are usually more costly than other window treatments like blinds or curtains:
They are made of high-quality materials like hardwood, composite, or vinyl, which can be more costly than other materials used for window treatments.
Plantation shutters are usually custom-made to fit every window's dimensions, which adds to the cost.
The cost of plantation shutters can also increase if you hire a professional to install them.
Plantation shutters are available in various designs and finishes, which can increase the cost depending on your design preference.
4. Why do people like plantation shutters?
Plantation shutters are popular among homeowners because they are exceptional window treatment options in terms of aesthetics, functionality, and durability. They usually improve the comfort and beauty of any home while offering practical benefits such as privacy, light control, and energy efficiency.
5. What is the difference between shutters and plantation shutters?
The size and shape of the louvers or slats are the major differences between shutters and plantation shutters. Traditional shutters usually feature smaller, narrower louvers about 1-1/4 inches wide. These shutters are more ornately designed, with curved tops and bottoms. Conversely, plantation shutters feature wider louvers that range in width from 2-1/2 to 4-1/2 inches. They feature a simpler, contemporary design with straight tops and bottoms.