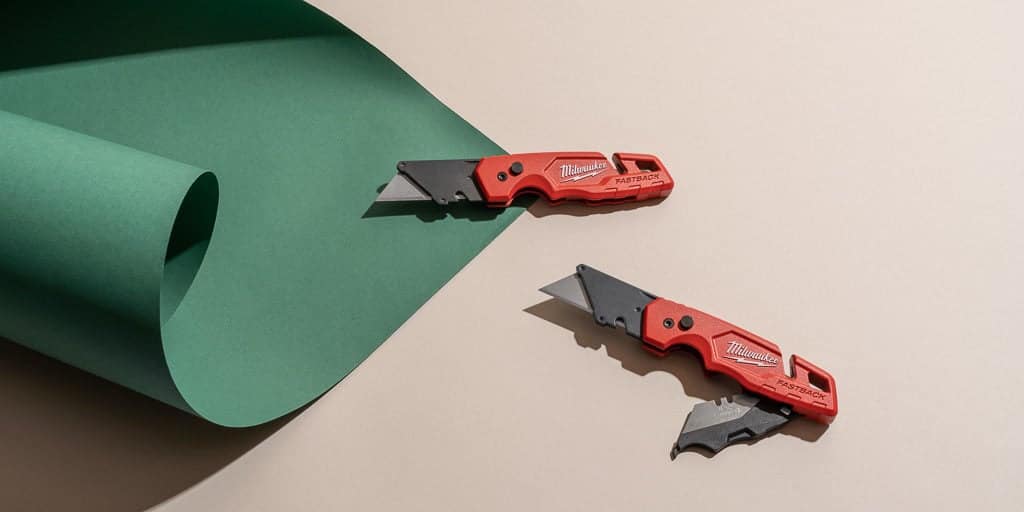 Best Box Cutter & Utility Knives for Architects & Designers
Apart from cutting boxes or tearing through packaging, a box cutter has different applications. Nowadays, box cutters have intuitive designs that make them essential tools as an architect or a designer in your toolbox. The same case applies to the utility knife. Therefore, if you're an aspiring/professional architect or a designer, the best box cutter and utility knives are a must-have in your profession with no doubts.
Why Do You Need Box Cutter and Utility Knives?
You'll note that the words box cutter and utility are occasionally used interchangeably; however, utility knives are made for building professionals like architects and designers. These knives can do much more than just slicing through cardboard and packing tape; though a pocket knife can do the job, the best utility knife will do it safer and is durable.
As a designer or an architect, the best box cutter and utility knife will help you strip materials and help you make precise cuts and designs for your projects. However, choosing the right box cutter or utility knife will largely depend on your preferences and needs since different designs come with different benefits.
Now, with that in mind, let's check out the best box cutters and utility knives in this category.
1. Home Planet Gear Retractable Utility Knife
Sale
Box Cutters Utility Knife - Retractable -...
Not your average Box Cutter / Utility Knife! Fully retracting &...
Easy Change, Quick Release - Just extend blade, press button and...
Heavy Duty, Durable zinc-alloy body with comfortable, ergonomic...
Best for General & Precision Cutting - Slice through cardboard,...
At Home Planet Gear, we focus on premium quality, durable tools...
The Box Cutter Retractable Utility Knife from Home Planet Gear is another option to check out. It boasts an ergonomic handle that provides full protection to your knuckles when using it. Also, the unique patented design enhances good control and saves your fingers and knuckles. Furthermore, this circular handle features a TPR rubber covering, which offers ample grips and lets you cut precisely.
The knife comes with a sharp, high-carbon blade which you can adjust into one of five various positions depending on your cutting tasks. Also, this cutting tool features spare blades, which you can store in an onboard blade storage compartment. Moreover, the knife features a quick-change mechanism for safe, fast, and easy blade changes and helps in preventing injury. If you want to change the blades, push the blade's headcover and drop down the blade's cover.
The knife's body is made of heavy-duty, durable zinc alloy and is still lightweight and compact to fit in your pocket. Besides, the blade can slice through drywall, carpet, leather, cardboard, vinyl, flooring, and rope. Great for designers looking forward to precise cutting for arts and crafts.
2. Slice Box Cutter-10400-3 Position Manual Button
Sale
Slice 10400 Box Cutter, 3 Position Manual Button with...
3-Position Manual Slider Button allows blade to stay locked in 3...
Zirconium Oxide Ceramic Blade with Rounded Tip for Safety =...
1 Slice Ceramic Blade = Up to 20 Metal Blades = Less Blade...
Ceramic Blade only protrudes 1/2" - designed primarily for...
To cut paper and thinner items please try the Slice 00116...
If you're looking for the best box cutter that comes with a stylish design, count on the Slice Box Cutter-10400. The knife features a fully retractable ceramic blade and three-position, which always keeps you in control of any cutting you are doing. In addition, the two open blade positions usually allow you to cut to a depth of 8mm, making double-walled cardboard or other packing materials hassle-free.
The box cutter features a zirconium oxide ceramic blade which is finger-friendly for a secure cutting experience. Also, the U-shape design of the cutter makes it easy for one-handed operation. In addition, the cutter remains sharp for up to 10 times longer than steel blades. Furthermore, the unique shape allows you to hook it on your pocket for easy storage, plus the tool comes in an option of either orange or green.
The ceramic blade projects 1/2-inch and is designed mainly for cutting foam, vinyl, corrugated packaging, boxes, cardboard, and more others. However, if you want to cut paper and other thinner items, try the Slice Mini Box Cutter, Slice 00116 Precision Cutter, or use the Pointed Blades 10408.
3. WORKPRO Folding Utility Knife-Box Cutter
WORKPRO Folding Utility Knife Quick-change Box Cutter,...
Safe to use. This knife cutter is built with quality steel handle...
Quick-change mechanism. Your brand new work knife comes with an...
Portable & lightweight design. Our box cutter knife is...
Use for various applications. Our utility knife is built to last....
Long-lasting utility blades. Our utility knife is made from...
You can bet on the WORKPRO Folding Utility Knife for the best utility knife that comes with blades capable of cutting more than thin packing materials and cardboard. This utility knife comes with a folding design that hosts a razor-sharp blade to cut through a hose, vinyl, and tougher materials. Also, the cutter has an anti-slip ABS handle, which usually offers more security. Moreover, the ergonomic handle fits your hands, so no worry about the blade slipping off your hand while working.
The folding knife comes with a built-in thumb rest that keeps your thumb distant during use and lets you apply more pressure while cutting tougher materials. Also, the knife has a back lock design that usually keeps your blades safely in place when in use, allows you to have a one-handed opening and closing, and safe transport and storage. Furthermore, the built-in stainless steel clip makes in-pocket storage easy.
The utility knife features a quick-change mechanism that lets you safely change the blades and helps in preventing injury. If you want to change the blades, push the blade's headcover and drop down the blade's cover. In addition, the knife is compatible with most standard utility blades for extra convenience. Moreover, the knife is portable and durable since it's made from quality steel, plus you can use it for different jobs like cutting through paper, plastic, cartons, cloth, drywall, PVC, leather, and much more.
4. Fixson Utility Knife Box Cutter, 9-MM Retractable Razor Blades Knifes, (6 Packs)
Fixson Utility Knife 9-MM Box Cutter (6 PACK)...
Snap-off blade utility knife is designed to be lightweight and...
Safety blade lock allows you to lock in the blade at the...
Snap-off utility knife contains a blade that slides out from it
The multipurpose box cutter utility knife are great to use in...
If you want to buy the box cutters for yourself and your colleague architects, we recommend the Fixson Utility Retractable knives. This utility knife set features six non-folding knives, each of which boasts a razor-sharp carbon steel blade. Also, these blades come with a design, meaning you can snap away from the dull blades when they become blunt to expose a fresh blade. Moreover, the blade knives are compact, lightweight, and easy to carry and use.
The pack comes with two yellow, two green, two red knives, and ten spare blades. The convenient design of the knives features a built-in safety lock and a belt clip which usually allows you to hook it on pockets for easy storage. Moreover, the safety blade lock lets you lock in the blade at the exact measurement you need. These multipurpose box cutters are ideal for use in construction projects and warehouses.
What Are Factors to Consider When Buying the Best Box Cutter and Utility Knife?
1. Types of box cutters
Box cutters usually come in different sizes, shapes, and styles. From their construction and design to their blade movement, the type of box cutter you choose will determine how effective it is at everything from comfort and control while cutting to ease of use. Here are the three main types of box cutters:
Fixed blades- This box cutter type comes with a non-movable blade that usually stays securely locked in position as you cut. They also come with no frills and no extra mechanisms.
Breakaway blades-This box cutters are an entirely different spin from a standard box-cutter. They come with segmented blades, which are easily broken off, meaning you will keep looking for a replacement blade.
Retractable blades- These box cutter types have a little more safety and functionality than a standard box-cutter. They come with blades that can fully retract into the knife handle when not in use. Besides, with a thumb-controlled sliding mechanism, you can slide the knife blade out when you need it. Besides, this is a handy feature since it prevents you from accidentally contacting the blade.
2. Blade materials
When shopping for the best utility knives, consider the blade materials. You will find that box cutters and utility knife models are made with different materials, but the common ones tend to be stainless steel and steel. When shopping, whether you prefer fixed blade knives or removable razor blade knives, pay attention to the blade materials. We recommend stainless steel blades since they are rust-resistant.
3. The material type of the box cutter and pocket utility knife
Apart from considering the blade material, you need to pay attention to the construction of the knife and cutter. Ensure the knife is strong and reliable to handle any task at hand.
Here are the most common materials used in the construction of a knife.
Plastic –This material is commonly found in most box cutters and utility knives, making the products more affordable. However, it can't endure too much pressure; therefore, it is best to use it for easy tasks.
Wood –Wood is mostly used in the handle and not on the overall construction. The most common type of woods is blackwood and rosewood. However, the only wood material you should avoid is softwood since it is not sturdy enough for a handle.
Steel – Steel material can be a bit pricey and bulky than other materials. However, steel knives are much reliable, strong, and can easily cut through different surfaces.
Stainless steel – This material requires minimal maintenance since it contains chromium which makes the traditional pocket knife or any other knife resistant to corrosion and rust. Besides, you can use this utility knife for different purposes, and it's weather-resistant.
Aluminum – This material is lightweight; however, it is not a very reliable or durable option. Such utility knives usually look nice with their sharp cutting edge but can only slice through softer materials.
4. Blade position
When looking for the best box cutter, the blade position is an important consideration since the position of the blades in all box cutters, and utility knives are not usually the same. You can choose between a blade that is in a straight position or a slightly angles position. However, you need to know that most of the straight blade designs are not foldable. Besides, there are different possibilities for the blade angle, with the most common one being curved at a 45-degree angle.
5. Blade storage
When looking for a quality knife, always remember that blade storage is vital. Folding knives offer onboard blade storage, and you will find that they can hold up to six blades. This built-in storage usually helps to reduce the time needed to complete a task since you don't have to go about looking for a blade.
6. Safety features
You can't overlook safety, especially when working with sharp-cutting tools. First, you should check whether the knife has an auto-retractable blade or not. This feature means that the blade usually retracts slowly inside the storage with a click of a button. You don't need to worry about accidental injuries or cuts when buying a blade with this feature since you are secure.
7. Extra features
Some box cutters and utility blade knives come with additional features that you can't afford to miss! For example, you might get extra blades, a gut hook, sharpening pencils or textured slider, a wire stripper, or something else. These accessories are handy if you plan to use the box cutters for applications other than opening boxes.
Frequently Asked Questions on the Best Box Cutter and Utility Knife
1. What's the difference between a utility knife and a box cutter?
A box cutter and a utility knife are the same tools. Although they can go by different names, utility knives and box cutters are interchangeable.
2. How dangerous are utility blade knives?
Utility blade knives can sometimes pose some danger as their sharp cutting edges can cause lacerations on the fingers or hands. Nonetheless, if you go for a retractable blade utility knife or one with a safety lock, you can minimize the risk of cuts.
3. What's a 6" utility knife used for?
A 6-inch utility knife is usually smaller than a cook's knife but a bit larger than a paring knife, making it ideal for different tasks. It's like a versatile paring knife and is ideal for onions, mincing shallots, herbs, and cutting small meats or vegetables.