Bathrooms are an essential part of the home, and giving them the look you desire provides a feeling of satisfaction. You can ensure your bathroom looks appealing by installing beautiful and safe flooring materials. There are many alternatives when buying the best tile for bathroom flooring. If you are remodeling your bathroom, go through this post to see several popular options.
In this post, we discuss the best bathroom floor tiles and how to select them. We have ceramic and porcelain tiles with several advantages, including affordability, scratch resistance, durability, and ease of maintenance. Next, we have handmade cement tiles. They are durable and have a natural rough surface that makes them slip-resistant. The only drawback is that their porosity is high and needs frequent sealing.
Our third option is natural stone tiles. Natural stone tiles make the bathroom aesthetically pleasing, durable and with beautiful grain patterns. These bathroom floor tiles are expensive, which may make them a less preferred choice, but their durability is unmatched.
We discuss these options and many more that you may like. So, keep reading to see other bathroom tiling options worth considering.
Best Tile For Bathroom Floors
1. Ceramic and Porcelain Tiles
Whether your tastes lean toward colorful penny tiles, lattice-patterned squares, or stone or wood imitations, you will discover that ceramic and porcelain tile options are among the best for bathroom floors. Ceramics are among the best bathroom flooring tiles because they are easier to maintain. However, they are uncomfortable to walk on barefoot. So, try not to walk on them barefooted when necessary.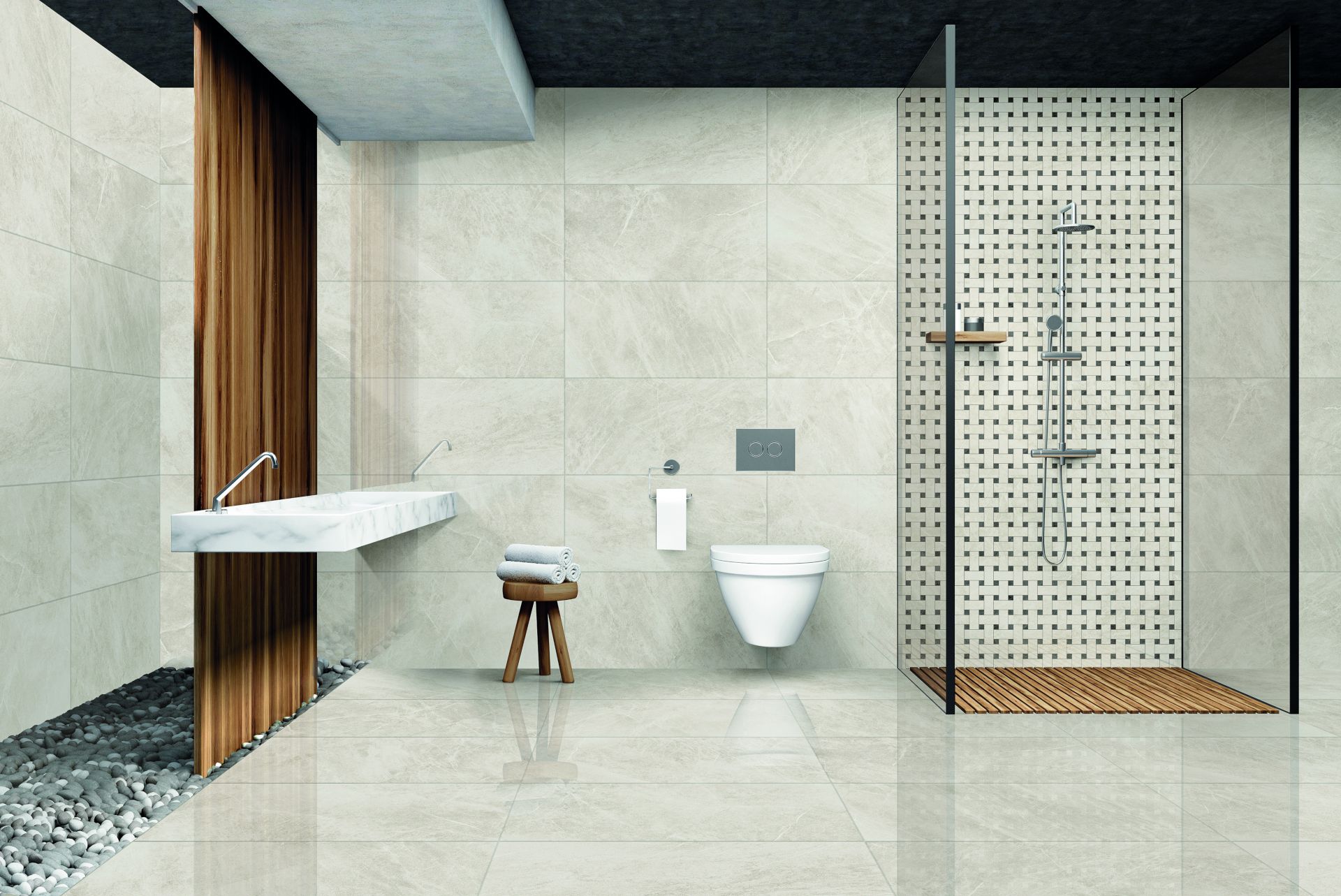 Image credits: archiexpo.com
Radiant floor heating can assist in changing that, but a hard surface is still hard whether it's warm or not. Ceramic tiles are challenging to install, but a skilled do-it-yourselfer can complete the task.
Ceramics will withstand wear and scratches if coated with an excellent glaze. One benefit of porcelain tiles is that they are tougher than clay-based tiles.
2. Cement Tiles
Handmade cement tiles are often referred to as encaustic cement tiles. These are sturdy, long-lasting, and naturally have a rough surface that prevents slipping.
Image source: houzz.com
These tiles give the bathroom an ethnic feel because they come in vibrant colors, contemporary patterns, and classic themes. They are exceedingly porous, which is a drawback and require regular sealing.
3. Natural Stone
Natural stone products like travertine, slate, and limestone will give your bathroom a classic appearance. Natural stone is aesthetically pleasing since it is robust, long-lasting, and has appealing grain patterns.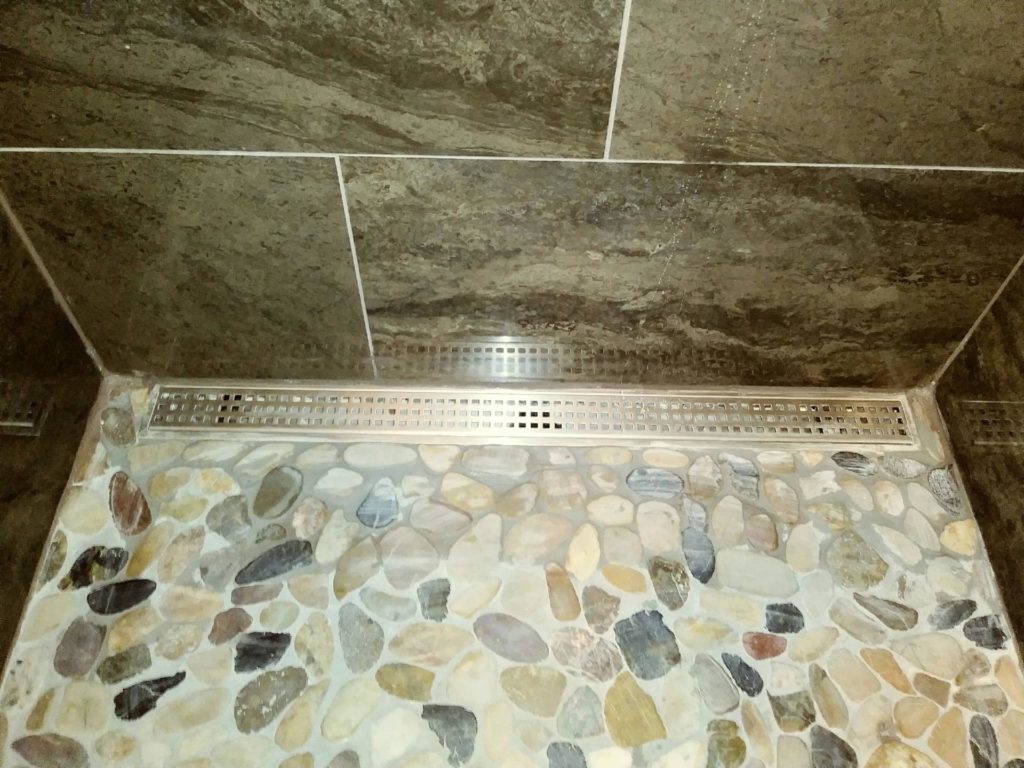 Image source: boundflooing.inc
These supplies come in the form of stone slabs that have been mechanically cut into square and rectangular tiles. The biggest disadvantage of natural stone tiles is their high cost and frequent maintenance requirements. This is due to their porous nature, which includes frequent cleaning, polishing, and sealing. Avoid using polished marble or granite, made of natural stone, as flooring because they become slippery when wet.
4. Cork Flooring
Cork flooring is an excellent option for going barefoot in flair and comfort. The tiles are simple to install and come in a variety of colors.
Image source: pinterest.com
They must first be sealed with polyurethane, though, as they readily absorb moisture from the flooring. Cork is a smart choice for half-baths because they frequently have lower moisture accumulation rates.
5. Linoleum Floor Tiles
An environmentally friendly alternative for bathroom floors is linoleum tiles. Additionally, this material offers many benefits, making it a viable option for bathroom flooring.
Image source: thespruce.com
It is affordable, naturally slows microbial growth, and withstands dirt and oil well. It costs more than other alternatives. However, linoleum looks great in all settings, including recently refurbished bathrooms and bathrooms with a retro design.
6. Vinyl Tiles
Vinyl is the most preferred material for bathroom flooring due to its low cost and significant level of usability. It works nicely in every bathroom in the house. It outperforms other popular options regarding durability, comfort, and safety.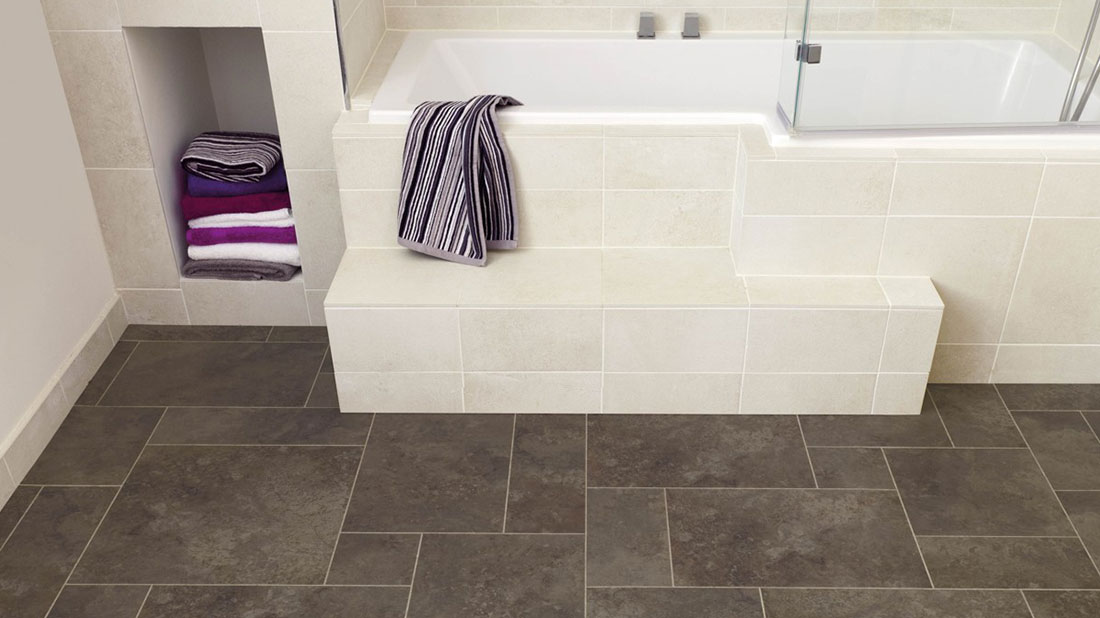 Image source: kenningtonflooring.com
The top vinyl tile companies have significantly improved installation simplicity and visual appeal, which is almost as crucial. Therefore, if you enjoy your way around tools, you can install vinyl tiles as a DIY and still get amazing results.
7. Plastic Laminate
Plastic laminate tiles are another excellent option, mainly if you're rebuilding. The tiles don't dramatically raise the height of the existing floor, similar to the laminate material covering kitchen worktops for a generation or two; this makes planning transitions from one room to another simpler.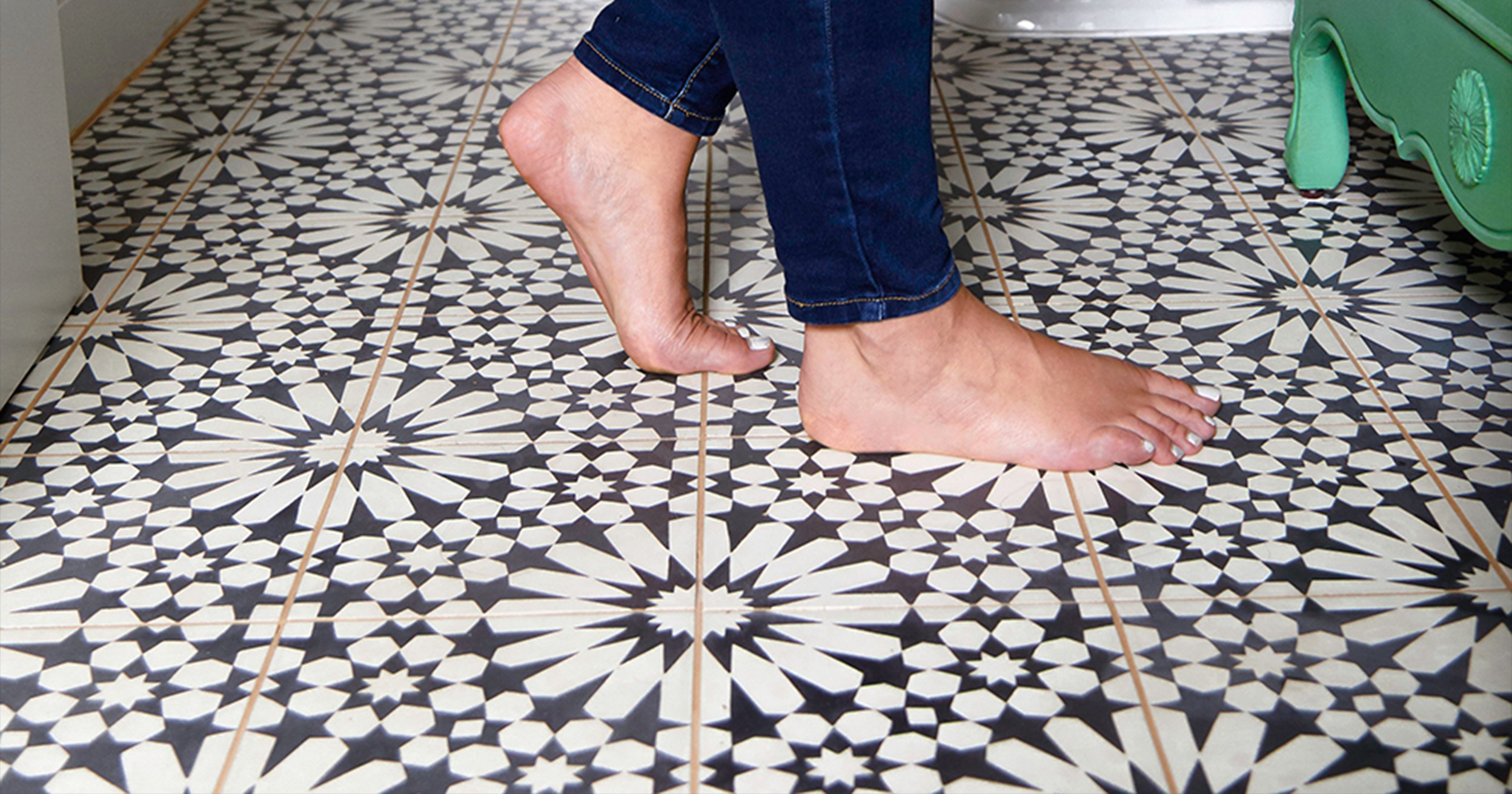 Image source: bona.com
Laminate tiles have a weakness for moisture even though it is tough and simple to keep clean. This tile might function better in a half-bath than a full bath since standing water can seep into the fiberboard core, causing the material to expand and buckle. Therefore, this is the best tile for your project if you'd like to do a half-bathroom remodel.
If you have laminate flooring, it's essential to seal any cracks around the toilet, along the walls, and the tub to stop water from seeping in.
8. Mosaic tiling
These are made of small, lightweight materials, including glass, ceramic, and stone. The best thing about mosaic tiles is how easily they can be combined to create lovely flooring and wall patterns.
Image source: rivatilesandbathroom.com
When installing mosaic tiles, the multiple grout lines produce a non-slip bathroom floor tile surface.
9. Limestone Tiles
The surface of limestones is hard and substantial, making them the perfect choice for flooring. Limestone tiles' subtle colors provide a fresh, cozy atmosphere ideal for a bathroom.
Image source: marbemosaics.com
Limestone has natural tones and shades that add warmth to the design of your bathroom.
10. Terracotta Tiles
Use terracotta tiles in your bathroom to give it a cozy, natural, and rustic appearance. These are produced locally using red or brown clay that has been dried and burnt in a kiln at high temperatures.
Image source: centura.com
Due to their high porosity, terracotta tiles must be regularly treated to prevent stains and moisture absorption. Each tile may have a minor color variation because they are handcrafted. You should seal the tiles with a sealing agent to protect the stains from damage.
11. Glass Tiles
These feature a bright surface that reflects a lot of light, giving the bathroom a luxurious and spacious appearance. So, they are ideal small-bathroom shower tiles. Textured glass is better since it creates an anti-skid feeling and prevents the flooring from becoming slippery when wet.
Image source: ecorenovation.com
Glass tiles are stain-resistant and water-resistant and inhibit mildew growth. If installed correctly, glass tiles can last longer. Small glass tiles with many grout joints enhance slip resistance and make them safer in the bathroom.
What to Keep in Mind When Selecting the Best Tiles for Bathroom
a) Tile Patterns
i) Basketweave
Image source: lustroitaliano.com
Basketweave is a modern tile pattern showcasing the attractive weave on vintage-style baskets. This tile pattern brings a unique visual appeal transforming the overall look of your bathrooms.
ii) Arabesque
Image credits: livden.com
The arabesque pattern is a great way to elevate your space to achieve a modern boho aesthetic. It is a beautiful tile pattern you can work with when remodeling your bathroom.
iii) Beveled
Image source: studio$store.com
The beveled edges of bathroom tiles make them similar to pillows. This innovative tile pattern adds glamour to the aesthetics of your bathroom.
iv) Deco
Image source: wallsneedlove.com
Deco tile pattern combines decorative elements like floral designs, arabesque shapes, cross patterns, and three-dimensional designs. You can choose from our collection of interior backsplash tiles in this pattern to get the desired modern or classic looks. This pattern is also ideal for kitchen floors and wet rooms. These tiles sustain moderate traffic.
v) Diamond
Image source: mercurymosaics.com
In diamond patterns, diamond shapes are used to bring out the design. Sometimes, the tiles are of diamond shape, and in other cases, diamond design is attained by combining adjacent tiles. These are the best tiles to create an accent wall or to add glamour to your shower wall. This pattern will be perfect if you choose tile for aesthetic appeal.
vi) French
Image source: apexmasonry.com
If you wish to create a typical European aura inside your bathroom, installing French pattern tiles for your whole bathroom, wall-only applications, accent walls, or shower walls would be a creative decision. The modular tile types, such as square and stacked tiles, come with this attractive pattern.
vii) Chevron
Image source: marazzi.com
In the chevron tile pattern, the tiles meet in an inverted 'V' shape, usually with a pointer. This tile pattern adds a unique visual effect making your bathroom walls stand out.
viii) Brick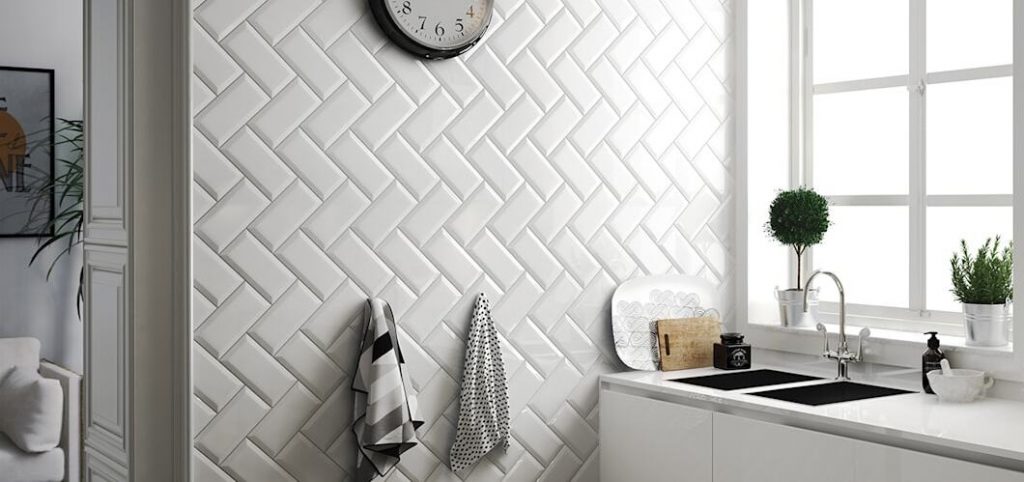 image source: rubi.com
The brick tile pattern is a well-liked classic style pattern that lends a touch of traditionalism to your bathroom's appearance. With the aid of this tile pattern, you can install tiles on the wall that resemble brick walls and give the bathroom a vintage appearance. This tile is ideal for bringing a touch of traditional design to your home's interior design scheme.
ix) Hand Painted
Image source: azulejotiles.com
Installing accent walls, shower walls, or hand-painted tiles is always preferable. This is usually the case because they add a touch of glitz to your bathroom floor applications.
x) Herringbone
Image source: bunnings.com
Another shape produced by this tile pattern is an inverted "V." The tile varieties in this pattern are perfect for making vibrant designs for bathroom wall tiles.
Image source: tiles2go.com
b) Design
Would you like it if your bathroom had a traditional, vintage design theme? Or do you want a sleek, contemporary design? Avoid tile styles that clash or detract from one another.
Instead, choose wall, floor, and shower tiles that are coordinated and aligned with the desired design theme. To attain this aesthetic, it is helpful to choose a design theme in advance and then hunt for bathroom tile collections that complement it.
c) Anti Skid Properties
Your feet should experience enough friction on the bathroom's tile surface. The proper slip-resistant tile can prevent falls and injuries even when exposed to water spilling from a sink or shower.
Because your entire family and several visitors may frequently enter and exit your bathroom, the floor tile must also withstand some foot activity. Of course, it is nearly impossible to maintain completely dry tile flooring in a bathroom at all times.
During your routine bathroom grooming tasks, splashing and spillage frequently happen. Therefore, selecting slip-resistant tiles for your bathroom flooring is highly advised. With the right finish, porcelain and ceramic tile can accomplish this task.
d) Grout
The grout you select for your tile installation depends on the type of the selected tile and the color you want for the grout lines. The borders of the tiles can be accentuated or neutralized by the grout lines between the tiles.
It is advisable to choose the proper type of grout per the instructions made by the tile manufacturer. If installed incorrectly, the grout can cause cracking and other harm, in addition to helping you boost the durability of your tile installation.
e) Water Resistance
Most things you do in the bathroom require water, don't they? Therefore, the tile on your bathroom's walls and floors will continually be in contact with moisture, and we need to stop it from penetrating the tile itself.
Moisture-resistant flooring must be installed throughout the entire bathroom. Typically, porcelain and ceramic tiles are some of the best moisture-proof options for bathroom floors. These characteristics are also beneficial for safeguarding walls, especially those near a sink or in the shower.
f) Hardness
The tile's relative hardness relates to how easy it is to scratch it with another substance (mineral) compared to other materials. In this case, the "Mohs Scale of Hardness," which uses 10 minerals as a base scale, is the reference point.
Manufacturers of tiles submit their products to testing in a lab to receive a Porcelain Enamel Institute rating. 
Your tiles will resist scratches better, thanks to a higher relative hardness. As a result, it's important to balance several qualities, including scratch resistance, water resistance, aesthetics, and others.
Frequently Asked Questions on the Best Tile for Bathroom Floor
1. Which type of floor tiles is best for the bathroom floor?
Ceramic or porcelain tiles are the best for bathrooms. They are the best bathroom floor tiles, durable and easy to clean.
2. Which color of tiles are the best to use on the bathroom floor?
While floor tiles are a popular color choice, mostly for smaller bathrooms. A light-colored tile makes a small bathroom feel brighter and bigger.
3. Which color tile is the easiest to clean?
Bright and cool colors like white make a room feel clean. Dark colors hide dirt and stains more effectively, hence you can keep them looking clean over a long time.