You know it's fall when bright orange leaves lie scattered on the ground, and the weather turns a little chilly. The night sky is magnificent. And around you, kids smile radiantly, jumping up and down, excited for Halloween and Thanksgiving.
Your outdoor area, with its PVC decking, is the perfect spot for indulging in intimate activities with your loved ones. You can marvel at gorgeous views, feast on delicious dishes, share stories and wine, and dine with friends.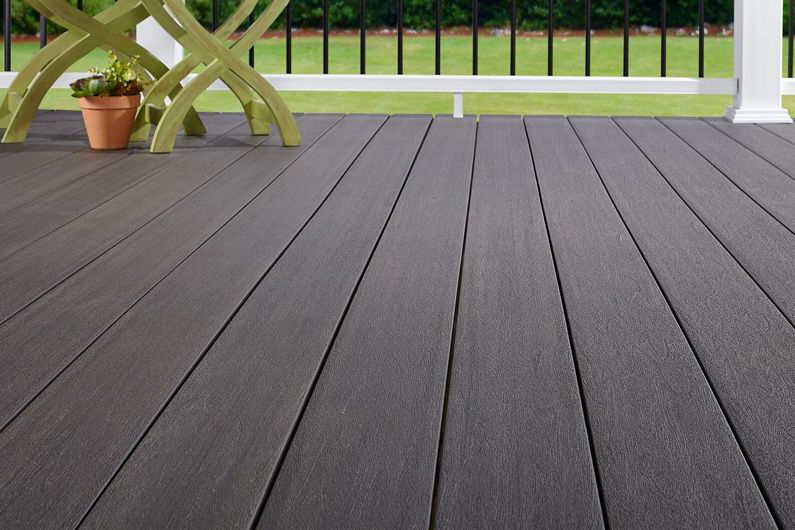 Image Credits: Deckmasters.ca
Read on to learn more about how you can enjoy your PVC deck this fall.
1. Host A Pumpkin Carving Contest
Bring your kids along to shop for giant pumpkins on the market and then host a pumpkin carving contest on your deck. Teach them how to carve pumpkins properly and safely with the right tools and techniques. Encourage them to be creative and come up with a unique pumpkin for Halloween festivities.
Show them how to put a light on the pumpkin too. You can ask them to paint their pumpkins according to the look they're going for, be it scary or festive.
Your children will have the best time working on their pumpkins and will make wonderful memories they'll hold dear for a long time.
2. Decorate Your Deck For Halloween
The season for trick-or-treating is an event many little ones and adults who are kids at heart look forward to. In fact, many homes in the United States take Halloween decorations very seriously. In 2021, Halloween expenditure reached an all-time high, with over USD$10 billion spent on Halloween decorations and costumes by American consumers.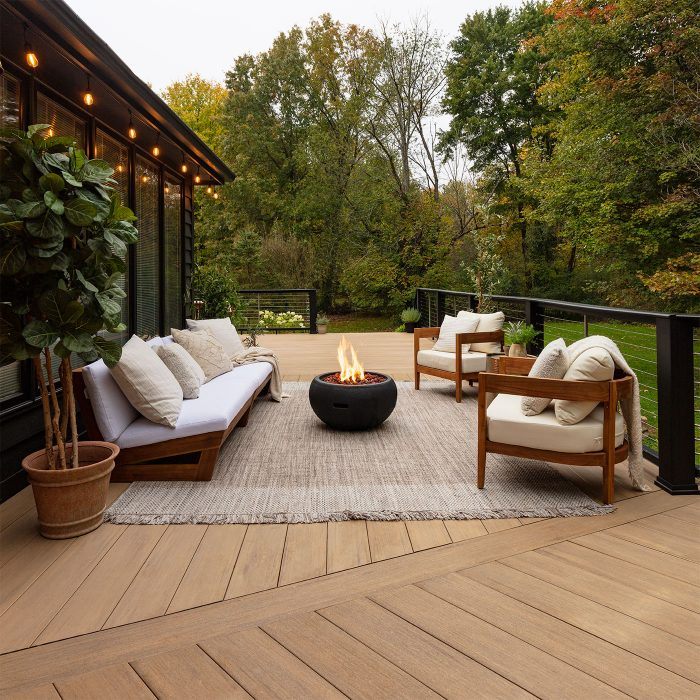 Image Credits: Finehomebuilding.com
Since you've got a lovely PVC deck, why not transform it into a fun place with your family by adding cool and scary Halloween décor? Put all the lighted pumpkins you carved and painted around the space, position the witch and her broom on the stairs, and display some floating ghosts, ghouls, and spider webs for added flair. You could also prop a skeleton on one corner of your deck and hang a Day of the Dead wreath on the patio door for a pop of color.
Halloween is a great time to impress your family members and friends and win the best Halloween décor of the year.
3. Relish Delicious Apple Pie
Fall means plenty of Granny Smiths that you can bake into delicious pies. Your family can spend a glorious afternoon on the porch or deck, relishing delicious apple pie and hot beverages like coffee, green tea, or latte. It's a tradition many American families follow, and that can be a part of yours too.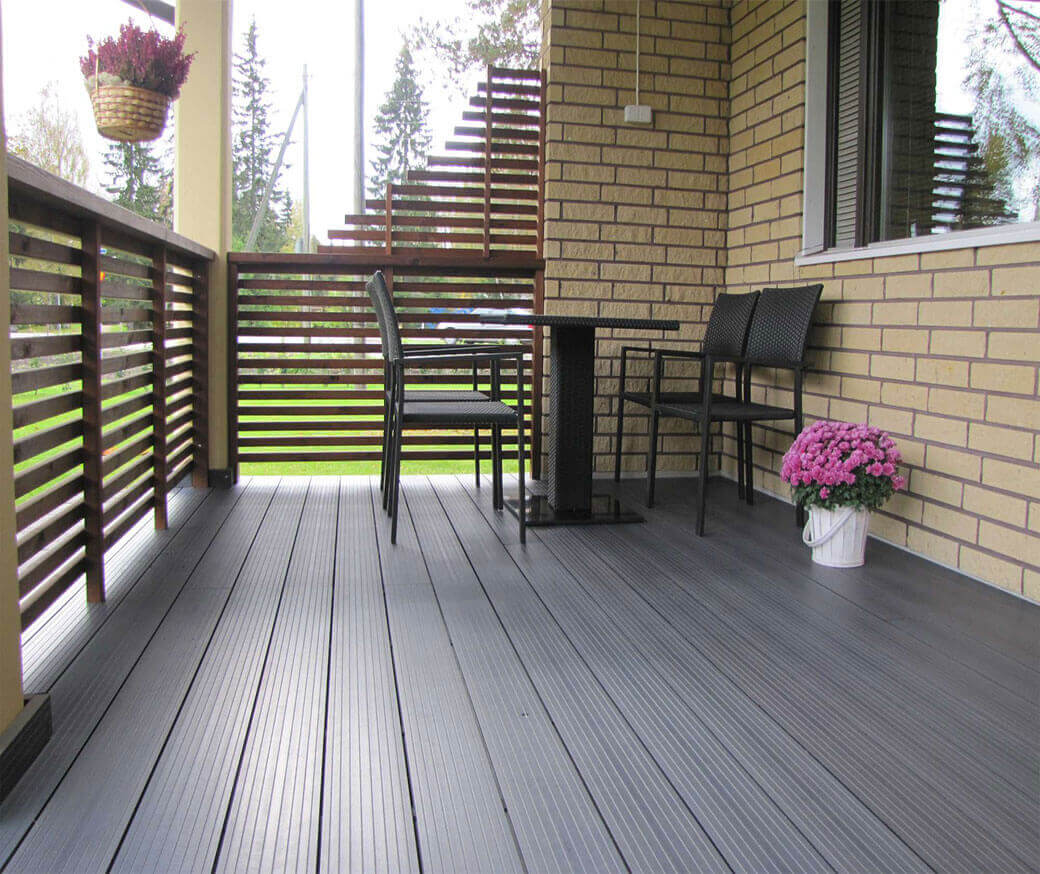 Image Credits: Shanghaiwpc.com
The comforting feeling of eating warm apple pie on a cold fall day will be a fond memory you'll always treasure with the people you love.
4. Have Some Beer And Sausages With Friends On Oktoberfest
When October arrives, a lot of people will be flocking to grocery stores to buy classic beers for Oktoberfest. Take this opportunity to pick up some German beers and sausages and hold an intimate party with friends on your deck.
5. Decorate The Deck On Veterans Day
Veterans Day is an event truly worth celebrating since it's an opportunity to honor those who serve and show courage and love for their country. It's also an opportunity to teach kids how to appreciate the people who have made sacrifices to protect their freedom.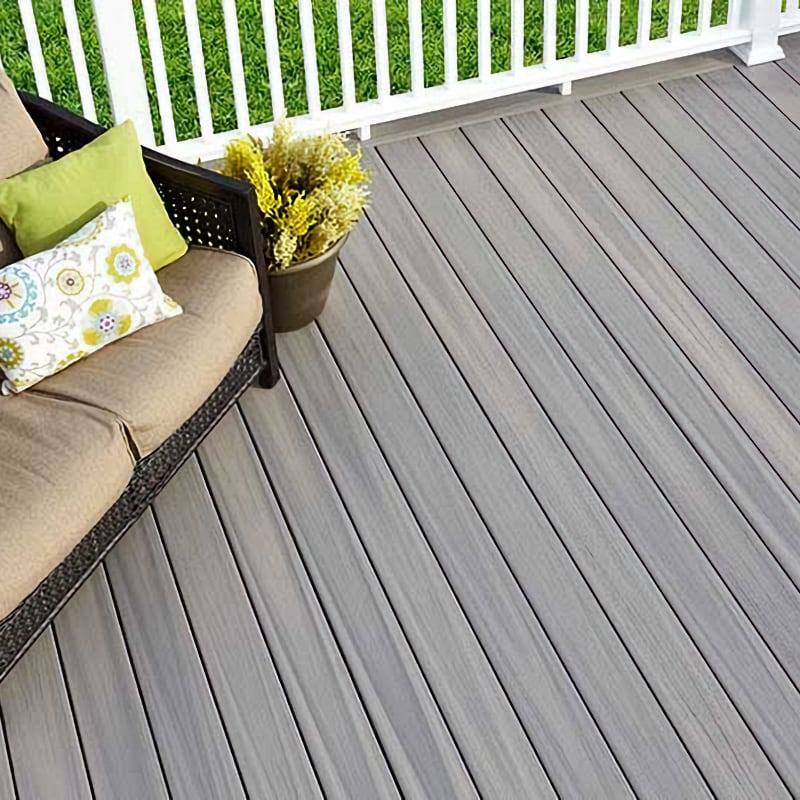 Image Credits: Thedeckbarn.com
So, on this day, express your gratitude by decorating your deck with red, blue, and white colors and putting up the American flag. Spice up your deck with festive garlands and string lights that will make the space glow magnificently in the evening. You can create a garland with acrylic star crystals and paint them red. Aside from string lights, use green porch lights, which will be a heartfelt way to salute the nation's warriors.
6. Host An Unforgettable Thanksgiving Dinner Outdoors
Host a Thanksgiving dinner outdoors. Set up several lightweight tables on your deck. Create a magical ambience with twinkly lights above, vases of flowers around, and a battery-operated lantern on each table. Prepare mouthwatering dishes. Catch up with family members, and share what you're thankful for before digging in.
7. Stargaze
For many stargazers, autumn is the best time to view dazzling constellations, such as Cassiopeia, Aquarius, and the Milky Way. Lay a comfortable blanket on your deck and have some hot chocolate while admiring the breathtaking night sky with your favorite people.
Final Thoughts on PVC Decks
Your PVC deck is a beautiful spot where you can spend quality time with your loved ones in the fall. Whether it's playing with your little ones, chilling out with friends, or star gazing, you'll cherish every moment.
Frequently Asked Questions About PVC Decking
1. What is a PVC deck?
PVC decking is an engineered decking material that typically contains polyvinyl chloride (PVC), titanium dioxide, and other materials for strength and durability. PVC is a strong and resilient decking material that can stand up to wear and tear from the elements. Because of these properties, PVC decks generally require less upkeep than a traditional wood deck or composite decking and can last for many years.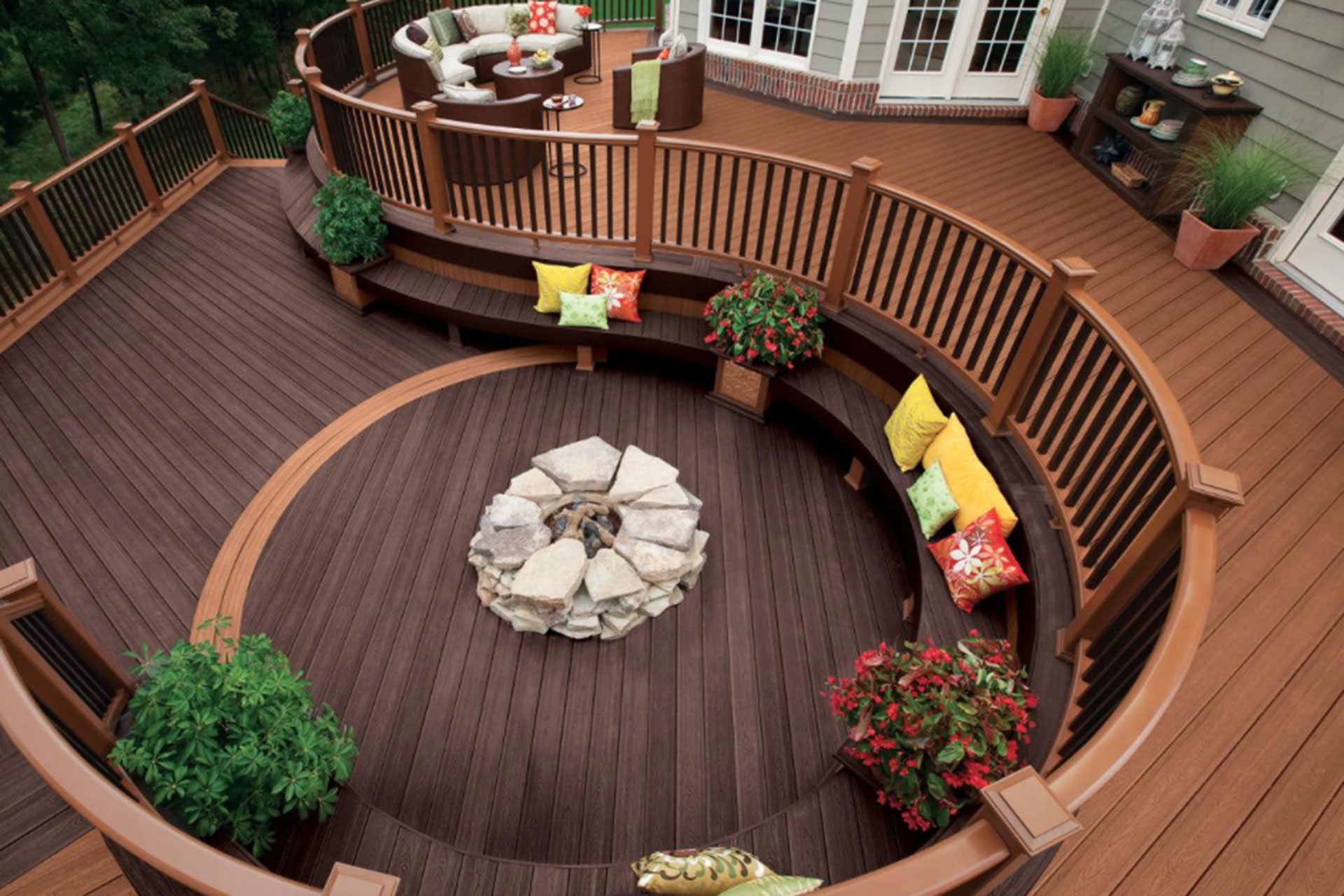 Image Credits: Shadefxcanopies.com
It is often used to create patios and decks in residential and commercial settings, and it provides several benefits, such as low maintenance and great diversity of product availability. PVC decks can provide an attractive, stylish, and safe outdoor living space.
2. How much does it cost for a PVC deck?
When considering building a deck, many homeowners have been drawn to PVC decking due to its low cost, durability, and appearance. With an array of options available, it is important to understand the true cost of a PVC deck and all of the requirements necessary to ensure a successful installation.
The cost of PVC decking varies depending on the type and size of the PVC planks and composite deck boards and the type of support structure you're using. Typically, you can expect to pay anywhere from around $2,000 to $6,000 and upwards for a 300-400 square foot vinyl deck. This cost range will depend on how much and what type of materials are used, as well as where you purchase them. For example, if you buy composite PVC deck planks, your price may be higher than if you purchase standard PVC decking planks. Additionally, the support structure will influence the total cost of the project. What type of framing and foundation are you planning to use, and will you need to purchase any additional material for footings, posts, railings, and other components? All of this should be factored into the total cost of your deck.
Image Credits: Walltheory.com
The installation of PVC decking can also influence the cost. If you choose to hire a professional, you will likely pay more for the installation. If you plan to do it yourself, you can save a considerable amount of money. However, it is important to ensure that you or the professional you hire is experienced in working with PVC planks and can do the job correctly.
Before you purchase any PVC materials, you should check the manufacturer's warranty and stain warranty to ensure that the product is covered if issues arise. This will help you make a confident purchase and is important considering how expensive the materials are. You should also look at reviews of PVC decking brands to ensure that you are purchasing a product of quality and avoiding any missteps.
3. Is the PVC decking good?
PVC decking offers numerous advantages to homeowners over traditional wood decking materials. PVC decking is an innovative, low-maintenance material that's engineered to provide improved outdoor living spaces. It's strong, durable, and easy to maintain, providing a hassle-free alternative to other traditional materials. Here are some of the biggest benefits of PVC decking:
1. Cost-Effective
PVC decking is more cost-effective than real wood decking materials. The upfront cost of PVC decking is generally lower than that of traditional wood decking materials, making it an attractive option for those looking to save money on their new deck. PVC decking is also less expensive to maintain over time, making it an even more cost-effective option for homeowners.
2. Eco-Friendly
PVC decking is made of recycled materials, more so plastic, making it a much more eco-friendly decking option than traditional wood decking materials. It is manufactured using significantly less energy, reducing environmental impact compared to wood. PVC decking also reduces the need to lumber and harvest wood, resulting in fewer trees being cut down.
3. Durability
PVC decking is incredibly durable and resistant to moisture, staining, rot, and warping. This makes it perfect for withstanding the often unpredictable weather patterns and temperature changes, making it great for busy family homes or beach-facing decks. PVC decking also won't require any repeated coating or staining like traditional wood decking materials.
4. Aesthetics
PVC decking comes in a variety of finishes and colors that can be tailored to suit most home styles, including designs with the most realistic wood looks. It's easier to match to existing house color schemes and can even provide a unique look when compared to traditional wood decking materials.
5. Easy to Clean
PVC decking is low-maintenance and requires little more than an occasional rinse with a garden hose for basic upkeep. Its plastic construction makes it resistant to most liquid stains and heat making it much easier to keep clean than traditional wood decking materials.
4. Is PVC decking more expensive than wood decking?
While the installation of both materials can be challenging, and prices vary depending on your location, PVC decking is often more expensive than wood decking.
When comparing the costs of PVC and wood deck boards, it is important to consider the entire life cycle cost. PVC decking is often the best decking material since it's more durable and requires less maintenance than real wood, meaning it could save you money over its lifetime. Of course, upfront costs can be quite prohibitive. PVC costs upwards of 20% more than treated wood and/or cedar hardwood decking materials, so it's important to consider the long-term cost when deciding which material is right for your deck.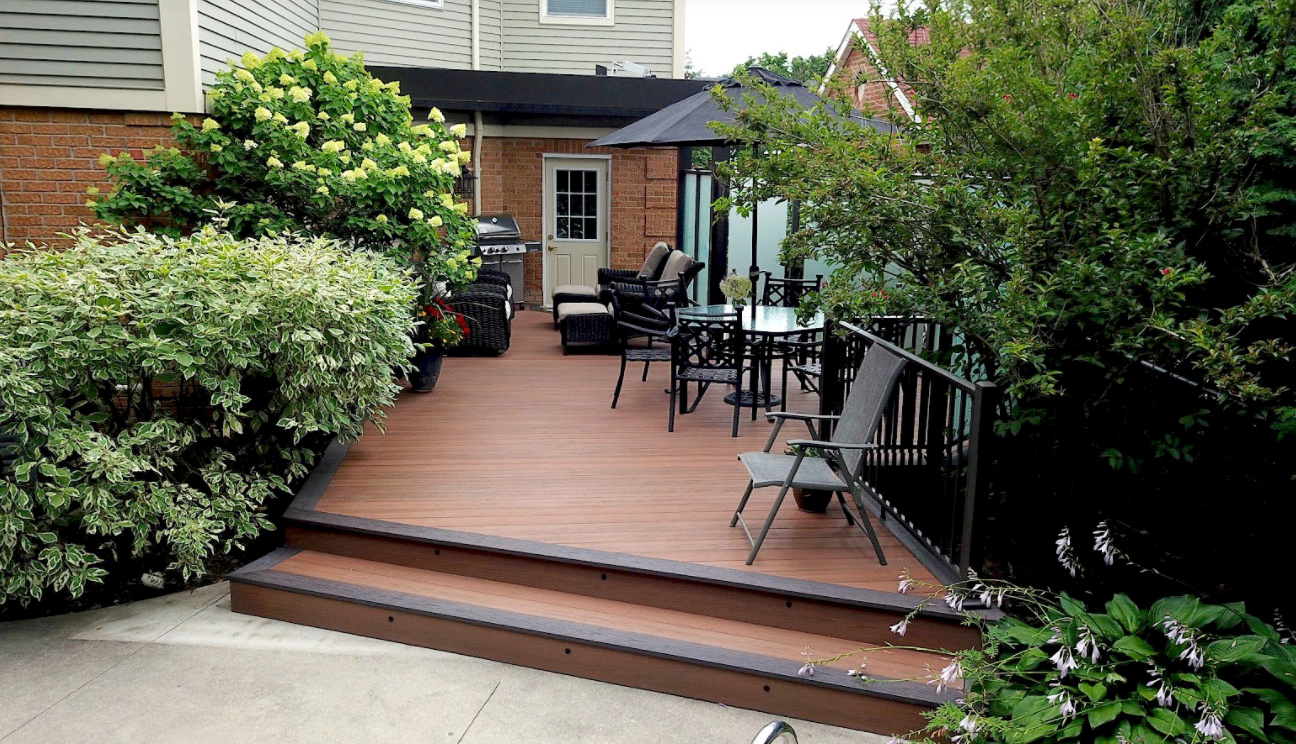 Image Credits: Tivabp.com
PVC decking can also be considered an investment because it has a wider range of maintenance options, including refinishing and re-staining. PVC decking also offers many advantages over natural wood, as it can resist rot, insects, and moisture. The added protection ensures that your deck lasts longer than a wooden one. Each option requires different maintenance, so it's important to consider the energy and time it takes to maintain a wooden deck versus a PVC deck.
5. How long does PVC decking last?
Properly installed and maintained PVC decking can last a very long time. Generally, with proper maintenance, a PVC deck should last between 15-20 years, depending on the specific brand, type, and quality. PVC decking is popular due to its low-maintenance and long-lasting properties. You can enjoy many years of outdoor entertaining and relaxation by choosing a quality type of vinyl decking and taking steps to protect it from the elements like direct sunlight.
When it comes to the longevity of PVC decking, quality is key. Choosing a quality brand that is designed to be more durable and resists moisture, common wear and tear, and stain can drastically increase the life of the deck. Also, regular maintenance and cleaning are essential to extending the life of the deck. This includes routinely washing, sanding, and sealing or applying a water-resistant sealant to help prevent moisture damage.
With the proper installation as per installation instructions and proper maintenance and care, vinyl decking can last for decades. By choosing a quality type of PVC decking and taking steps to protect it from the elements, you can enjoy many years of outdoor entertaining and relaxation.
6. Are PVC deck boards waterproof?
One of the main of PVC decking pros is its ability to resist moisture and water. PVC decking is designed to be 100% waterproof, and it will resist moisture, mildew, and warping. The zero water absorption makes it an ideal choice for decks that are subjected to lots of rain or water exposure. Unlike organic material, PVC decking is also resistant to mildew and mold growth, making it low maintenance and easy to keep clean. This can prevent the need for sanding and sealing treatments which are often needed for wooden decks.
7. What are the key differences between PVC and Composite Decking?
Compared to the traditional decking materials in the wood age, PVC composites or pressure-treated wood composites have become more widespread. This is easily apparent, as they offer less maintenance over a longer lifetime and, considering maintenance cost differences, are more cost-effective over time than wood.
Composite and PVC decks can serve as a choice in any outdoor design. PVC decking is a polymer deck board that does nothing organically. Composite decking is constructed of composite fibers, wood fibers, and composite cores. In addition, capped composite decking and PVC decking also feature protective caps for a longer lifetime and superior performance