There is no question about having honey oak trim and molding in my house because it is the best thing I can do for my interior design. But do you know the paint colors that go with honey oak trim to make it rich and make the space cozy?
I have worked with honey oak floors and trim on several projects in my years as an interior designer. The projects I did were a lot of fun because of the many ways you can use honey oak trim. If you start by knowing where the honey oak trim is, it can be easier to know which colors to place alongside it. We will talk about colors that go with honey oak flooring, cabinets, trims, and stairs.
a) Colors that go with Honey Oak Flooring
The floor comes only second to the wall on what surface we see the most. Therefore, picking flooring is one of the things that will impact your decor choices the most. For instance, you want to pick the best carpet or rug for your floor because it will have the biggest impact on your mood and that of the house.
Whatever is on the floor sets the tone. Of course, you must choose a contrasting color to make it work. Here are some colors to go with honey oak flooring.
1. Honey Oak and Sherwin Williams Comfort Gray
I am not sure whether it is leaning towards green or blue. What do you see? Take a look.
Image Source: reddit.com
Sherwin Williams paint colors have some shades you know you have fallen in love with before but could not quite put your finger on. It is like forgetting the name of a song you used to love. The Sherwin Williams comfort gray is one such color.
I love combining the grey color with honey oak wood interiors. The paint color works naturally with honey oak anywhere you want to place it.
2. Honey Oak and Repose Grey
Another grey that comes to mind is the Sherwin-Williams repose gray. But, again, the color combination never disappoints because they work almost perfectly together.
Image Source: mbros.com
This color palette is delicious. The results have been satisfying every time I have worked with this combination. If you want to match the floors properly, target the furniture and the wall color. The furniture will be in direct contact with the floor, and you want to pay close attention to how they look together.
Honey oak already looks good on the floor, and keeping the walls grey will make the color look happy and warm. The other way you can use the grey color is by having it on long, thick curtains touching the floor. You will enjoy this combination.
3. Honey oak and Green Undertones
Honey oak will go with some very specific shades. For example, when using green on the wall with honey oak on the floors, the shades I like going for are light jungle green or khaki. These colors go well with honey oak belts and boots, and you can be sure they will also work well as wall paint colors.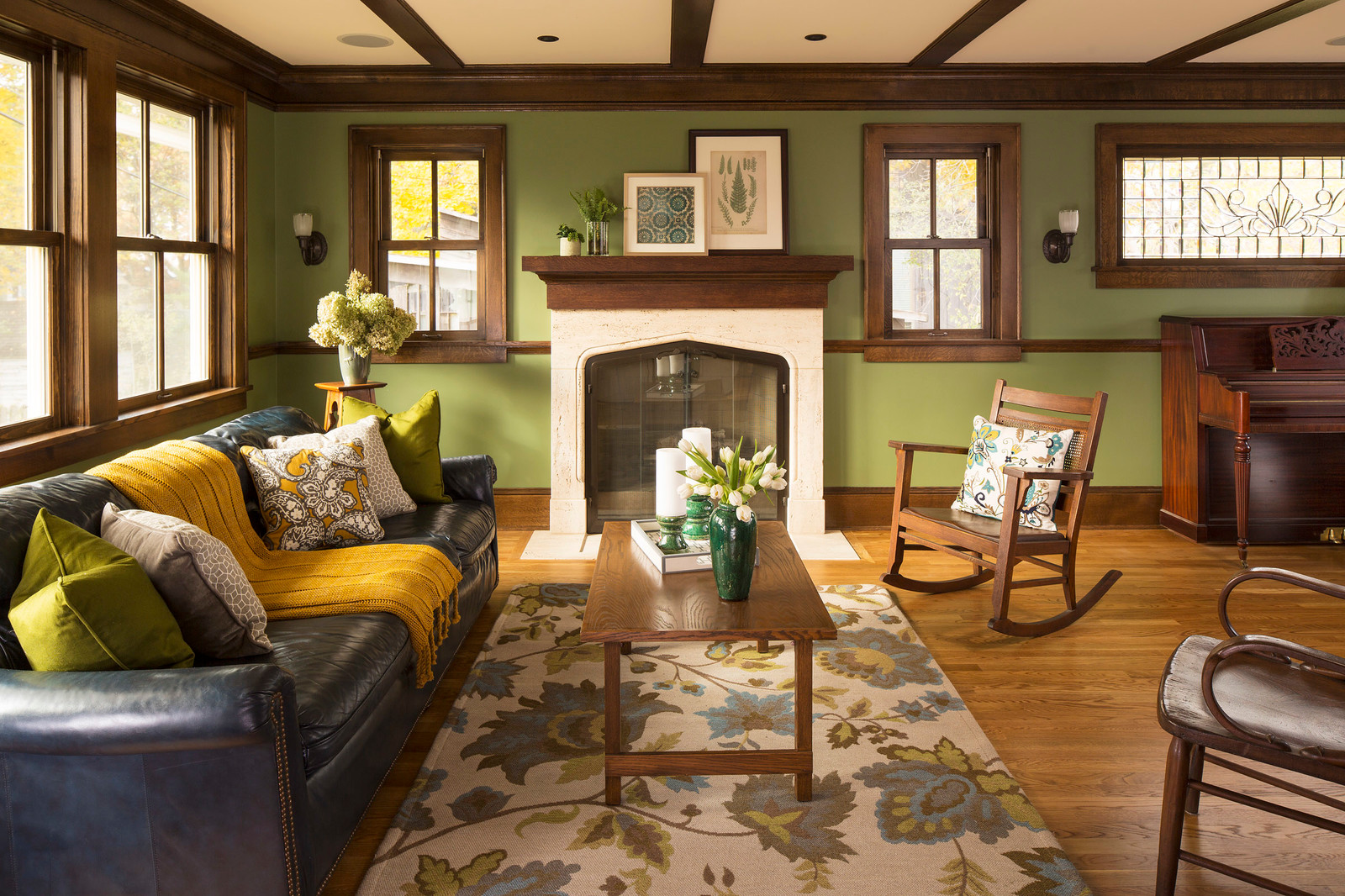 Image Source: LaUrbanasf.com
You can combine honey oak with green in other places, like on the trim and cabinets. There is so much to love about this combination because it speaks to your most natural parts. The two colors could not possibly clash if they tried.
4. Honey Oak and Yellow Undertones
I am going to go with mustard yellow here. Honey oak is already one of the yellow-toned woods, and you need a combination that will stand out when put together. Warm wood tones sometimes allow for some bright and strong colors like mustard. This mixture stands out in pieces like bean bags or seats. Throws will do well in such situations too.
Image Source: thespruce.com
I would not go for a mustard accent wall as that would be taking it too far, in my opinion. However, I would go for centerpieces and throws.
5. Honey Oak and Benjamin Moore White Dove
This combination is very underrated because when we think of colors, all that comes to mind is anything but white. However, suppose you have large open spaces; white shades are the best wall paint colors. For instance, if you have very large wall-to-wall windows, I suggest white on the walls against the honey oak floor because any other color would be very distracting.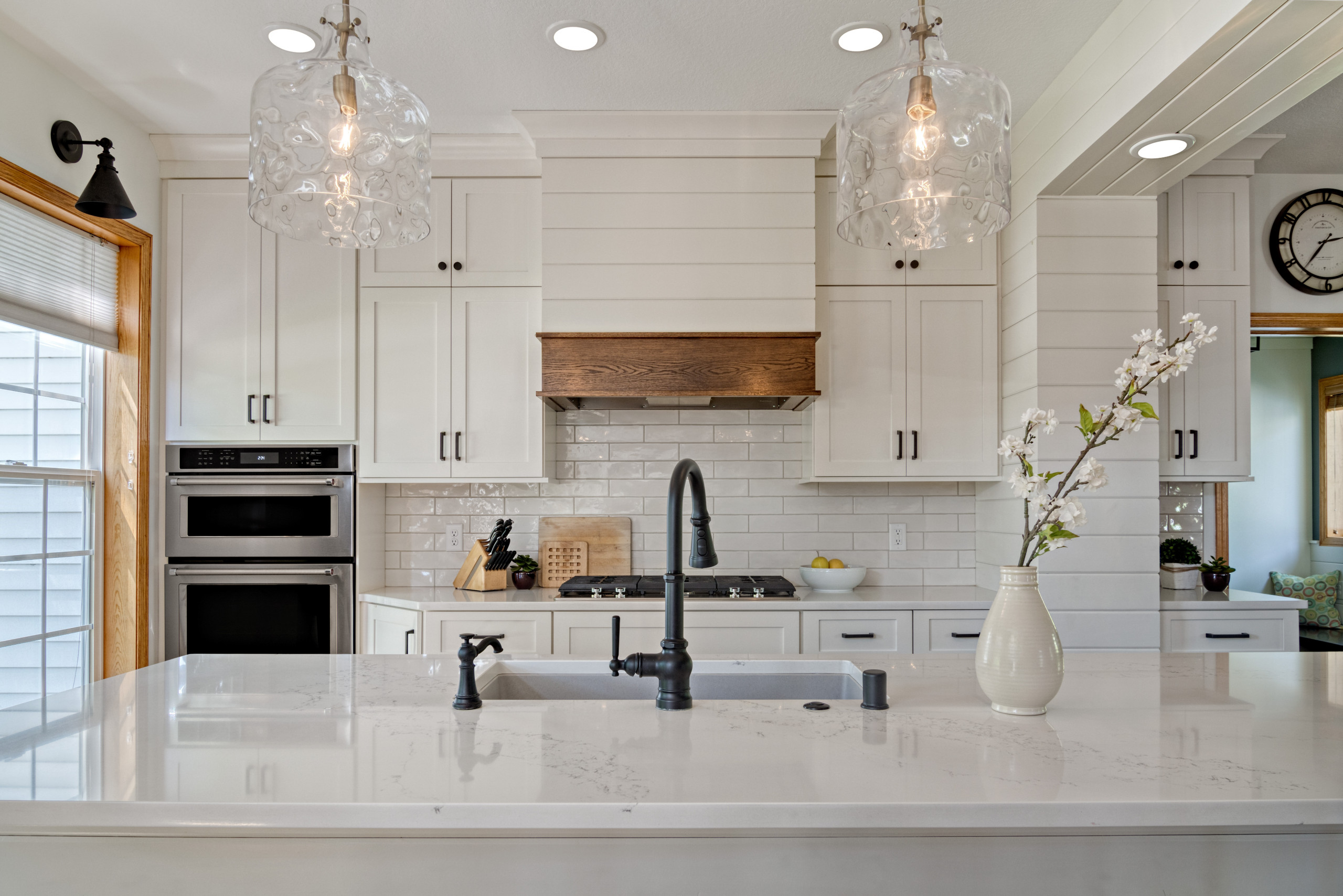 Image Source: Houzz.com
Here is why another color other than white would be distracting for a room with large windows. Large windows allow you to see what is outside, likely to be a mixture of other colors. White lets you see what is going on outside while reflecting light into the house.
What you can do to add colors is include an indoor plant. This choice will look great against a white wall with large windows and a honey oak floor.
6. Honey Oak and Blue Undertones
Image Source: MarthaStewart.com
There is so much joy that I get from combining these two colors. First, blue and honey oak complement each other on the color wheel. Blue makes honey oak one of the most beautiful colors you will see in a while. Almost all shades of blue, including cool blue, will work in this combination simply because of their position on the color wheel.
b) Colors That Go With Honey Oak Doors, Stairs, and Frames
Here is where I put much of my creativity and experimentation with colors. I like going with colors that work well in bright natural light. The colors I pick rarely outshine the honey oak trim, which will be a very specific color when it does. Here are some colors I will pick for honey oak trim.
1. Canvas Tan
Image Source: rojgaraurnirman.in
Sometimes I do not have to pick a contrasting palette to make two colors work. Instead, I can pick analogous colors that will work perfectly with honey oak. For example, canvas tan looks great on the wall and floor. Likewise, getting a heavy canvas tan rug for your living room will be a huge win if the house has hints of honey oak trim details.
Canvas tan allows you to experiment with honey oak on things like picture frames. In addition, having canvas tan allows you to experiment with other elements of the house, like furniture. Canvas tan creates a playground for other colors to thrive. I would highly recommend it to match with honey oak.
2. Benjamin Moore Pale Oak and Honey Oak
Benjamin Moore paint colors can be some of the best things to happen to your house. I love these colors because they pay attention to what will simultaneously be visually satisfying yet out of the ordinary.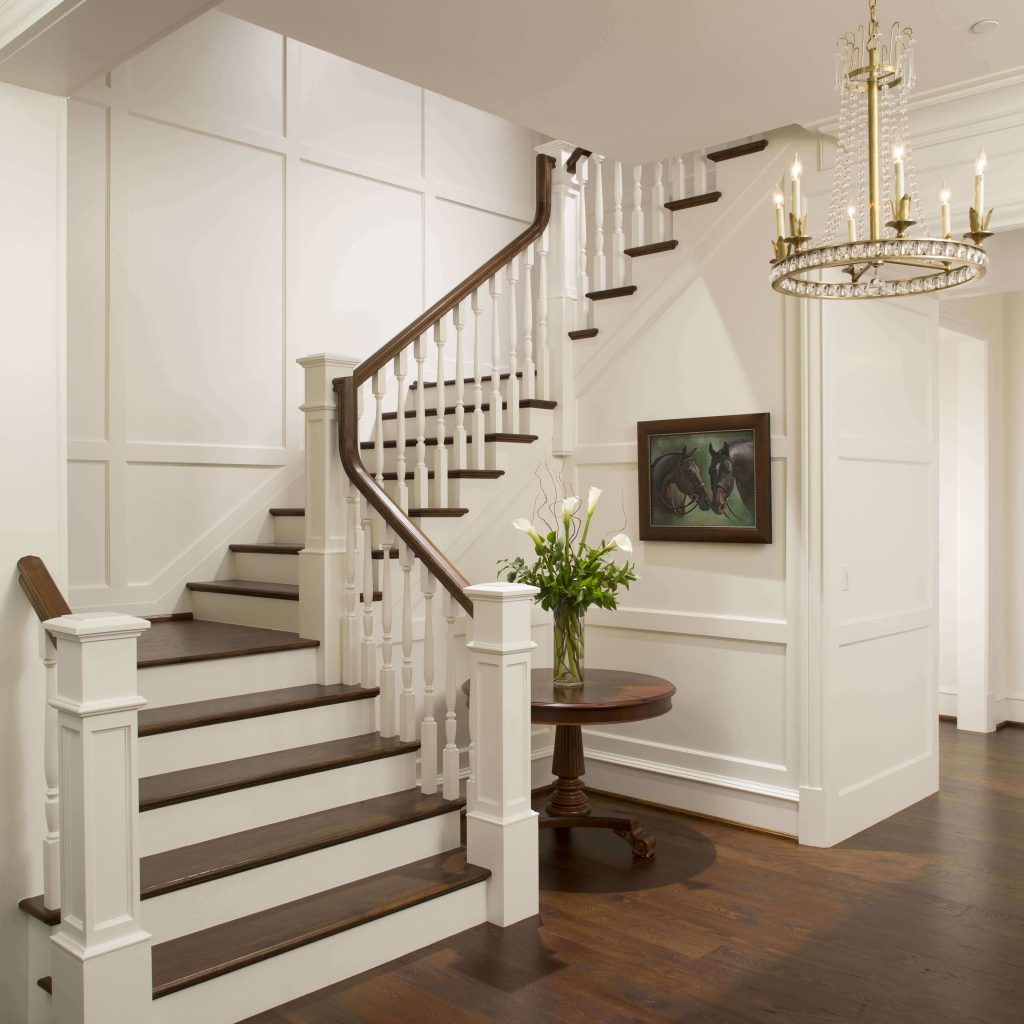 Image Source: thearchitecturedesigns.com
The wood trim in your house will look its best with the pale oak shade. This aspect is especially true with honey oak cabinets or other honey oak wood trim. For example, pale oak will unify the entire room if you have an open kitchen design with an island kitchen and honey oak kitchen cabinets. This is a combination I would have in my bedroom.
3. Navy Blue and Honey Oak
I am not a fan of the navy blue and honey oak color combination, and I would not make it too obvious that I am trying to combine the two colors. However, while blue and honey oak forms a harmonious color palette, navy blue comes off a bit too strong for me. So you have to be quite smart about combining them.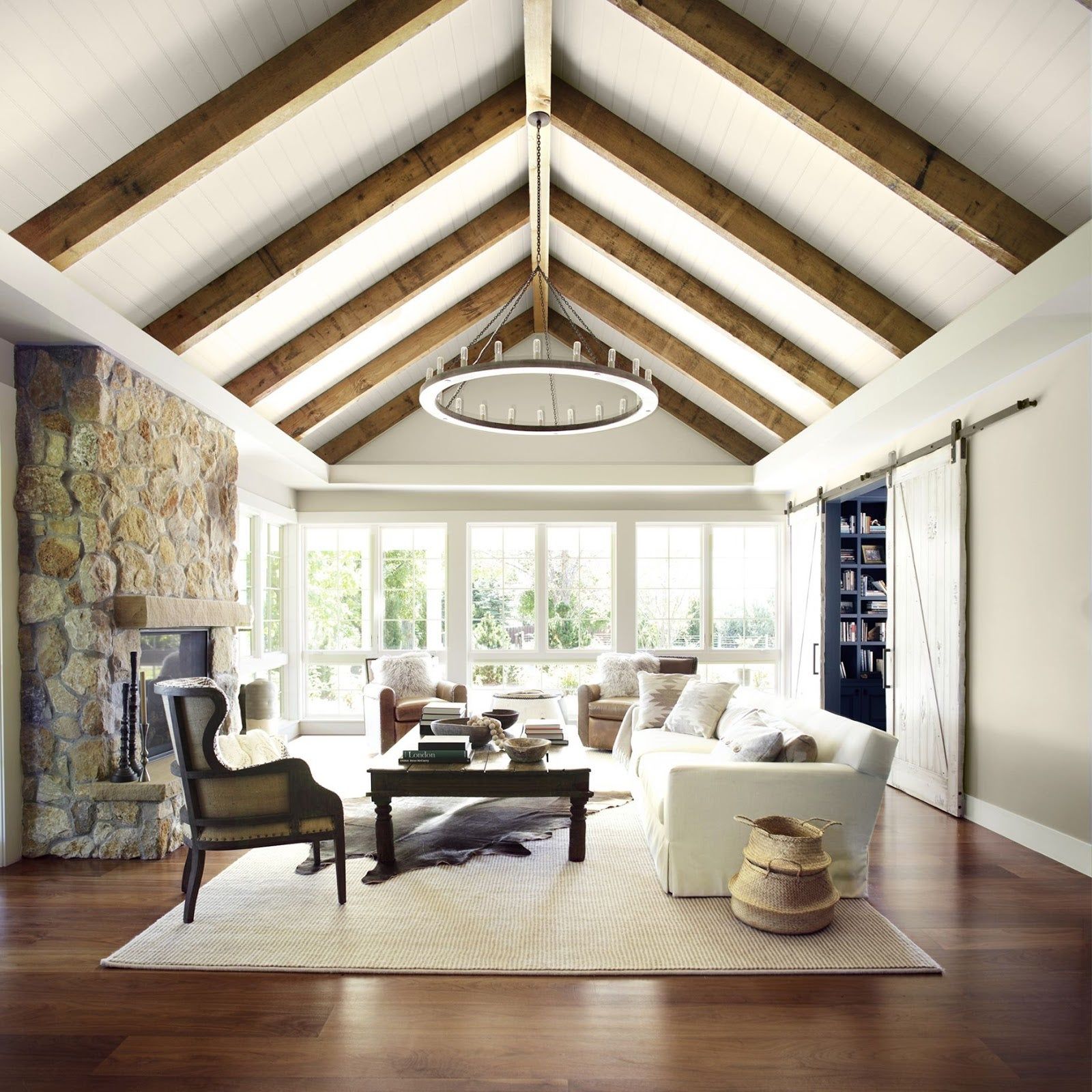 Image Source: housebeautiful.com
Every time I have had a chance to work with navy blue and honey oak, I try to have them on the seats around the kitchen Island set. However, I would not go as far as having the whole wall be navy blue.
4. Sherwin Williams Agreeable Gray
Gray undertone will always work for you. It works for me. Plus, you will get the best shade here if we go with the agreeable gray from Sherwin Williams paint colors.
Image Source: LivingLetterHome.com
Honey oak trim is meant to be stylish and classy. You have to use it in the right places. If you have a flight of stairs in your house, this is where you want to go with honey oak while letting gray be the larger background color.
Here is how I normally use the agreeable gray. I pick gray for the walls and white for wainscoting. For good reasons, Grey is one of the most popular neutral paint colors. The color works with all other colors. Gray + white wainscoting + honey oak trim is a formula that will work any day. You can switch the gray and white in this formula and still get a perfect combination.
5. Crisp White Trim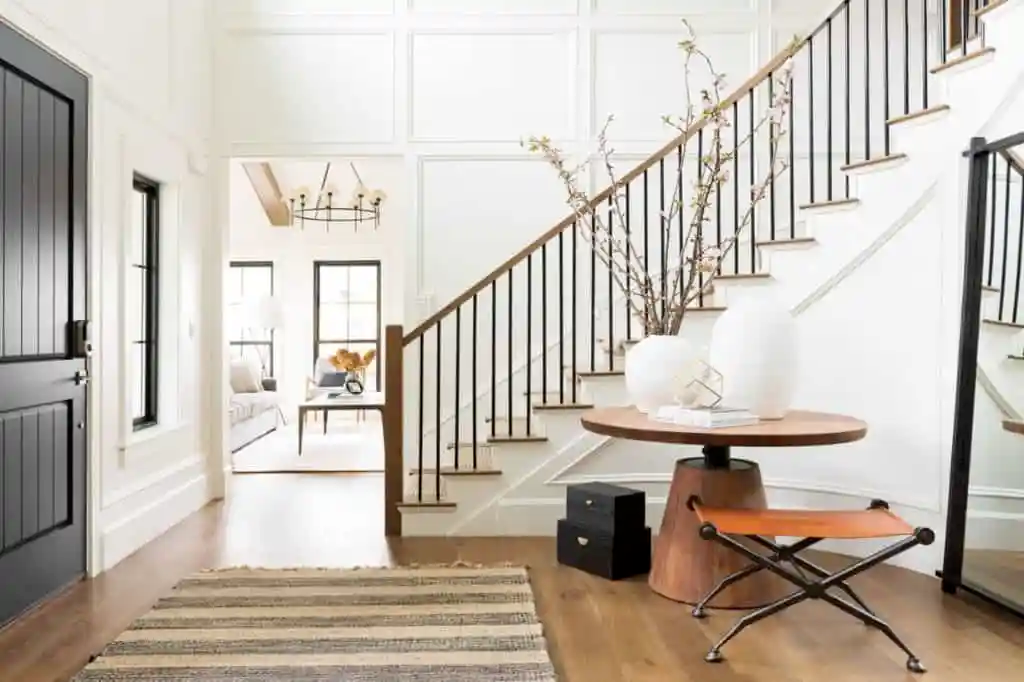 Image Source: greyandavery.com
While we are talking about honey oak cabinets and any trim made of honey oak wood, there is a time when honey oak needs to take center stage and have the main role either as the furniture or the main centerpiece. This method is a smart way of using honey oak.
For instance, if you have crisp white walls with grey wainscoting, the thing I see most in interior design is a classic honey oak table near the keys' entrance. This way ensures your color use remains memorable.
6. Neutral Green Paint Color
Honey oak cabinetry is a bold approach to using honey oak. When this happens, I will go for Sherwin Williams sea salt naturally. The oak woodwork will have a perfect background to present itself.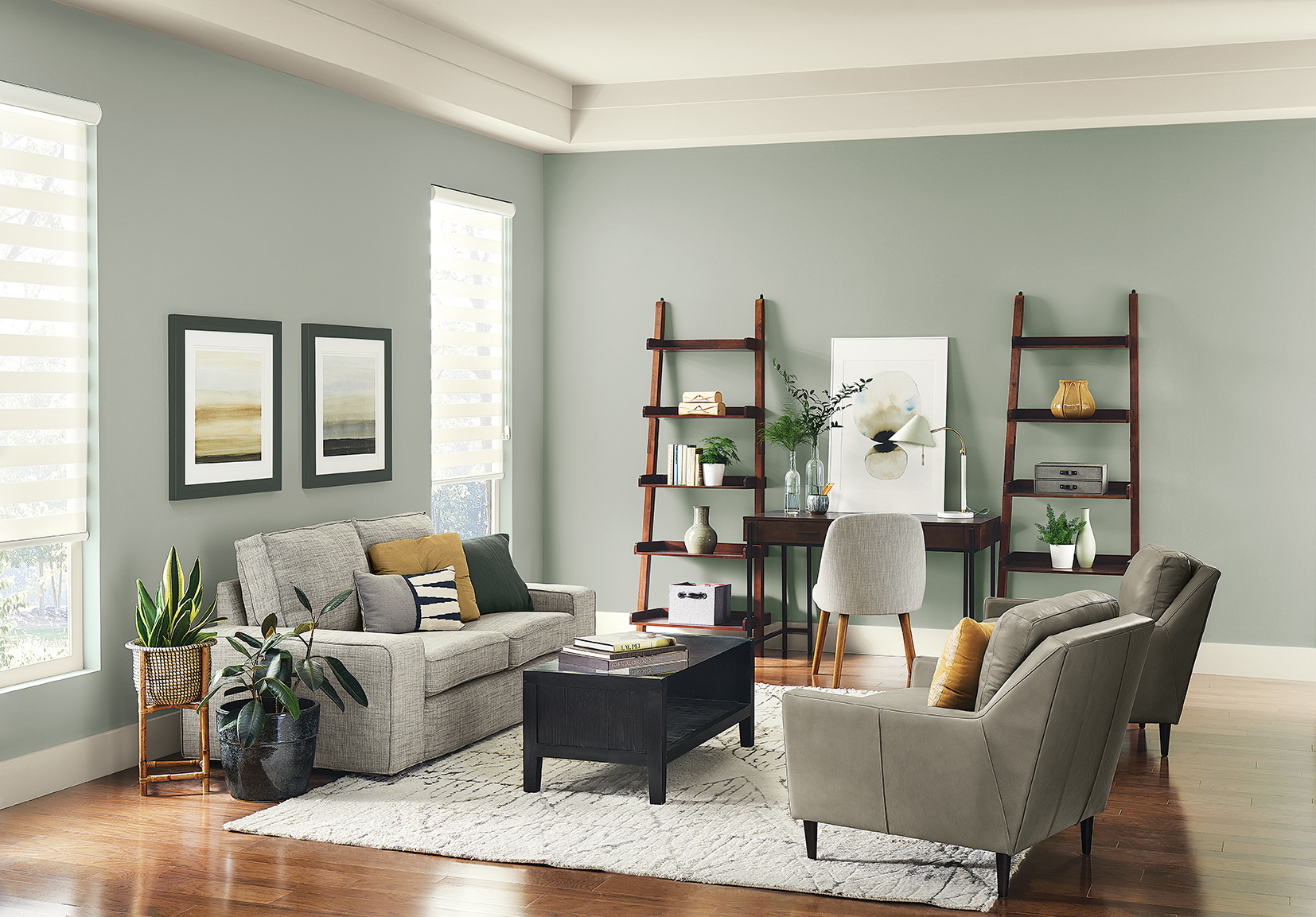 Image Source: SherwinWilliams.com
The other color that I still think might be green is the Benjamin Moore pleasant valley. This spectacular color has a green vibe, and I would use it in a wainscoting combination.
Other wood tones will work well with neutral colors, especially the neutral green paint.
7. Orange Undertones
Honey oak cabinets already have an orange-toned wood look on them. Orange tones are not colors I would combine with honey oak wood because there will be a clash. Therefore, I would not recommend such a combination.
Neutral or warm tones like the Sherwin Williams mindful gray work well as undertones, while strong colors like orange and yellow are excellent as items such as seats for living rooms or decors. Beige orange or pumpkin orange as an undertone is a no-no.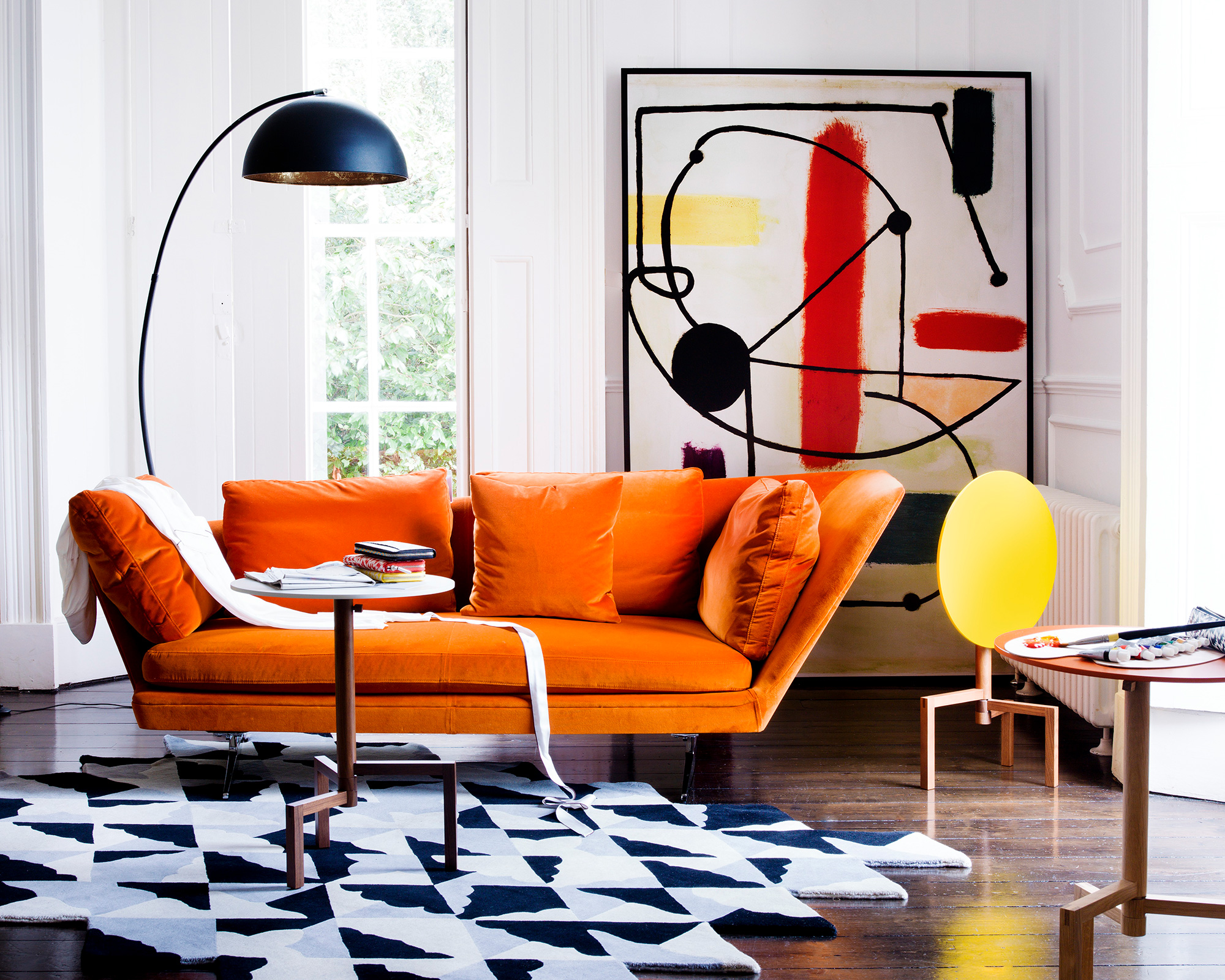 Image Source: HomesandGardens.com
Final Thoughts
Using honey oak wood in your house is one of the best interior design choices. Once you have chosen your base, it is better to pick a color that will work well with the honey oak trim. Picking the color is not enough. After all, you need to ensure they match well.