Most living spaces have outdoor spaces or even enclosed spaces that extend to the exterior of the house. In this article, we will fully discuss what a veranda or verandah is, alongside porches, balconies, and general outdoor spaces. The veranda has existed for many years in residential neighborhoods. However, an interesting fact is; very few verandas exist in cold places. So what is a veranda?
What Is a Veranda And What is it Used For?
A veranda is a roofed gallery, much like a ground floor balcony, attached to the main structure to give access via the front door or back door. So naturally, it can also be described as a paved outdoor area adjoining the main structure. By definition, a veranda must always be an outdoor space for outdoor activities.
The word veranda is originally thought to come from the Spanish word "baranda," later a Hindi word "varanda." However, it has evolved over time. At some point, every room in a house opened up into an outdoor living space, also known as a veranda. It was and still is a popular architectural feature. Additionally, a veranda is useful to keep cool during hot spells.
A veranda is used to entertain guests, keep cool from the heat of the sun, and enhance the look of your house. Furthermore, some outdoor structures such as a veranda house an outdoor kitchen for meal preparation. The primary goal of a veranda is to offer protection from all weather conditions. Since it is a roofed open-air structure, it offers protection.
Why Should You Consider Having a Veranda?
When settling for a house, you need to look at all the options. There are a few reasons you might consider houses with a veranda. Here are some grounds why you might actually consider having a veranda or a large porch surrounding your house. Verandas are an investment, and we strongly believe they give a homey touch to your space.
1) Additional Space
Additional space is always a welcome surprise, especially for bigger families or families with children. If you need extra space even to relax every now and then or even get some fresh air, then a veranda is an excellent addition. Furthermore, a veranda is a great outdoor living space on the ground level, perfect for basically any activities.
With additional space, you can basically do anything with it. From potted plants to lighting, you can make your veranda the perfect additional space. But, of course, it definitely hinges on your imagination and the capacity of your veranda.
2) Storage Space
A porch or veranda gives you storage space. Having children means there will always be toys lying around. Having toys is normal; however, storing them might be a tall order. You might also try to reduce clutter in the main house by storing the toys outside on the patio. It is a win-win situation because it gives you the storage, and your young ones can access the toys at any time.
The storage space might also help out with your own stuff. For example, if you have any gym equipment, they can easily be stored on the front deck. But, for the most part, you can always use extra storage for everything.
3) Entertainment
This also boils down to having the extra space. If you usually throw parties or any other social events, then a deck structure on the outside of a building is a welcome addition. Not only is it perfect at the entrance, but you don't have to worry about having very little space. Additionally, if the weather gets too bad in the garden, then the patio serves as additional protection from the elements.
What is a veranda, if not perfect for hosting barbeques in the summer? The outdoor space is always welcome, especially to entertain guests, family and friends. In addition, a partly enclosed ground-level porch is very alluring.
4) Valuable Space
Whether you have a long porch, patios, decks, open-air porch or veranda, the space is very valuable. The value we mean is the total value of the house, plus the additional space. The value increases even more if you have a veranda on more than one side of the house. The entrance is usually the most common spot, but having another room open into a veranda would increase the value greatly.
You might be delighted to know that a veranda adds to the value by at least $15,000 and upwards. This is because a veranda can be used for very many things. It is also mostly sought after in hot climates, where the weather is warm all year round.
5) Aesthetically Pleasing
A home with a veranda is more aesthetically pleasing compared to homes without decks, porches, or verandas. This is because you will notice a veranda first before the house. Regardless of the style of the veranda, if it is made of concrete or natural stone, it will still look good on a house. In addition, there is a feeling of completeness that a veranda or balcony adds to a house.
Furthermore, the enclosed space makes it look more private. Add to the general allure of the extra space, and being able to use it for anything, you have a winner. It is an investment, and you can add unique pieces of outdoor furniture, lights and a few potted plants. Your safe haven will be ready for occupation, not to mention it is a beautiful architectural feature.
6) An Additional Room
What is a veranda, if not an additional outdoor room? You can always use it for relaxing. It also has a curved roof, the railing is made with cast iron, console brackets, and covered with half walls, which is perfect for a children's play area. Because verandahs get natural light, they are typically attached and expected to be half-open. A half open-air porch allows your children to get fresh air.
Apart from that, you can also keep an eye on them easily. It is not a fully covered shelter like some balconies in any residential building. You can also use the additional room as a dining area. Changes can be made, such as installing screens to keep bugs out.
Categories of Verandas
Verandas come in two types. Depending on the type of house you are looking at, the veranda is also a part of the architecture. In some houses, the veranda is on the upper floor. On other houses, verandas exist on multiple levels throughout the entirety of the house. In ancient Greece, verandas were made of marble, timber or limestone. Apart from ancient Greece, there are many cultures with verandas.
There are clear differences between the different types of verandas. Their architecture varies between culture and period. Some are progressive, while other designs didn't make it to current times. Let us take a peek at the different classifications of verandas.
a) Victorian Veranda
Also known as a traditional veranda, they were made with a wrought iron railing. The patios and porches have columns that are attached to the walls of the house. Every building or even commercial buildings was made with paving stones. However, they always had balconies, patios, and even decks.
b) Contemporary Style Veranda
These are modern-style verandahs. They are generally covered with a roof, screens, and railing. Very often, they are very sleek. You can also find some patios, porches, and deck roof made with glass or polycarbonate. Additionally, you can customize the patio or veranda to your liking. For example, you can add concrete or stone and whatever else you feel like.
Differences Between a Veranda, Patios, Porches, Balconies, and Decks
Though the above terms are used interchangeably, they are very different.
i) Veranda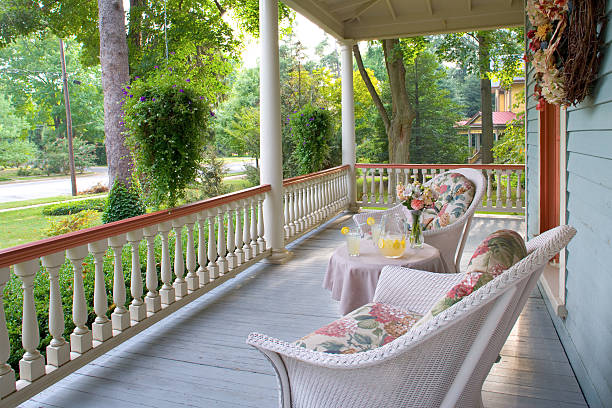 A veranda is a roofed, open-air structure attached to a central building. The roof offers shade and offers protection from the elements. A veranda can also be customized with wooden flooring, marble and much more.
ii) Patio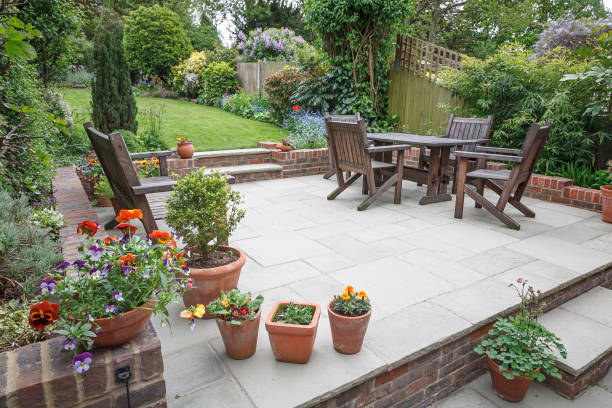 A patio is located on the ground floor, adjacent to the main structure. It can be made with concrete. It is perfect for summer because patios don't have roofs. Patios also don't have walls around them.
iii) Deck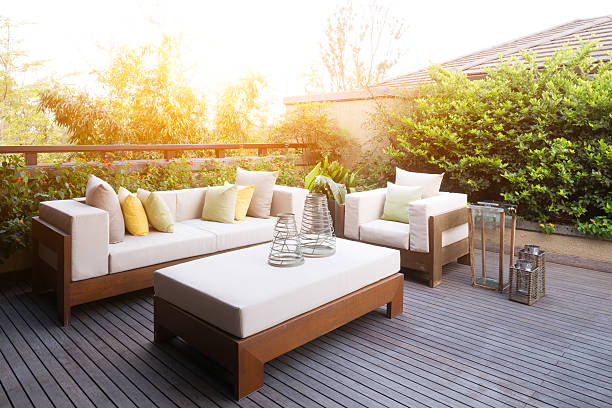 Decks are an extension of places where you can check out a view. They are most of the time made of wood or timber and attached to the main structure of the house. For example, a deck also has a railing, and the wood used to make it is covered in treatments. This is to prevent mites and rot.
iv) Porch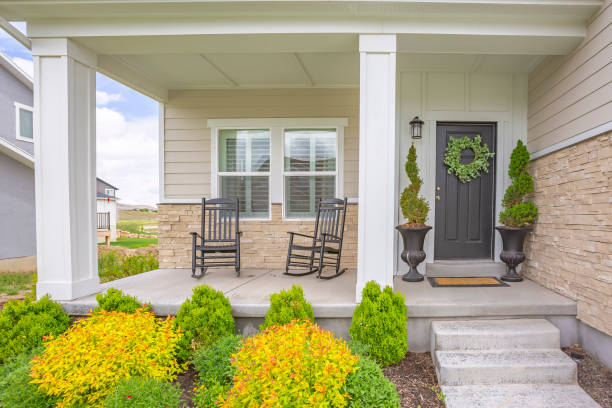 A porch is the space immediately outside your front entrance. Porches are a small extension of the house. Every porch is a different size depending on where you live. For example, one porch might be large enough to accommodate furniture, and another porch might just have a few steps that lead to the front door.
v) Balcony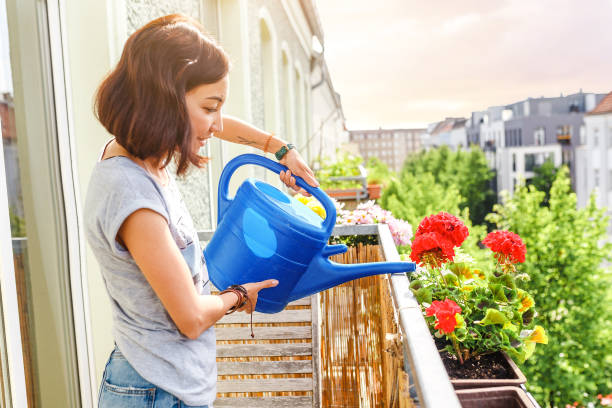 Balconies are the smallest type of outdoor structure. They are primarily found in most apartment complexes or buildings. A balcony might not have space for outdoor furniture or even a roof.
The Bottom Line
A veranda is a good addition to any ground-level home. It has much more to offer compared to not having any outdoor structure. Thinking about getting a veranda is a step in the right direction. Additionally, a veranda will give a home character and a more homey feel.